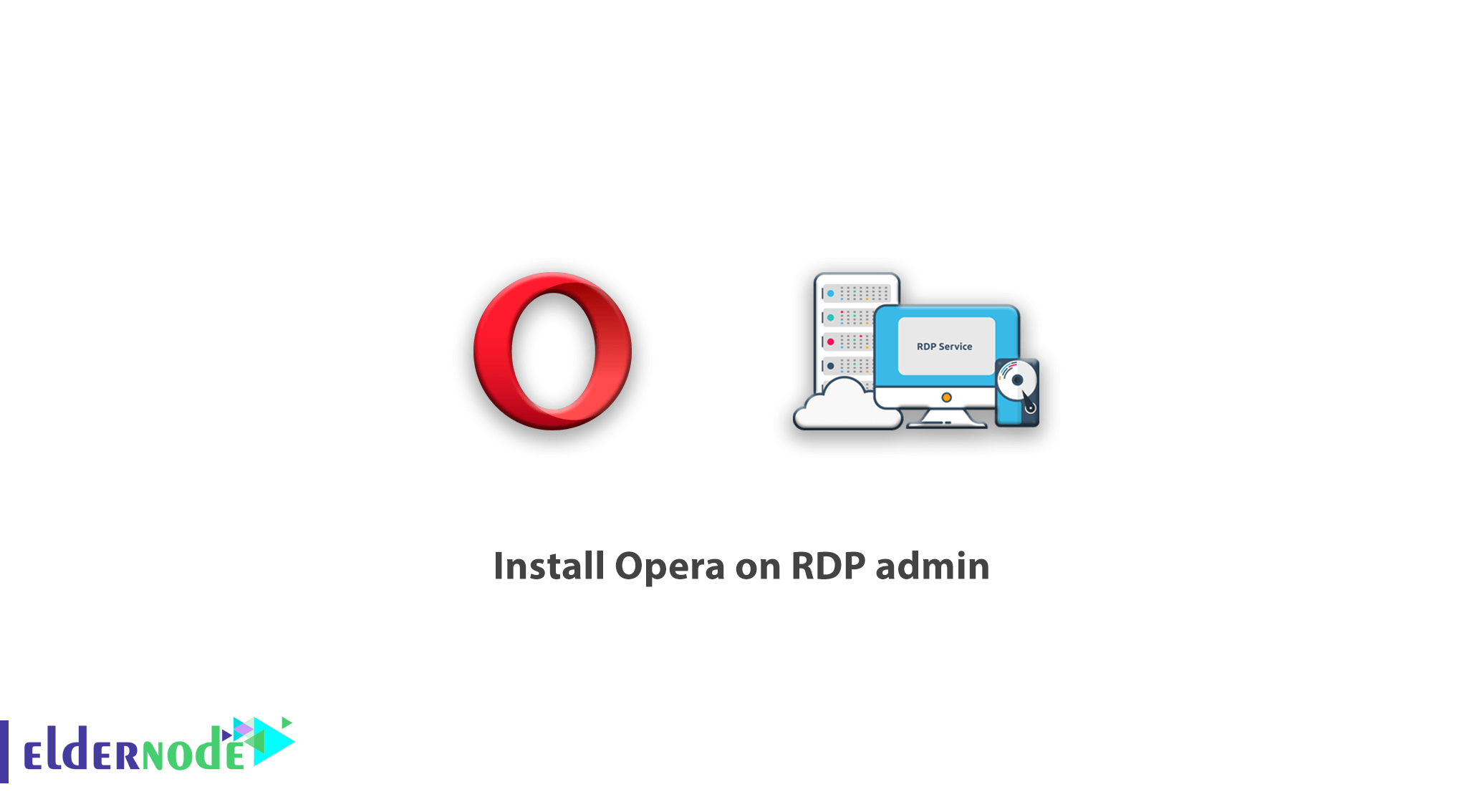 [Updated on: 2021-01-06] Opera browser software is known today as a powerful and fast browser. According to statistics, Opera browser software is the fastest browser known. This browser opens web pages quickly and has a very attractive user interface. Opera browser software loads web pages for you with incredible speed. In Opera browser software, the site text is loaded first and the photos will be uploaded little by little. In addition, the photos first appear completely in low quality and gradually increase the quality of the photo. Opera browser software does not have restrictions such as right-click blocking, blocking page view, blocking text selection. That's why we decided to learn you how to Install Opera on RDP admin in this article. You can also view buy RDP Admin packages in Eldernode to use VPS services.
Install Opera on RDP admin
There are a total of three installation methods that will work in different situations. We recommend that you familiarize yourself with all the options and choose one that is most suitable for you. In this article, we are going to learn you the Official Opera browser installer method in RDP admin. Join us in the continuation of this tutorial.
Features of Opera browser software
It seems a bit difficult to choose which of the many web browsing software. Each of these softwares has capabilities that can be the reason for its superiority. But each user follows the web browser according to their goals. Among these browsers are a few that are popular and well-known among all. One of these popular browsers is called Opera.
Opera browser software officially joined the world of browsers in 1995 with the completion of a project that started in 1994. Now, after several years, users are using the latest version with the highest performance. Opera has become more popular for several main reasons.
The high speed of opening web pages and especially images has caused users who care about the minutes of Internet use to use this browser. Simplicity while being beautiful is very important in attracting users that Opera has been able to strengthen its position with a simple but beautiful design.
Official Opera browser installer in RDP admin
Follow the steps below to install Opera browser this way:
1. Go to the official Opera website through one of the available browsers. We are using the Firefox browser here.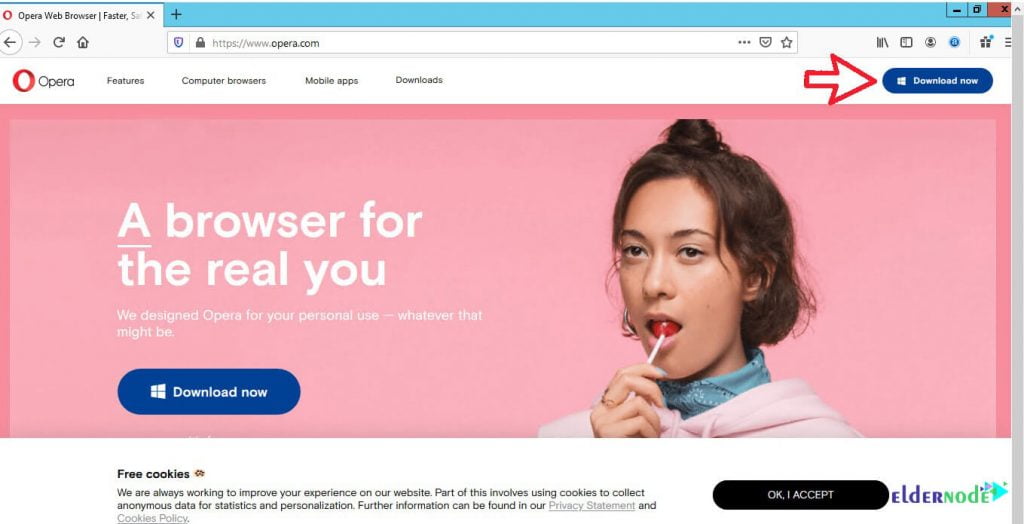 2. Click Download now at the top right of the page to start the download.
3. Click Save File.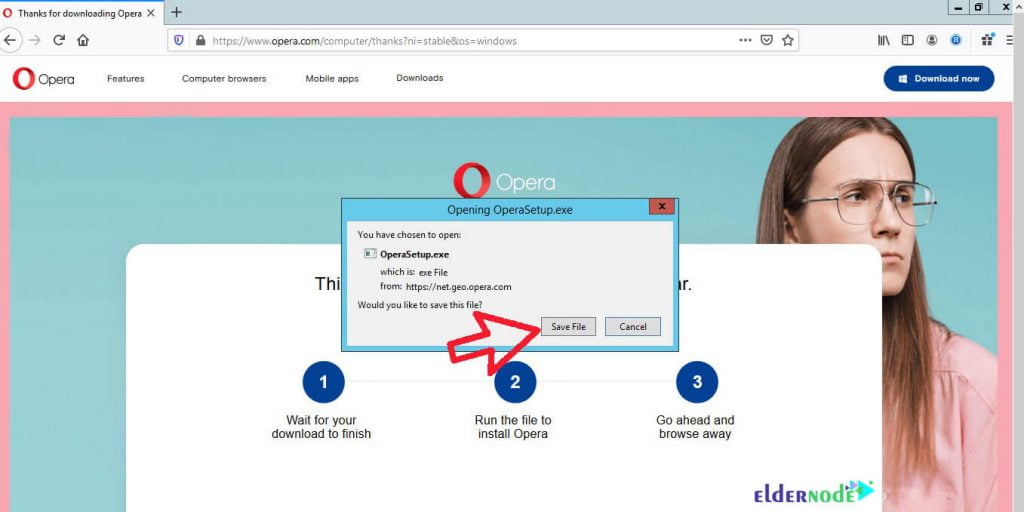 4. Click on the arrow you see in the image below to be directed to the file storage location.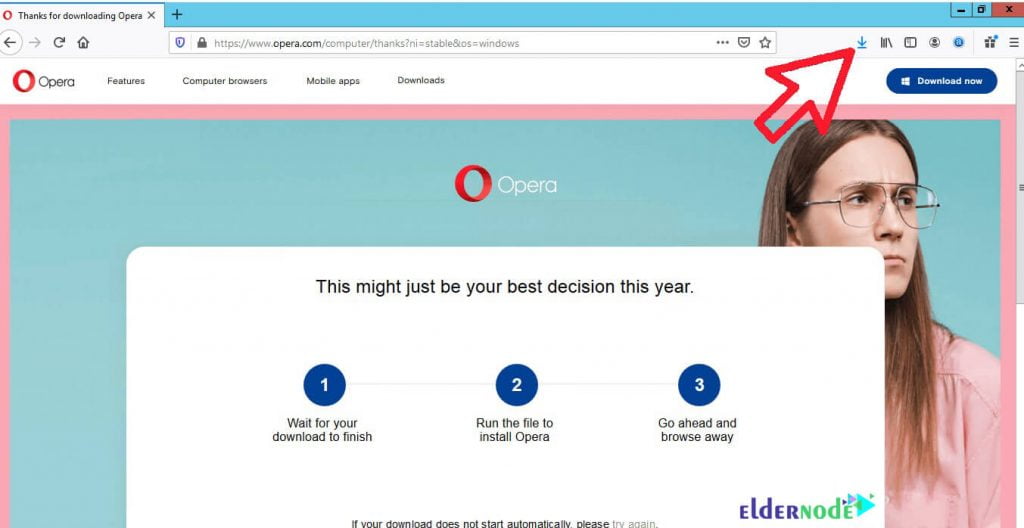 5. In the window that opens, look for the OperaSetup file and double-click on it.

6. Click Run as shown below image.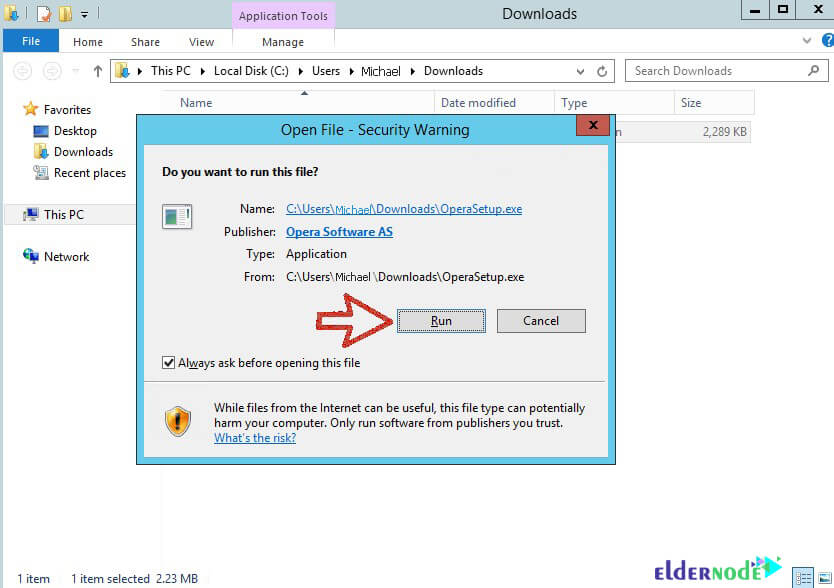 7. Finally, click Install to start installing the browser.
Note: Wait for the installation process to complete.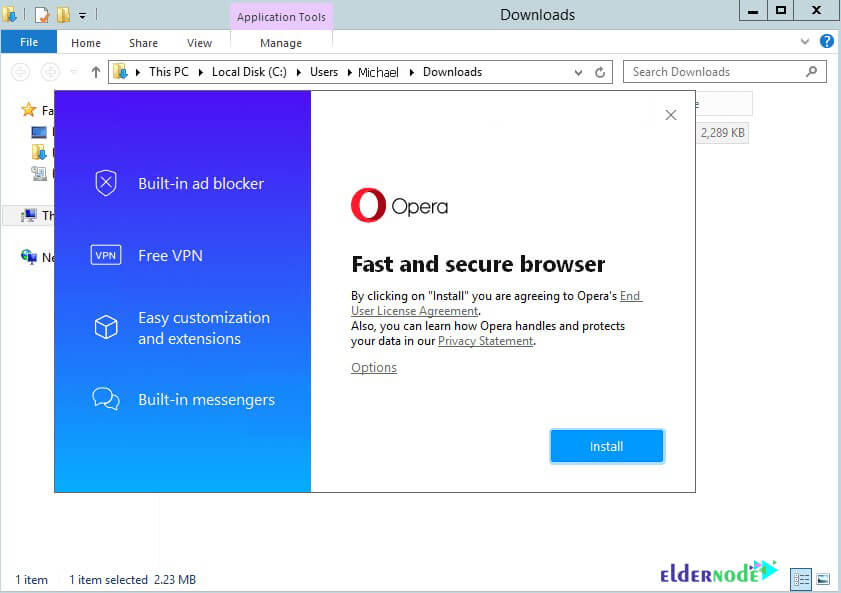 Good job! Now Opera browser is ready and you can use it directly.
Opera browser capabilities
1- Ability to provide easy access to search
2- Advance search possibility among all major search engines in the world
3- Ability to customize intelligent blocking of content on web pages
4- Block Pop-Up ads
5- Advanced ability to receive and send emails in the browser and support for POP / IMAP systems
6- Ability to read data in RSS / Atom formats
7- Ability to customize settings for each URL individually and separately
8- Ability to see a preview of each page by holding the mouse pointer over any URL
9- Reduce additional pressure on the system RAM
10- Ability to download files larger than 4 GB
11- Ability to use Opera-specific websites to increase security and prevent spyware from infiltrating
12- Has the ability to Tabbed browsing or the same view of Tabs in a Tab
13- Eliminate problems such as FTP PASV in Opera browser
14- Has beautiful and varied skins
15- Ability to recognize passwords and store them with very high security
16- Easy to download Opera, quick and easy installation
17- High speed browser in execution
18- Ability to reduce additional overhead on system RAM compared to other browsers
19- Increased support for new web design standards in newer versions of Opera
20- Ability to open the application using the voice of users
21- Ability to download files with a very high volume compared to other browsers that do not have this feature
22- Ability to use the Speed ​​Dail feature to access your favorite pages as quickly as possible
23- Ability to use Quick Find, a feature designed by downloading the Opera browser to make it easier to find the desired pages
24- Ability to customize the skin by downloading the Opera browser
Conclusion
Opera browser software is known today as a powerful and fast browser. In this article, we tried to learn how to download and install Opera browser software in RDP admin. The salient features of Opera browser software were also explained. You can also refer to the articles Install Google Chrome on RDP admin and How to Install Firefox on RDP admin.