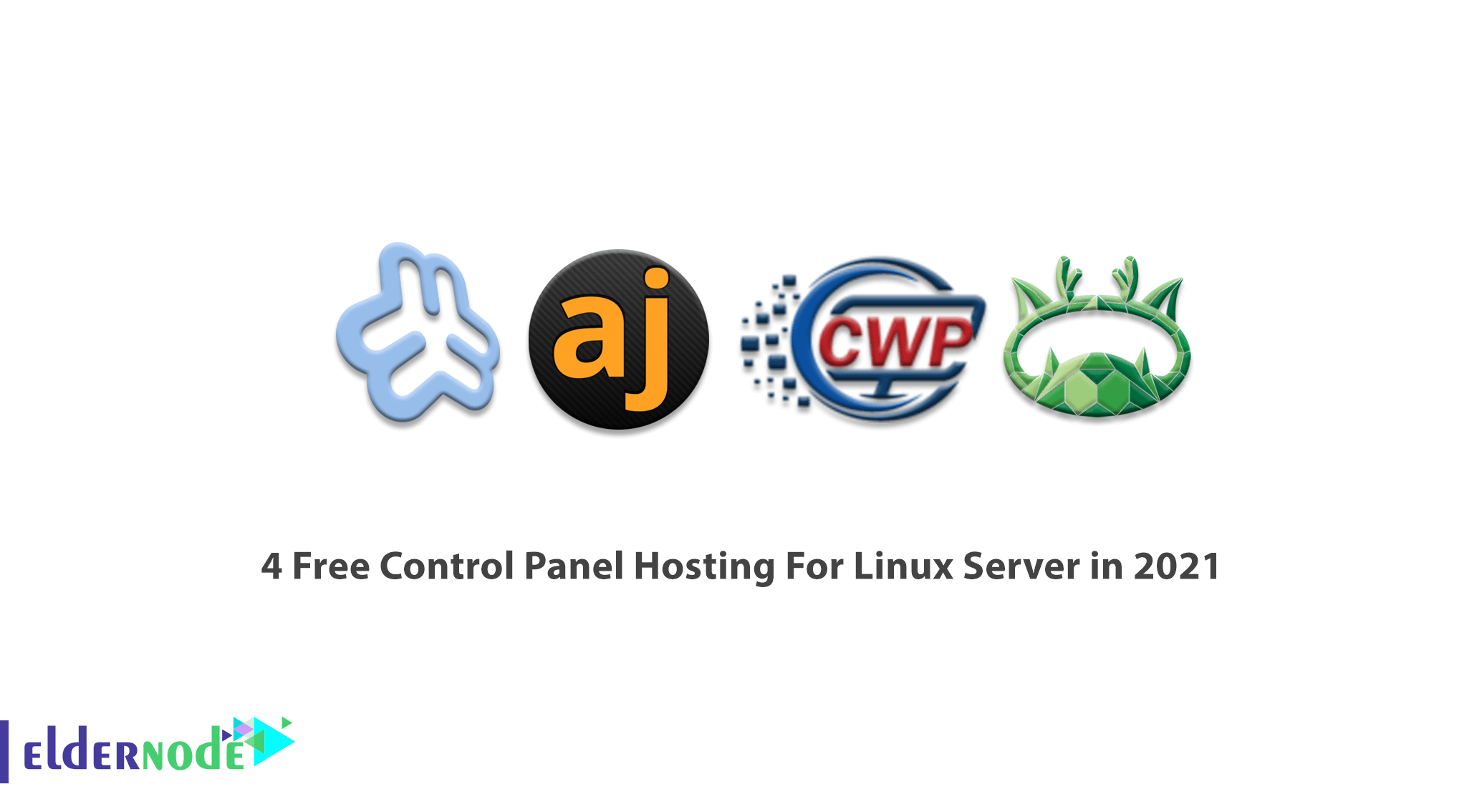 When you are setting up your website, one of the most important prerequisites is to choose a suitable Host and Control Panel. While there are different types of hosts, each one has a specific function for a type of website. Website owners should check to find the right option according to their needs, website type, and hosting features. Hosts are divided into two categories based on your Operating System type including Linux VPS Hosting and Windows VPS Hosting. In this article, you will learn about 4 Free Control Panel Hosting For Linux Server in 2021. Join us with this guide to become an expert in Control Panel Hosting and proc and cons of 4 widely used Control Panels. In the end, you are completely familiar with Webmin, Ajenti, CWP, and aaPanel. Also, please choose your own VPS plan among the perfect packages of Eldernode and continue reading.
Best Free Hosting Control Panels For Linux Server
As a website owner, you face a sensitive and difficult duty to manage multiple websites. If you do not use a perfect and suitable control panel, it would be more difficult. The hosting control panel is a web-based interface that helps you manage hosting services such as email accounts, FTP accounts, file management, subdomains, disk space management, bandwidth, backup, and so on. Once you choose your preferred host, you start using the hosting control panel to manage hosting-related matters and simplify tasks, and speed up the process.
How to choose a hosting control panel
While you are choosing a hosting control panel, you should consider two important options.
The simplicity of the control panel: 
The interface should be simple to let users not to be confused. Control panels should simplify the tasks of the system administrators to let even non-technical people perform their tasks easily.
Suitable Interface:
To let your users manage all aspects of their hosting, you need to provide a proper interface.
The 4 Best Free Control Panels in 2021
Since you may find CPanel and DirectAdmin through all your search when you need to choose a Hosting Control Panel, in this article, we try to present a more different package and introduce free Control Panels which are satisfying and useful if they are a little lesser-known.
Webmin
Let's start with Webmin. Webmin is free, open-source, light, and easy to install. You can easily manage your Linux server and VPS with Webmin. It provides a web-based control panel for Linux OS and its services. Once you install Webmin on your server, you can configure and manage your OS through a web browser. If you are you are using Debian or CentOS, it could be a good idea to use Webmin. Do not worry! You can install Webmin on both 32 and 64 bit operating systems.
As a server administrator, you can get ready to set up accounts, manage users, services, DNS settings, Apache, edit server files of your server graphically on the web. In this way, you do not need to enter instructions in the SSH terminal. Since Webmin is able to host sites that have a Virtualmin plugin, new sites could be added to a Windows or Linux VPS server. Virtualmin give you more control over your OS. It could be easily done, but please notice that you need to use the Usermin panel separately to let you access sites. If Webmin is your choice, you do no need to edit Unix configuration files manually anymore. So, you will manage a system via the console or remotely.
prerequisites
If you are positive about using Webmin;
Prepare a Processor with at least 288MHZ/Sec.
About 256MB of RAM for normal mode.
About 1024MB for hosting.
The hard disk should be around 10GB.
Webmin Advantages
1- Apache Web Server configuration
2- Email server configuration
3- DNS server configuration
4- Manages users and user group
5- Back up of information
6- Creates and manages Email
7- Uploads and manages server files
8- Builds and Manage a database
9- Creates a subdomain to the main domain
10- Backup of setting
Webmin Disadvantage
The biggest reported weakness of Webmin is that it is not scalable. If you choose this control panel, you should be aware that you will log into one web interface per server and will not be able to handle massive rollouts from a single point of entry. But if you have planned to have a management tool to scale out to enterprise levels, check other control panels.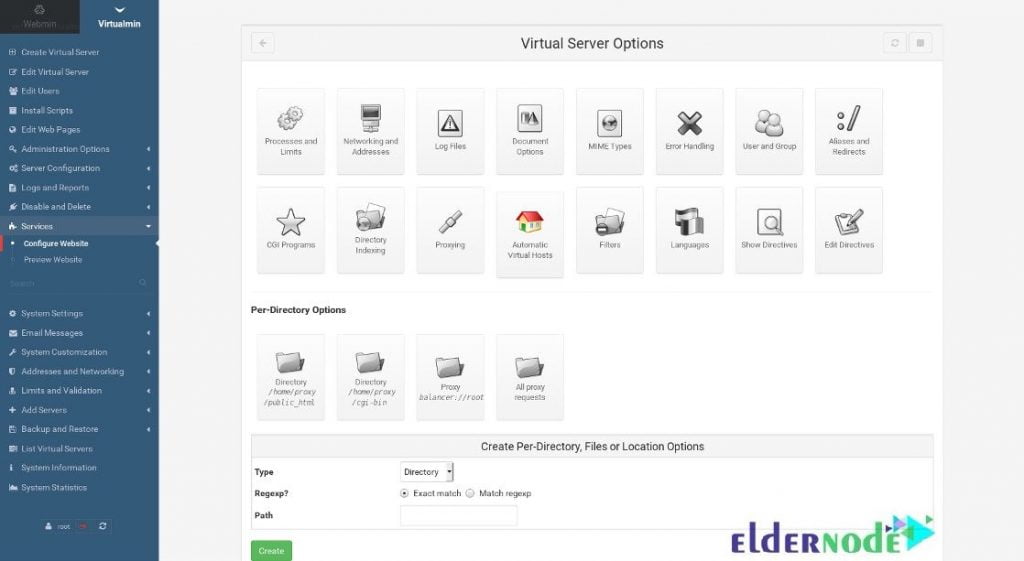 ***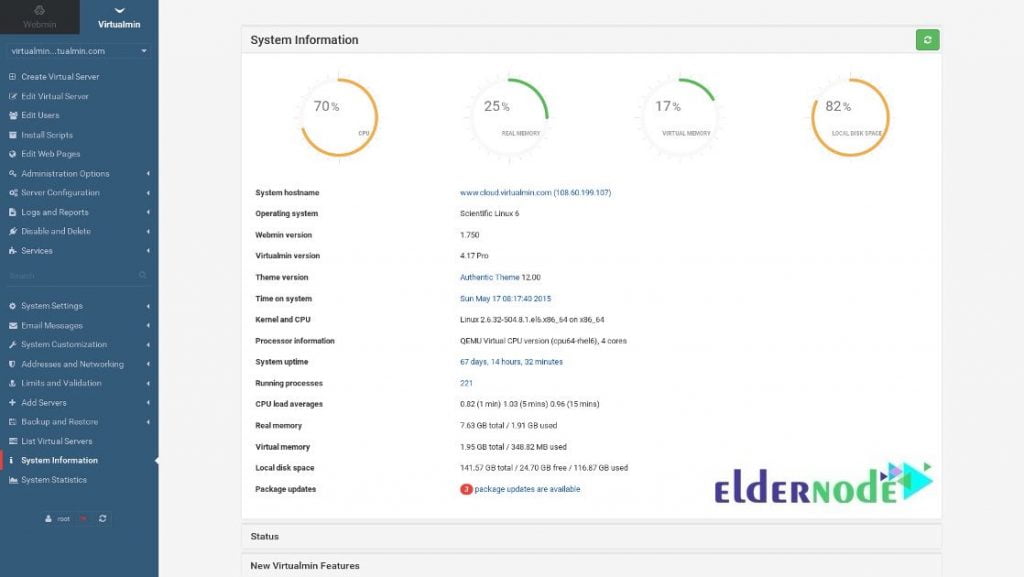 In case you are interested in learning more about Webmin, find our article on How to Install WordPress on Webmin – Usermin.
Ajenti
If you are looking for a server admin panel that would be able to compete with CPanel and Plesk, Ajenti is standing here. Ajenti is free and open-source, powerful, and light-weight. You do not need to pay for use on a server. But if you need to use its enterprise version, you must pay to be able to support multiple servers simultaneously. Once you install Ajenti, you do not need to download PuTTY several times again.
Since using remote servers increased, Ajenti provided a fast and secure way to manage a remote Linux box to let users work with tools such as web terminal, text editor, file manager, and so on. For this reason, you can easily manage servers such as Samba, Squid, Munin, etc. with it. Although Ajenti is very fluent, it has been professionally developed too. In addition, Ajenti supports Python, Ruby, and PHP languages and fully manages related services. It supports Linux distributions such as Debian, Ubuntu, RHEL, CentOS, and Gentoo. Also is portable to Linux and BDS easily. Ajenti is also famous for its easy installation and existing configuration. So you should not waste a time or consider preparation. The automatic configuration includes EXIM4, IMAP, easy DKIM activation, DMarc, and SPF.
Ajenti Advantages
1- Ajenti interface is clean and well-documented.
2- High performance.
3- Graphical User Interface based on AngularJS of Google.
4- Embedded web server.
5- Single page AJAX-based frontend.
6- Responsive layout.
7- Bootstrap libraries of Twitter.
8- Security through sandboxing.
9- Modular Python API.
10- Frontend AngularJS-based framework.
11- Stock remote APIs.
12- SSL certification authentication support.
13- Full mobile and Tablet support.
14- UI component set.
15- Websockets engine.
16- Notifications, modals, and live updates.
17- Pluggable authentication and authorization.
Ajenti Disadvantages
1- The technical support of Ajenti is not free.
2- The latest versions have no option to configure a mail server.
3- You must reset Ajenti after making a fundamental change in the system.
4- Since Ajenti has basic functions, it does not take into consideration advanced functions for Sysadmins like hosts creation with "document root" and management with a different version of PHP.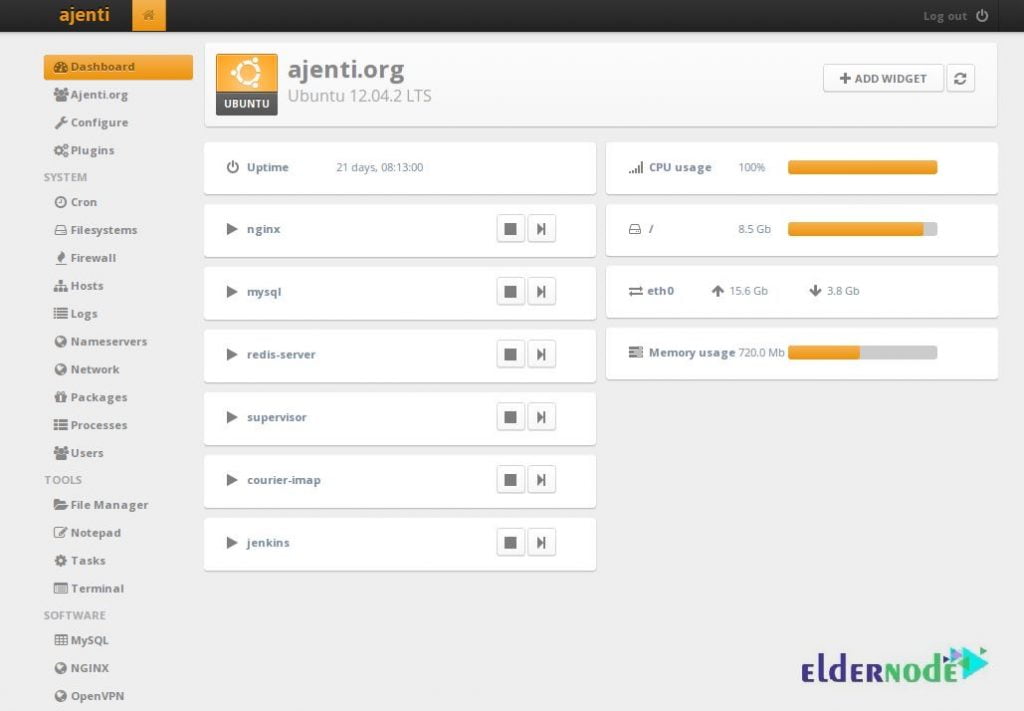 ***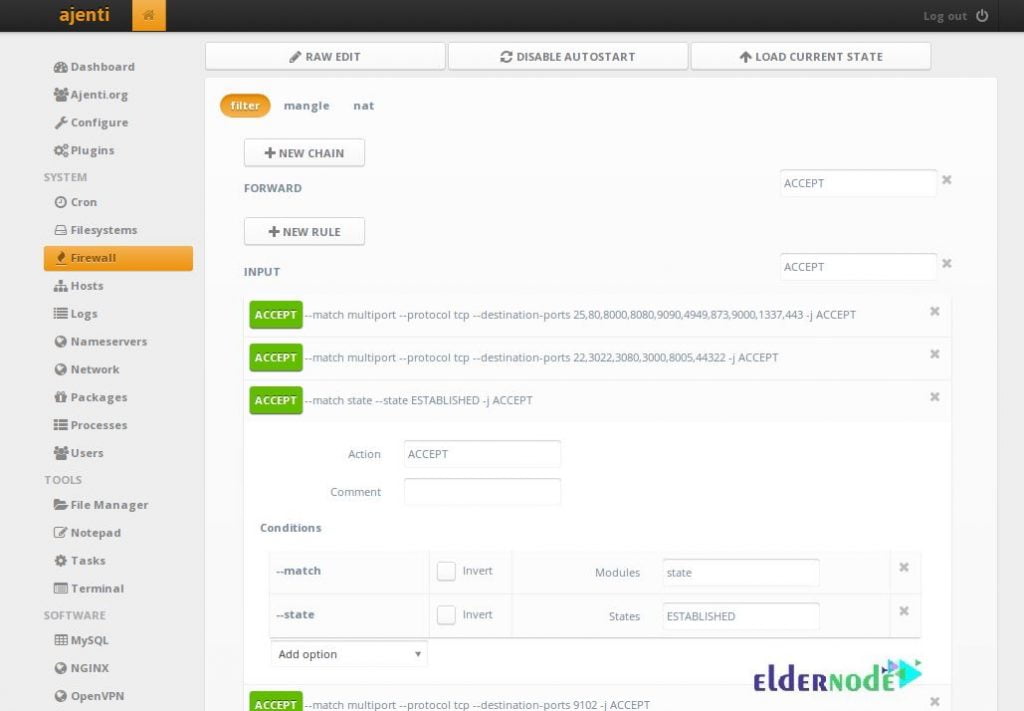 ***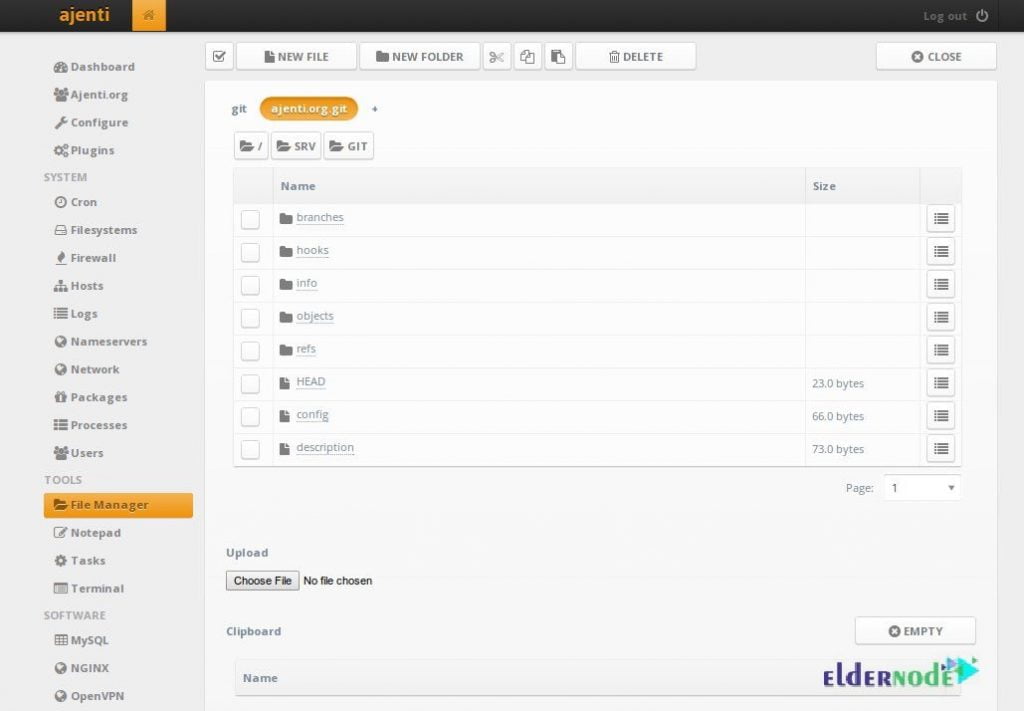 In case you need to read more about this secure Control Panel, read our article on How to Configure Ajenti on CentOS 8.
CWP
CentOS Web Panel as it is clear is most installed on CentOS. CWP is also a free Control Panel for Web Hosting. Since CWP supports the most services it is competing very seriously with similar tools. If you are gathering to set up a VPS or a dedicated server, CWP could be a suitable choice because of its wide features in server managing.
During the installation, CWP installs the LAMP stack and a varnish cache system by default with email service and other hosting requirements and you can start it without needing any additional settings. It automatically installs the required packages such as HTTP Server, PHP, Database Server, Mail Server, and so on. When you decide to use CWP, you do not need to run commands because you can use web-based tools to manage the hosts. While using the host management control panels, you do not have to do everything by command, and you can use web-based tools to manage the hosts.
CWP Advantages
Webserver Features
1- Support for Nginx Reverse Proxy.
2- Increasing web server performance by compiling Apache from the source.
3- Using SuExec and SuPHP to increase security
4- Support for Perl cgi scripts.
5- Ability to install and support Apache TomCat 8
PHP Features
1- Increasing system performance by compiling from source.
2- Ability to install PHP Switcher and PHP Selector and support all versions of PHP.
3- Assing "ini" to each account and its customization capability.
4- FFMPEG support for video media sites.
5- Support for ioncube, php-imap, etc.
Account Management Features
1- Ability to assign IP to each account
2- Ability to limit the number of running files for each account.
3- Shell management access.
4- managing user restriction with Quota and Inodes.
5- Ability to restrict processes for each account.
Security Features
1- CSF firewall.
2- Dedicated SSL Generator.
3- protection of Bruteforce attacks with CSF/LDF.
4- Restriction of general processes.
5- Protection against DOS and DDOS attacks.
Database Features
1- Installing and supporting MongoDB.
2- Ability to add remote and local users.
3- Live and real-time monitoring of the database.
4- Installing phpMyAdmin to manage the database automatically.
5- Ability to install and support PostgresSQL and phpMyAdmin.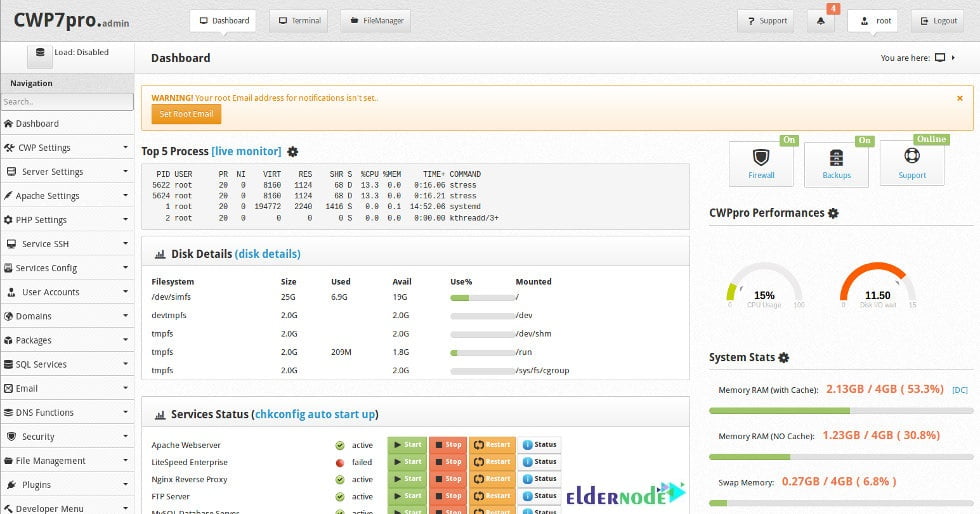 ***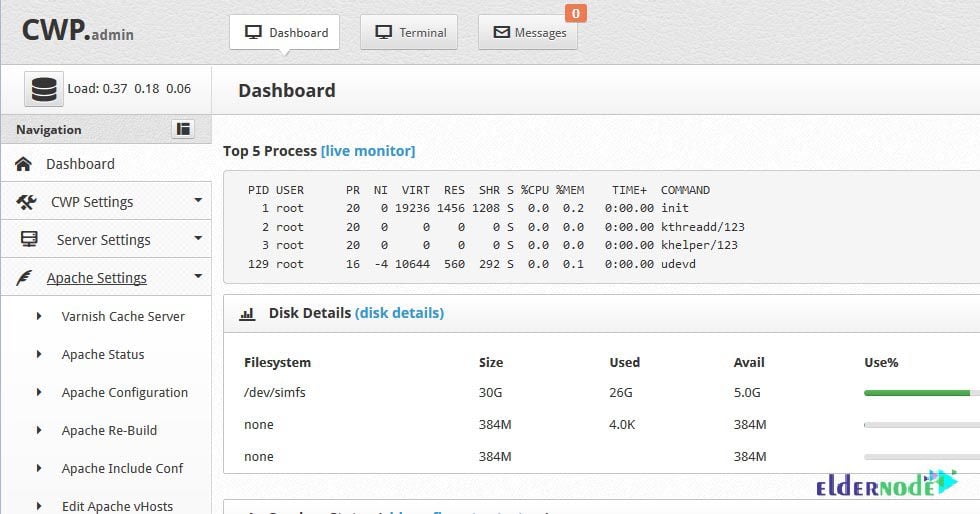 CWP has so many other features, in case you are interested in reading more, find our related article on How to Install CWP on CentOS 7.
aaPanel
So, the fourth tool of this guide, are you ready? aaPanel is a free, powerful, and open-source hosting Control Panel and easy to install. Ordinary users are serious fans of aaPanel since it compensates for their less technical knowledge.
This Control Panel is possible to be installed only with one click on all Linux distributions such as Debian, Ubuntu, Fedora, Deepin, and CentOS (CentOS is recommended). As a developer, it would be a good choice to speed up your project's process. Using aaPanle lets you manage the Website, Database, FTP with visual file manager, visual software manager, visual CPU, memory, flow monitoring chart, schedule tasks, and Docker.
The main difference between this Control Panel with the above ones is that you must provide a clean server. Since it uses APIs to control developers and offers deployable web environments and supports Apache and Nginx, no environment should already be installed. Another specific feature of aaPanle is that it will prompt you to choose LAMP or LNMP while you are login in. If you consider using free Litespeed but you are not professional in configuring that, aaPanle should be your choice. aaPanel has created a panel for Open Litespeed. Also, you are not forced to use the command-line because you can work with aaPanle just by one-click to deploy and manage your hosting.
prerequisites
You should consider more than512M memory and more than 100M free hard disk space. aaPanle manages the webserver through a web-based GUI.
aaPanel Advantages
1- Creatable and manageable FTP
2- Creatable and manageable Database
3- Creatable and manageable Website
4- Creatable and manageable Docker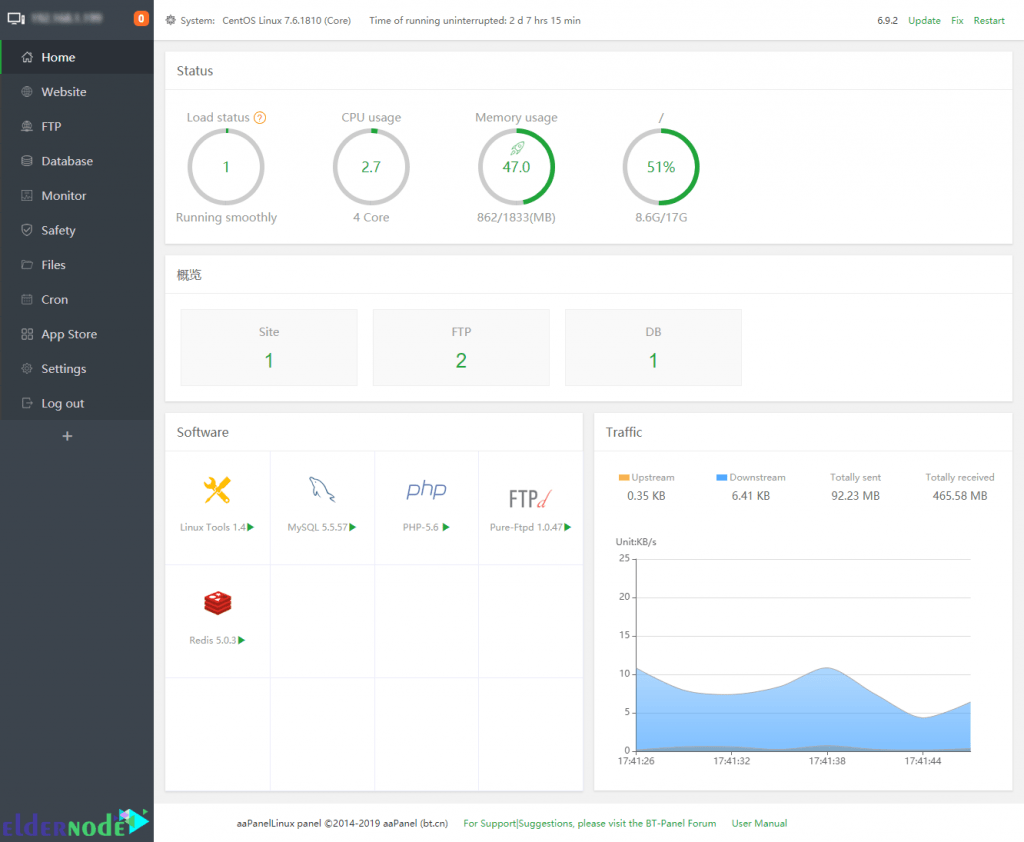 In case you want to choose or read more about aaPanel, find our related article on Introducing aaPanel Hosting Control Panel.
Conclusion
In this article, you learned about the 4 Free Control Panel Hosting For Linux Server in 2021. Undoubtedly, it is really necessary to install a commercial or free Control Panel on your web server. You may first look for a perfect but free Control Panel to provide hosting services to others or even for personal use. If you prefer to start with a free Control Panel, you learned how to choose one of them due to your needs and the type of your website. The 4 Control Panels which were introduced, are useful, with a lot of advantages and of course, you will not pay any extra cost.