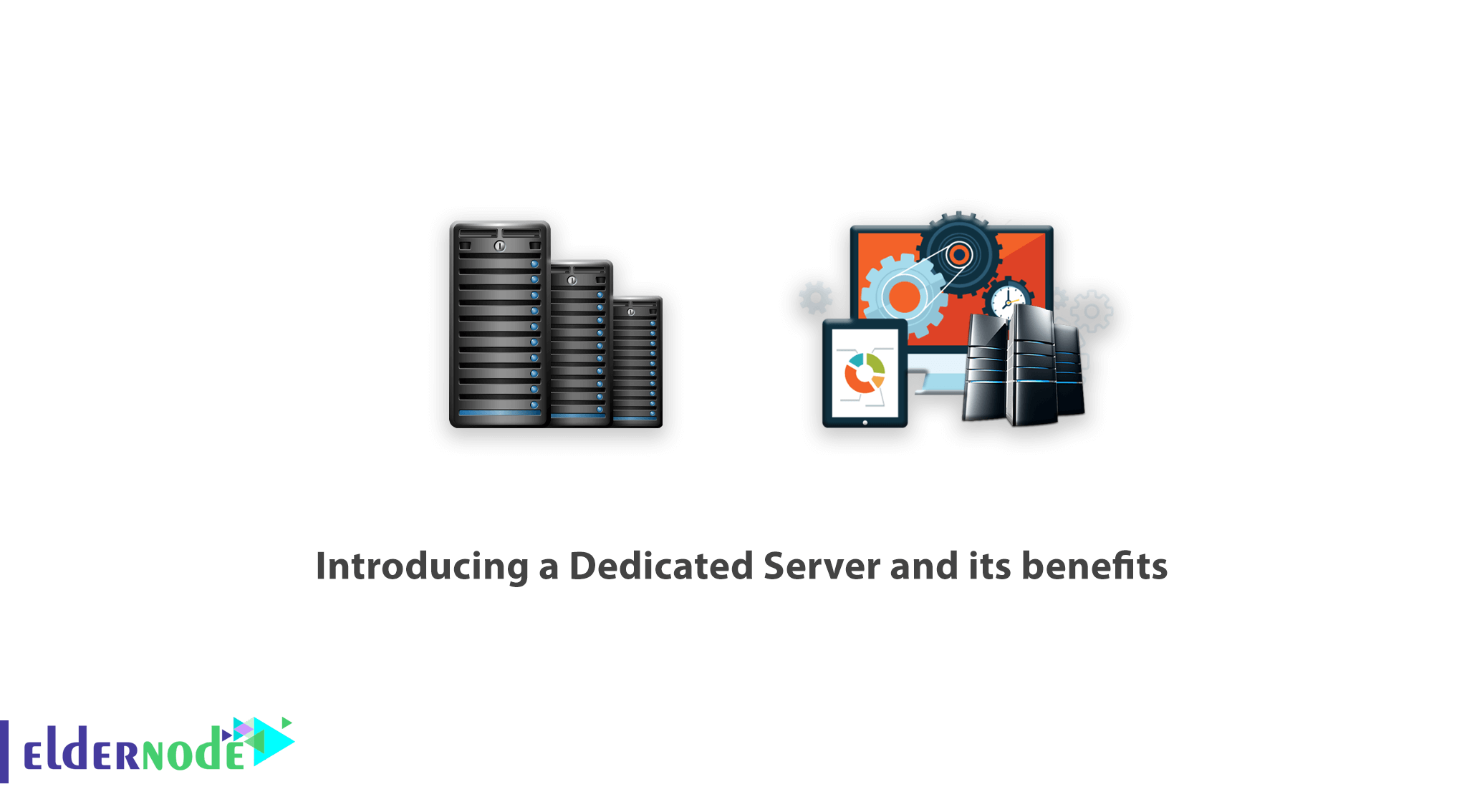 A dedicated server is a suitable service for websites and organizations or people who plan to have multiple virtual servers for their services on one server. this service has a high bandwidth with a high-speed connection to the network and the Internet. Which makes its performance speed much higher than other services. A dedicated server, in addition to large sites and organizations, is also a good choice for web and application developers And those who need virtualization. Because there are no restrictions for installing software and making changes. The price of a dedicated server also varies depending on the type of operating system, geographic area (location), and resources. In this article, we want to fully introduce you to the dedicated server and its benefits. We will also explain to you who needs a dedicated server and what should be considered in a dedicated server. You can visit the packages available in Eldernode to purchase a dedicated server.
The Best Dedicated Server and its benefits
The dedicated server is an efficient facility for large institutions and organizations that cannot or do not want to use shared servers with other individuals and organizations for any reason. Since the dedicated server provides all the hard disk space of the server and a considerable bandwidth to users.
A variety of features such as large storage space, the ability to create multiple Internet sites, high bandwidth, complete control over the server, Allows you to install custom software, backup and manage server content. In this article, we try to fully acquaint you with the dedicated server and its benefits. We will also explain who needs a dedicated server. Finally, the principles that must be followed to purchase a dedicated server will be explained.

What is a Dedicated Server?
A dedicated server is a physical server that exists physically in a data center and is provided to you.
This means that all server resources belong to you exclusively and you do not share with anyone any of the server resources such as speed and hard disk space, bandwidth, network and Internet connection speed, CPU power, etc and You will definitely have more speed and flexibility.
For this reason, dedicated servers are generally more expensive than virtual servers. For users who want to buy a dedicated server, it is important to do the necessary research before choosing this type of plan. By upgrading a virtual private server (VPS) to a dedicated server, you can grow websites as much as possible without limiting space, bandwidth, etc. In the following sections of this article, the issues that should be considered when purchasing a dedicated server are reviewed.
A dedicated server is a physical server that is purchased and provided to you based on your needs. These servers have their own advantages and are one of the best solutions for providing hosting services. All hardware resources on such servers are reserved for the user who leased them and are not shared. In fact, in such a case, users rent a hardware server with all the hardware features on it. If you buy a dedicated server, you will be free to provide any operating system and any type of services that are allowed in any way you wish. And of course, you can order some special services for a dedicated server such as a firewall, different configurations, buy more IP addresses, for which you generally have to pay extra for them.
Difference between Dedicated server and VPS server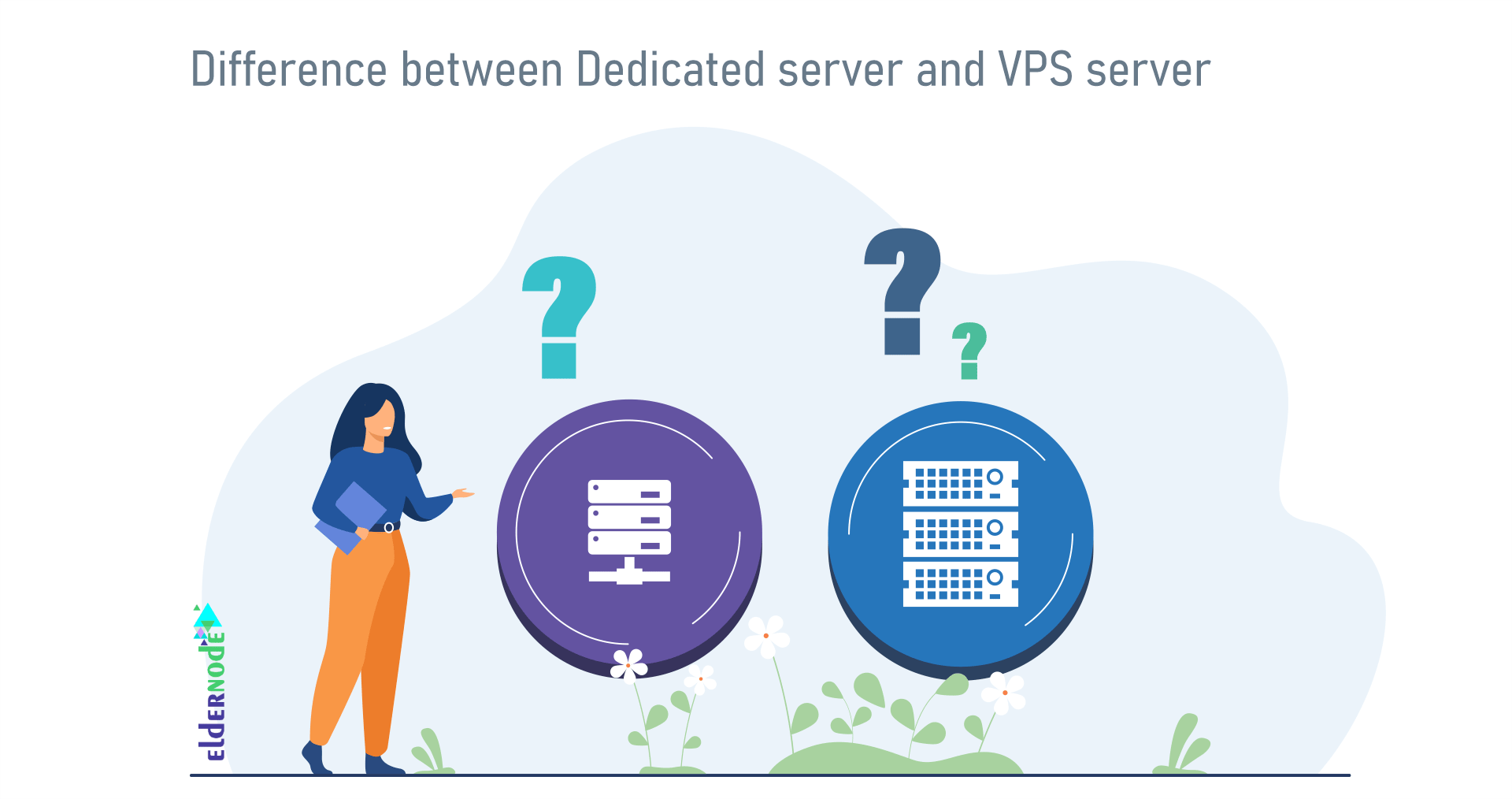 How to manage the service provided to users on dedicated servers is exactly the same as VPS servers. This means that the user can connect to the server operating system using the remote and manage it. But in terms of hardware resources, there is a major difference between VPS and dedicated servers. Dedicated servers, unlike shared VPS servers, do not have a limit on hardware resources. In this way, a server is physically and completely provided to the user and the user can manage it according to his own desire.
In dedicated servers, there are no restrictions on the use of resources for the user, and the user can use it as long as the server hardware has the processing power. For example, if the server RAM is 16GB, the user is allowed to use all 16GB of this RAM and there will be no restrictions for him.
– Dedicated server has higher hardware power than VPS server due to lack of resource sharing and limited hardware resources.
– Due to the lack of access of other users to the dedicated server, the information is more secure.
– No malfunction in the dedicated server due to improper use of other users.
– No service restrictions by the dedicated server company.
– Dedicate internet bandwidth on a dedicated server.
1. Performance
The issue of efficiency arises when your service is faced with a large amount of information and data and a lot of traffic on your service. Dedicated servers are much more powerful and efficient than VPS servers in this situation. Each of these servers has its own efficiency and application and you should choose the appropriate server according to the nature of your service.
On the other hand, a VPS server and a dedicated server that have the same hardware and software resources and capabilities do not provide you with the same level of performance. A server that is physically fully accessible to your site will perform better than a VPS server. If your website requires a lot of computing resources, it is recommended to buy a dedicated server.
2. Capacity management
Generally, using a dedicated server to provide services is not associated with using the maximum amount of server resources, and this will help you and your service provider to always be able to provide your services with better quality. On the other hand, the use of a virtual server may, due to poorer processing than a dedicated server, sometimes use all the resources and disrupt high-traffic services. Therefore, dedicated servers have more capacity than VPS servers.
3. Security
Security management has its own challenges in both VPS servers and dedicated servers. On VPS servers you can set up a separate firewall on your operating system. In addition, the main server itself has a firewall layer. You can also set your own security settings that are separate from other VPS servers. But in dedicated servers, security and firewall settings must be done on the server itself and there is no other security layer. In general, In general, for more security on dedicated servers, you should use a data center firewall or consult a security expert.
Difference between Dedicated server and Cloud server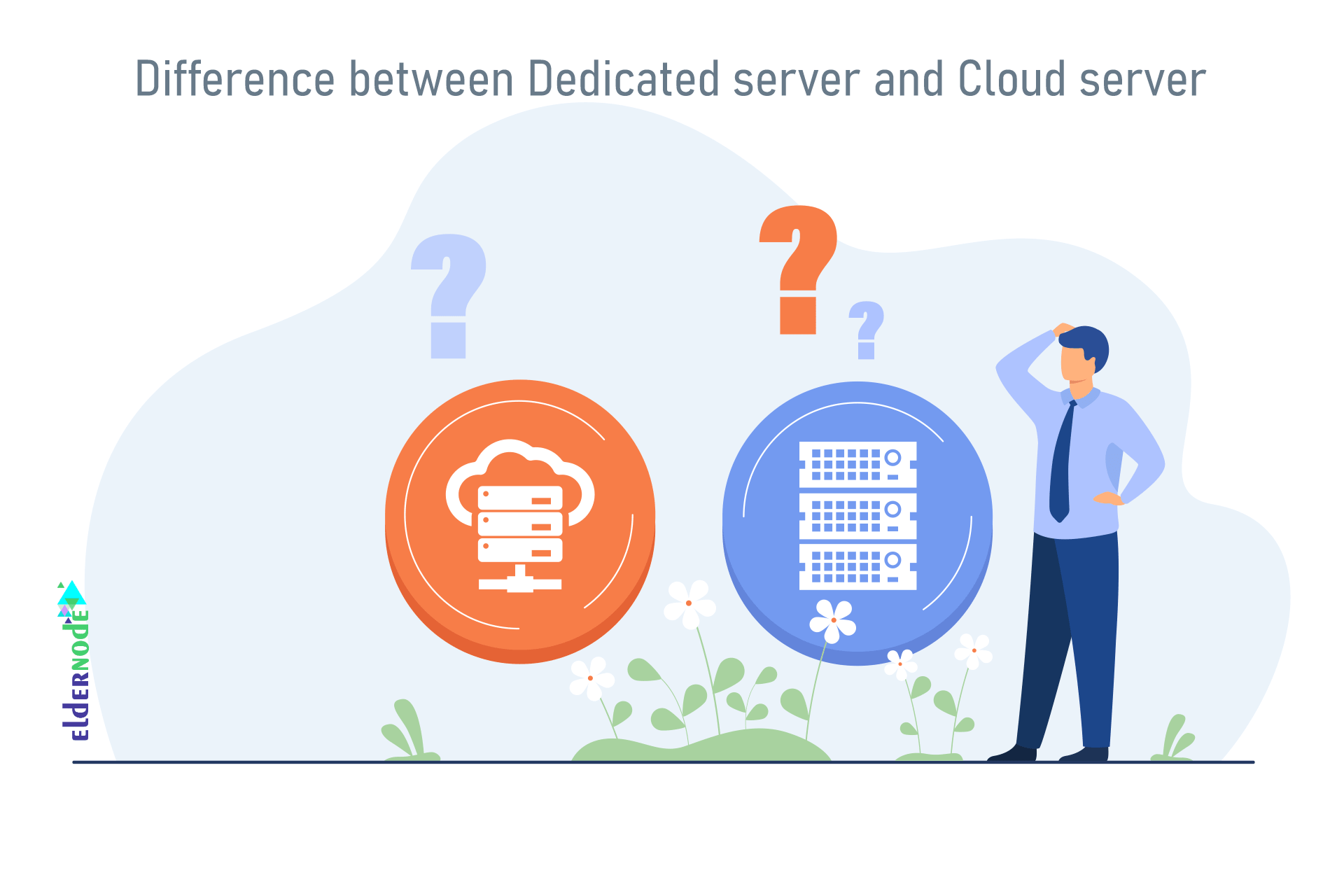 Dedicated Server and Cloud Computing Hosting are two types of hosting solutions that you need for websites with high processing and performance requirements. It depends entirely on your needs which of these services you use. Each of these services has its own advantages and disadvantages. The biggest advantage of cloud services is their scalability and relatively low cost compared to Dedicated Hosting services.
The difference between a cloud server and a dedicated server is in their performance, scalability, management, price, and valuation. Dedicated servers are usually the best option for companies that want the information to be processed and retrieved quickly.
Data processing speed on dedicated servers is very high. For this reason, this issue has caused its popularity and efficiency. Speed of performance and information processing is especially important in industries such as e-commerce.
1. Consumption of hardware resources
Calculating the amount of consumption of server resources is very important to your users and your service.
On a dedicated server, you will have the resources you purchased from the beginning, and upgrading them may require switching servers and migrating to another server.
But on cloud servers, you only need to request an increase in resources for the service provider to provide it for you
2. Moving servers to dedicated and cloud servers
Both dedicated and cloud servers can be moved. More planning is needed to move to a dedicated server. In order to achieve integrated mobility, a solution must be found for the present and the future. For this reason, a great program should be considered for this purpose. In most cases, old and new solutions must be used together at the same time. On the other hand, you should keep old servers to help you as a backup.
3. Server management and performance
Cloud services are provided and managed by the provider. But in dedicated servers, you are in charge of managing the whole server, updating, providing security, etc. Sometimes, some people who do not have the experience to use them have to use specialists to manage their server. But you know that having a dedicated server, processing resources, and space is at your disposal and you will not have to worry about anything.
4. Compare the price of cloud server and dedicated server
Cloud servers typically cost less to access than dedicated servers. However, cloud servers need more resources. One of these features is the implementation of a cloud server through a dedicated network interface, which is very expensive. But on the other hand, one of the advantages of a dedicated server is its upgradeability, which improves memory, network cards and disks of non-volatile memory.
Difference between Dedicated server and Shared hosting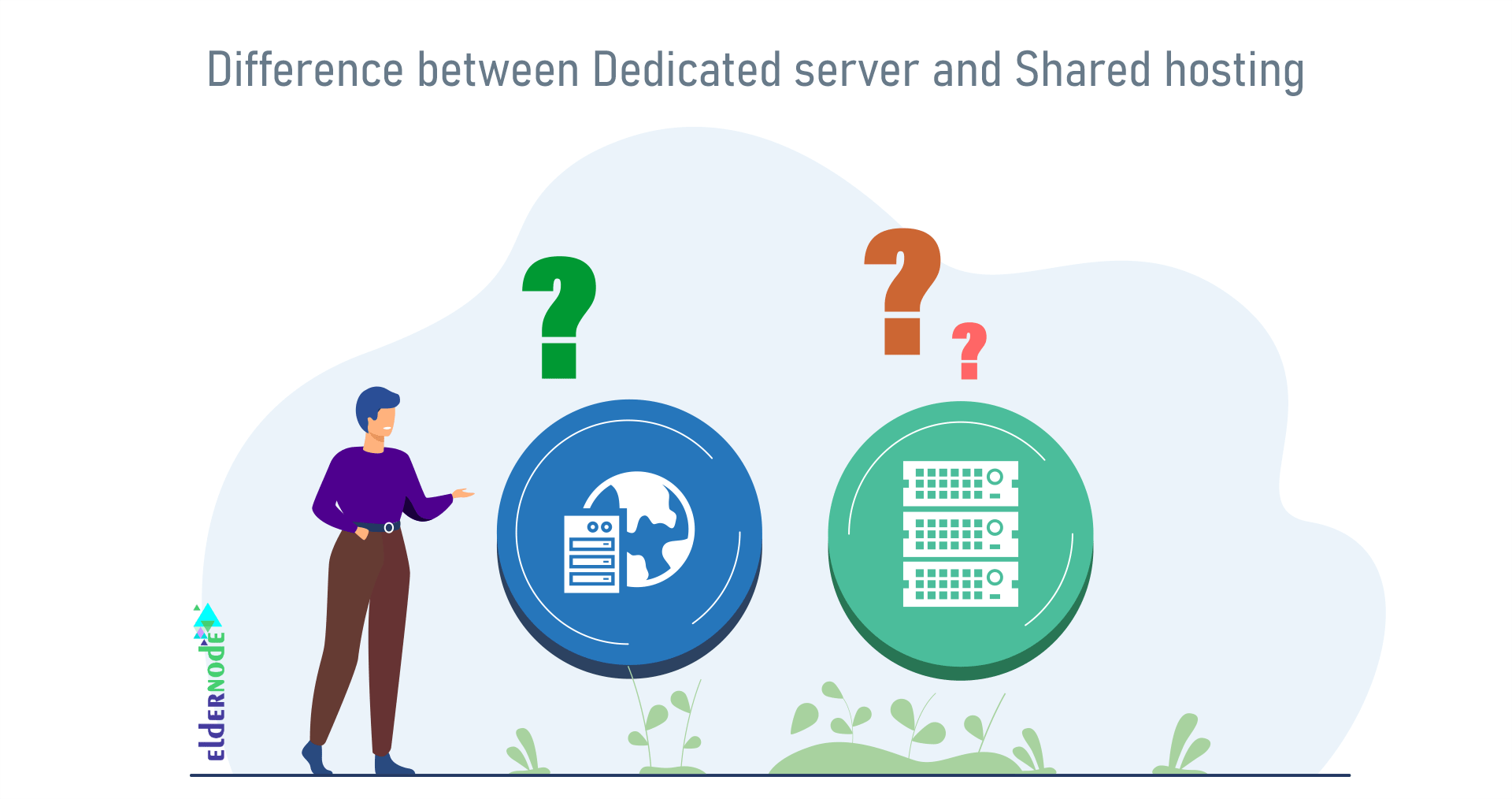 Another use of a dedicated server is to set up and configure a dedicated server as a web host or application host. When you have a site or an application, you need a host that you have two different ways to use and set up.
Use a dedicated server as a host or use shared hosting.
Shared hosting is a type of web hosting in which a server is shared between a number of users (depending on the server hardware and bandwidth) and users use the server simultaneously. In shared hosting, the management of the facilities provided to the user is by the host control panel and the user does not have direct access to the server operating system. Therefore, there are more limitations in this type of hosting than other hosting services.
Differences between hosts and servers
In order to be able to examine the differences between shared hosting and dedicated servers, we must first understand the differences between hosts and servers. The dedicated server is a powerful supercomputer in terms of hardware that works 24 hours a day, 7 days a week, and makes the websites on it always available to their audience. Servers are used to host sites and control and manage them. When users of a site enter your website, it is the server that receives the user's request and sends the information they need to display.
Comparison of Shared hosting and Dedicated server
Now that you are familiar with the definition of hosting and server and have learned the difference between it and the server, we can examine the differences between shared hosting and dedicated server. Both of them are responsible for storing and maintaining the information on your website and their type of work is the same. But each of them has its own characteristics that make them different.
The main difference between shared hosting and dedicated server that can be mentioned is the type of storage of website information on the server. In shared hosting, a server is divided into specific sections, and each of these sections will be responsible for hosting a separate website. But on a dedicated server, a user receives all the space available on a server.
Now, each of them has advantages and disadvantages, which we will examine in the following. If you can understand the difference between shared hosting and dedicated server, you can make the best choice for your website.
Dedicated server VS Shared hosting
1- In a dedicated server, the entire server is assigned to one user, the server resources are fully available to him. As a result, the site has more speed and power. For this reason, it is a very suitable option for high-traffic sites.
2- Shared hosting has a lower price because it is divided into several separate parts.
3- On a dedicated server, the user will manage the server. For this reason, they have the ability to customize the server and can make changes to the server according to their needs.
4- It is not your responsibility to maintain shared hosting and solve its problems.
5- In shared hosting, due to server sharing and security, SSH access is not available for shared hosting users.
6- To provide shared hosting, the host server is dividing into several separate parts. So the resources provided are sharing. For example, due to the high traffic of websites located on a server, the speed decreases in the same proportion. Some hosting with unreasonable divisions cause the slow and annoying user.
7- Webmasters located on a shared server will not be able to manage the server and make changes to it.
Dedicated Server and its benefits
So far you are familiar with a dedicated server and its comparison with other similar services such as shared hosting, virtual server, and cloud server.
We will now fully explain the benefits of a dedicated server.
Dedicated servers can be the best choice for hosting sites with significant traffic. Here are some features and benefits of dedicated servers:
1) Advanced technical support
Dedicated servers allow you to use the technical and advanced knowledge of professional consultants. Consultants and specialists are professionally training and can identify and fix a problem if it occurs.
2) Dedicated IP address
Dedicated servers have dedicated IPs. So all the traffic coming to your website or app will go to a unique IP. In dedicated hosting, you have a dedicated server that has your unique IP address. If you have a large e-commerce site, you need SSL to process your credit card. So it is important to have a unique IP.
3) Private and safe space
On dedicated servers, access is provided to the users in a completely dedicated manner. Therefore, server security is provided. Also, since the server is not shared with other subscribers, there is no need to worry about spam and malicious content.
4) Speed ​​guarantee
The speed of uploading and receiving information from dedicated servers is better than shared hosting. Because on a dedicated server, resources are also sharing between other subscribers.
5) Ability to control and manage the server
On dedicated servers, the subscriber can not only install custom operating systems but can also install custom applications. This will make it easier for you to manage the server and prevent problems that could affect your website.
6) Installing different control panels
Setting up and installing control panels such as DirectAdmin, Cpanel, Plesk, Vesta cp, provides the management of the basic tasks of a website quickly and easily. You can create and manage emails, domain management, set up powerful spam filters, manage databases and web-based applications such as WordPress blogs and file management, and much more.
7) Flexibility
A dedicated server allows users to customize the server for unique needs. For example, you can customize the CPU, RAM, disk space, and software to your liking. Therefore, flexibility in dedicated servers leaves users free to do customization.
Dedicated servers allow you to have a customizable server environment to suit your needs. With a dedicated server, users can choose the platform and software they need. This provides more control over how the dedicated server is configured.
8) Advanced performance and security
Choosing a dedicated host ensures that your website is up to date. If your website gets a lot of traffic, dedicated servers are more stable and reliable than shared hosting. By having a dedicated server, users can be sure that they are not sharing space with a malicious website or spammer. Dedicated servers increase information security. This is especially important for companies that handle sensitive transactions via FTP or SSL.
9) Dedicated virtualization
One of the most important benefits of a dedicated server is the ability to set up virtualization.
With Virtualization, you will be able to set up a number of virtual servers for your business on a dedicated server through virtualization operating systems such as KVM or VMware vSphere, and provide a separate dedicated IP for each. To have more powerful performance and efficiency
Who needs Dedicated Server?
All people and large private and public organizations that for one of the following reasons cannot or do not want to use the services of shared servers will simply be able to enjoy the benefits of having a dedicated server: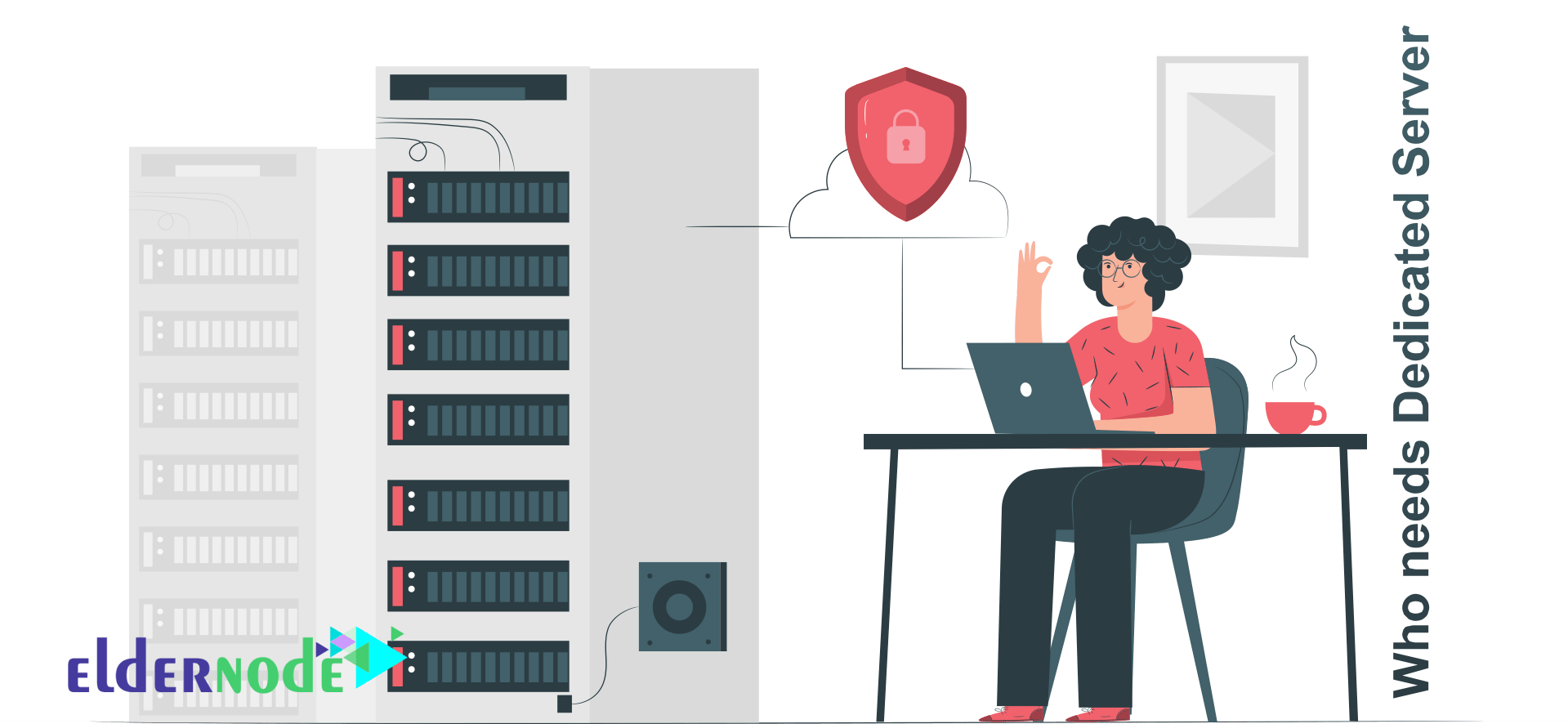 – Provide the desired bandwidth
– Take full control of server content
– The need for permanent backups of information and data
– Requires a lot of web space (for example more than 100 GB)
– Communicating with different parts of the organization in multiple geographical locations
– Need for very high monthly traffic (for example more than 100 GB)
– Set up multiple virtual servers in one location with dedicated management
There are several factors involved in determining which service is suitable for hosting personal, corporate, and business services. Here are the following factors:
1. Choosing a hosting service based on job needs
Dedicated and shared hosting can both be a host for applications or sites, but the need for a person or company to use the maximum ability of a server, high bandwidth, powerful processing, etc. depends on the use of a dedicated server and host Sharing can not serve a high-traffic website well.
2. Determining the required traffic
The choice of dedicated services should be made in case of high traffic. Otherwise, for low traffic, shared service is enough.
3. Budget amount
If you have the right budget, we recommend that you choose a dedicated server so that you can use all of its resources. It should be noted that dedicated servers are more expensive than shared hosting.
4. Staff skill level
The shared hosting service can be easily used by all users at any level. But to use a dedicated hosting service you must be a server administrator.
5. Integration of multiple services on multiple virtual servers
You may want to set up several sites or services separately on different virtual servers, and you need to have full server management to be able to use the maximum power of a dedicated server for your services. In this case, a dedicated server can be an informed and cost-effective choice.
After reviewing the mentioned items, you should decide to choose the type of service according to your needs. So you have to be very careful.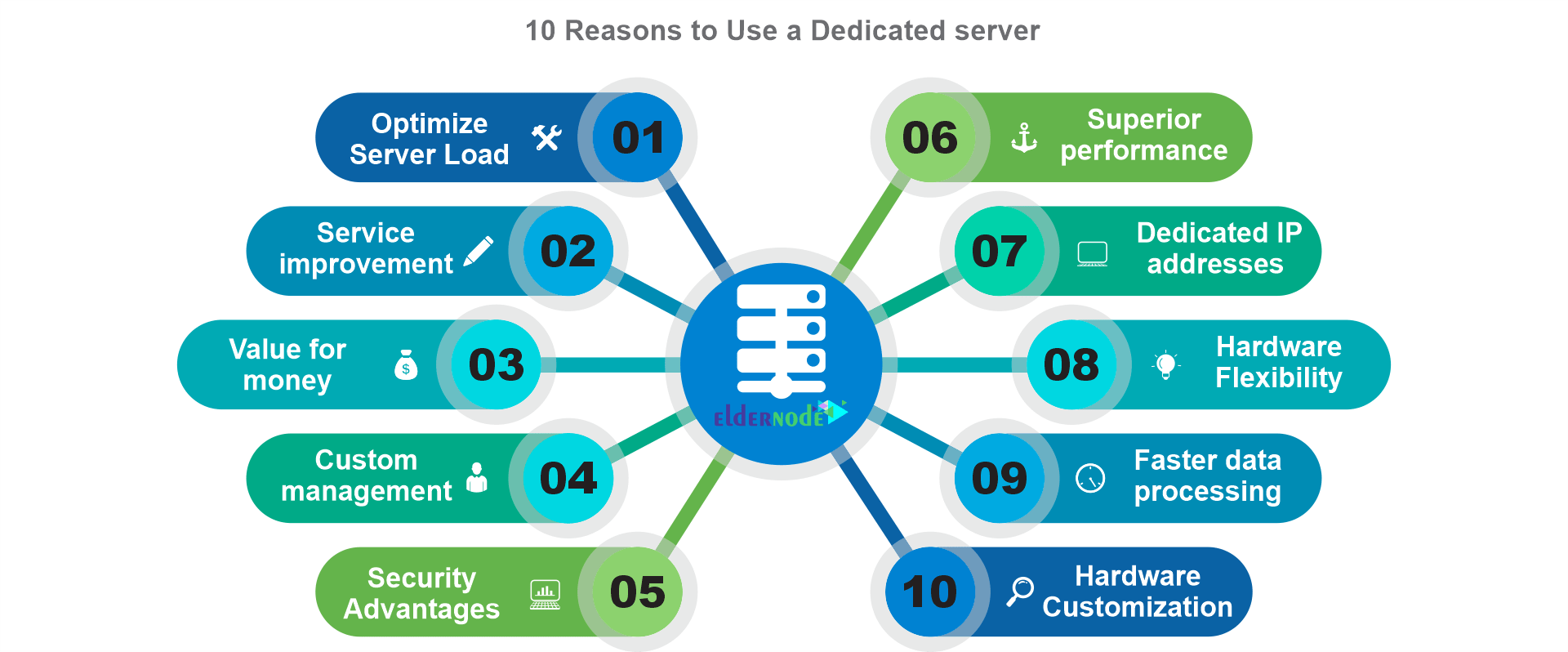 10 Reasons to Use Dedicated server
A dedicated server is needed when an organization or group is concerned about the security of their information, or when there are high requests and visits to an organization or business site. In this section, we will explain the 10 reasons why it is necessary to choose a dedicated server:
1) Superior performance
In a dedicated server environment, the client has full access to all server resources, whether RAM, CPU, bandwidth, or memory. As a result, their website or application offers a high level of speed and performance even if demand and traffic increase.
2) Service improvement
Dedicated server With dedicated resources and having total control over a server, allows users to have the best and fastest transactions to improve the quality of their services and increase their customers.
For example, high-traffic sites, when using a dedicated server, provide better performance speed due to faster processing between the database and website backend, and apart from user satisfaction, will improve their SEO results.
3) Dedicated IP addresses
The dedicated server provider will give you a dedicated IP address that you can use to control and manage the server as well as set it up. This unique IP address, if you use your server as a web hosting, will increase the quality and efficiency of your site in terms of SEO and also reduce spam. In addition, you can order several other dedicated IP addresses to use if you need more IP addresses.
4) Customization
Dedicated server hosting provides root access to the server. With root access, it is possible to configure the server hardware and software according to the customer's needs. As a result, you can add more RAM, ask for more disk space, and choose an advanced processor for your server. You can also select the operating system (OS) you want.
5) Security
In a dedicated server host, you do not share server resources with other accounts. As a result, your website is protecting from malicious and unwanted websites. In contrast, in shared hosting, your website is protecting against the dangers of vulnerable sites.
On a dedicated server, you are responsible for the day-to-day maintenance of your server. This means that you have to perform tasks such as software installation and security updates on your own. Since you are responsible for the security of your site, you can adjust the security settings as needed. This feature is especially useful for websites that deal with sensitive information such as financial data centers or customer information.
6) Value for money
Although a dedicated server may seem expensive at first glance, it is a valuable solution to save money in the long run. A dedicated server provides access to a complete set of resources of a physical server and thus superior and continuous performance.
7) Flexibility
While a dedicated server is primarily using for web hosting, it is equally good for other applications. Dedicated servers can be used to back up websites, host multiplayer games, virtualization, host personal cloud space, and view live movies. Therefore, dedicated servers are versatile and flexible.
8) Faster data processing power
Of course, having a dedicated processor on a server, which is achieved on a dedicated server, data processing is much faster. Dedicated server and its resources are completely at your disposal and you will not have any worries about abuse of resources by another host or other VPS.
For example, if you use your own server to host your website, you can be sure that all processing will happen easily and as quickly as possible, or that the bandwidth will not belong to any service or person other than your website.
9) Dedicated and custom management
Dedicated server management is at your disposal and you can have a custom operating system, custom service, or even a special configuration on them. In addition to these benefits, you can split your server's dedicated resources between services to get the best performance.
10) Optimize Server Load
Optimizing server performance is one of the most important points in service delivery. A dedicated server due to its dedicated resources provides the ability for the service manager to optimize his server and services with ease and divide the server resources between services as needed.
How to buy Dedicated Server
The main characteristic of a dedicated server is its processor speed and dedicated resources. Accordingly, speed acts as a key factor in introducing the various packages offered by hosting service companies. But CPU speed is more important than memory, disk space, bandwidth, or other server specifications that need to be considered. If the CPU is more powerful, the server will perform concurrent operations better.
Static sites work well with medium to low CPUs, but dynamic sites, data management applications, and game servers will require more powerful CPUs.
If you want to upgrade your hosting service to a dedicated server, you have to keep in mind that not all dedicated servers are the same and each web hosting company offers different features and solutions for buying a dedicated server.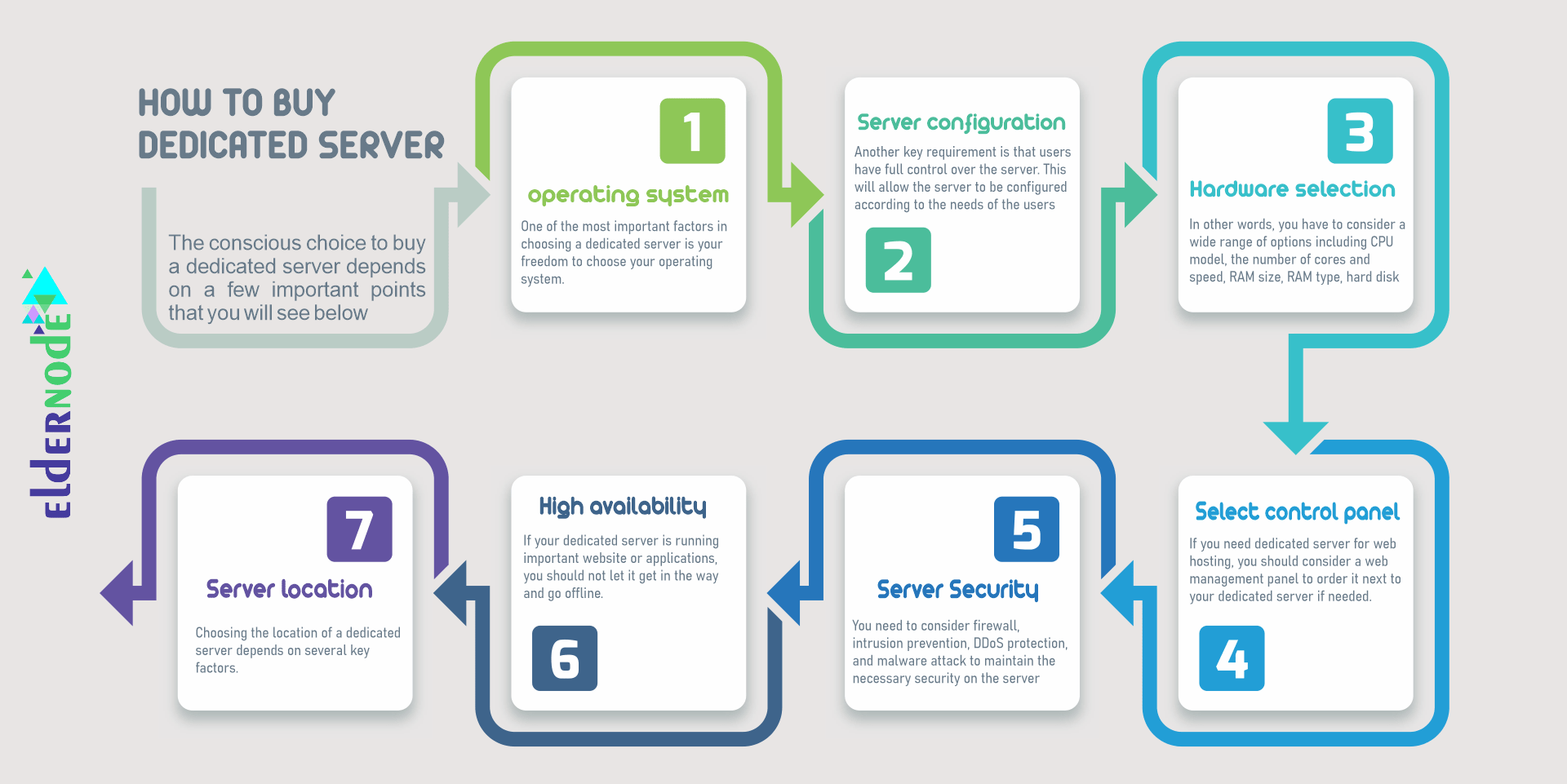 1- Select the type of operating system
One of the most important factors in choosing a dedicated server is your freedom to choose your operating system. Programs needed for your business may require a Windows or Linux distributions or even virtualization.
In some cases, your software may only be compatible with one version of the operating system. You need to make sure that your provider is able to run the operating system you need.
2- Server configuration
It is very important that you connect to your server in the form and do the configuration you want. For example, you need to connect to the server with SSH or with the RDP protocol.
So by choosing the operating system and the initial configuration of the server to connect to it, you have gone through great steps.
3- Hardware selection
Because purchasing a dedicated server is more expensive than other services, you should make sure that the host you are considering provides quality and comprehensive hardware before choosing one. This way, you can make the right choice to buy from a server that has the features you want.
In other words, you have to consider a wide range of options including CPU model, the number of cores and speed, RAM size, RAM type, hard disk capacity, hard disk type (HDD or SSD), bandwidth, and RAID.
4- Select the control panel
If you need a dedicated server for web hosting, you should consider a web management panel to order it next to your dedicated server if needed. A control panel does a lot of things like control mailboxes, FTP accounts, databases, web statistics, and more through an easy graphical interface.
Host control panels have almost the same functionality, but each has its own custom features. So which control panel is right for you depends on your preference.
Remember, Cpanel can only be installed on Linux, but you can use Plesk, which has Linux and Windows versions.
5- Security
Security should be a determining factor when choosing a dedicated hosting provider. You need to consider everything from the geographical location and the physical security of the data center to the security features that your host provides in your package or service.
You need to consider firewalls, intrusion prevention, web application security, DDoS protection, and virus and malware attack to maintain the necessary security on the server. Service providers must also provide SSL certificates, dedicated IP addresses, and spam filtering.
6- High availability
If your dedicated server is running important services, you shouldn't let it go offline. Because the consequences can be catastrophic. This is why it is important to choose a host that can ensure high availability.
7- Server location
Choosing the location of a dedicated server depends on several key factors.
The most important factor in choosing a dedicated server location is for you and the users who will receive the service from you. Sure the closer the server is to the service location, the faster the service will be on the Internet.
The next point in choosing a location is to choose a powerful data center that provides dedicated server service in the best way with reliable and quality bandwidth.
And at the end of the geographical area is the location of the server, which if you need a dedicated server to serve around the world, so you must choose the geographical area that has the perfect infrastructure to provide bandwidth to all parts of the world.
Recommendation to buy a Dedicated server
Now that you have obtained the necessary and sufficient information about the dedicated server by reading this article. You can easily buy the dedicated server you want. Eldernode offers dedicated servers from the USA, France, Netherlands, Germany, UK, Japan, and Singapore. You can choose from these locations to buy the dedicated server you need.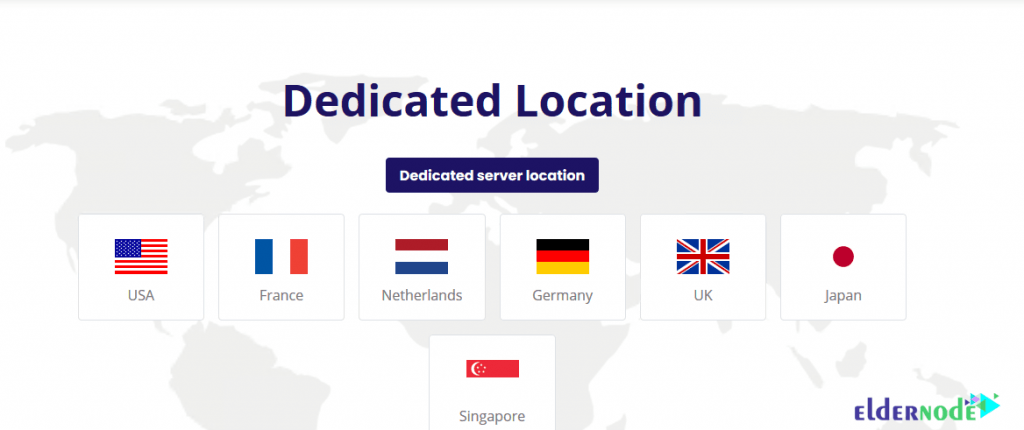 If your preferred location is not among these options, contact Eldernode Live Chat to guide you through this.
Conclusion
You can use a dedicated server for a variety of applications, especially hosting very large sites. Due to their high flexibility, these servers can respond to various software that are installing on them. In this article, we tried to introduce you to a dedicated server first. Then we explained the difference between a dedicated server and a VPS server, cloud server, and shared hosting. Then we explained the dedicated server benefits and who needs a dedicated server. You can read the article Advantages and disadvantages of VPS if you wish.