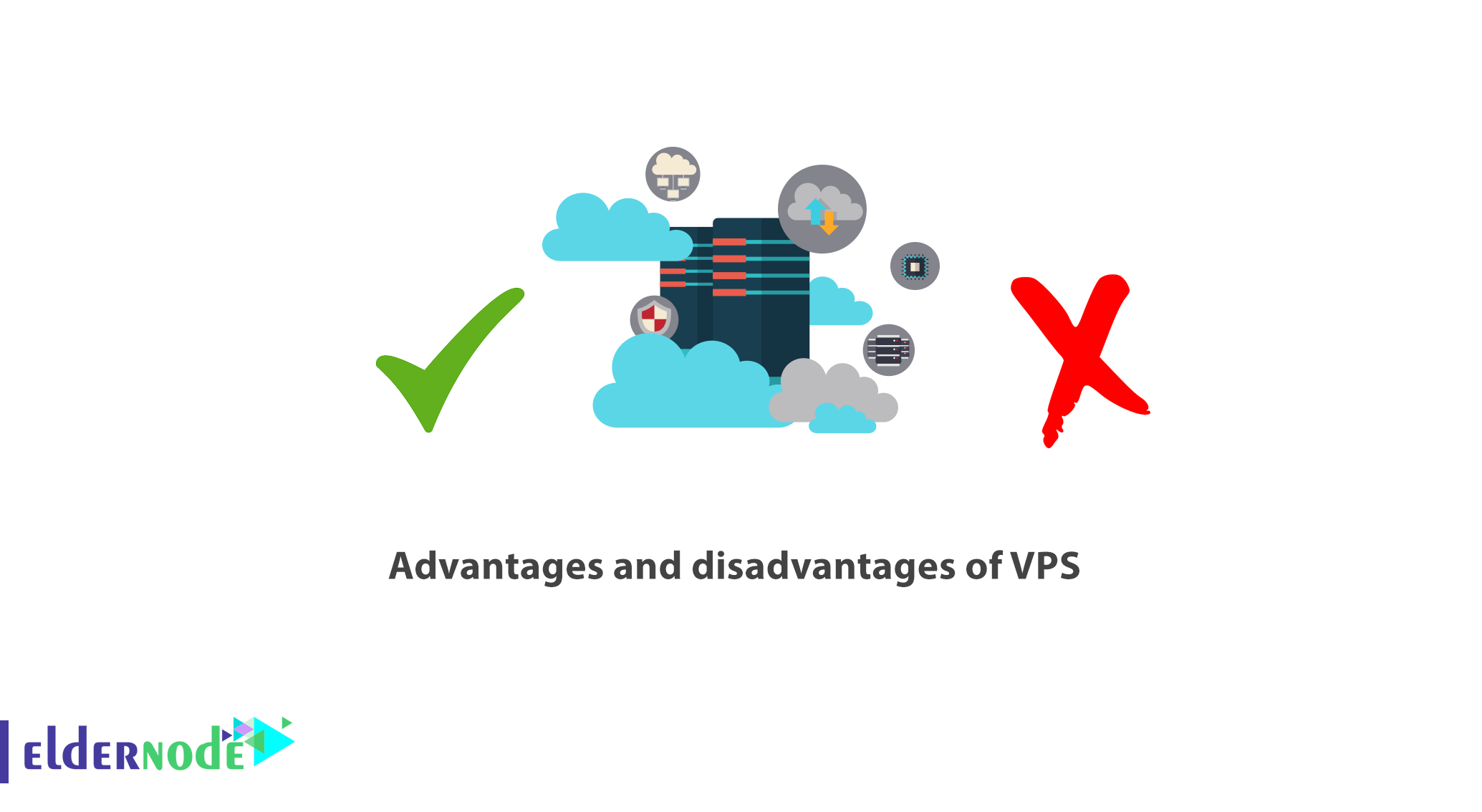 Advantages and disadvantages of VPS. In this article, we will introduce VPS hosting and examine its advantages and disadvantages. To have an online business, web hosting is essential to hosting website files on a server. In addition, your site should be on the Internet and web searchers can find it.
There are many types of web hosting, each with its own advantages and disadvantages. Choosing the best hosting option depends on your situation and needs, and knowing the features of each type of hosting will help you make the smartest decision for your site and business.
Available VPS Servers in Eldernode
Types of web hosting
1. Shared hosting
2. Dedicated hosting
3. Virtual hosting or VPS
1.

Shared hosting

Shared hosting, as its name implies, shares all of a server's resources between multiple websites. That's why it is cheaper; But if one of these websites uses excessive server resources, all the sites on the server will face the problem of low speed and not getting the site up on the Internet.

There is also a security concern because infecting one site infects the entire server.

User control is usually low.
2.

Dedicated hosting

Dedicated hosting dedicates an entire server to just one website, which is why it is so expensive.

Dedicated hosting also has numerous benefits, including speed, better control, and more security.
3.

VPS web hosting

VPS web hosting is one of the newest types of web hosting that has recently become popular. VPS stands for Virtual Private Server.

VPS hosting often confuses many people and businesses looking for hosting options for their site. This is because it is a hybrid VPS or a combination of shared and dedicated hosting. So it is not surprising that people are confused by this term and are not sure that this option is suitable for the purposes and needs of their site hosting!

Follow us in this article to learn more about VPS hosting and its advantages and disadvantages.
What is VPS Web Hosting?
A VPS server is a computer that is partitioned so that each operating system partition has its own disk space and bandwidth.
A real server located in the data center of a hosting company is used to host VPS. This server is divided into different sections, each of which forms a VPS server.
The host account owner on the VPS server only sees their own virtual space and can reboot that space or use it as a dedicated server.
This virtual space acts like a dedicated server but is actually part of a real server. Because of this resemblance to a dedicated server, VPS is a good solution for websites that may need a dedicated server in the future but are not yet ready.
Note: VPS hosting is a bridge between shared hosting and private hosting.
For which sites is VPS hosting suitable?
Many hosting clients prefer to buy VPS hosting because they have more control over server space than shared hosting. Even if not all resource allocation in VPS hosting is required and shared hosting is sufficient for them, having extra control power is worth the extra cost.
For individuals and businesses who want to have a dedicated hosting space but are skeptical of the technical know-how required, VPS hosting is a good starting point to gain experience and prepare for dedicated hosting. In this case, they have tried VPS hosting and gained more skills without having to pay the high cost of dedicated hosting.
Like all types of web hosting, VPS hosting has its advantages and disadvantages and is only suitable for certain situations.
Advantages and disadvantages of VPS.
What are the benefits of VPS hosting?
There are many benefits to hosting a site on a VPS server, including:
— A VPS hosting account is cheaper than a fully dedicated hosting plan that uses the entire real server.
— Many VPS plans can be customized to suit your needs.
— Many VPS hosting plans are easily scalable. You can start in cyberspace with the least resources and gradually increase the hosting plan as your site develops to meet your new needs. In this case, you do not have to pay for additional resources that you do not need yet.
— You have more control over the virtual server than shared hosting. You may have access to root and the ability to use scripts that may not be allowed in the shared hosting space.
— For most technical problems, you will receive support services as much as shared hosting.
— You can choose the semi-managerial hosting option that the hosting company provides some site maintenance services for you.
What are the disadvantages of VPS hosting?
VPS hosting is in theory a good way to take advantage of a dedicated server service that is not expensive. However, there are problems!
The main drawback is related to financial issues because it is more expensive than shared hosting. For sites that do not require a dedicated server, VPS server costs are expensive. Of course, a VPS server is not as expensive as a dedicated server, but it is more expensive than shared hosting!
From a service perspective, VPS virtual hosting may have even more problems!
Some web hosting companies offer VPS hosting but do not allocate server resources properly, which can be a problem for the site owner and other sites on the actual server if a site uses all the resources up to the allowed limit.
Note: If sites on one server use all of their resources, server problems will occur that affect all sites on that server. One way to deal with this problem is to ask how many virtual accounts are on one server at a time when signing up.
VPS hosting provides the power and scalability your site needs.
VPS virtual hosting is a great bridge between shared hosting and dedicated hosting. Its main advantage is the ability to have complete control over the hosting space, which is similar to proprietary hosting plans but not as expensive.
Note: If your hosting company does not manage your VPS properly, you may run into problems. If you choose Eldernode and can afford to pay for VPS hosting, VPS is a great option for you!
Dear user, we hope you would enjoy this tutorial, you can ask questions about this training in the comments section, or to solve other problems in the field of Eldernode training, refer to the Ask page section and raise your problem in it as soon as possible. Make time for other users and experts to answer your questions.
Advantages and disadvantages of VPS.
Goodluck.