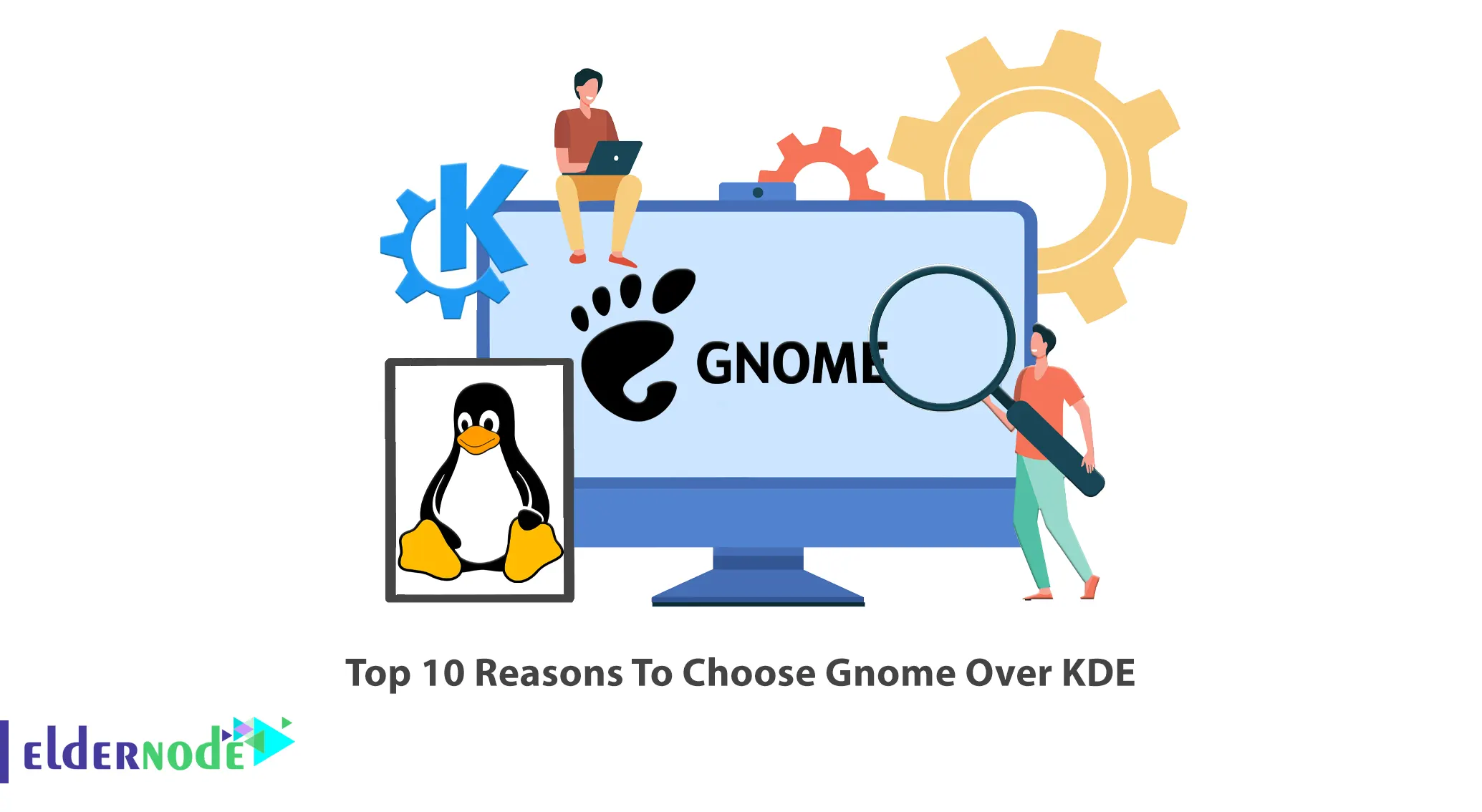 One of the exciting aspects of Linux, unlike Windows and macOS, is that it has a large number of desktop environments. This feature enables users to choose a suitable desktop environment depending on their interests and tasks. KDE Plasma and Gnome are two of the best desktop environments for Linux. This article will explain the Top 10 Reasons To Choose Gnome Over KDE. If you intend to buy a Linux VPS server, you can check out the packages offered on the Eldernode website.
Why Choose Gnome Over KDE?
Gnome is a desktop environment written for open-source applications. It is written specifically for Linux and developed by the Gnome Project. This desktop environment is an international project that aims to develop software frameworks and is also considered a part of the GNU Project. But KDE stands for K Desktop Environment and is a desktop environment for Linux-based operating systems. It provides a graphical interface to choose their own customized desktop environment. Using this environment gives you the ability to have full access and control over all parts of the desktop environment.
1- GNOME Is Free Software
The Gnome desktop environment is 100% free software. Users can have the most beautiful desktop experience with Gnome without paying any fees. It also allows users to change their desktop environment if they don't like Gnome without incurring a financial loss.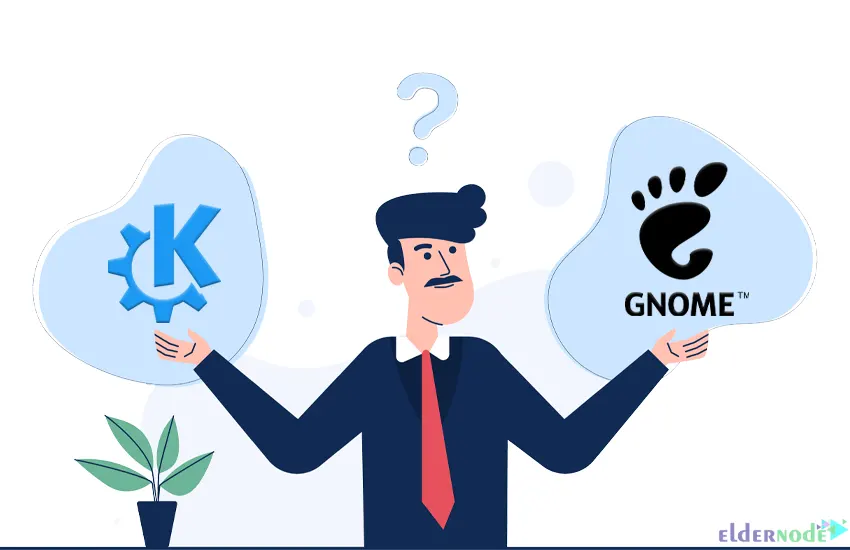 2- GNOME Has A Large Community
Gnome has a very large and active interactive community that helps develop advanced software for work, education, and entertainment. It provides developers with all the tools and resources needed to build modern projects. Also, this community helps new users adapt to the platform without hesitation. If you have questions or problems with GNOME, you can directly use their official discussion community. You can also refer to it for the latest announcements and development progress news.
3- GNOME Is Easy To Install And Configure
Installing and configuring the Gnome desktop environment is easier than the KDE Plasma desktop environment. Just open the terminal and enter the installation and configuration commands. Also, it has a minimal user interface with no extra features and is easy to use. GNOME's design language is much closer to what you've experienced on your phones and tablets.
4- GNOME Is Fast
It is important to have a desktop environment that works efficiently and fast with available system resources. This is especially important if you want to multitask and don't have a heavy configuration to back it up. Performance and speed depend on what you're doing and available system resources. Gnome is more efficient, faster, and much more customizable than KDE. It also has a modern and clean look.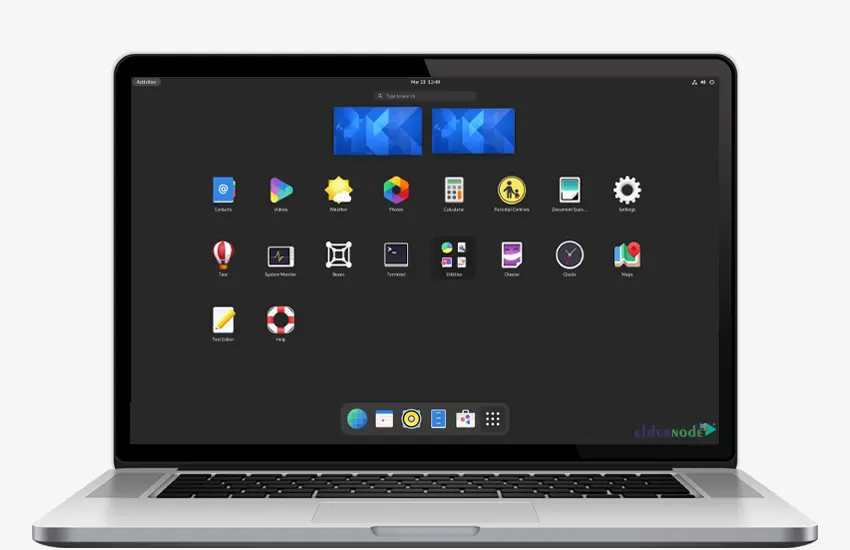 5- GNOME Is Lightweight
Gnome is lightweight, fast, and easy to customize. It also comes with a lot of features out of the box. You can easily install additional software through the Ubuntu Software Center.
6- GNOME Is More Secure
If you are looking for a secure operating system, GNOME is the best choice for you. GNOME is more secure than KDE. While both desktop environments offer security features, GNOME provides more security benefits than KDE.
7- GNOME Has Better Search Tools
GNOME has better search tools than KDE. It means you will find what you need faster and with less trouble when using GNOME. GNOME Search Tool is a tool for finding files on your system. To perform a basic search, you can type the filename with or without wildcards. Also, you can apply additional search options.
8- GNOME Has A Much Better File Manager
GNOME has a much better file manager in comparison to KDE. Also, it has many more features than KDE. The Gnome's file manager manages your files, folders, and hardware and allows you to move, create, rename, copy and delete them.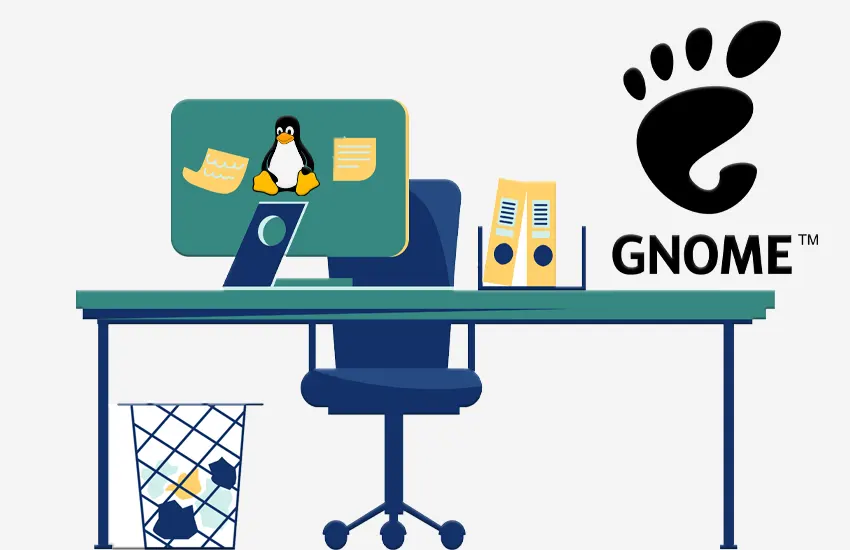 9- GNOME Has A Great Music Player
Rhythmbox is a free, open-source music player software for GNOME Desktop on Linux and Unix-based operating systems, and GNOME ships Rhythmbox as its default music player. This program has many features and is very easy to use. If you need something else, other players like Amarok and Banshee are available.
10- GNOME Has Better Support For Linux Users
GNOME is an open-source project and system based on the X Windows System developed by Red Hat. This system is used by most desktop environments. Anyone can download and modify it.
Conclusion
KDE and Gnome both are among the most popular desktop environments of Linux. In this article, we explained the top 10 reasons to choose Gnome over the KDE desktop environment. I hope this tutorial was useful for you. If you have any questions or suggestions, you can contact us in the Comments section.