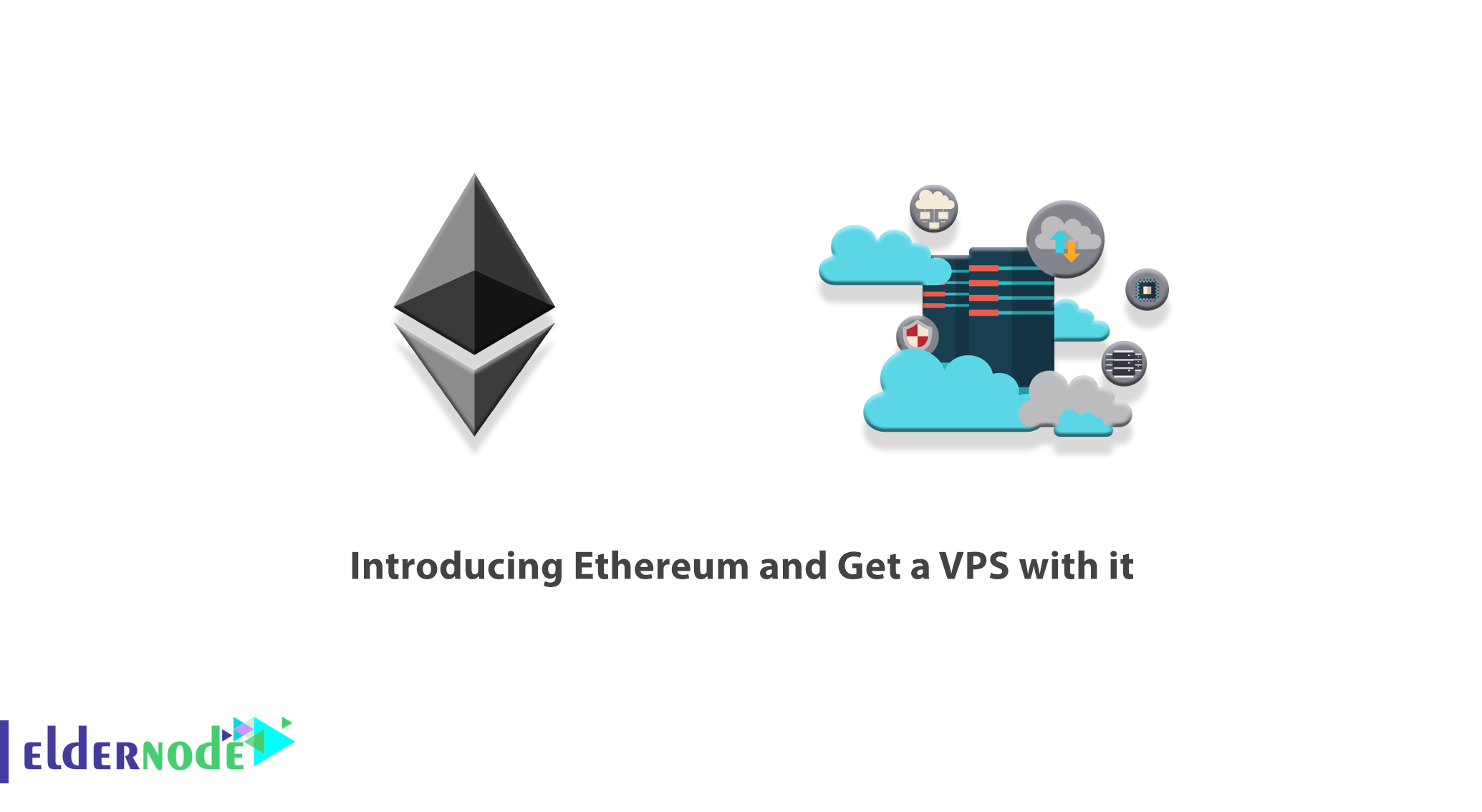 Imagine a decentralized world. A world where people directly, without the need to trust intermediaries, deal with decentralized programs, sign contracts, and use a variety of financial and non-financial services. Systems controlled by the people never stop and no one can interfere in their work. Ethereum is a digital currency based on Blockchain technology that has set out to achieve this goal. In this article, we are going to Introducing Ethereum and Get a VPS with it in Eldernode.
Introducing to Ethereum(ETH)
Ethereum is a very popular cryptocurrency, second only to Bitcoin in terms of popularity and market size, and can be used for investment. Ethereum can be acquired by purchasing or mining. More specifically, Ethereum is a blockchain platform codenamed in its native currency, Ether (ETH). It should note that Ethereum is a global, open-source, and distributed Blockchain platform that includes Smart Contracts, Distributed Application Software (DApp) development, and business Supports Decentralized Finance (Defi).
Because decentralized applications run on the blockchain, they can use all of the blockchain features as well. For example:
1. Immutability
Intermediaries and third parties can make no changes to the data.
2. Inviolable and intrusive
Programs operate on the basis of network consensus. Therefore, there is no possibility of censorship, network intrusion, or deletion of data.
3. Security
No central entity and guaranteed by cryptography.
4. Always active
Programs never stop and no one can stop them.
Any centralized service can be decentralized by Ethereum. Large services such as payments, etc. We at the Eldernode team also decided to allow users to pay for services based on digital currencies, including Ethereum. In the continuation of this article, join us to teach you how to buy a VPS server using Ethereum.
What is VPS? VPS features
What is VPS, was described in detail in the previous article. In this section, we want to briefly explain VPS.
A VPS Server is a server that shares hardware and software resources with other operating systems. A VPS server is actually a semi-dedicated server and differs from a dedicated server in how it shares resources with other users.
When you use a VPS server, you will only get a portion of the dedicated server resources. In a way, it can be said that VPS Server is a subset and part of a dedicated server. Of course, it goes without saying that your access to VPS Server is completely special and unique to you and will not interfere with other users' VPS Server.
Note: Each VPS server offers a different IP, file directory, private space, and specific email access.
The use and purchase of VPS servers are increasing day by day. Because, for example, businesses have come to the conclusion that even if their server is down for an hour for any reason, they will lose several customers. In fact, anything that needs to be done 24 hours a day requires a VPS server. Having a site is also one of these things.
VPS Server Locations in Eldernode
Before we get into How to Buy VPS, in this section we want to introduce you to the VPS locations in Eldernode. In the continuation of this article, how to choose each of these locations will be explained. Existing VPS locations are divided into three categories: North America, Europe, and Asia. In the following, we will mention each of these locations. Note that if the location you are looking for is not on this list, you can get advice by contacting the support department via live chat or sending a ticket.
Available VPS Servers in North America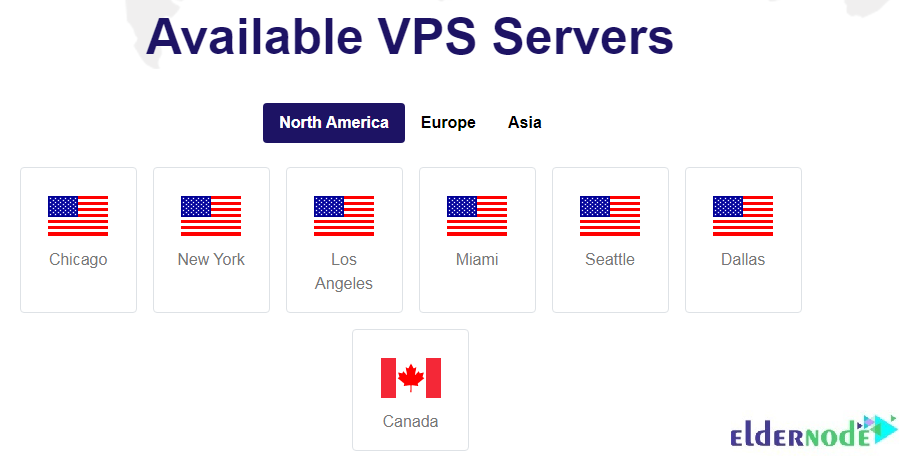 – Chicago
– New York
– Los Angeles
– Miami
– Seattle
– Dallas
– Canada
Available VPS Servers in Europe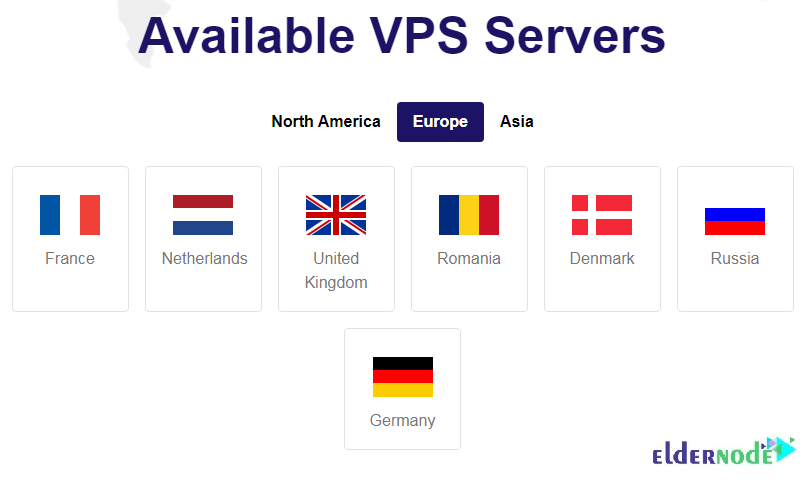 – France
– Netherlands
– United Kingdom
– Romania
– Denmark
– Russia
– Germany
Available VPS Servers in Asia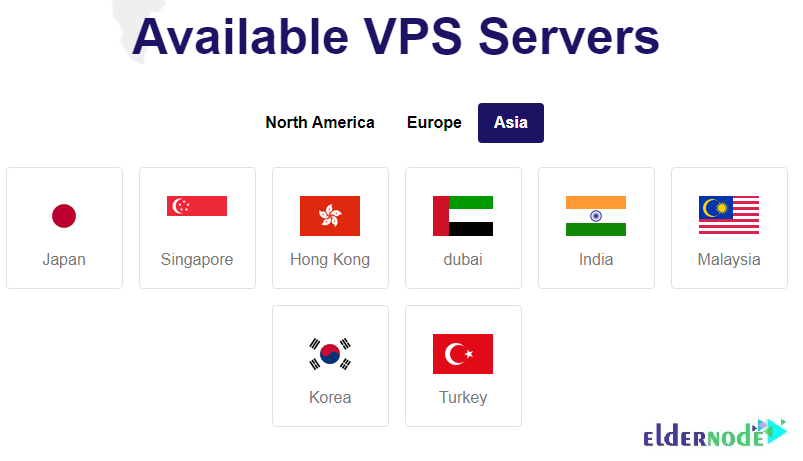 – Japan
– Singapore
– Hong Kong
– Dubai
– India
– Malaysia
– Korea
– Turkey
How to Buy VPS with Ethereum in Eldernode
Visit the Eldernode website to purchase a VPS server. The first step to get started is to register on the site. You can easily do this by referring to the article How to Register on Eldernode.
Then click on Buy VPS from the main menu.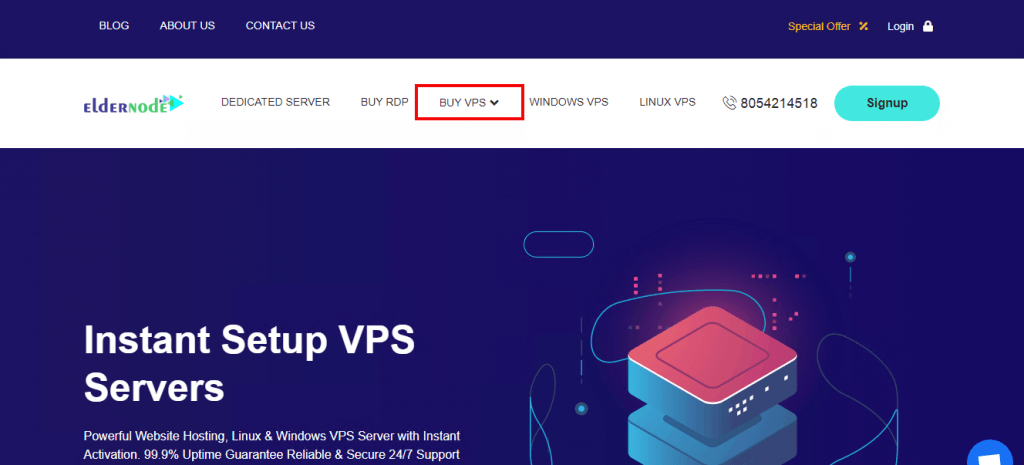 On the opened page, by scrolling down a bit, you can see the available VPS services including Windows VPS, Linux VPS, Mikrotik VPS, and RDP Admin Server. Click on See All Plans in the section you want to view the plans.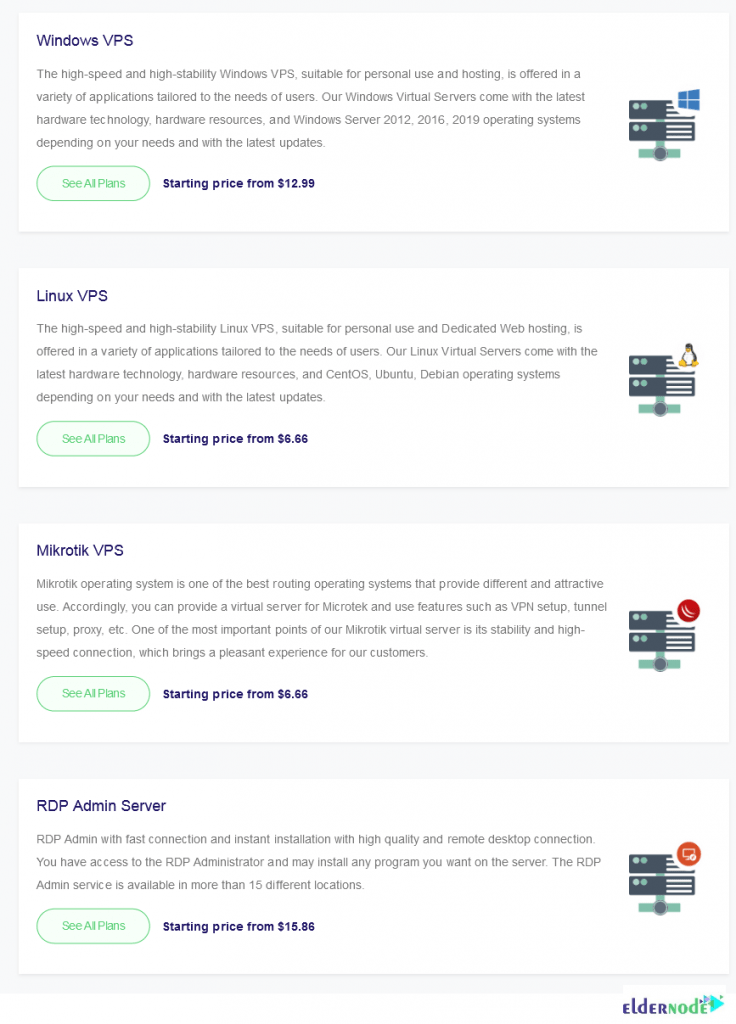 For example, we select Admin RDP Server here. In the next step, you can determine whether you want the desired service on a Monthly or Yearly basis? Then, after studying the packages, you must select the package you want by clicking on Order Now.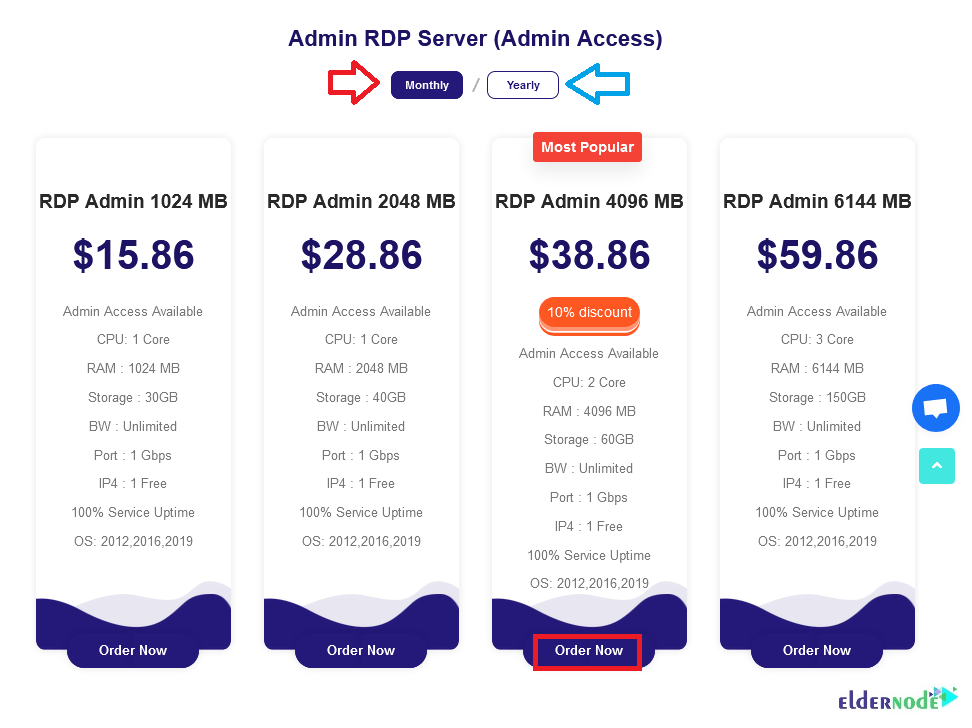 The next step is called Configure. At this stage, you can review the details of the service of your choice. In the Configurable Options section, you must select the location and operating system you want.
It should be noted that in the Available Addons section, you can select one of the available options to support your service. After completing these steps, click Continue from the right column.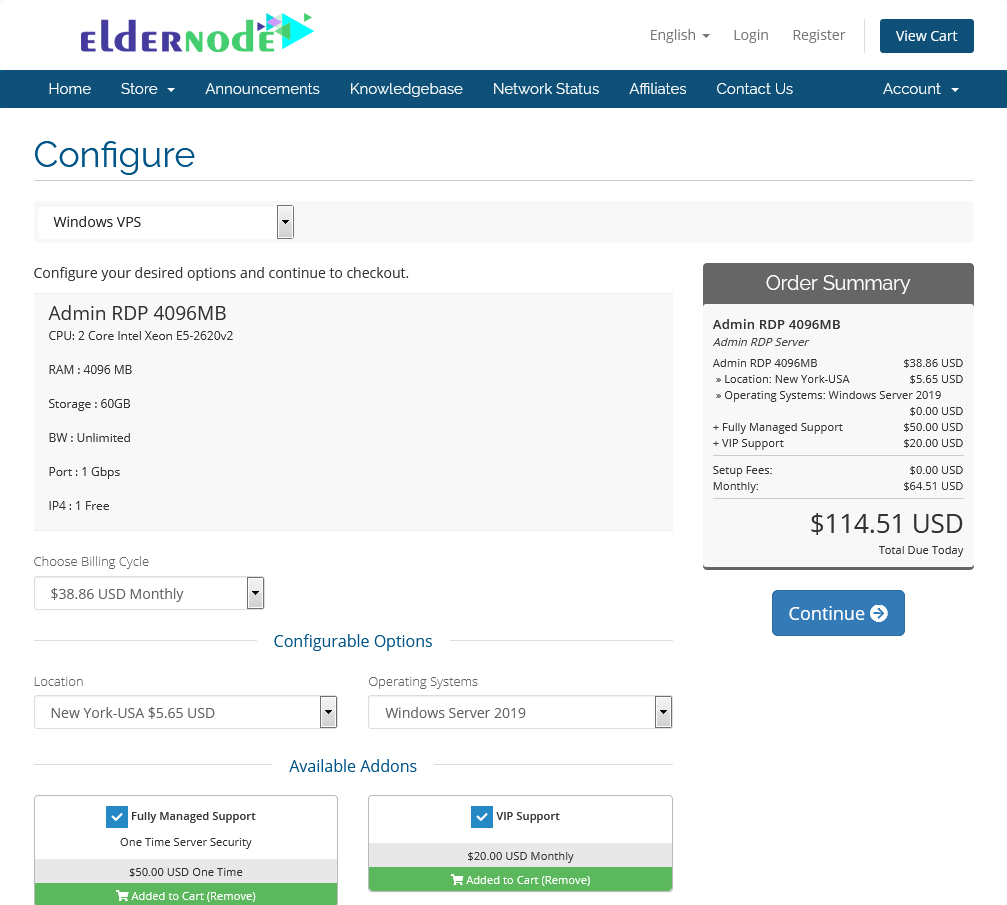 In the Review & Checkout section, you can see your shopping cart. If you have a discount code, enter it in the Apply Promo Code section and click on Validate Code to apply your discount.
Then click Checkout from the right column.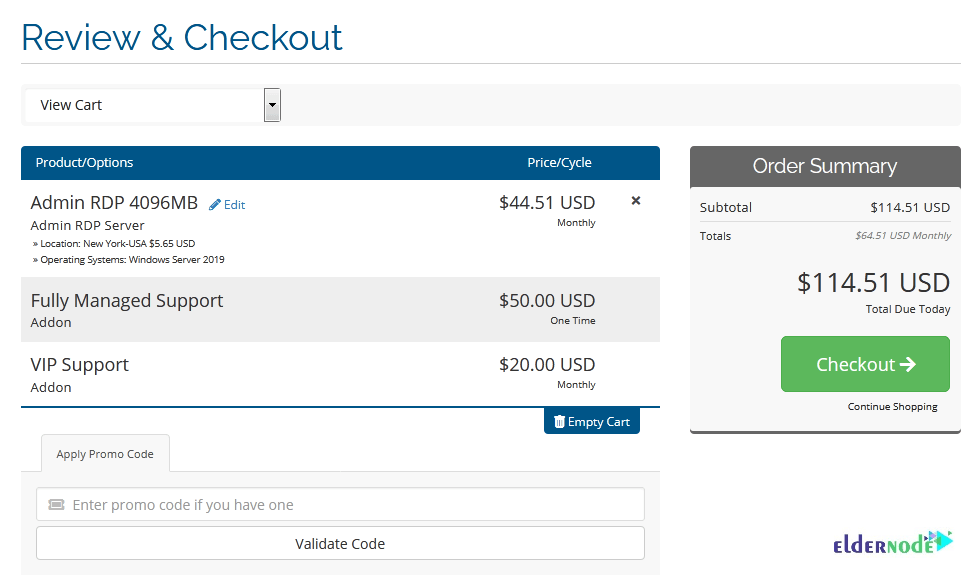 In the next step, you must specify the payment method. Since we are going to make a purchase using Ethereum, you must select Bitcoin, Ethereum, USDT, and All cryptocurrencies in this section and click on Complete Order.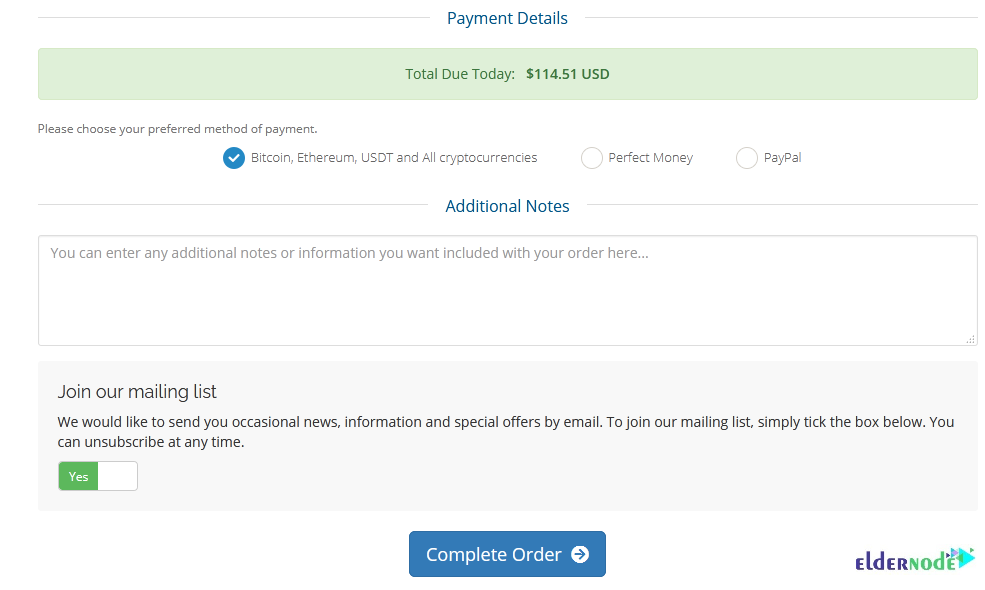 Note: This step may take seconds or minutes, so please be patient.
In the right column, type Eth in the search field. After selecting Ether, click on Complete Checkout on the left.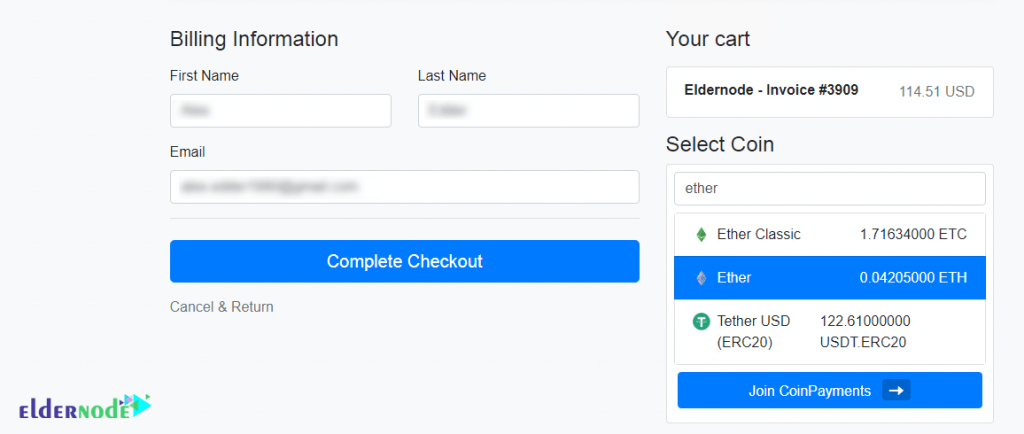 Finally, by copying the following address in your Ethereum wallet, you can complete the deposit.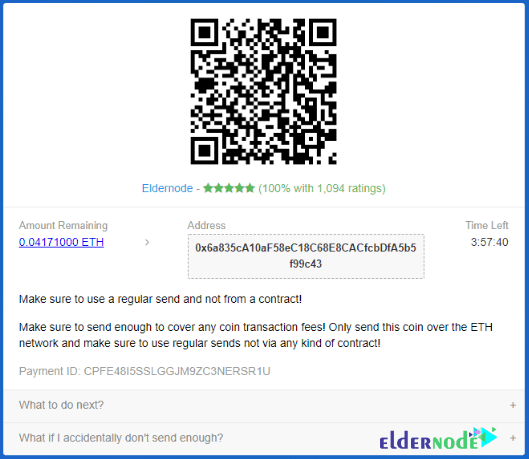 We assure you that we will provide the service you purchased in the shortest time.
Conclusion
Ethereum provides free access to digital money and data-friendly services for everyone, regardless of their background or geographical location. That's why in this article we tried to introduce you to Ethereum and teach you how to buy a VPS server using it on the Eldernode website. You can read more about Linux VPS vs Windows VPS for more information.
[yasr_visitor_votes size="medium"]