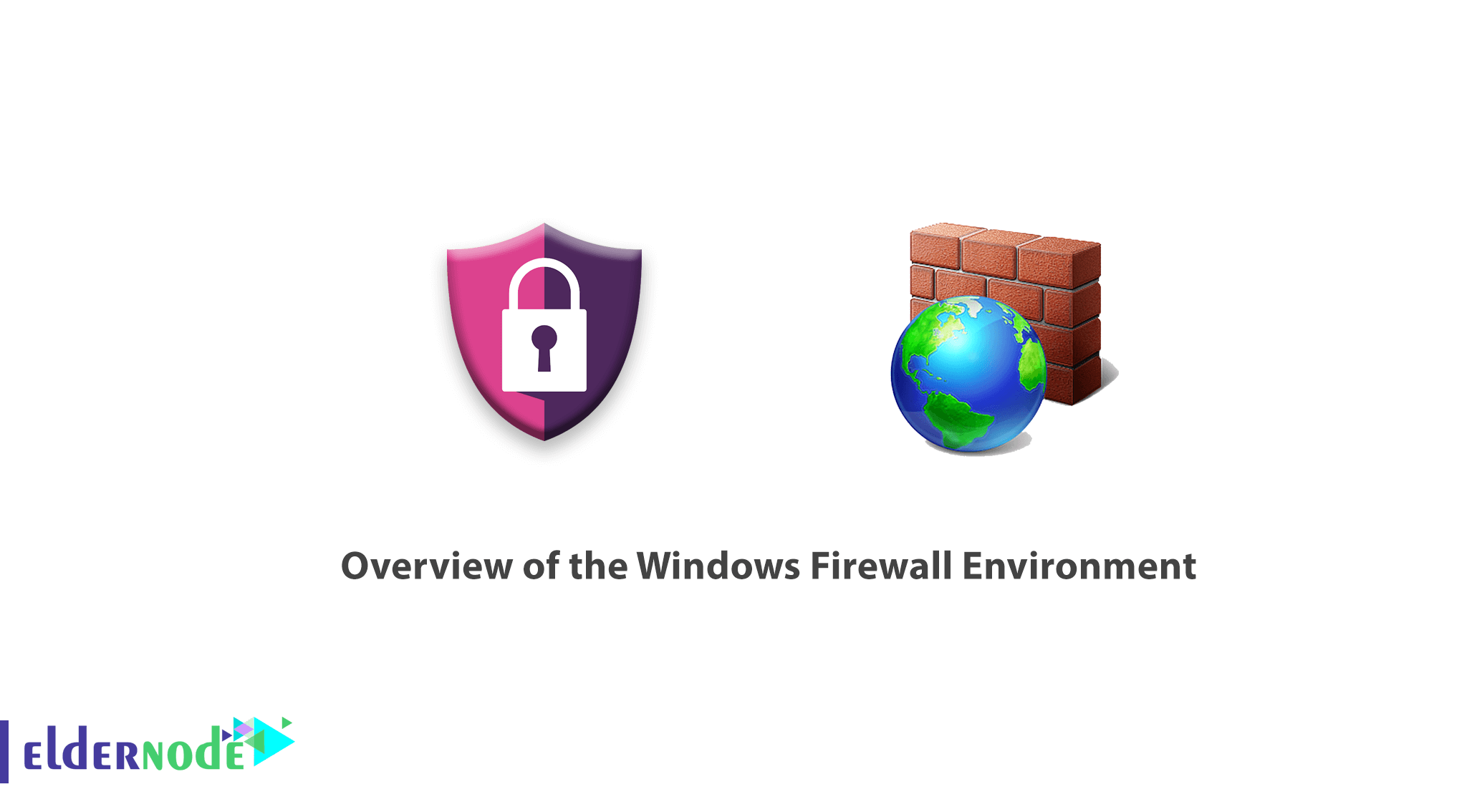 Overview of the Windows Firewall Environment. A firewall is a guard that allows packets to enter and exit the network, which every operating system has. In this article, we will introduce you to the Windows firewall environment so that users who are not already familiar with it, will be fully acquainted with it.
As you know, in recent versions of Windows, Microsoft has used a relatively advanced firewall that has many capabilities and its use is critical to increase the security of the operating system.
Choose your perfect Windows Virtual Private Server Packages in Eldernode
Introduction to Windows Firewall
In this article, we will teach you about the Windows firewall environment. Follow us in the continuation of this article:
Open Windows Firewall
Choose one of the following methods to open the Windows Firewall:
1. Go to the control panel, select the System and Security option and click on Windows Firewall in the window that opens.
2. Open the Run window (Winkey + R) and type "firewall.cpl".
In the Windows firewall, some settings are located on the left, and in the middle of the window you will see two sections, Private Network and Guest or public Network.
– Private Network: Generally, an internal network that is not connected to the Internet or a network outside the organization is called a Private Network.
– Guest or Public Network: A network that connects you to the Internet or a network outside your organization is called a Public Network.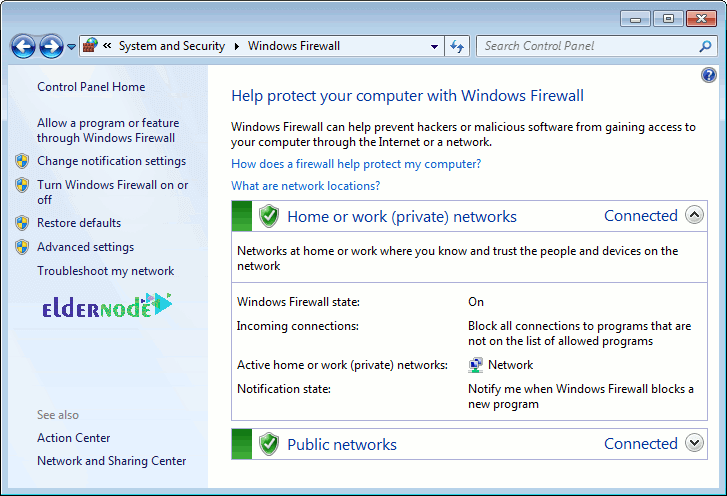 Turn Windows firewall on or off
From the left menu, click Turn Windows Firewall on or off.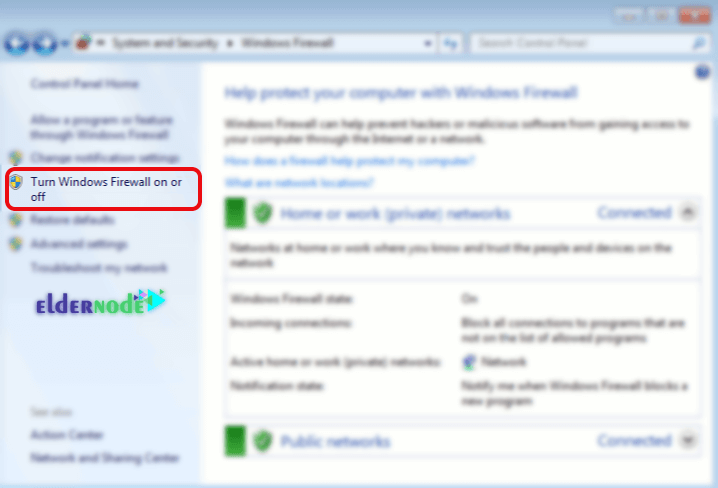 As you can see in the image above, you will be able to turn off or on the firewall on the desired page.
There are also 2 other options in this section, which work as follows:
A) Block all incoming connection, including those in the list of allowed apps:
This option means that the firewall is turned on, but all incoming packets to the system are blocked, even software that is allowed.
B) Notify me when Windows Firewall Block a new apps:
This option means that it will notify you if the firewall automatically blocks packets of an application.
Note: To turn off the firewall, select the Turn off Windows Firewall option.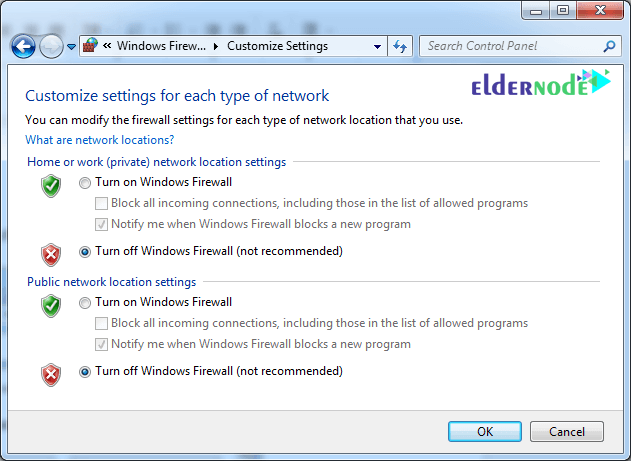 Windows Firewall Advanced Settings
From the menu on the left, click on Advanced setting to go to advanced settings.
On the left side of the window you will see the main options of Windows Firewall:
– Inbound Rules: The rules for input packets are in this section.
– Outbound Rules: The rules for output packets are in this section.
– Connection Security Rules: Rules related to various communications such as tunnels, authentication, etc. are in this section.
– Monitoring: This section, as its name implies, is related to monitoring ports and active rules.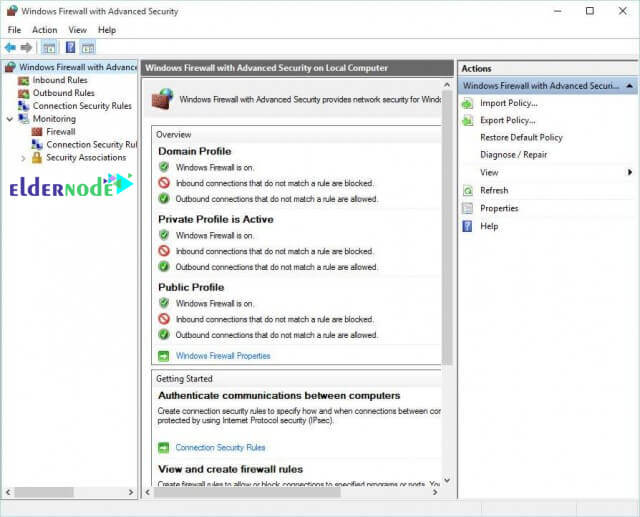 Also, see:
Learn how to open a port on a Windows firewall
Tutorial set up a Firewall with UFW on Ubuntu 20.04
Dear user, we hope you would enjoy this tutorial, you can ask questions about this training in the comments section, or to solve other problems in the field of Eldernode training, refer to the Ask page section and raise your problem in it as soon as possible. Make time for other users and experts to answer your questions.
Goodluck.