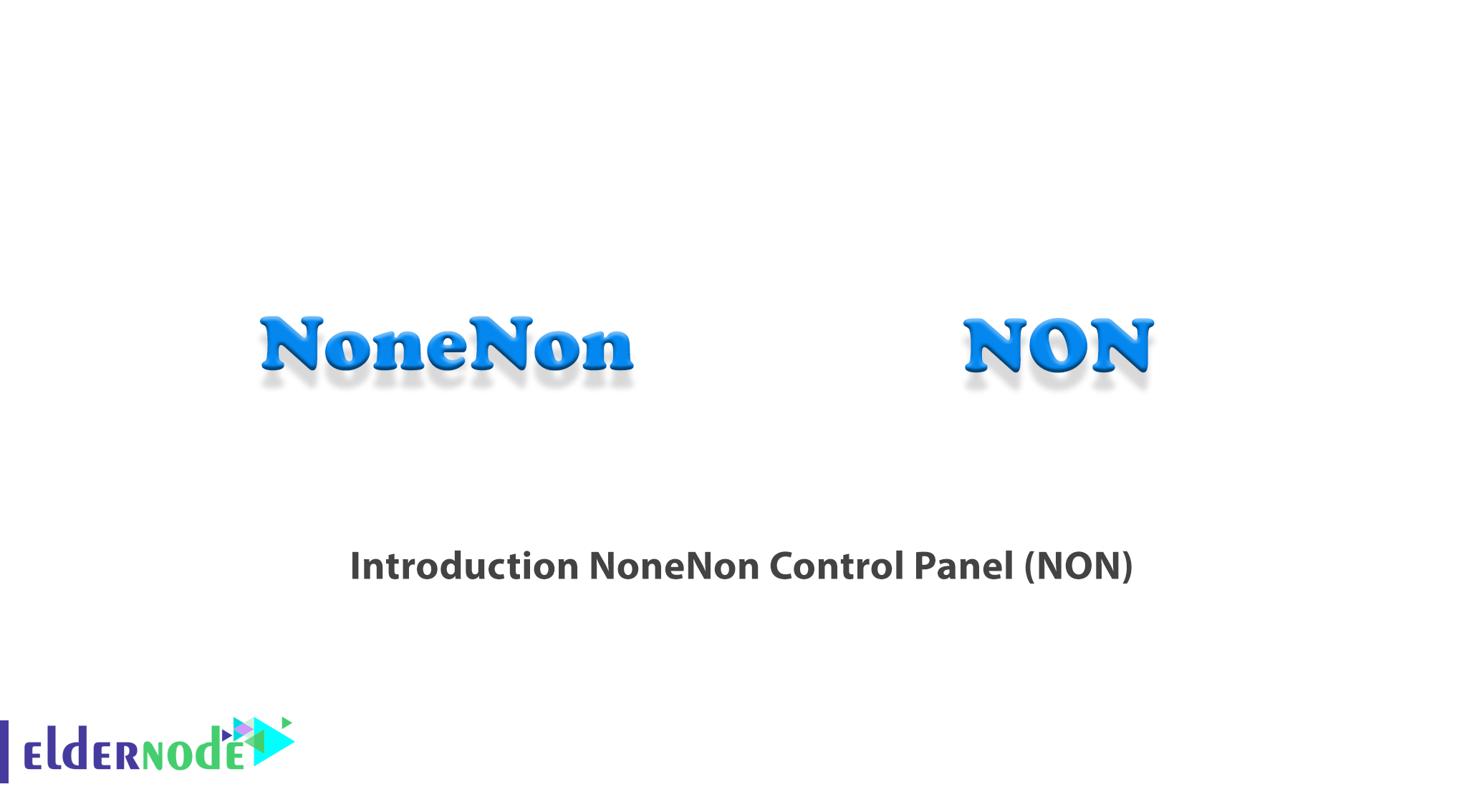 NoneNon is a hosting automation software built on the next-generation platform that provides automated site preparation, management, and administration. In addition, NoneNon is built on a scalable, secure framework that enables users to easily add high-demand third-party solutions and build custom applications and websites with comprehensive data security. In this article, we are going to Introduction NoneNon Control Panel (NON). You can visit the packages available in Eldernode if you wish to purchase VPS Server.
What is NoneNon Control Panel?
NoneNon is a control panel that includes Internet Email, Database, FTPS, File Manager, DNS, Development (PHP, Perl, CGI, Django, RubyonRail, and more). Using this control panel simplifies the server setup.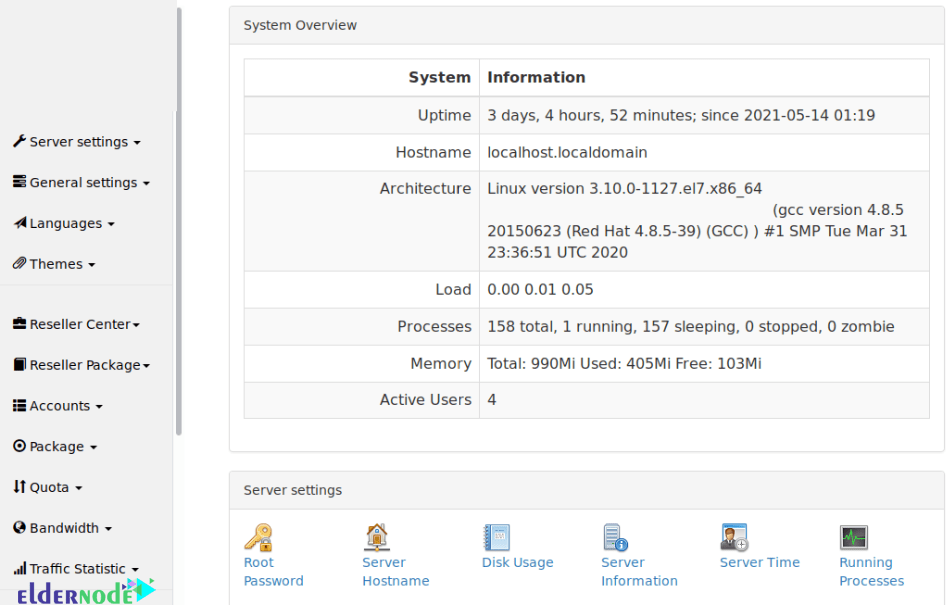 You can also easily set up multiple Cloud accounts and resellers using NoneNon. Create cloud accounts and resellers in minutes using email, ftps, DNS, and databases.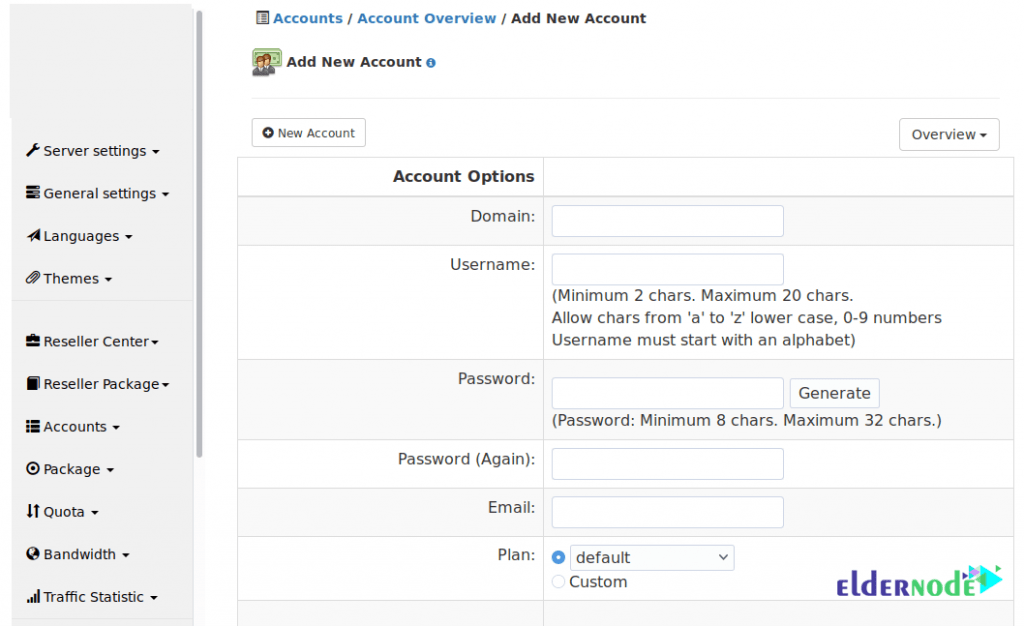 Using the NoneNon control panel, users can easily configure and manage multiple services. You can also configure real-time system services such as email, HTTP, DNS, database, SSHD. Start, stop, restart the service. Browse server and service reports.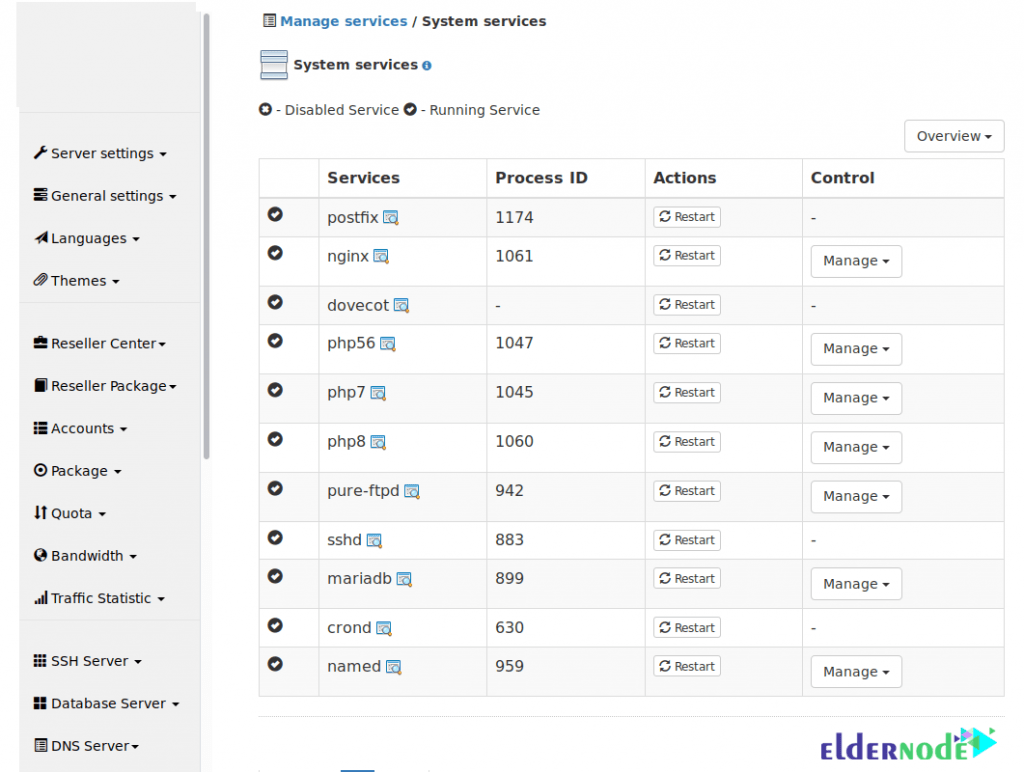 Other features of NoneNon include more control over all aspects of the system for everyone.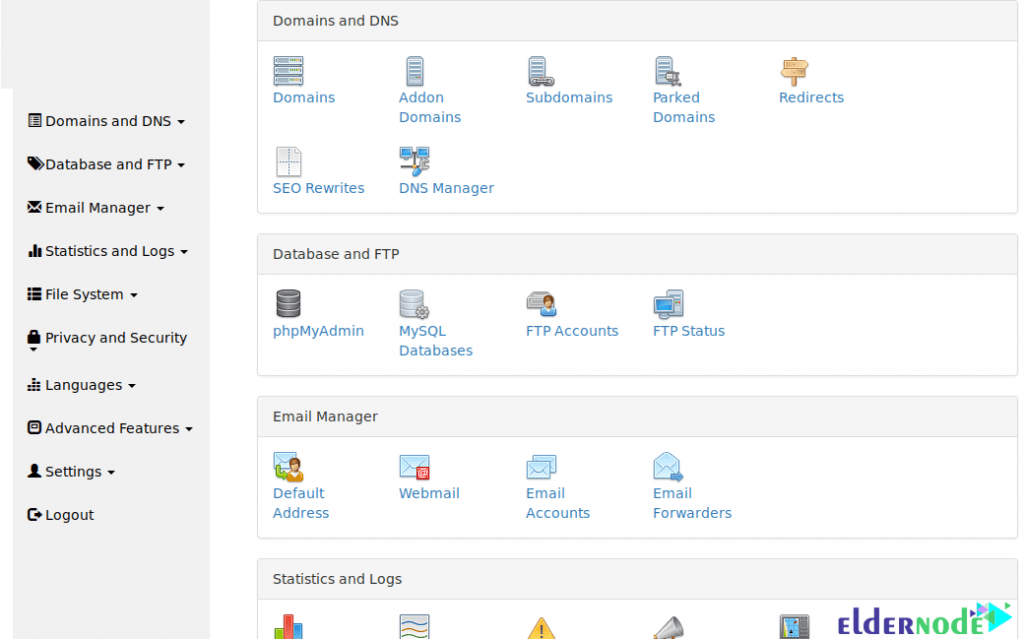 NoneNon Control Panel Features
In this section, we want to fully explain the features of the NoneNon control panel.
1. Support for CentOS 7,8 and Debian 10
_ Multiple PHP supported: PHP 5.6, 7, 8
_ Support for other languages such as Perl, Django, Ruby on Rail (RoR), and more
_ View, search and manage your entire hosting and any domain from one page
_ Increase daily hits using fastcgi
_ Advanced backup and restore capability
_ Upload backup to FTPs servers
_ Support for Nginx, bind, and pure-ftpd
_ Advanced intrusion detection management interface
2. Main and General Features
_ Backup and restore your entire host
_ Command Line API to everything that can be done through the web interface.
_ Disk usage and warning report for the whole cluster.
_ Ability to move Clients/Domains across resellers. You can change the ownership of both clients and domains and move them around trivially.
_ Disable/Enable Resellers.
_ Change sales agency quotas
3. Client functions
Features of client functions include the following:
_ Webserver
_ Mail server
_ DNS Server
_ Database server
_ Ability to enable SSL
_ Vendor quota management
_ Control the customer's ability to change account settings
_ Allow the client to set the SSL certificate for this ip address.
4. Mail Functions
_ Catchall
_ Manage email accounts
_ Webmail
_ Auto-responders
_ Forwarding
_ Full control of DNS
_ Spam filtering
5. Stats
_ AWStats
_ View latest visitors
_ View bandwidth usage
_ Traffic Calculation includes Mail, Web, and Ftp Traffics.
_ View error log
_ Download raw log file
6. Web and Server functions
_ Directory Protect
_ WebDav
_ SEO Rewrite
_ Custom error pages
_ Redirects
_ File Manager
_ Cron job management.
_ Manage FTP accounts
_ Manage Services
_ Change Database administrator password
_ Ipaddress management
_ See all the domains that are using the particular server.
_ Cron jobs.
_ Log manager
_ Process Manager
System requirements to Install NoneNon Control Panel
In this section, we are going to deal with System requirements to Install NoneNon Control Panel. These requirements include the following:
1. Standalone version
2. Supports CentOS 7, 8.x, Debian 10 operating systems
3. Hard disk: Minimal 10GB of free space
4. Hard disk layout: Default Layout without LVM or with LVM/Raid so expanding free space (add hdd) is easy.
5. RAM memory: Minimal 512Mb
6. CPU: Works fine on an old Core2Duo/333Mhz machine
Nonenon Functions
In this section, we are going to introduce you to the functions of the Nonenon control panel. We will then explain each:
1. Licensed Linux
NoneNon is a Linux licensed control panel. This control panel is used by providers looking to increase security, stability, and scalability.
2. Incomparable Security
NoneNon is the only control panel that includes a virtual private file system to create the most secure hosting environment in the industry. It should be noted that users can increase their security by providing secure remote access and scripting tools to customers. Significantly, NoneNon reduces the cost and technical expertise required to manage key hosting activities, such as setting up new sites, configuring users, and managing email. You can also dramatically reduce management time through automation.
3. Effortless Management Interface

Using NoneNon is intuitive and fast. On the other hand, it significantly reduces the costs and technical expertise required to manage key hosting activities, such as setting up new sites, user configuration, and email management.
4. Rich and flexible features
NoneNon includes service plan management tools that help users deliver services to a wider range of customers. These tools simplify popular web applications and server resources in any number of individual and targeted service applications.
5. Scalability for growth, stability for customer satisfaction
NoneNon is built to manage service providers of any size and with unparalleled stability. NoneNon control panels guarantee a higher level of customer satisfaction when your reputation complies with strict service level agreements.
6. Full automation for all hosting tasks
NoneNon reduces the cost and technical expertise needed to manage key hosting activities, such as setting up new sites, configuring users, and managing email. Through automation, you can significantly reduce management time.
How to Download and Install NoneNON on CentOS and Debian
To download and install the NoneNon control panel on CentOS and Debian, you can follow the steps below:
su - root
On CentOS:
yum install -y wget
On Debian:
apt install wget
cd /root
wget https://www.nonenon.org/nonenon-installer.sh
chmod 755 nonenon-installer.sh
./nonenon-installer.sh
After you have successfully installed NoneNon, you can now connect to https://YOUR_SERVER_IP: 8008. You will see the login page displayed for you. You can log in as a 'superuser' with the password provided in a file.
Conclusion
At the beginning of this article, we tried to show you the complete definition of the NoneNon Control Panel along with images from the dashboard of this control panel. Then we explained NoneNon Control Panel Features to you. In the next step, System requirements to Install NoneNon Control Panel were mentioned. Finally, after introducing the NoneNon functions, how to download and install NoneNon on Debian and CentOS operating systems was taught.