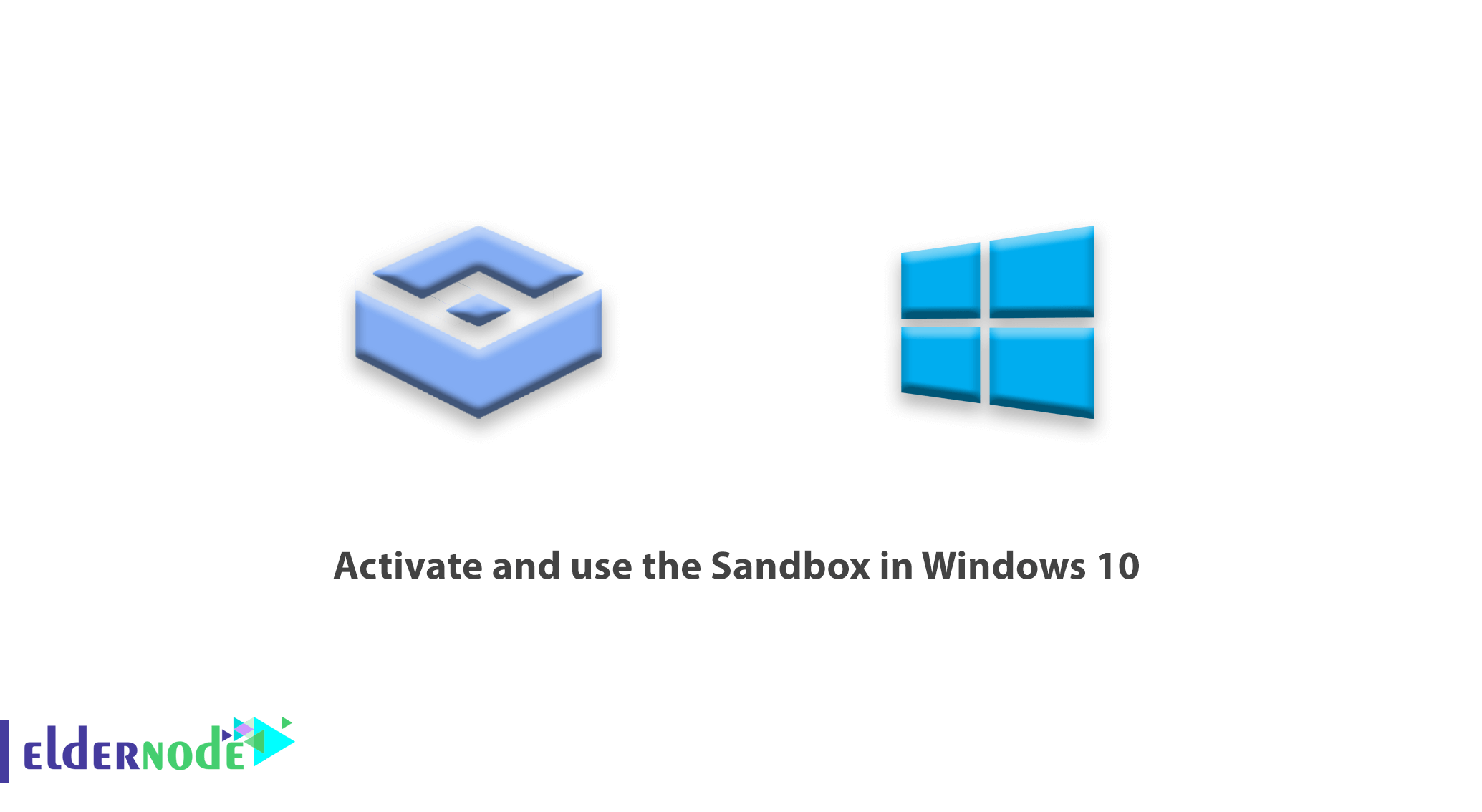 How to activate and use the sandbox in Windows 10. Sandbox is the title of a new feature that was added in the May 2019 update of Windows 10 (1903 version). The sandbox is designed to provide a separate and secure space in the system for testing and executing unsafe software. You can buy cheap VPS Hosting with Bitcoin, Perfect Money in Eldernode.
How to Activate and use the Sandbox in Windows 10
By adding this feature to Windows 10, you can safely run any program in the sandbox without worrying about damaging various parts of the system. In this article, we will teach you how to activate the sandbox feature in Windows 10 and how to use it. Stay with us!
What is a Windows Sandbox?
A sandbox is a virtual machine designed using a Microsoft Hypervisor or virtual machine monitor to create a completely Windows-like environment for testing and running unsafe programs.
The sandbox is completely separate from the original Windows. So that it does not allow malicious and unsafe programs to affect the main computer system. With a volume of about 100 MB, this space runs easily and faster, and in general, its main focus is on system security.
In simple terms, the sandbox is like a chamber that is completely closed and quarantined and without a door that no threat can penetrate from inside. When the sandbox is closed, all the effects that have been applied to it through malicious programs or files will disappear. Of course, you can create a similar environment by building a virtual machine in Windows, but the Windows sandbox has several major advantages over this.
For example, you no longer need to spend extra time building and downloading a virtual machine. Or every time you run the sandbox it gives you a whole new and clean image of Windows 10. In addition, every time you close the sandbox, everything inside it is tested and their effects are automatically removed, and its security is very high.
In the following, we will fully explain how to activate and use the Windows sandbox.
Prerequisites for using Windows Sandbox
1. Windows 10 pro (or Enterprise version)
2. Hardware virtualization
3. AMD64 architecture
4. Minimal dual-core processor (4-core processor with "hyperthreading" support recommended)
5. At least 4 GB of RAM (8 GB recommended)
6. One gigabyte of hard disk space (SSD recommended)
Tutorial make Sure Virtualization is Enabled
First, you'll need to make sure virtualization is enabled in your system's BIOS. It typically is by default, but there's an easy way to check.
Open Task Manager by hitting Ctrl+Shift+Esc and then head to the Performance tab.
Make sure the CPU category is selected on the left and on the right, just make sure it says Virtualization: Enabled.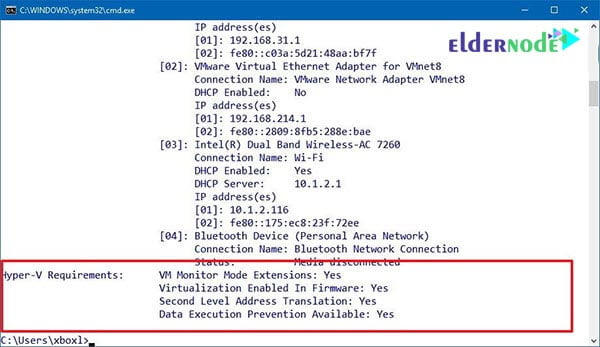 Note: If virtualization is not enabled, you'll need to enable it in your PC's BIOS settings before you continue.
Learn how to activate the sandbox
Activating the sandbox in Windows 10 is very easy and does not require complicated steps. First, make sure your device supports hardware virtualization, and that feature is enabled in the BIOS or UEFI.
To check if your device supports virtualization, follow these steps:
1. Open the Start menu.
2. Search for Command Prompt and open it.
3. Enter the following command, then press Enter:
systeminfo.exe
4. Now check the Hyper-V Requirements section.
If the word Yes is used in front of the phrase Virtualization Enabled In Firmware, it means that this feature is active in your system and you can use the sandbox.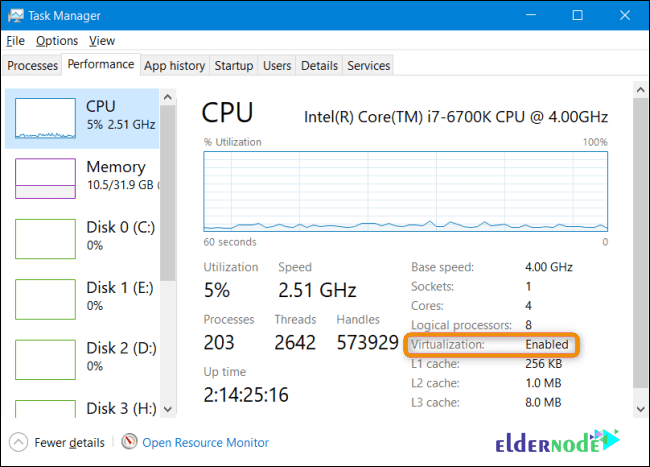 How to Enable the Windows Sandbox Feature
1. Open the Start menu.
2. Search for and select Turn Windows features on or off.
3. Then in the window that opens, look for the Windows Sandbox option and check it.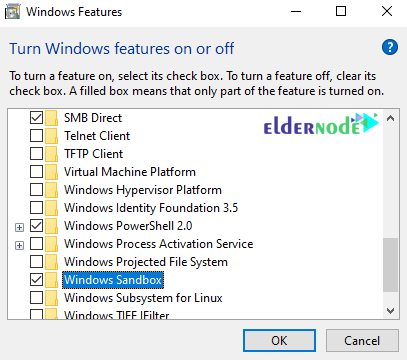 4. Click the OK button.
5. Finally, click on the Restart now button.
After restarting Windows, the sandbox feature is activated in Windows and you can use it easily.
How to use the Windows sandbox
It is very easy to start using and working with the sandbox and you just need to do the following:
1. Open the Start menu.
2. Search for Windows Sandbox. Then right-click on the first result displayed and select Run as administrator.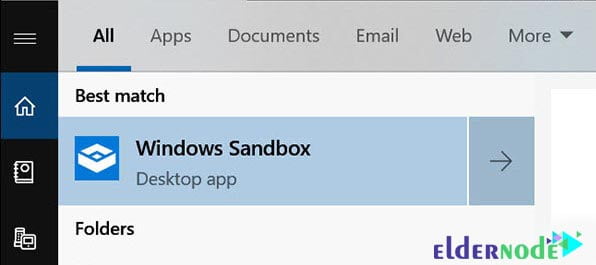 You should then see a near replica of your current OS.
There are some differences.
It's a clean Windows installation, so you'll see the default wallpaper and nothing but the default apps that come with Windows.
The virtual OS is dynamically generated from your main Windows OS, so it will always run the same version of Windows 10 you are using, and it will always be fully up to date.
3. To transfer the desired program to the sandbox space in the main system, right-click on the program and select Copy from the drop-down list.
Note: Drag and drop do not work!
4. In the sandbox window, right-click on an empty space on the desktop and select Paste to move your application into the sandbox test environment.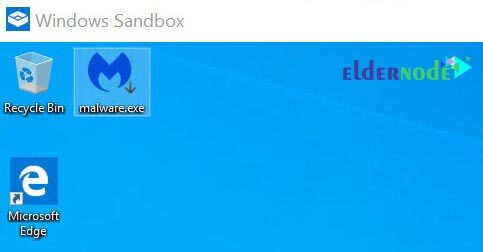 5. To install the program inside the sandbox, double-click on it and perform the installation steps.
6. After the installation is done, you can run the program in the usual way and use it.
Note: If you delete a file in the Sandbox it does not go the recycle bin and that file will be deleted forever. You will receive a warning when you delete items.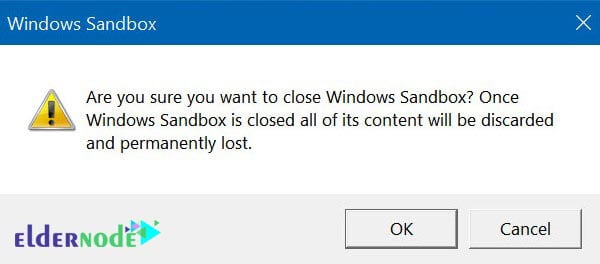 After testing and using the program, close the sandbox window to remove the virtual machine and the operations performed inside it.
Conclusion
In this article, after providing explanations about Windows Sandbox, how to activate sandbox and its features and how to use it in Windows 10 were fully taught.