The Metaverse is a combination of several separate virtual worlds that people can access at any time through the web. This industry is predicted to become a multi-billion dollar industry. This platform offers various investment opportunities and it is not surprising that investors want to enter the world of investing in Metaverse. This article will explain 10 Questions to Ask Yourself before Investing in The Metaverse. If you want to purchase your own Bitcoin VPS Hosting, you can check out the packages offered on the Eldernode website.
Investing in the Metaverse
Metaverse consists of two words Meta and Verse and is a decentralized, open-source, interoperable platform for programmable digital assets and identities built on Substrate. It allows users to interact with each other and with other components. The role of people in the Metaverse world is online and virtual. This virtual world integrates various aspects of social networks, video games, virtual reality (VR) and augmented reality (AR) technology, and blockchain.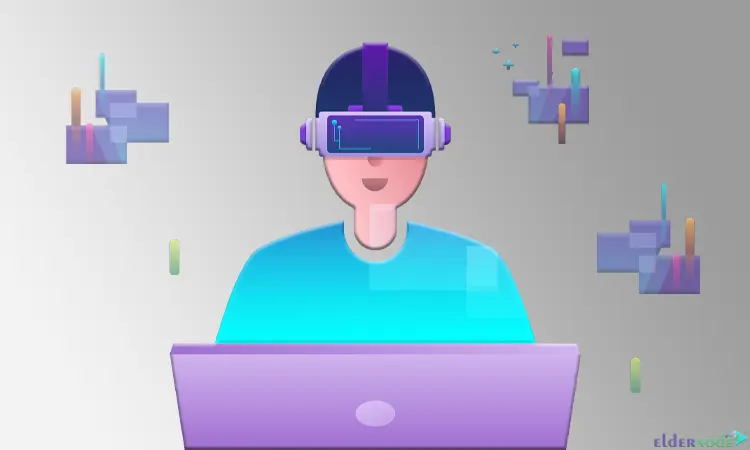 In the continuation of this tutorial, we will explain 10 Questions to Ask Yourself before Investing in The Metaverse.
1- How to Join the Metaverse platform?
You should know how to join the Metaverse platform. The First step to joining Metaverse is choosing the Metaverse platform. You can invest in this platform, buy or sell items, create an avatar, and many other things by choosing your platform. The next step is to set up a digital currency wallet and connect it to the virtual market of the selected platform. Users should create a wallet to pay with digital currencies or receive them in Metaverse.
After connecting the wallet to the platform, it is time to buy digital currency. To do this, visit the valid online exchange websites. Finally, create an avatar. Avatar is actually a virtual version of Metaverse users that users can use to communicate with each other in the virtual world.
2- How Does It Work?
You have to choose the platform you want to invest in and log in. To have billboards or kiosks, it is mandatory to check the environment around your platform. Most Metaverse platforms allow you to jump into a virtual real estate map. The Decentraland platform simultaneously renders a part of the world around that design, and you can see your neighbors, the skyline, people walking down the street, and more. But the Sandbox platform only builds the area you are in, whether it's a specific piece of land or a larger property.
3- What are the Uses of Metaverse?
The first use of Metaverse is gaming. The video game industry has been the most important factor in the expansion of the Metaverse. In this virtual world, you can interact with each other and play 3D games at the same time. Metaverse games like Minecraft or Fortnite are among the first and biggest games in this industry.
Another use of Metaverse is that it allows users to communicate with others in different places. Also, personal touch will be added to online chats and it is upgraded to the next level. Metaverse allows the workforce to communicate with their employees and participate in meetings. This reduces the operating costs of businesses and minimizes the need to travel or use physical spaces. It can take video conferencing to the next level so you can participate in meetings as full-sized avatars.
4- What are the Uses of Cryptocurrencies in the Metaverse?
Cryptocurrencies are used as a payment method in Metaverse. Users use cryptography for Metaverse to purchase any product or service. You can also use them for investment. It is also often used as an in-game currency for virtual worlds, allowing players to exchange game items (even money) in-game or exchange them for other currencies on an exchange. Transaction management and Crypto issuance for Metaverse are done collectively by the network.
5- What Opportunities are Provided for Investors in Metaverse?
There are many opportunities to invest in Metaverse that will increase over time. You can buy stocks of companies involved in one or more aspects of the Metaverse or invest in Metaverse real estate. Also, you can invest in crypto, NFT, and other digital assets.
6- What are the Risks of Investing in the Metaverse? 
Since Metaverse is new, It has allowed scams to flourish and it is not clear which companies and applications will be successful. All the companies that try to do this will try to make this development a success, but only some of them will succeed. You should be aware of the immutable nature of smart contracts and cryptocurrencies and negotiate terms completely to avoid scams.
7- Which Products and Services are part of Metaverse? 
There are many products and services that are now available in a regular retail format that could be part of the Metaverse. Some of the services and products are:
– Security to protect users' identities and finances
– Connectivity to accommodate an infinite number of visitors to the Metaverse
– Interactive platforms or Virtual worlds that are the equivalent of a website on the Internet
– Immersive hardware such as VR headsets
– 3D creation software to use in building scenery or to create items to be bought and sold in the Metaverse
– Semiconductors to help the power and navigate the Metaverse
8- What is the Best way to Invest in the Metaverse?
Many technology companies have active investments in Metaverse projects. Some of the most common methods you can try to invest in the Metaverse are buying Metaverse Tokens and buying In-game NFTs or Virtual Lands. Buying Metaverse Tokens is one of the easiest and most convenient ways to invest in the Metaverse. The value of Metaverse tokens also varies like digital currencies. Popular Metaverse platforms offer game-like environments where you can build and trade visual assets and experiences. The growing popularity of virtual real estate presents an easy solution to how to invest in the crypto metaverse.
9- Why should you Invest in the Metaverse?
The Metaverse offers enormous potential to transform lifestyles and communications, and you have seen its development accelerate after the Covid-19 pandemic. Many companies such as Facebook, are investing in software and hardware to support Metaverse's virtual displays. The scalability of these virtual worlds outside of a few games or well-known platforms like Decentraland has not yet advanced much on the blockchain.
10- Is investing in the Metaverse Profitable?
The profitability of a property or currency cannot be stated accurately, but in general, by buying land and investing in Metaverse in a 10-year period, about 1500% profit can be considered. Buying property is usually always profitable and in the long term, anyone has bought and profited.
Conclusion
The Metaverse is a digital, online universe that can blend with our real world, providing a wealth of information and data to everyone in a fraction of a second. In this post, we explained 10 questions to ask yourself before investing in the Metaverse. If you have any questions or problems, you ca. contact us in the Comments section. I hope this tutorial helps you in investing in the Metaverse and you found it useful.