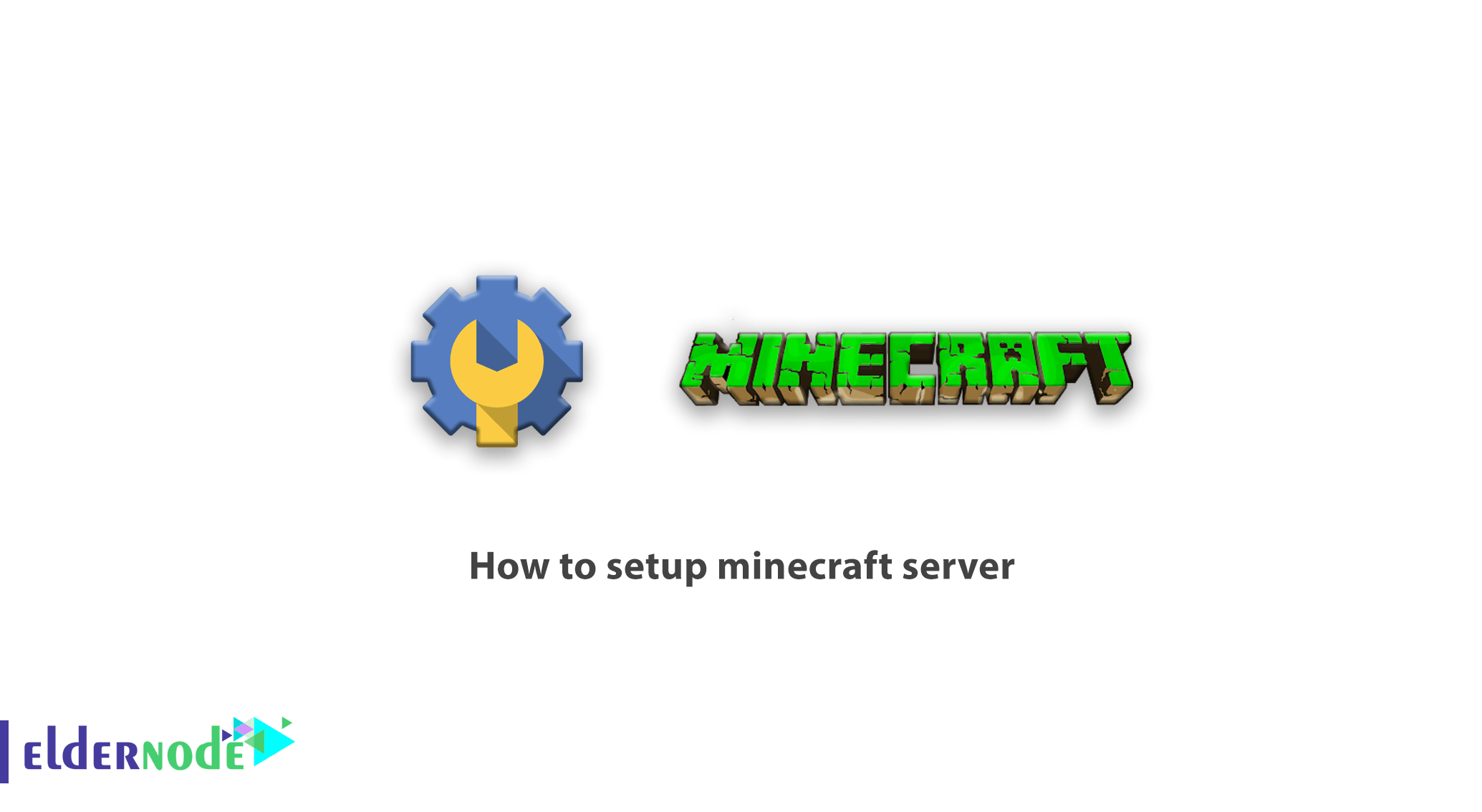 Minecraft is one of the most popular games of all time. Where players explore infinite worlds and build structures ranging from simple houses to tall skyscrapers. Minecraft is a sandbox game in which you can build your own 3D world. The first version of this game was made in 2009 and to date, more than 29 million copies of this game have been made and sold for various platforms. If you want to play Minecraft with your friends, you will need Minecraft Game Server. This server allows players to connect to a central system as a host for gaming software.
If you are looking for better performance of your game server, it is better to use a server that has high RAM and CPU power so that it can respond to players' commands better and faster. This tutorial explains how to setup  minecraft server on Ubuntu 20.04. Then you will be taught how to install and configure Minecraft Server in Windows.
How to setup minecraft server
Minecraft is a very simple 3D game based on pixels. This game has created a lot of popularity among Internet users and video game enthusiasts in a short period of time. Minecraft is a group game that allows users to play together on a server. Among the features of this game, we can mention the construction of 3D buildings. The whole game is adventurous and time consuming. In this article, we want to teach you how to install MineCraft game server on Ubuntu and windows operating system.
Prerequisites for installing a Minecraft server on ubuntu
– Linux vps server
– Ubuntu 16 operating system
– 1024 MB RAM (at least 1024 MB but the recommended amount is 2048 MB. Of course, this depends on the amount of traffic and the number of players)
Well, first of all, if you have not yet provided a vps server, you can order a standard Linux vps server.
How to install Minecraft Server on Ubuntu
1- First of all, as always, we update the system with the command: (It is suggested that you always do this before installing a program)
apt-get update  apt-get upgrade -y
2- In this step, you must install OpenJDK.
Note: OpenJDK is an open source program for implementing java and GNU and creating this environment on Ubunut. Install OpenJDK with the following command:
apt-get install openjdk-8-jre-headless screen
3- It is the turn of creating a new user. Enter the following code to create a new user:
adduser minecraft
4- Change the type of user from the current to the new user we created:
su - minecraft
5- It's time to install Minecraft. Install the latest version via the following command:
wget https://s3.amazonaws.com/Minecraft.Download/versions/1.11.2/minecraft_server.1.11.2.jar
Note: If you wish, you can find the latest versions of Minecraft from the Minecraft website.
6- Using the following code, you can run the script that runs Minecraft:
nano /home/minecraft/run.sh
7- Enter the following code in this file and then save:
#!/bin/sh  BINDIR=$(dirname "$(readlink -fn "$0")")  cd "$BINDIR"    java -Xms1024M -Xmx1536M -jar minecraft_server.1.11.2.jar -o true
Note that the Xms and Xmx values are the minimum and maximum amounts of RAM allocated to the Minecraft server. In this article, the minimum is 1024 MB and the maximum is 1536 MB. This value can vary depending on the volume of server usage.
8- Then define that the new script created by the following command is executable:
chmod +x /home/minecraft/run.sh
9- Now run Minecraft using the following command:
./run.sh
10- Open the eula.txt file and change the eula value to true:
nano /home/minecraft/eula.txt
11- To ensure that the Minecraft server uses a separate SSH, run the following command:
sudo screen /home/minecraft/run.sh
12- Open the Minecraft client program and click on Multiplayer: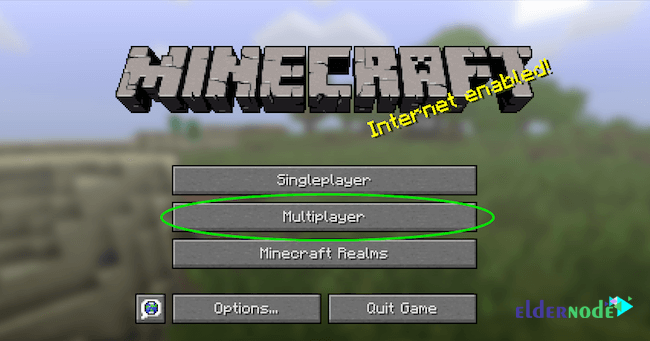 13- Enter the server address, which is the IP of the server, and connect to the server: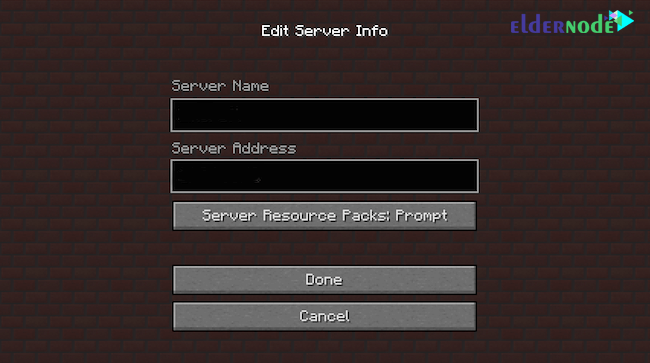 You have launched a dedicated and personal Minecraft server on ubuntu. Now you can share the IP address with your friends, all together on one server and enjoy the game.
How to install and configure Minecraft Server in Windows
To set up a Minecraft game server in Windows, you must first provide the following:
– Windows 10
– At least 4G RAM
– Connect to a reliable, high-bandwidth Internet, because Minecraft consumes at least 100 MB of Internet per player per hour.
1- Open Windows 10 and download the latest version of Java; Then open the .EXE file and click Install.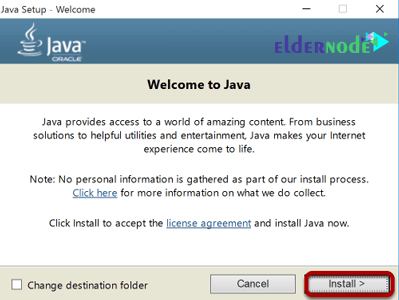 2- When the installation is complete, restart your system.
3- Go to minecraft.net and download the Minecraft Vanilla JAR game server file. When you download the Minecraft Server jar file, the file is automatically saved in the downloads folder.
4- Move your Minecraft folder to your desired location. In the image below, we moved the folder to the desktop, but we suggest a dedicated folder for you.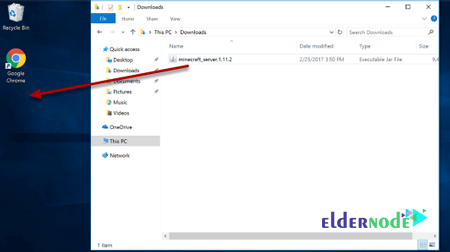 5- Double-click the Minecraft JAR file. This will decompress a series of files that we need to run the Minecraft game server.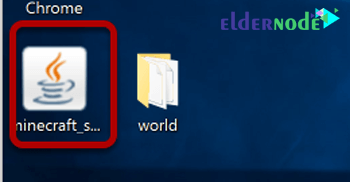 6- Before using the server, you must configure the Minecraft server game configuration files. The first file you need to open is the Minecraft EULA file.
Note: EULA is a document that you agree to when running the server.
7- To accept the end user license, open the EULA text file and change eula = false to eula = true. Save the file now.
8- To set the server setting, open the server properties file and save the file when the necessary changes are applied.
Note: In server settings, port 25565 is set by default.

9- To run the java server file, open the Minecraft server file by double-clicking.
10- Issue access to the Minecraft game server in the firewall by hitting allow access.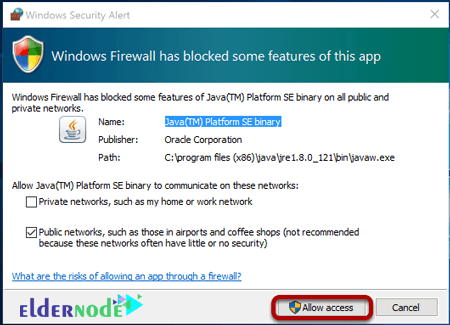 11- Now the Minecraft game server has been installed and run and the statistics window has opened. Now that the server is up and running, you can log in to the server through Minecraft.
Similar to installing Minecraft on Ubuntu, run Minecraft as mentioned above and select Multiplayer.
12- Click add server. Enter the server information and click done. Enter the IP of the server you purchased.
Your Minecraft game server is ready; Click the PLAY button and start the game.
Conclusion
Minecraft is one of the most popular and entertaining intellectual games produced by Mojang game development studio, the different versions of which have been published by the same studio for computer and mobile operating systems. In this article, we tried to fully teach you how to install and configure Minecraft Server on Ubuntu and Windows.