Tutorial connect to ssh on linux, The ssh protocol is a good tool for connecting to the server through a secure path on a network. This phrase It's called Secure Shell, which means a secure shell. If you have a dedicated or virtual server, you can manage it completely using the SSH protocol.
Tutorial connect to ssh on linux Server:
Download Putty software on Windows to get started with SSH connection. This software does not need to be installed and will be ready to run immediately after download.
After downloading from the main site, open putty. Enter the IP address in the Host Name or IP Address box and the SSH connection port is the default port 22, in the Port box, and then click open to enter the software terminal.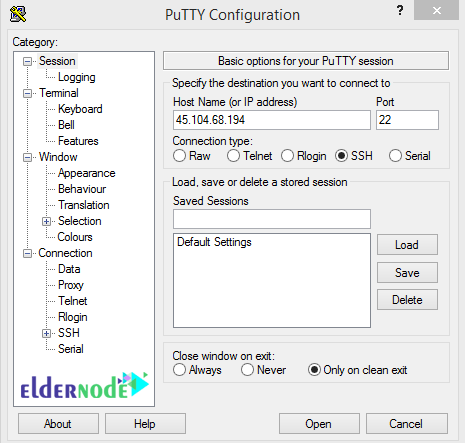 If the "PuTTY Security Alert" security message is displayed to you, click yes to continue.
A black window opens and you have to enter your username, which is usually root, Then, by entering a password and pressing Enter, you will be connected to your server and you can adjust your preferences using Linux commands.
When entering a password, no characters can be seen on the software terminal page. So type in the characters safely and then press the Enter key.
If you want to paste the password you copied elsewhere, just use the right mouse button. Right click in this software plays the role of Paste.
If logged in successfully, the command line will be changed in the same way as username @ hostname [~] # and ssh will wait for your commands.