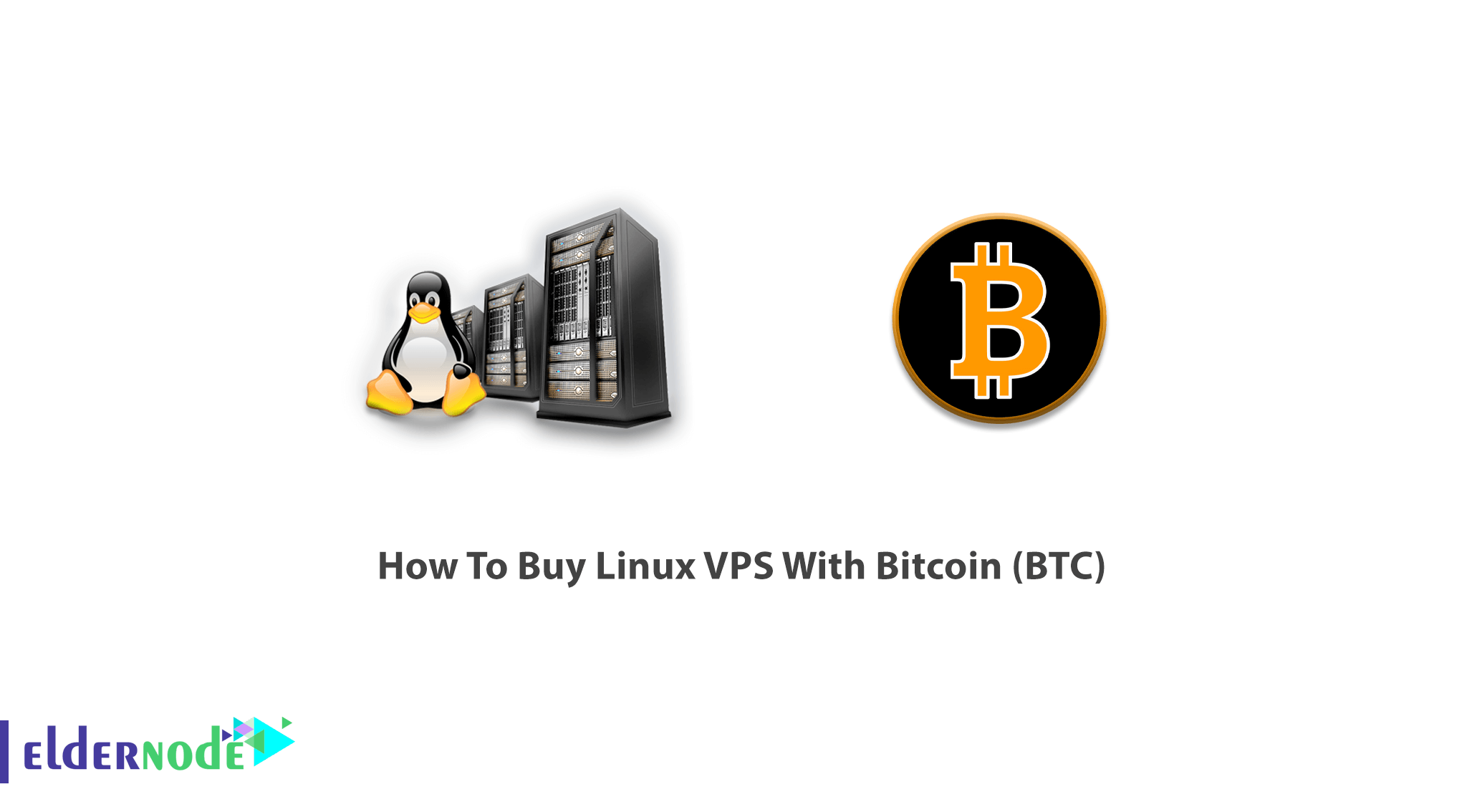 Linux VPS runs on a Linux system and is a server on a host computer. The host computer can run several other virtual servers. if you purchase a Linux Virtual Server, you will be able to use the Linux Operating System to manage your site. In this article, you will learn How To Buy Linux VPS With Bitcoin (BTC). VPS solutions usually offer more than one hosting plan, to purchase a plan according to your needs visit Eldernode and buy your own Linux VPS.
Tutorial Buy Linux VPS With Bitcoin (BTC) step by step
When do you need to buy your own VPS?
If your website has exceeded the limit of using shared web hosting services, but it does not make sense to spend costs to purchase a dedicated server. And if the site requires special services, settings, or configurations. You can purchase a Linux VPS even if you are not an expert at it. The hosting company is responsible for managing your service and most likely everything you need to run on your server will install and configure on your VPS Linux. You can also reap the benefits if you are creating and developing a website for a company. Basically, if you expect your website to grow and increase traffic, a Linux VPS is definitely for you.
Linux VPS Features
There are so many benefits to use Linux VPS including ease of use, increased security, improved reliability, and low cost. However, for most webmasters, programmers, designers and web developers, the main advantage of a Linux virtual server is its flexibility. Each virtual server has its own separate environment, which means you can easily and safely install your operating system, and you can easily add or remove software and applications whenever you want. You can also change your virtual server environment to suit your performance needs and improve the experience of your users or site visitors. This flexibility can be the advantage you want to be different from your competitors.
Linux VPS Locations in Eldernode
You can choose the location according to the type of use and your customers. consider in what geographical area your service has the most users or what service you are going to use. Let's see the available VPS locations that you can choose when Eldernode is your VPS provider. However, to receive more information about how to choose a location, contact our consultants for free through online chat or ticket to introduce the best location to you.
Available Linux VPS Locations Of North America:
The below image displays the countries of North America. There are more than 20 VPS locations in ElderNode. Find the place you can provide the best services to your customers.
Chicago Linux VPS, New York Linux VPS, Los Angeles, Miami Linux VPS, Seattle Linux VPS, Dallas Linux VPS, Canada.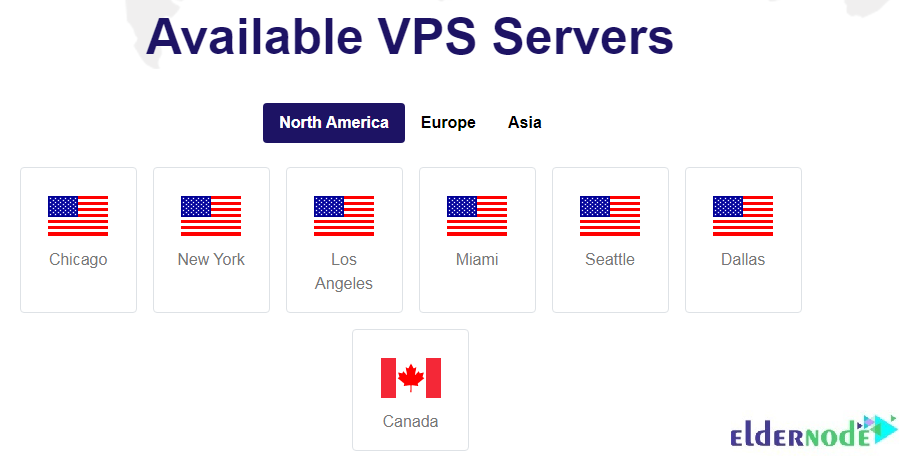 Available Linux VPS Locations Of Europe
France Linux VPS, Netherlands Linux VPS, Uk Linux VPS, Romania Linux VPS, Denmark Linux VPS, Russia Linux VPS, Germany.
Also, you can request it through online chat or ticket so that it can be provided at any location to you if possible.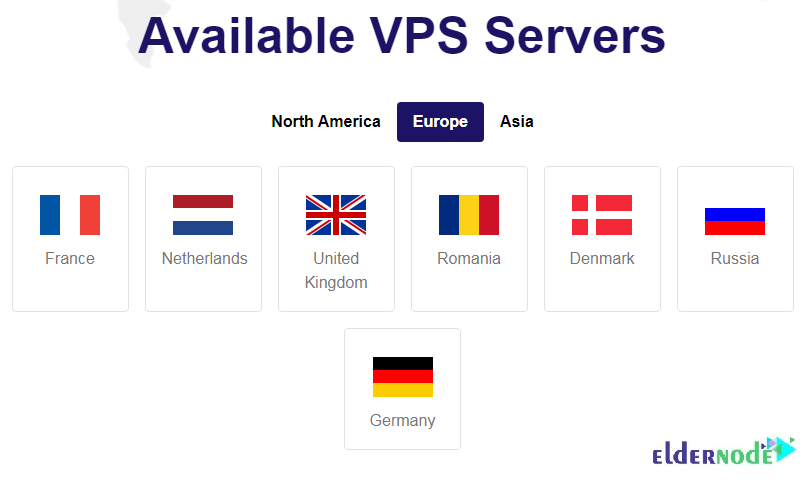 Available Linux VPS Locations Of Asia
Most popular Linux VPS server locations are available. But if you need other locations that are not on the image below, you can request it via ticket or online chat to add the location you want after checking.
Japan Linux VPS, Singapore Linux VPS, Hong Kong Linux VPS, Dubai Linux VPS, India Linux VPS, Malaysia Linux VPS, Korea Linux VPS, Turkey Linux VPS.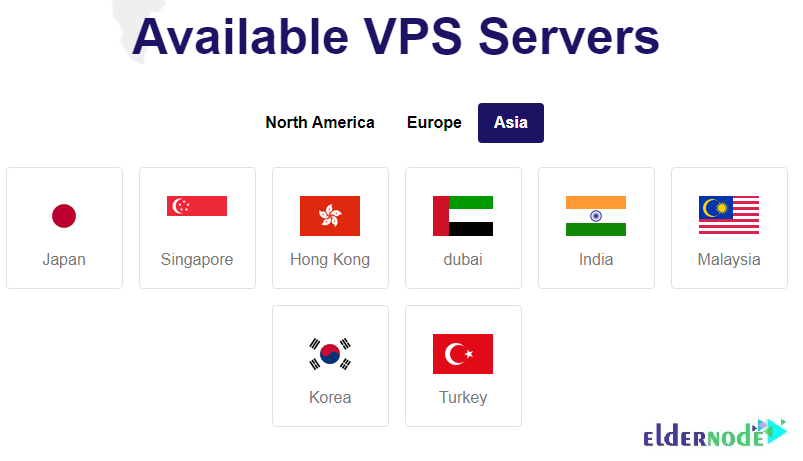 Start For Buy Linux VPS Bitcoin
The first step to buy Linux VPS is to find the best seller. Best Price, 24/7 support, various hosting packages, and offering a wide range of hosting options are the parameters you must check.
ElderNode is a flexible company that provides the best service that users need with different plans and conditions. Flexibility in Service, Full Monitoring and Support, and Get Start Quickly and Easily is what Eldernode provides to its valuable customers.
In the following of this guide, we are going to review the steps you need to pass to buy Linux VPS with Bitcoin.
Step 1:
Go to Eldernode.com and Register on it by clicking on Signup.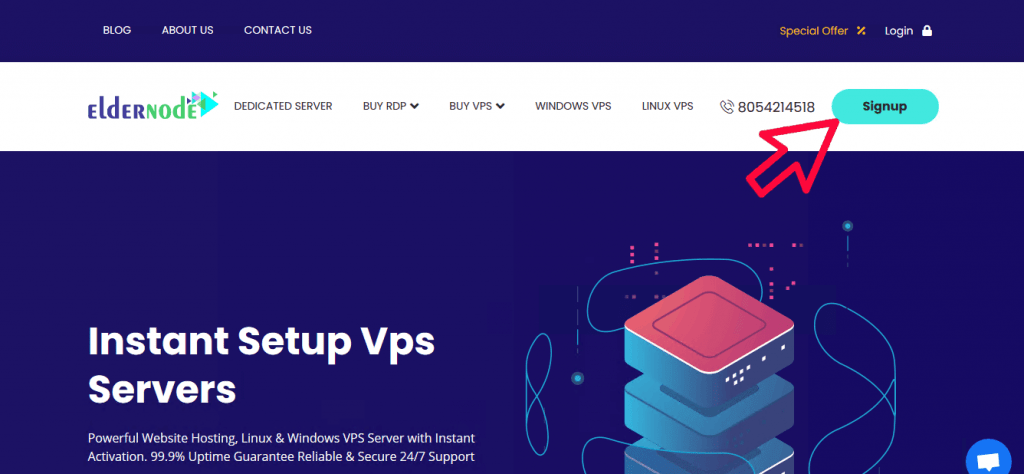 Step 2:
When the registering is finished, go back to the main page and click on the Linux VPS tab.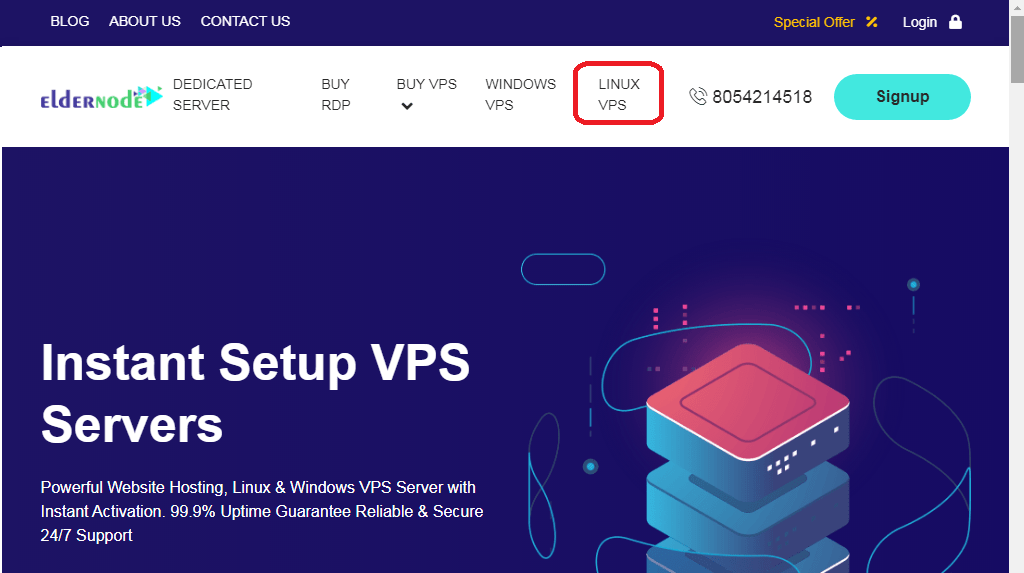 Step 3:
On the Linux VPS page, you can choose your perfect Linux Virtual Private Server Packages. Depend on your needs select monthly or yearly and press Order Now.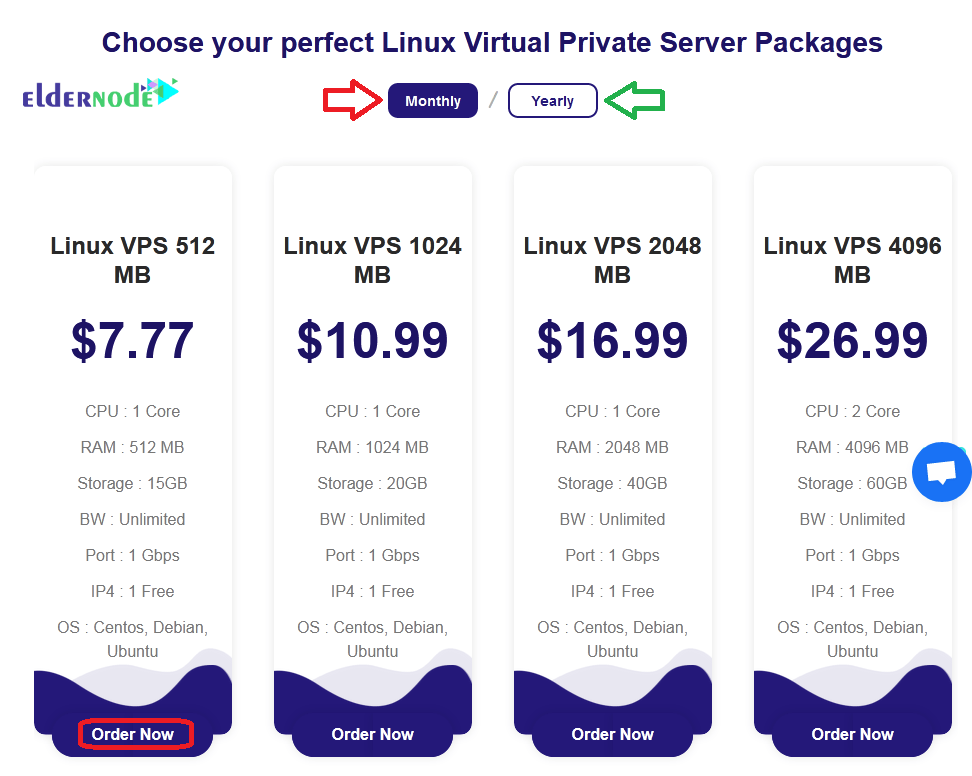 Step 4:
When you press Order Now, you will be directed to the configure page and you will see a summary of your order. Location and Operating System information is requiring. When all tabs are filled, press Continue.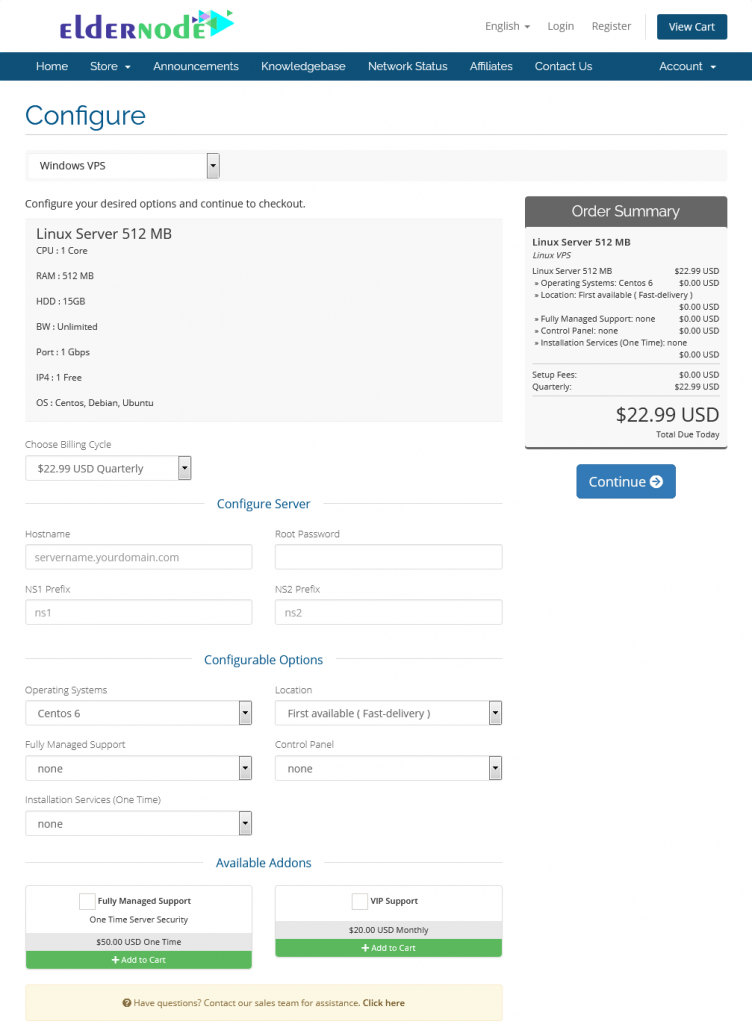 Step 5:
Now, you see what you have chosen and if something is wrong, press Edit and review again. At the end of the page, a blank tab asks you to enter your discount code and press Validate Code. Finally, click on Checkout.
Note: Contact Eldernode experts via the online chat on the website to be aware of available discounts and the ways you can have a code.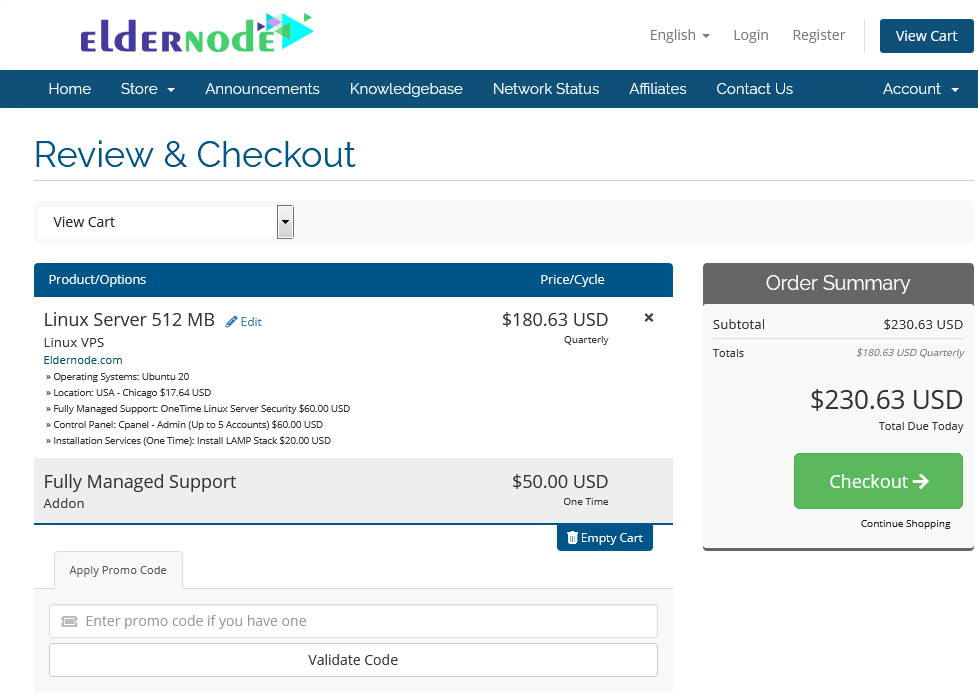 Step 6:
Your situation is important. Eldernode has provided an online payment service with cryptocurrencies, Perfect Money, PayPal and etc. So that all users can pay with Bitcoin, Ethereum, Monero, Dogecoin, Ripple, Dogecoin, and thousands of other Cryptocurrencies.
So, on the next page after entering your personal details and billing information choose the first option of payment detail. When you selected Bitcoin, Ethereum, USDT, and All cryptocurrencies, press Complete Order.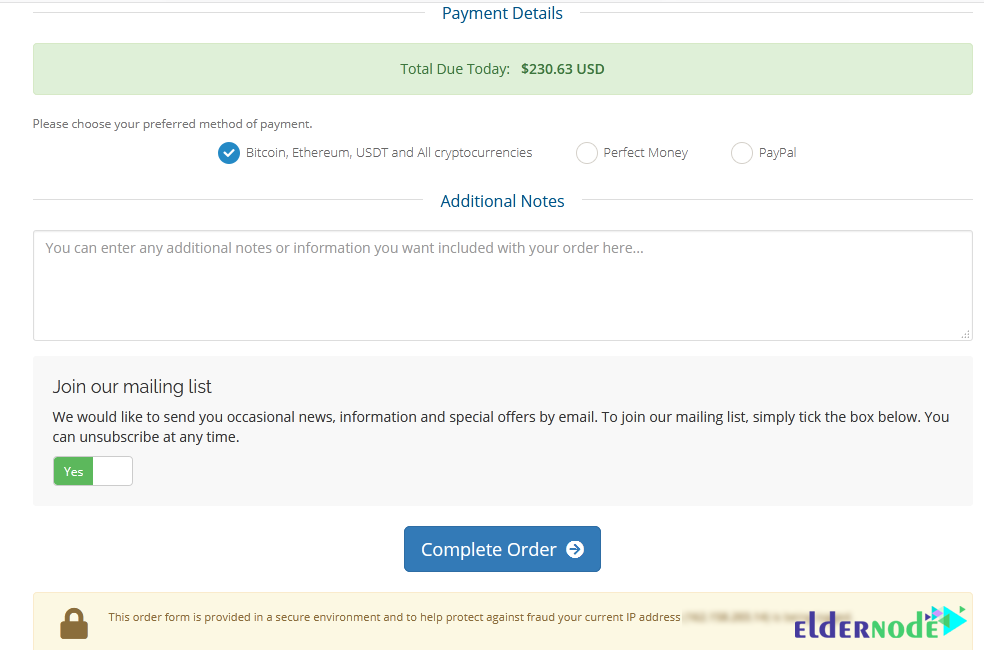 Step 7:
In this step, click on BTC in the Select A Coin section. Then click Complete Checkout in the right column.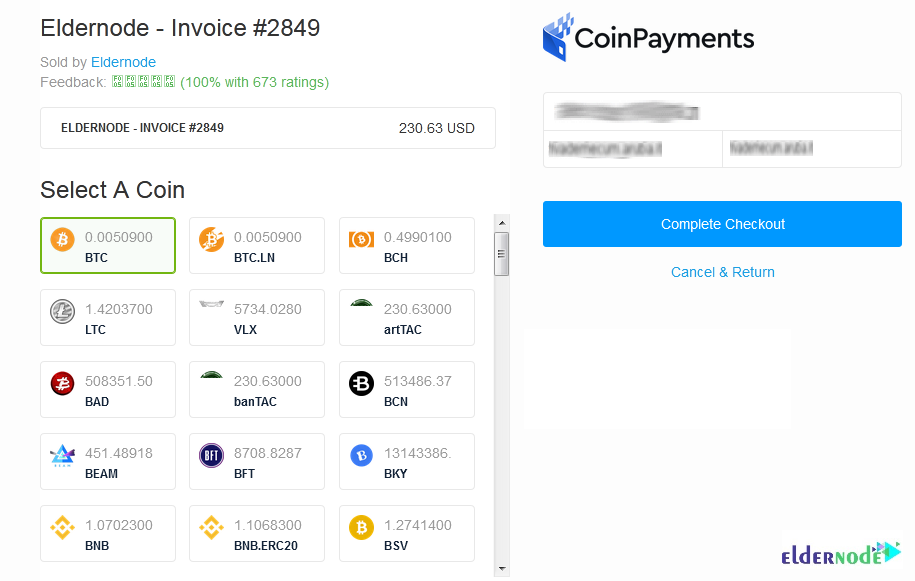 Step 8:
Finally, you will receive your payment ID to buy your own Linux VPS and pay with Bitcoin. Feel free to start an online chat with Eldernode experts to ask your questions.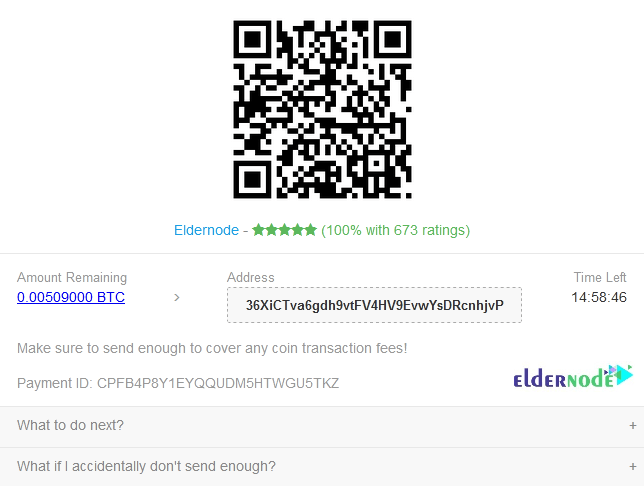 Conclusion
In this article, you learned How To Buy Linux VPS With Bitcoin (BTC). The required steps will take you to buy your preferred Linux VPS, but if you need to consult more or ask any other questions, just start an online chat with us.