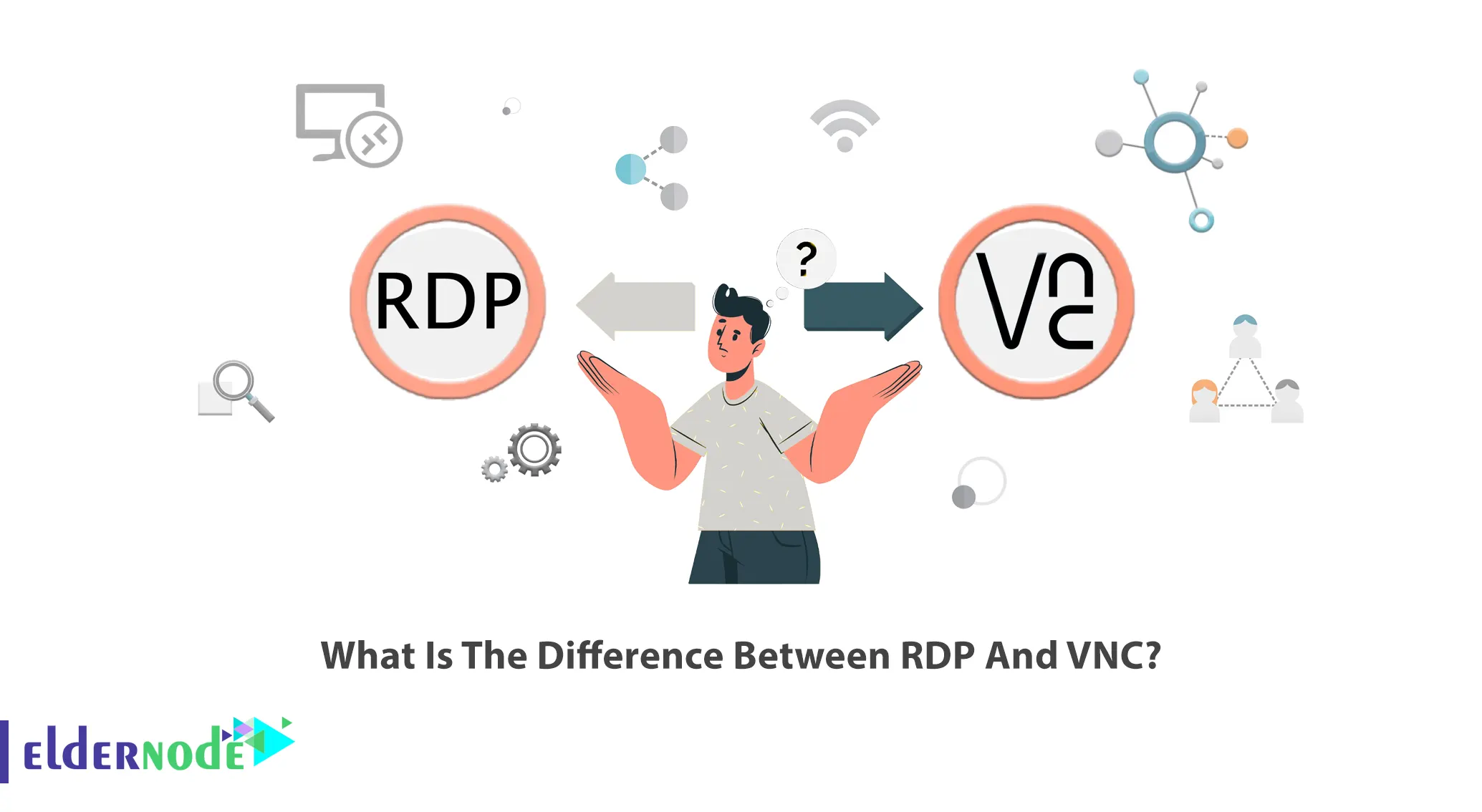 Nowadays, remote desktop technology systems such as VNC and RDP are very useful in home computer networks. This technology allows users to use their desktops even if they are not at home or do not have access to their system. They are also useful for network administrators in business environments, such as information technology departments; Because this technology helps them when they have to remotely solve the problems of employees' systems. This article will explain What Is The Difference Between RDP and VNC. If you want to purchase your own Buy RDP, you can check out the packages offered on the Eldernode website.
What are RDP and VNC?
RDP stands for Remote Desktop Protocol and is a secure network communications protocol developed by Microsoft. It is available for Windows operating systems and only works for a specific operating system. This protocol provides a graphical user interface for connecting remotely to another computer over a network. The user experience of remote access via RDP protocol is very close to direct access.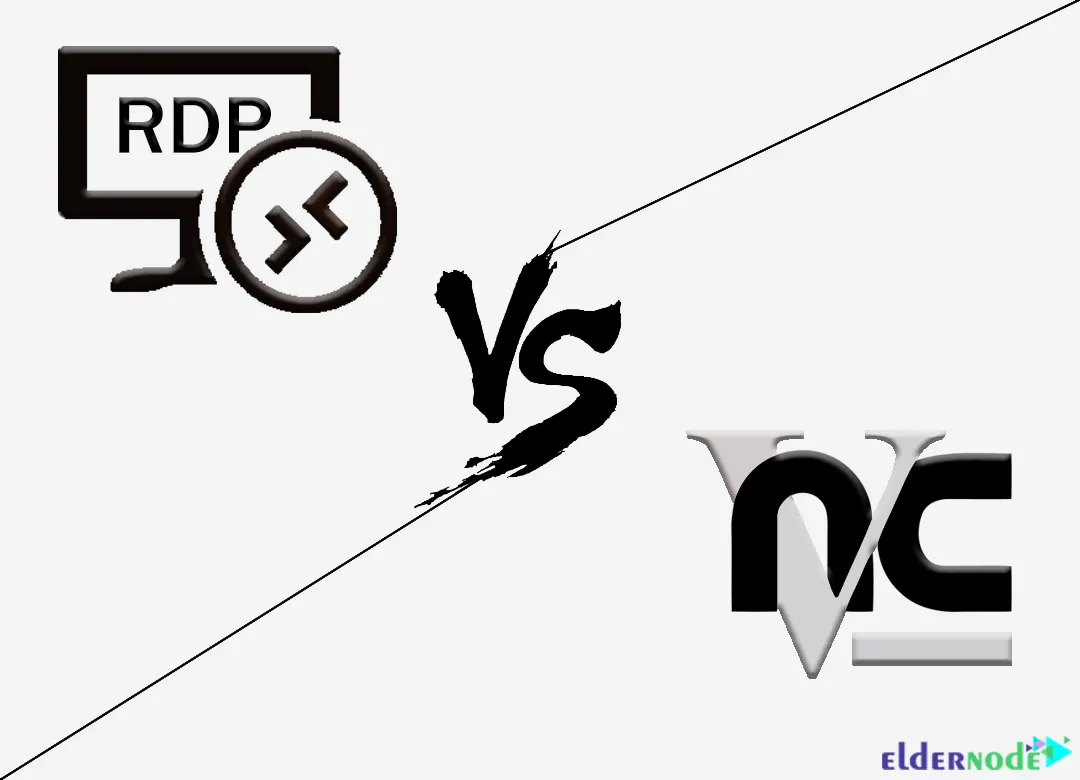 VNC stands for Virtual Network Computing and is a remote desktop sharing system that makes it possible to control another computer in a different location. It allows users to control a computer remotely while the main user can interact and watch. This desktop sharing system can be used with Windows, Mac, Linux, Raspberry Pi, and other platforms to share a desktop across different computers.
RDP Features
Here we will list the best features of RDP:
– Transfer image data from the server to the client
– Authenticate users using Network Level Authentication
– Access to your local printer
– Encrypt all data sent between the two computers
– Allows direct sound from the remote desktop to the local computer
VNC Features
let's list the key features of VNC:
– Share screens between users
– Allow cross-platform use
– Use lightweight protocols
– Platform-independent
What Are RDP And VNC Used For?
RDP and VNC are used to connect to a remote device and can provide remote access to the device's graphical user interface. They require software on the server and client side. The server is the device to connect to, while the client is the connecting device. These remote desktops allow support personnel to remotely facilitate troubleshooting on a customer's device. VNC and RDP use direct peer-to-peer communication to connect two devices together.
What's The Difference Between RDP & VNC?
There are two main differences between RDP and VNc. First, RDP is a client/server model whereas VNC is a peer-to-peer model. Second, RDP uses TCP/IP while VNC uses UDP/IP.
Let's explore the differences between RDP and VNC together.
– Security: RDP supports SSL/TLS and operates within an encrypted channel. It offers more security improvements with each update. But VNC doesn't offer a strong security implementation and gives full access to remote users. This makes VNC less secure.
– Performance: RDP is fast and easy to use and provides a smaller instruction set. You can use it to connect to VPS servers for many users to access the same physical server. But VNC shares the same desktop between users which means if more than two users connect to VNC, it will be very slow and run with more bugs.
– Platform: VNC is a platform-independent tool that is used with Windows, Linux, Mac, and Raspberry Pi devices. But RDP comes pre-installed on Windows PCs and only works for a specific operating system. You can use RDP in client-side applications on multiple platforms such as Mac, Linux, Android and iOS.
– Screen Sharing: RDP supports many remote users all logged into the same server. VNC connects the user to the computer itself by sharing the screen, mouse, and keyboard so that when multiple users are connected to the same server, they can all see the same screen and type on the same keyboard. If you need desktop sharing for a large number of systems, RDP is not the right system. The RDP user won't be able to share screens but VNC users and administrators can see the user's screen at the same time.
– Usage: RDP is a resource-sharing platform and VNC is a screen-sharing platform. VNC allows you to take control of the remote computer and you can use it for remote customer support and educational demonstrations. But in RDP, the user is connecting to another device from a personal device.
Which One Should You Choose?
It cannot be said that VNC is better than RDP or RDP is better because these two are used in different fields and each is used in certain situations. Now we will explain the different conditions so that you know to choose whether RDP or VNC in each one. As we mentioned above RDP is a native remote connection and is faster than VNC. So if you want efficient and faster access, you should choose RDP. But VNC is a screen-sharing platform and works on all operating systems. You can use it for remote customer support and educational demonstrations and is best for functional environments.
Why Do I Need To Know About RDP and VNC?
Sometimes you need to access remotely to a computer because you can not access it physically. At this time you should use one of the remote access solutions. RDP and VNC are remote desktop solutions you can choose. You have to know about the features, similarities, and differences between RDP and VNC so that you can choose which one is the best choice for you.
Conclusion
Both RDP and VNC have very different specific use cases. In this article, we explained What are RDP and VNC Used for and also the difference between them. I hope this tutorial helps you to choose the best remote access solution that can fulfill your requirements. If you face any problems or have any suggestions, you can contact us in the comments section.