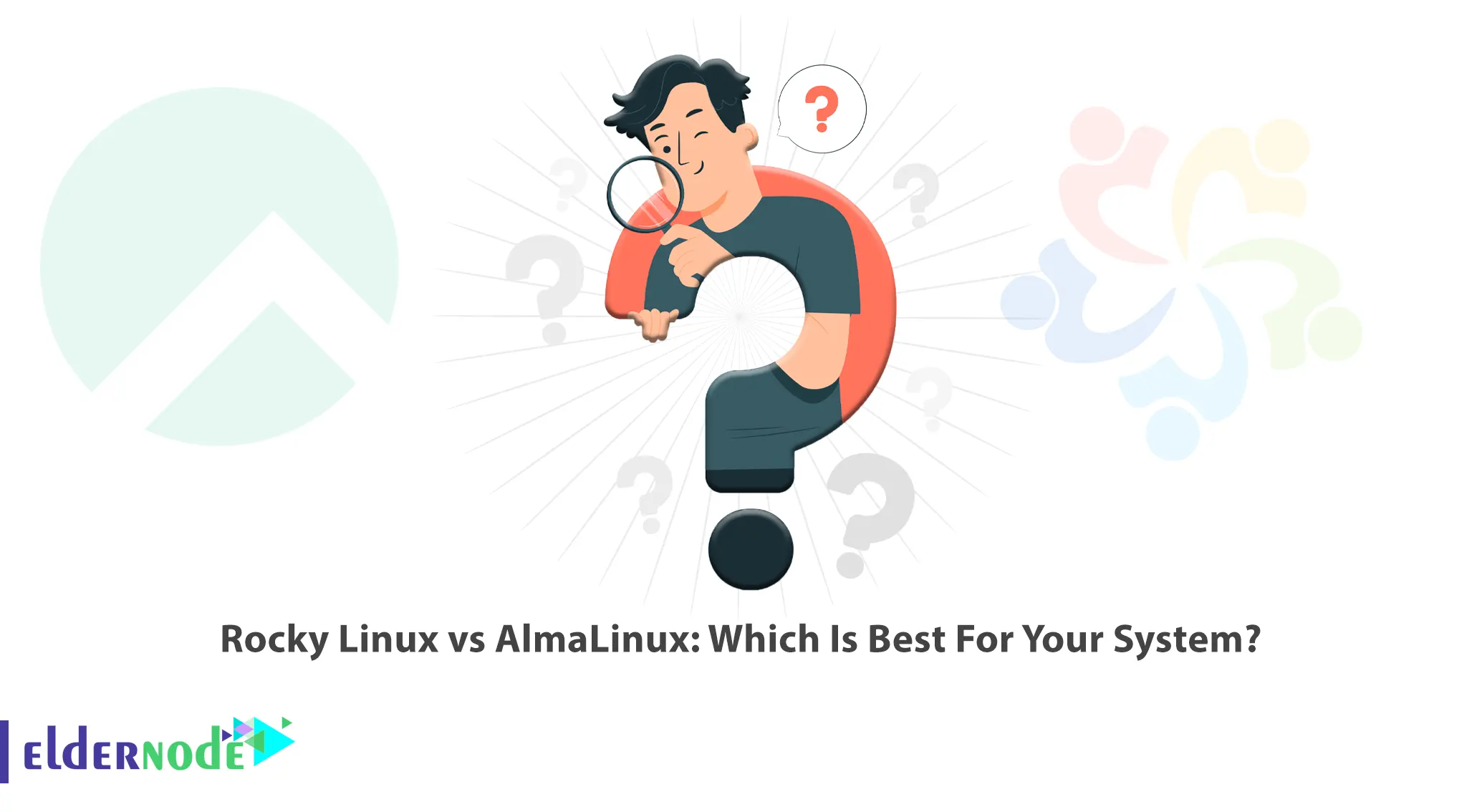 Linux has different distributions developed for different purposes. AlmaLinux and Rocky Linux are famous Linux distributions. This article will teach you Which of Rocky Linux or AlmaLinux is Best For Your System. Eldernode website offers Linux VPS packages, which can be the best choice if you want to buy.
Which is your choice? AlmaLinux or Rocky Linux?
AlmaLinux is a free and open-source Linux distribution developed by CloudLinux and designed as a direct successor to CentOS. It is an interesting operating system for businesses and private users, as it has a dedicated community and binary compatibility with Red Hat Enterprise Linux.
Rocky Linux is a free, open-source, and server-oriented Linux distribution developed by Rocky Enterprise Software Foundation. This operating system is enterprise-ready with regular updates and excellent stability and is under intensive community development.
Security: Provide Different Security Features
Rocky Linux and AlmaLinux distributions differ in the security features they include. Rocky Linux has a new security system called SELinux. NSA or National Security Agency creates SELinux to implement a robust MAC architecture. A MAC system reinforces the separation of confidential and integrity information to create a containment system. This operating system also includes the Fastest Mirror DNF plugin, Thunderbird with PGP support, Raspberry Pi AArch64 support, Enhanced Cockpit web console, and OpenJDK 17 support.
AlmaLinux has the CIS or Center for Internet Security benchmark, which comes with a tool called CIS-CAT. This benchmark is available in AlmaLinux version 8.4 and higher and users can configure their system security. CIS-CAT offers comprehensive reports on potential security issues. Also, AlmaLinux has a tool named OpenSCAP which scans the system for vulnerabilities. You can access this tool from the terminal or the OpenSCAP Workbench program.
Performance: Different Performance in the Usage of Custom Software
The performance of these two operating systems is not much different from each other and both have fast performance. You can use it either in the cloud or on-premises to run enterprise applications. Differences in their performance may be due to the use of custom software. The latest versions of Rocky Linux and AlmaLinux have updates to dynamic programming languages, version control, web servers, performance, debugging tools, etc, and are based on the upstream kernel version 5.14, which provides performance improvements.
Usage: Suitable for Private Use and Enterprises
AlmaLinux was created as an enterprise operating system and targets companies that are looking for a good stable Linux distribution for their business purposes. However, users can also use AlmaLinux to create a secure and optimized operating architecture for applications. It is also usually introduced as a free alternative to Red Hat Enterprise. You can also use AlmaLinux as a base to create a secure and optimized operating architecture for applications.
Rocky Linux can be used for different users. This Linux distribution is designed to be used to manage and run a server. Of course, companies and private and professional users are among the most important things that use this Linux distribution. People who need a free and user-friendly distribution can easily use Rocky Linux. The key functions of enterprise, large-scale, cloud, and high-performance computing are integrated and make Rocky Linux a recommended list of Linux server functions. RHEL emulation is particularly significant for enterprises. AlmaLinux and Rocky Linux are suitable for private due to their user-friendly interface and free usage.
Stability: Smooth and Stable System Operation
Operating systems that are a subset of CentOS are all stable and highly compatible. Rocky Linux and AlmaLinux are also very stable and safe options. You can easily use them in different situations. These two operating systems have eliminated the possibility of incorporating unstable software at the cost of more time to introduce updates. These two ensure smooth and stable system operation and have gain the trust of users.
Package Manager: dnf Replacement for yum
The default package manager in AlmaLinux is the dnf package manager, which is used to check for software updates in official and custom configuration repositories for software updates. Rocky Linux also uses rpm or dnf package manager. All RedHat-based distributions including RockyLinux, AlmaLinux, Fedora, CentOS, etc use RPM packages. The dnf is an alternative to yum that works with RPM packages in local or remote repositories.
Which one is Better?
Almalinux and Rocky Linux have many similarities, but their management, control, and in general the way they are maintained are very different. Both distributions are good alternatives to CentOS and the choice between the two depends on personal preference. These two distributions differ mainly in the type of security provided and they have the same performance as well as stability and learning curve. as mentioned. But remember that Rocky Linux has more users and is also more accepted by the community. Also, note that both binaries are compatible with RHEL, you could theoretically switch between Alma Linux and Rocky Linux if needed.
Conclusion
There are people and companies who used CentOS and are now looking for an alternative. This article taught you Which of Rocky Linux or AlmaLinux is Best For Your System. I hope you found this tutorial useful and that it helps you to choose the best operating system. If you have any questions or suggestions, you can contact us in the Comments section.