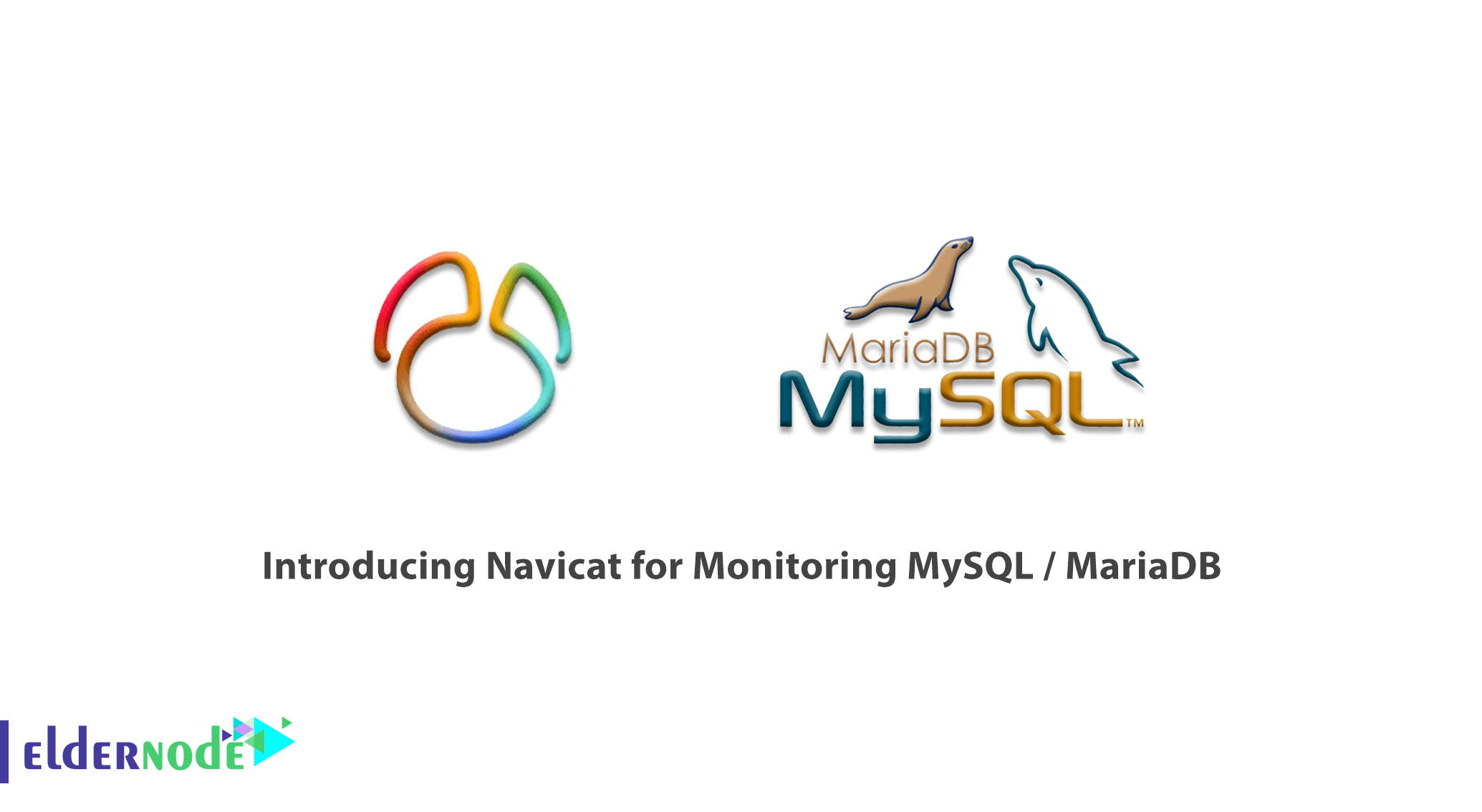 Navicat is a powerful software with a graphical user interface for managing and working with such databases. Navicat lets you organize and exchange data in databases and make sure these processes are secure. Using Navicat you can connect to local servers or remotely. The software also supports importing data from ODBC, scheduling tasks (meaning creating a timeline for data transfer and stored queries), and printing a structure table. It should note that this software includes graphical management to set users and access. In this article, we are going to discuss in full Introducing Navicat for Monitoring MySQL / MariaDB. Note that if you decide to buy a VPS server, you can see the packages available in Eldernode.
Introducing Navicat for Monitoring MySQL / MariaDB
Navicat Monitor for MySQL / MariaDB is a tool for remote server monitoring without an agent. This tool comes with features to monitor your database (DB) items as efficiently and easily as possible. In addition, its server-based architecture makes it accessible from anywhere through a web browser. It, therefore, provides unobstructed access for easy and seamless tracking of servers from anywhere in the world, at any time of the day or night.
Advantages of Navicat software
In this section, we will introduce the most important features of Navicat software:
– Support for the latest versions of MySQL, PostgreSQL, and Oracle.
– Use SQL command desk in program design.
– Ability to make multiple connections at once.
– Backing up databases and retrieving them.
– Support for XLS, CSV, TXT, DBF, and XML formats in data input and output.
– Advanced graphic design.
Features of Navicat software
1- Migration
One of the features of Navicat is the ability to migrate. If you want to move your application server from one computer to another new machine, you can export your Monitor settings. The output of the script will be a backup zip file with all the configuration files and settings needed for the reconstruction.
2- Roles Manager
You can set user rights and restrictions by assigning roles to users. It should be noted that roles can be drawn for any user, such as external LDAP/AD users or local users created in Navicat Monitor. You can also customize predefined roles to suit your needs or create new roles with custom privilege settings to restrict access to selected pages in Navicat Monitor.
3- Dark mode
With this feature, you can set a dark theme to protect your eyes from the whiteness of the computer screen.
4- Customization alert
Set custom alert thresholds to monitor your infrastructure. This way you can receive alerts when you reach the set rules threshold.
5- LDAP / AD Authentication
By configuring Navicat Monitor for authentication with an LDAP or Active Directory server, you can save time setting up a new and different security approach.
6- Notifications
You receive notifications via email, SMS, SNMP, or Slack whenever an alert or a critical situation arises in your infrastructure.
Navicat for Monitoring MySQL / MariaDB
After a description of Navicat, its benefits, and its features, in this section, we are going to configure an instance in Navicat Monitor for MySQL / MariaDB. The important thing is that you can create up to 1000 instances.
On the dashboard, you can see an overview of everything that is controlled by Navicat Monitor. This information summarizes the status of the system and identifies issues that need serious attention. Instances information is also provided in the sample cards, which allows you to identify the status of the server and the number of system resources used.
To create a new instance for monitoring your server, click "New Instance" and select the server type from the drop-down list: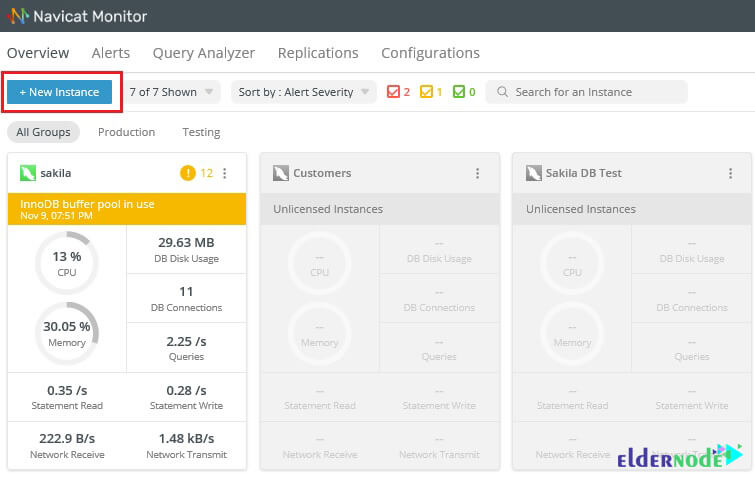 In the next step, you have to enter the appropriate information in the New Instance window. To do this in the New Instance window, enter a custom name for the Instance Name. Then you have to select the group for your sample. Note that if you want to add a new group, you can do so by clicking on "New Group".
Note: Navicat Monitor can connect to the database server via a secure SSH tunnel to send and receive monitoring data, even if the connections are disabled or blocked by firewalls.
For more information in the MySQL Server or MariaDB Server section, we provide the following explanations. You must enter this information:
– Hostname: The hostname or IP address of the database server.
– Port: TCP/IP port number to connect to the database server.
– Username: A user monitoring the connection to the database server.
– Password: The login password of the monitoring user.
– Server Type: Server types such as Unix or Windows.
Note: We suggest creating a separate account for the monitoring user. You also need to grant REPLICATION CLIENT, SUPER, PROCESS, and SELECT privileges to the monitoring user in all database objects.
After making the changes mentioned at the end, click on "New" to create a new sample.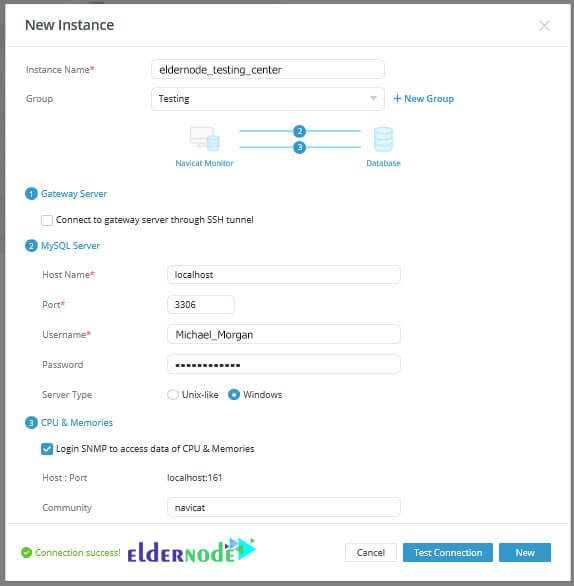 How to activate tokens in the premium version of Navicat
After using the trial period of this software is completed, you need to obtain a license for Navicat Monitor. You can purchase tokens from the Navicat website. To manage tokens, go to Configurations>> Activation as shown below. Note that to activate an instance, you must put it in the Unlicensed Instances list. Then check the box next to it and click the "License" button.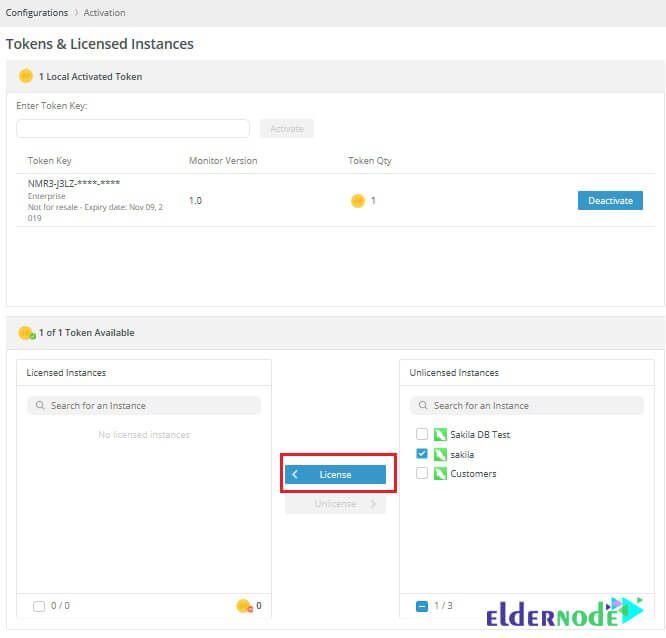 Conclusion
Navicat software is an extremely powerful application for managing MariaDB, Mysql, PostgreSQL, and Oracle databases. Full Unicode support, the ability to import and export information with MS Access, MS Excel, XML, PDF, and TXT extensions, the ability to edit and build databases in the program are features of Navicat. Also, creating the required queries and saving them and viewing the query output at the same time, creating a report from the database and other unique possibilities are the features of this software. In this article, we have tried to fully guide you with Introducing Navicat for Monitoring MySQL/MariaDB.