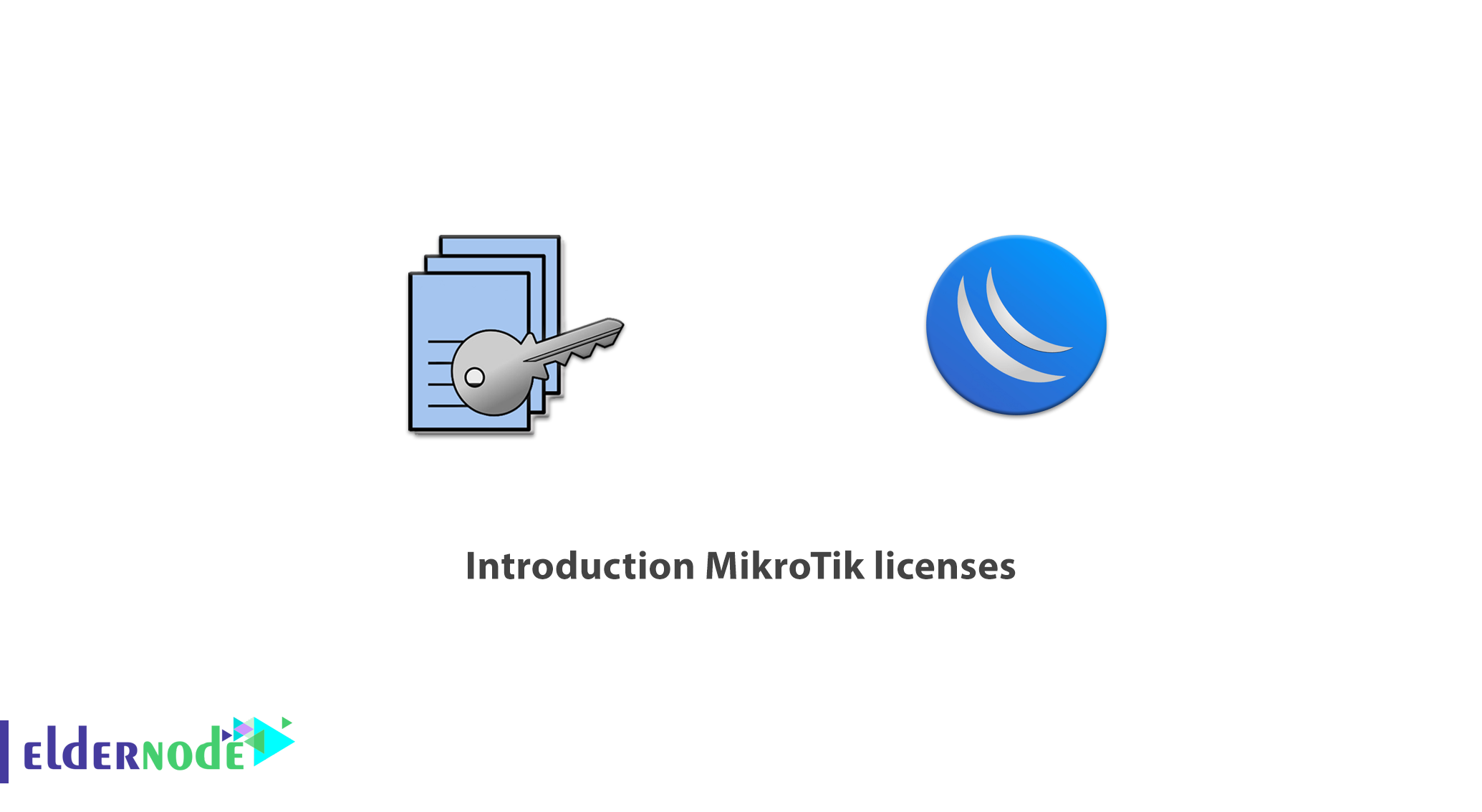 Mikrotik is a company that started its business by selling wireless routers and after expanding its work, introduced an operating system called Mikrotik Router OS. Router OS is a Linux-based operating system that can be installed on regular systems. To use the Mikrotik operating system, you must purchase a Mikrotik license. There are different types of Mikrotik licenses, which here we will have Introduction Mikrotik Licenses. We suggest you check out the packages offered on the Eldernode website, if you would like to purchase Mikrotik VPS Server.
Introduction to Mikrotik Licenses
The license key is a block of symbols that you receive from your email or 'mikrotik.com' account. Mikrotik Licenses are determining based on the hardware specifications of the routers or the use of other features of the router, such as the ability to support a number of User Manager clients or clients that use different types of tunnels.
Features of Mikrotik Device
–> Stability
–> Economical
–> High speed on boot
–> High installation speed
–> High configuration speed
–> Adjustable on Import and Export
–> Automatic operation without need to login any service
What is Mikrotik Used for?
–> VPN
–> NAT
–> MPLS
–> Routing
–> Firewall
–> Wireless
–> Proxy Server
–> DHCP Server
–> Load Balancing
–> Quality of Service
Mikrotik License Levels
The RouterOS license is pre-installed on RouterBOARD devices and you do not need to purchase a license key. For x86 systems, you must obtain a license key.
The RouterOS license scheme is based on Software-ID in which the RouterBOARD software ID is connecting to the storage media (HDD,NAND) and the x86 software-ID is connecting to the MBR and the CHR system-ID is restricting to the MBR and UUID.
License information is available from the CLI system console:
/system license print
Once installed, RouterOS runs in trial mode. Within 24 hours, you can register for level 1 or purchase other levels. You can see the different levels of licenses in the table below: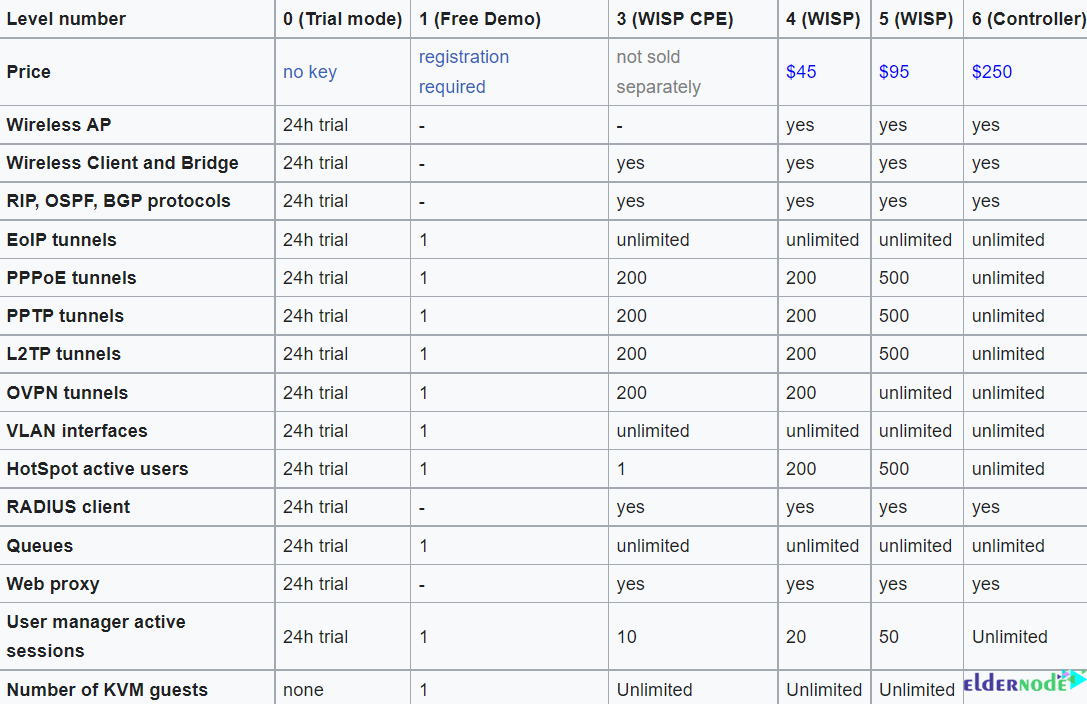 Level2 was a transition license from the old license format (before 2.8) and is no longer available. You will need to purchase a new license to upgrade.
Level3 is a wireless station license (client or CPE) and is not available separately for x86 PCs.
Common Features of all Mikrotik Licenses
–> Possibility of unlimited use without expiration date.
–> Ability to use an unlimited number of interfaces.
–> Each license is specific to one installation.
–> Unlimited software upgrades.
CHR License Levels
CHR is a version of RouterOS that runs as a virtual machine and has 4 license levels and a trial that you can test each costly license level for 60 days.
If you want to get the free trial license, you have to have an account on Mikrotik.com; Where licenses are managed.
Perpetual is a lifetime license that can transfer to another instance of CHR. A running CHR instance must have access to the account server to renew its license, otherwise it will not allow RouterOS to be upgraded to a newer version.
Once a running test system has been licensed, run the following command manually from CHR to activate it:
/system license renew
Perform this before the system deadline, otherwise you will have to install the CHR from the beginning.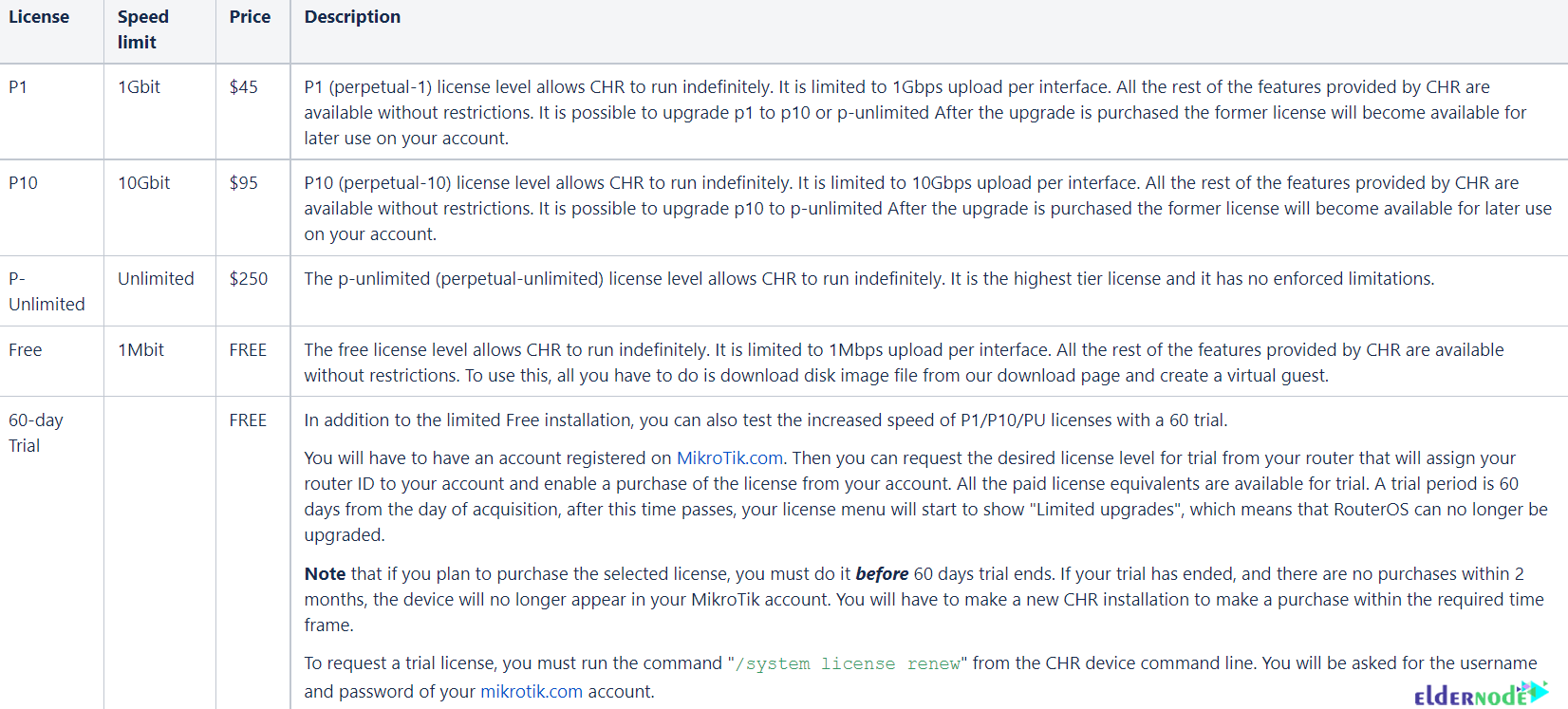 If you use multiple virtual systems of the same type, the next device may have the same System-ID as the original device. To prevent this, after the first boot, run the following command before you request a trial license:
/system license generate-new-id
The above command is using only when the CHR is running in the free version of the RouterOS license. If you have already received a paid or trial license and use the Regenerate feature, you can no longer update your current key.
To use multiple virtual machines, download the Disk Image from the Mikrotik webpage, and copy the disk according to the number of virtual machines used. In this way, create a new virtual machine system from each virtual Disk Image. Make a copy of the Disk Image, before running or saving the downloaded file.
Upgrading from RouterOS v3 (2009)
If despite the introduction of RouterOS 3.25 and 4.0beta3 as the new SoftID format, your license menu shows both old and new SoftID or RouterOS still works as before, you may need to upgrade your license to take advantage of some of the new features. To do this, click the Update License Key button in Winbox. The symbol for new SoftIDs is as follows:
XXXX-XXXX (4 symbols, dash, 4 symbols)
The actions will be in the following order:
–> Winbox will contact Mikrotik.com with your old SoftID to have Mikrotik check your database and see your key details.
–> The server generates a new key called upgrade and places it in the same account as before.
–> Winbox will automatically licenses your with the new key.
–> Then it must be restarted to unlock new RouterOS features.
Note: When RouterOS applies the New key, the Old key is storing in a file in the Files folder so that the old key is always available.
How to Change License Level
There is no license level upgrade, if you want to use another license level, please purchase the appropriate level. This is a policy using by software companies, choose wisely when shopping.
Replacement license Key
In case of accidental loss of license or failure of the drive, you can request a special key from Mikrotik support team. It costs 10$ and has the same features as the key that you lost.
To request a replacement key you can follow the steps below:
First go to your account management in mikrotik.com and fill the support contact form or email to [email protected]. Then send required info and also explain the reason of requesting the replacement key to the Mikrotik support team.
After confirming the support staff and adding a replacement key to your account, check your account again and select the Make a key from replacement key option.
Now select the appropriate license level to replace, enter the new software-ID. Then complete the payment process by clicking Add License Alternative to Cart.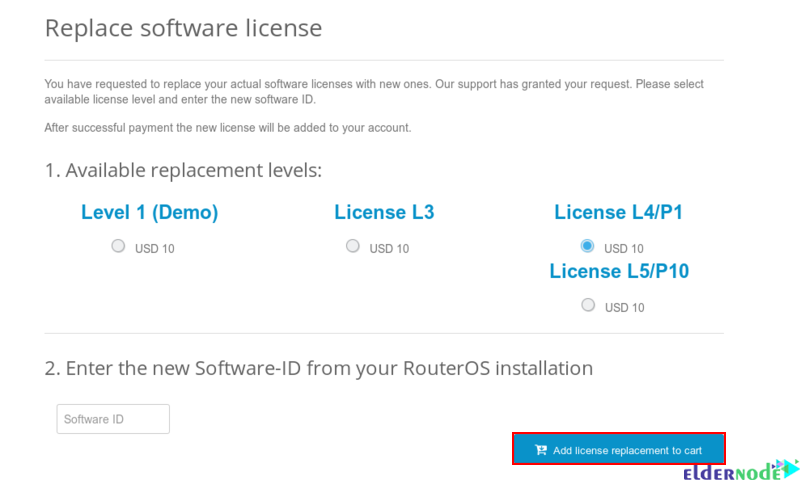 Finally you will receive an email with a new license.
Conclusion
As we discussed, to use Mikrotik operating system, you need to obtain Mikrotik Licenses. In this article, we got acquainted with the features of Mikrotik and examined its different levels of licenses. I hope it was useful for you.