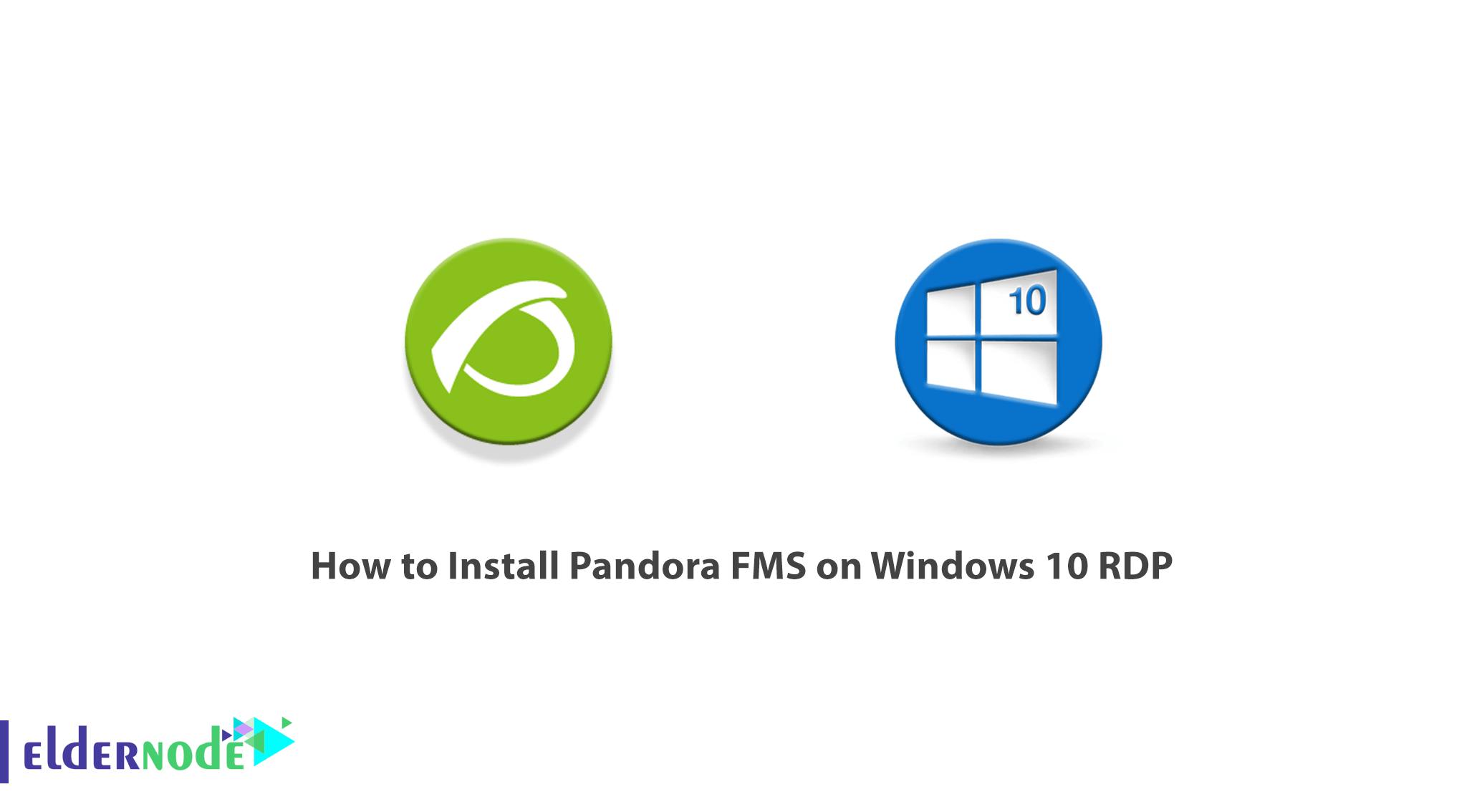 Pandora FMS is a network monitoring software package designed for a variety of environments. This software is designed to adapt to any role and organization, and its main purpose is sufficient flexibility to manage and fully control the infrastructure, without the need to invest more time or money in another monitoring tool. FMS stands for Flexible Monitoring System. The goal of FMS is to be able to control the next generation of sophisticated tools and systems with obsolete elements that are difficult to access and have little compatibility. In this article, we try to teach you How to Install Pandora FMS on Windows 10 RDP. It should note that you can visit the packages available in Eldernode if you want to buy a Windows 10 RDP server.
Tutorial Install Pandora FMS on Windows 10 RDP
Pandora Flexible Monitoring Solution (FMS) is versatile monitoring software. This means that it can control network equipment, Linux and Windows servers, virtual environments, programs, databases, and more. It can perform both remote monitoring and monitoring based on agents installed on the servers. If something goes wrong, you can retrieve the data collected in reports and charts and increase alerts. In the next section, we will mention some of the features of Pandora FMS. Then we will teach you how to Install Pandora FMS on Windows 10 RDP step by step.
Features of Pandora FMS
In this section, we review 7 of the most important features of Pandora FMS. These 7 features are:
1- Control
Agents can enable services, delete temporary files, or run processes. It should also note that commands can execute remotely through the console, such as stopping or starting services. In addition, tasks that require periodic execution can be scheduled.
2- Inventory
Unlike other solutions where the idea of CMDB is the basis, in Pandora FMS this is an option. It is a flexible and dynamic creature. This means that it can automatically detect, accept remote input, and so on. It can notify changes or simply be used to create lists.
3- Automatic monitoring
Pandora FMS Default Monitoring allows you to identify hard disks, partitions, or databases on a database server, among other things.
4- Automatic discovery
Using the network, you can remotely identify all network elements. You can also index network elements according to your operating system and profile them so you can control them. It is even possible to identify the network topology and create a network plan based on its routing.
5- Analysis and display
In the Pandora FMS environment, monitoring is a way to provide forecast reports, correlated summary charts of long-term data collected and generate user portals, delegate reports to third parties, or define your own charts and tables. Pandora FMS puts all these tools in one web interface.
6- Warnings and notifications
Notifications are just as important as troubleshooting. Pandora FMS gives you an almost endless variety of information methods and formats. This includes intensifying, correlating warnings, and preventing and mitigating emergencies.
7- Monitoring
The Agents of Pandora FMS are the most powerful on the market. They are capable of obtaining information on the Windows API: Events, logs, numerical data, process stages, memory, and CPU consumption.
Install Pandora FMS on Windows 10
In this section, we want to show you how to install Pandora FMS on Windows 10 RDP. To do this, you need to visit the pandora FMS website in the first step. Then you need to download the Windows version of Pandora FMS.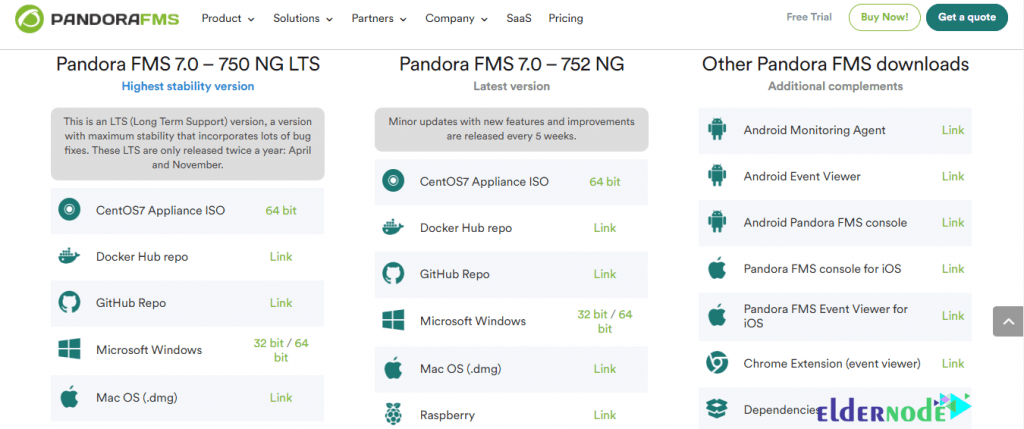 In the next step, you need to go to the place where you downloaded the file. Double click on the download file. After you see the following window, you must select the language you want and click OK.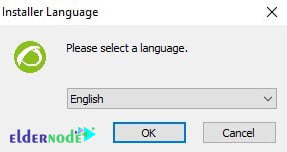 Then click Next to continue the installation process.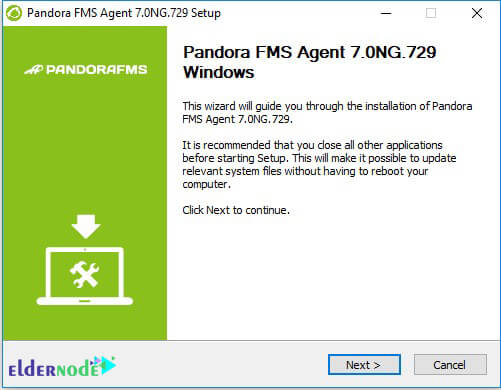 Click I agree to approve the license agreement.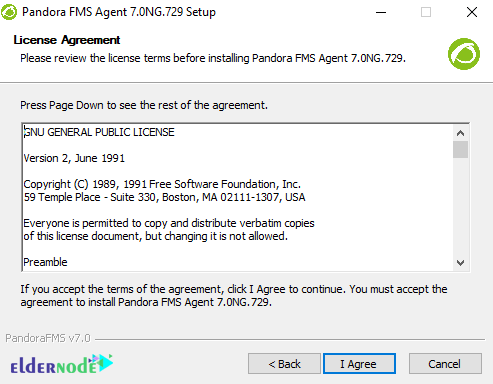 In this step, you must specify the installation path of the program. After doing this, click Install to start installing Pandora FMS.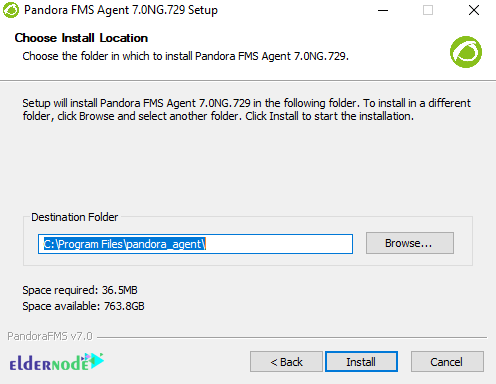 *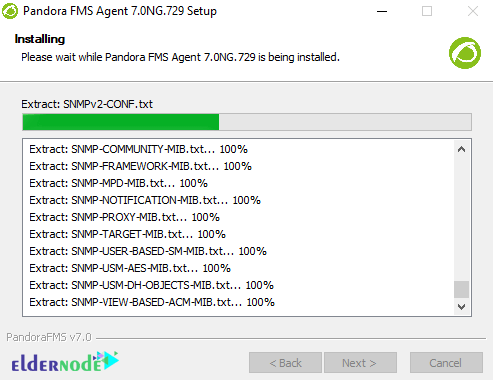 In the next step, you need to configure the data as the IP address (or name) of the Pandora FMS server that receives the operating data. Note that you must edit the agent configuration manually to be able to change other parameters such as agent name or temporary file path. After completing the steps, click on Next: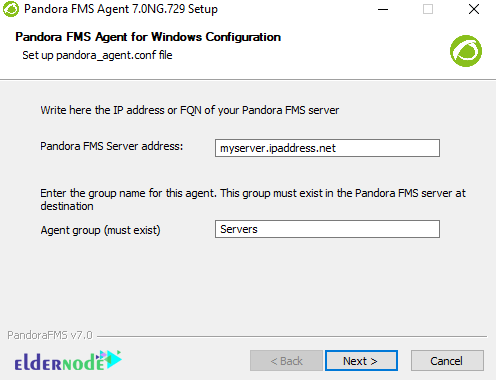 Click Next again in the next step.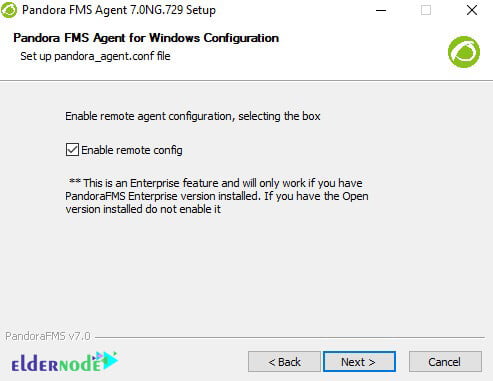 If you want to run the program immediately after installation, select the Run the Pandora FMS Agent check box. Finally, click on Finish to complete the installation process successfully.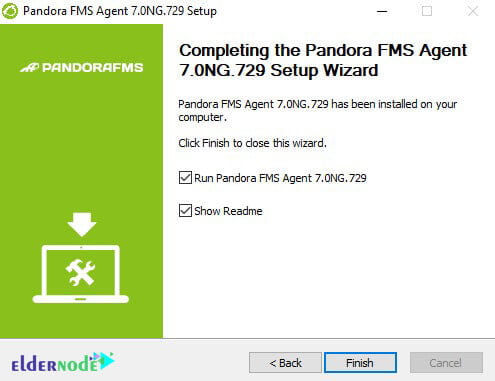 How to Install Unattended Windows Agent
Note that from VERSION 5.1 onwards, the installer supports unattended mode. To do the installation, simply follow the steps below:
"Pandora FMS Windows Agent v7.0NG.VERSION-BUILD_ARCH.exe" /S
If you want to install the agent in a different direction from the default path, you must do the following:
"Pandora FMS Windows Agent v7.0NG.VERSION-BUILD_ARCH.exe" /S /D=C:\Agent_Pandora
You can pass certain parameters to be written in the created agent configuration file. Note that with the help of these options, the deployment of Pandora FMS agents is much more customizable. The options on each supported command line are as follows:
–ip: Corresponds to the token server_ip.
–group: Corresponds to the tokengroup.
–alias: Corresponds to the tokenagent_alias.
How to use Pandora FMS Windows Agent as a process
If you want to run the agent in "processing" mode for debugging, testing, and other unusual situations, you must do so by running the following command from the command line:
pandoraagent.exe --process
The important point is that there are some limitations to the execution of the process mode. Because Pandora FMS runs as a service and under the user system. If you run it without points with another user, there are features that do not work properly.
Conclusion
Windows agents support grabbing service status and processes, executing local commands to get information, getting Windows events, native WMI calls, obtaining performance counters directly from the system, and providing a lot more information than the basic CPU/RAM/disk stuff. In this article, we tried to acquaint you with how to install Pandora FMS on Windows 10 RDP.