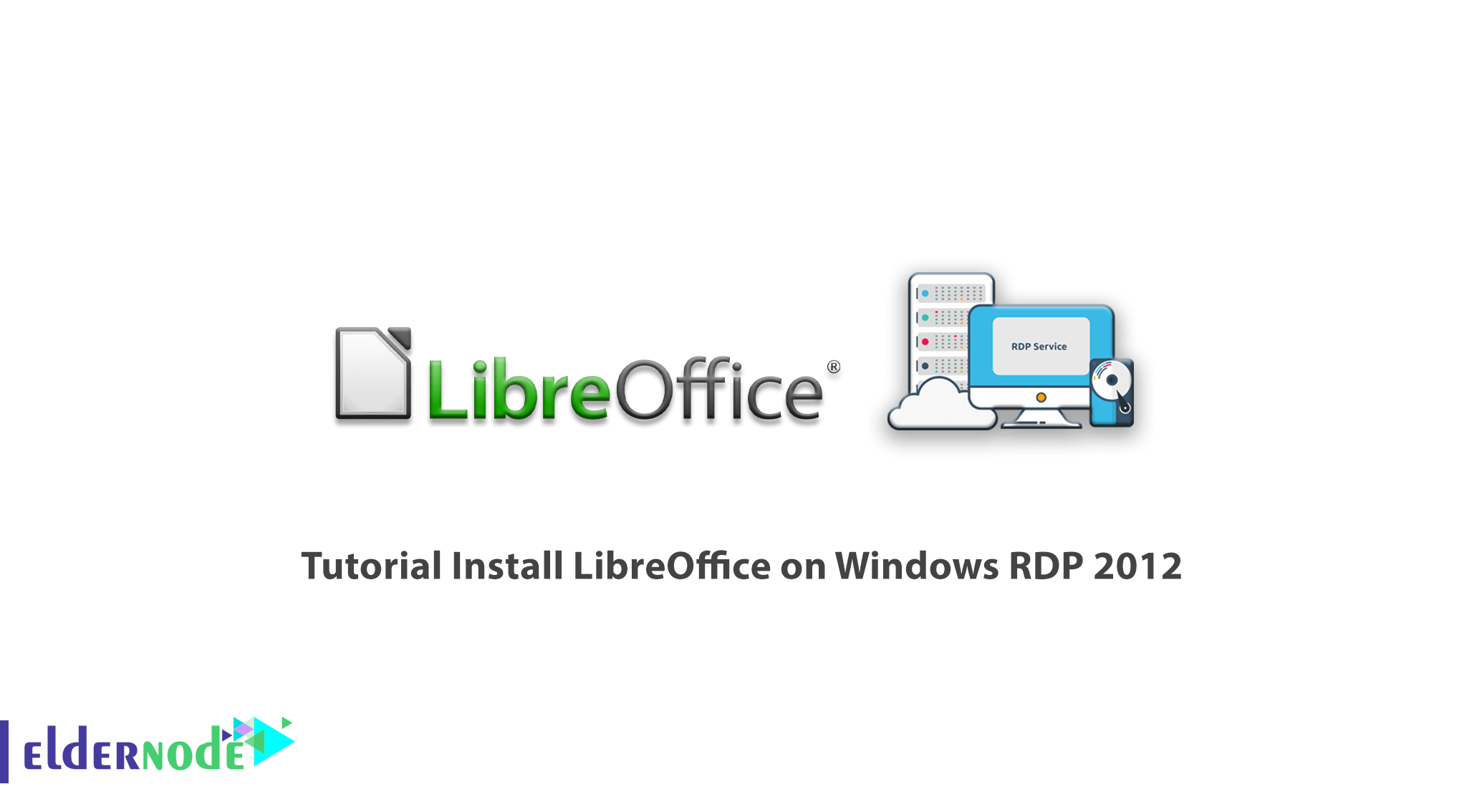 LibreOffice is a free office suite software developed by the Free Documentation Foundation. This software is taken from the OpenOffice suite. The goal of LibreOffice manufacturers is to create a standalone office suite with ODF support that is not a copyright issue. LibreOffice is free software to replace it with Microsoft Office. Users who have worked with the powerful OpenOffice software know that it works like Microsoft Office. After a while, the creators of OpenOffice decided to make changes to the software that led to the creation of a branch of OpenOffice called LibreOffice. LibreOffice software is very powerful and can be a competitor to Microsoft Office in some cases. In this article, we try to acquaint you with how to install LibreOffice on Windows RDP 2012. You can view the packages available in Eldernode to purchase Admin RDP Server.
How to Install LibreOffice on Windows RDP 2012
LibreOffice is a free and powerful software for Windows operating system. This program meets your needs by providing rich data processing features. The word processor of this software allows fast and complete editing of data and also allows the printing of documents. The program's default images and the ability to insert predefined emoticons are other features of the program.
The possibility of storing and creating mathematical equations and notation can be entered in this program as quickly as possible. You can use the free LibreOffice suite as a convenient replacement for Microsoft Office and take advantage of its rich features.
Prerequisites for installing LibreOffice on Windows
Before you start installing LibreOffice on Windows RDP 2012, it is important to consider the following prerequisites. It is also recommended that you back up your system before installing the program.
– Microsoft Windows 7 SP1, Windows 8, Windows Server 2012, or Windows 10
– Pentium-compatible PC (Pentium III, Athlon or more-recent system recommended)
– 256 MB RAM (512 MB RAM recommended)
– Up to 1.5 GB available hard disk space
– 1024×768 resolution (higher resolution recommended), with at least 256 colors
Install LibreOffice on Windows RDP 2012 Server
The first step is to download the LibreOffice software. So go to the LibreOffice website and select the platform you want from the downloads section and download LibreOffice.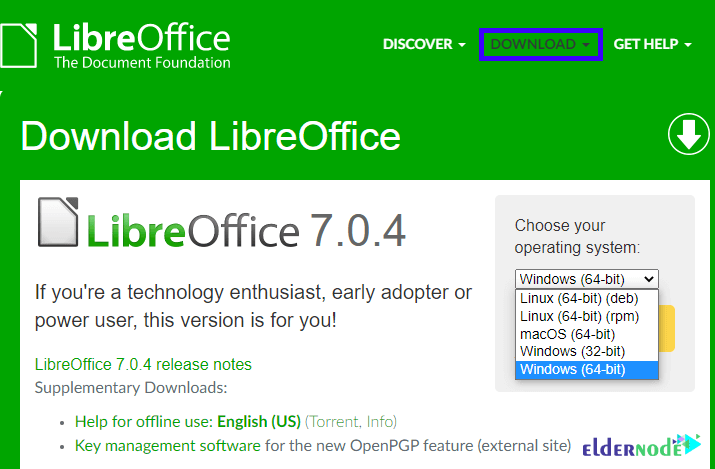 In the second step, you need to go to the place where you downloaded the LibreOffice file. Then double click on it to start the installation process.

In the window that opens, click on Run.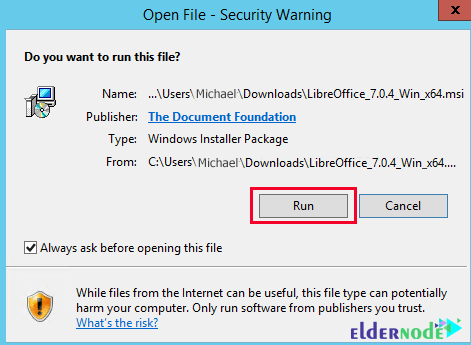 Then click Next to continue the installation process.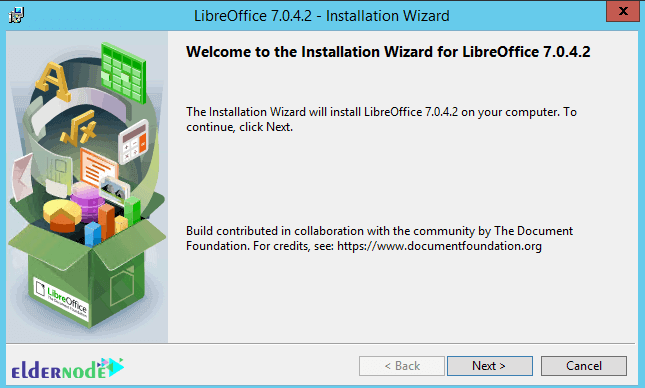 In this step, you must select the setup type. Click Next if you want the default settings. But if you want to customize the settings, select Custom and click on Next. We select Custom here.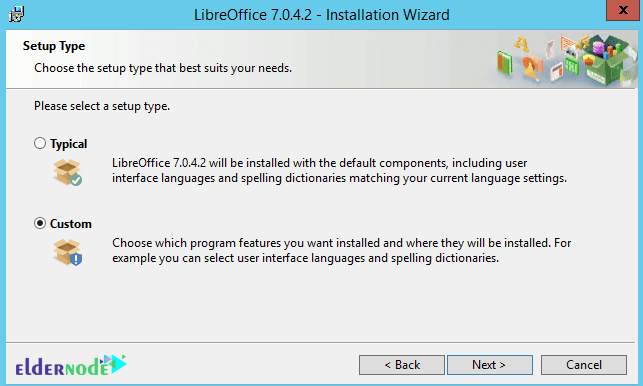 If you want to install spelling dictionaries, hyphenation rules, thesaurus and grammar terms, you have to click on the (+) sign next to the options. After making the settings you need, click on Next to enter the next step.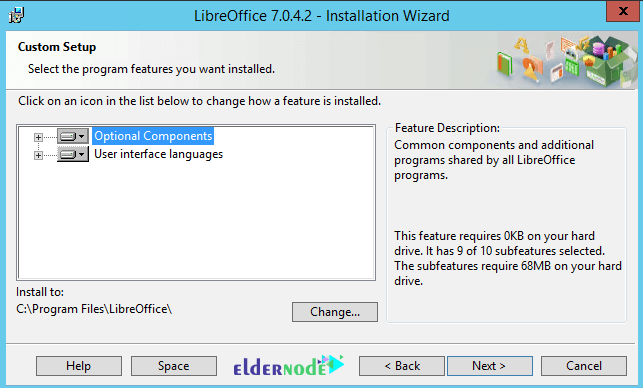 The next window, called the File Type, is about choosing to open Microsoft Office documents with LibreOffice. It should be noted that if you want LibreOffice to open Microsoft Office files, you must check all the items. Then click Next.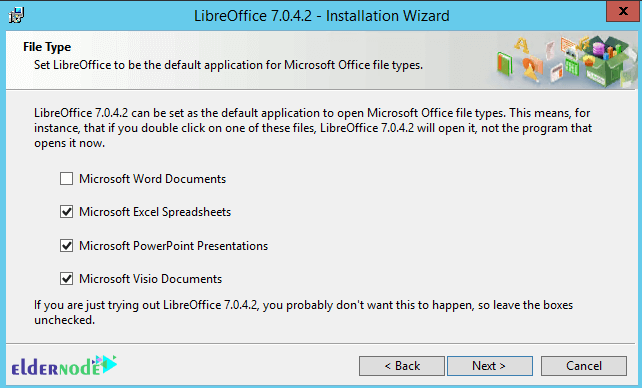 If you want to create a shortcut of the program on the desktop, select the first option. You can also select the second option to load the program when booting the system. Then click Install.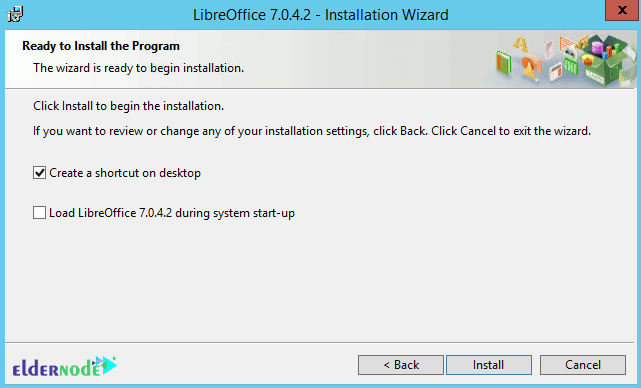 Finally, click on Finish to complete the installation process successfully.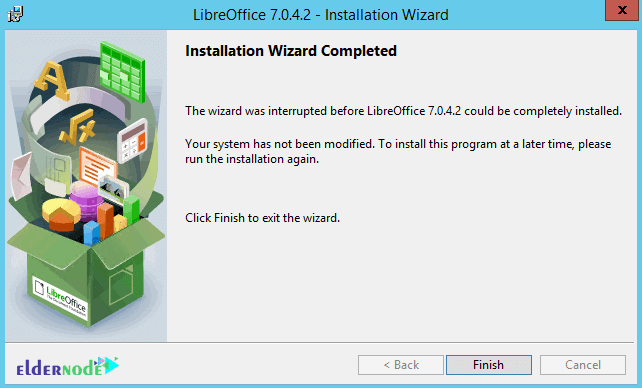 Conclusion
LibreOffice is a free and powerful software for Windows operating system. This software allows you to quickly edit data and insert symbols and mathematical equations. This software is a powerful word processor with rich features and replaces Microsoft Office. It is also compatible with all file formats of Microsoft Office, Excel, Powerpoint and other formats. You can also save them in Microsoft Office format and other formats you need. In this article, we tried to teach you how to install LibreOffice on Windows RDP 2012.