Windows Server is an operating system that can install and run directly on servers. In this way, a large network of information can be stored and controlled, and shared programs and networks can be used. Windows Servers have different versions and the latest version is Windows Server 2022. In this article, we are going to teach you How to Reset Password on Windows Server 2022. You can check out and buy Windows VPS from the packages provided on the Eldernode website.
How to Reset Password on Windows Server 2022
Introduction to Windows Server 2022
Windows Server 2022 is Microsoft's latest operating system for server operating systems, which was introduced in September 2021 and replaced by Windows Server 2019. This operating system is more secure than previous Windows servers and is Azure-compatible. The core of Windows Server 2022 isn't based on Windows 11 but on Windows 10 version 21H2. In this version of Windows Server, you can easily move virtual machines between Windows Azure and Windows 2022.
This product can be purchased in three different editions which are:
1)Windows Server 2022 Standard
2)Windows Server 2022 Datacenter
3)Windows Server 2022 Azure Edition
Reset Password on Windows Server 2022
In the continuation of this article, we intend to teach you how to reset the password in Windows Server 2022 using 2 methods. These two methods are:
1) Reset the password Using Server Manager
2) Reset the password using Windows Admin Center
How to Reset Password on Windows Server 2022 Using Server Manager
At first, you should go to the Start menu and open Server Manager:
After opening the Server Manager window, you will receive a request to be able to download the Windows Admin Center. You can reject this request and find the download link for this tool from Microsoft on Google.
Now click on the Tools option on the right-hand side and choose Computer Management tool: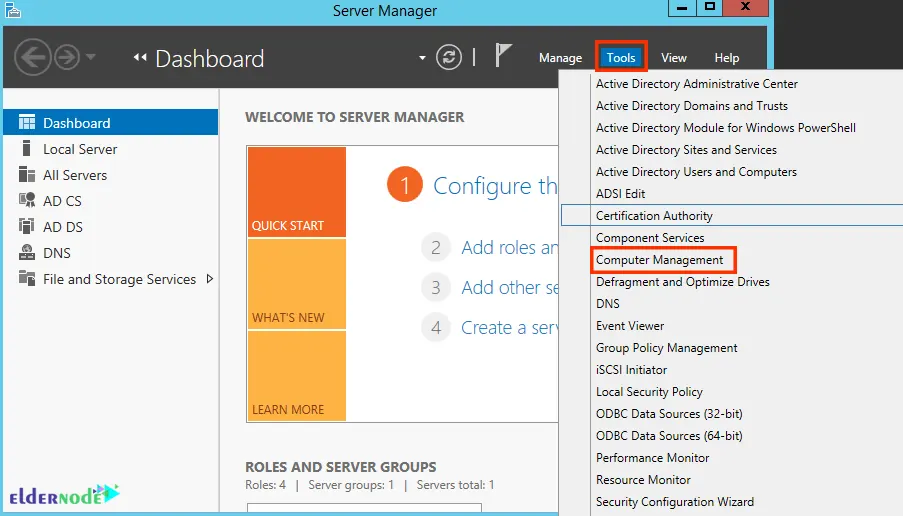 Then you should open the Local Users and Groups option on the left. Then select the Users folder: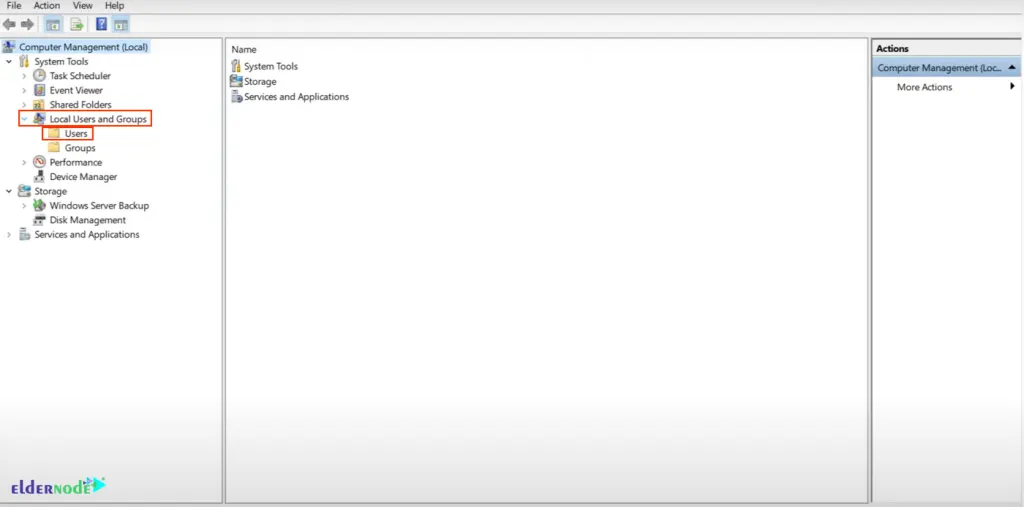 Now you can see your list of users on the right. Note that your list may look different depending on the user number you have creating and what they are calling. Then we are going to reset the password on one of the numbers of users.
Right-click on the folder whose password you want to reset and select the Set Password option: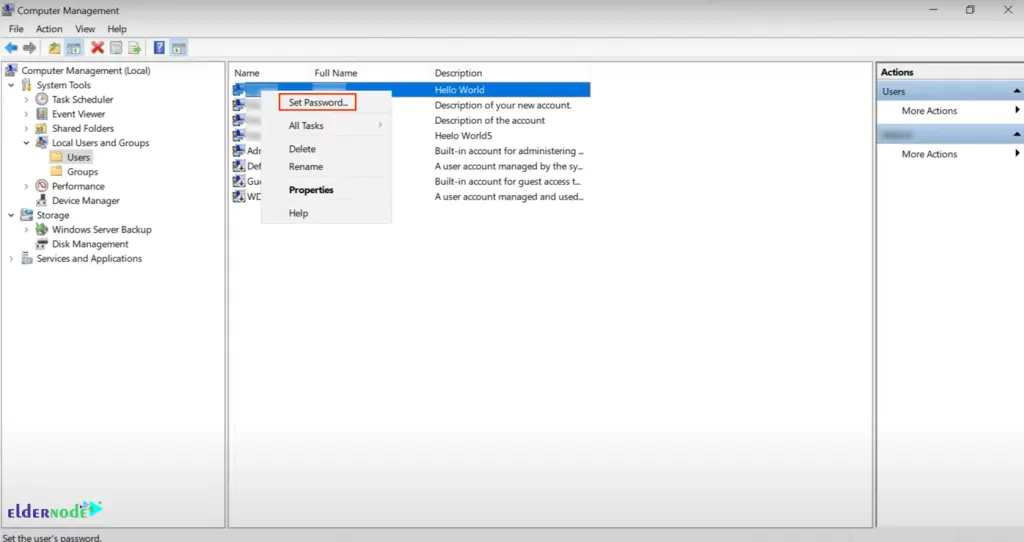 By doing this, you will receive a notification that says "Are you sure you want to set the password?". Just click on Proceed: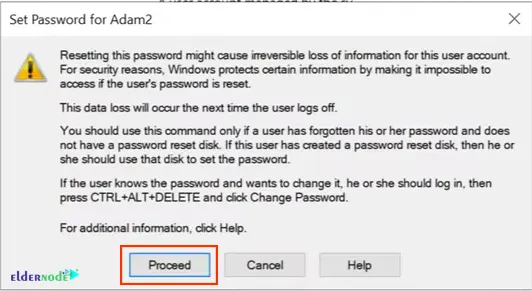 In this step, you should type a new password and confirm it. Also, you can see a prompt that says if you do that, you have to be sure what happens. Suppose you reset the password to all encrypted files. In that case, you will lose saved passwords and personal security certificates, and you are about to lose access to any data that the user under this current account has secured with that current password. Make sure all that data is not encrypted. Put in your new password and click on OK: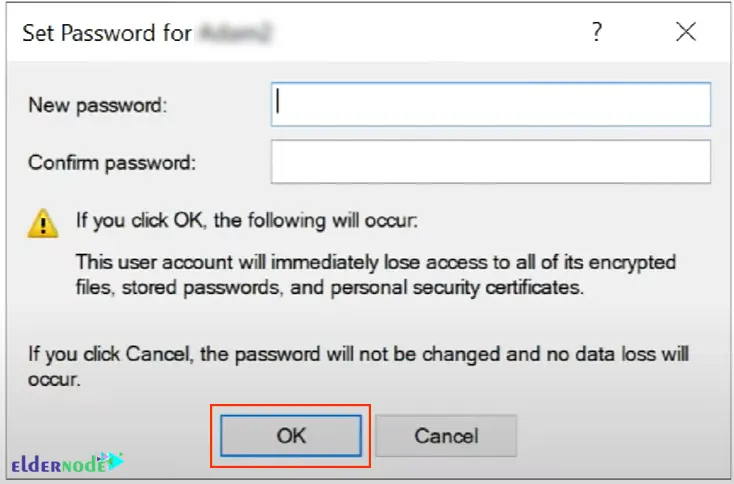 Finally, you will receive a notification stating that "The password has been set". After that, the data is not going to be recoverable unless you have encrypted it and made sure it is available.
How to Reset Password on Windows Server 2022 Using Windows Admin Center
If you have already installed Windows Admin Center on your device, you can also reset the password in Windows Server 2022 with the help of this method. Windows Admin Center is web-based and you can use a web browser to open up and access it. You should obviously add in the Windows Server or servers you want to manage.
First, you should open Windows Admin Center from your browser.
Note: You can download Windows Admin Center for free from Microsoft.
Click on the link to bring it up. You will be connected in a few moments. All sorts of services and tools are available here.
Next, you should find the Local users & groups option and select it. In this case, the server brings a list of all users.
Once you have selected and highlighted the user you want, you can manage them and add new users to a variety of things. You need to click on Change password Like the image below: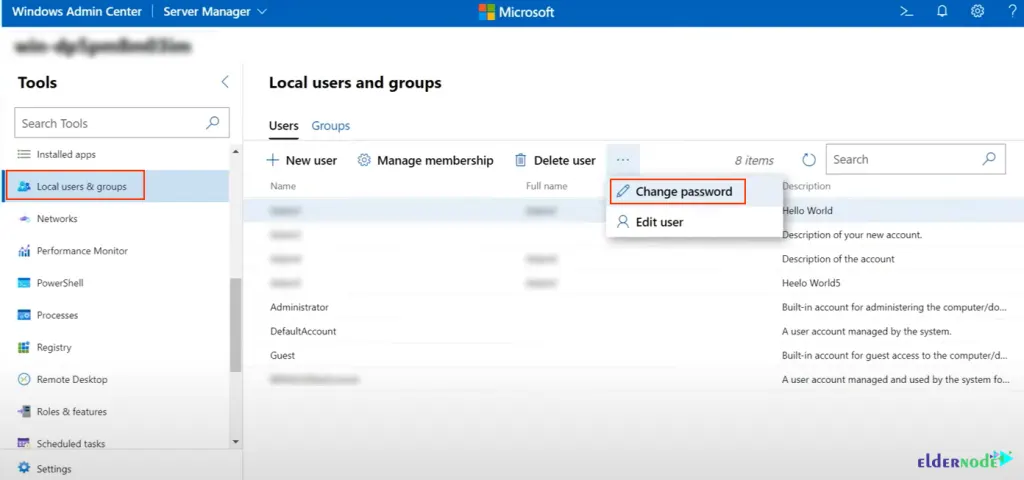 Then you will see a Change password page and receive a warning about resetting the user password and losing access to the information. Enter your new password and click on Submit: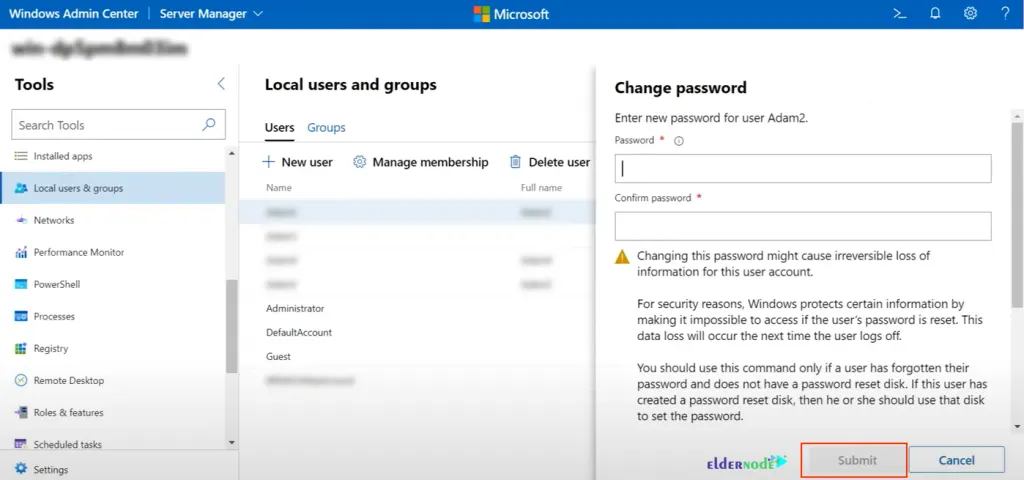 That's it! Password has been updated and changed successfully.
Conclusion
In this article, how to reset password on Windows Server 2022 was taught using two methods, which are Server Manager and Windows Admin Center. Both methods using are relatively simple and easy and it is up to you to choose which one. I hope this tutorial was useful for you. If you have any questions, you can ask in the Comments section.