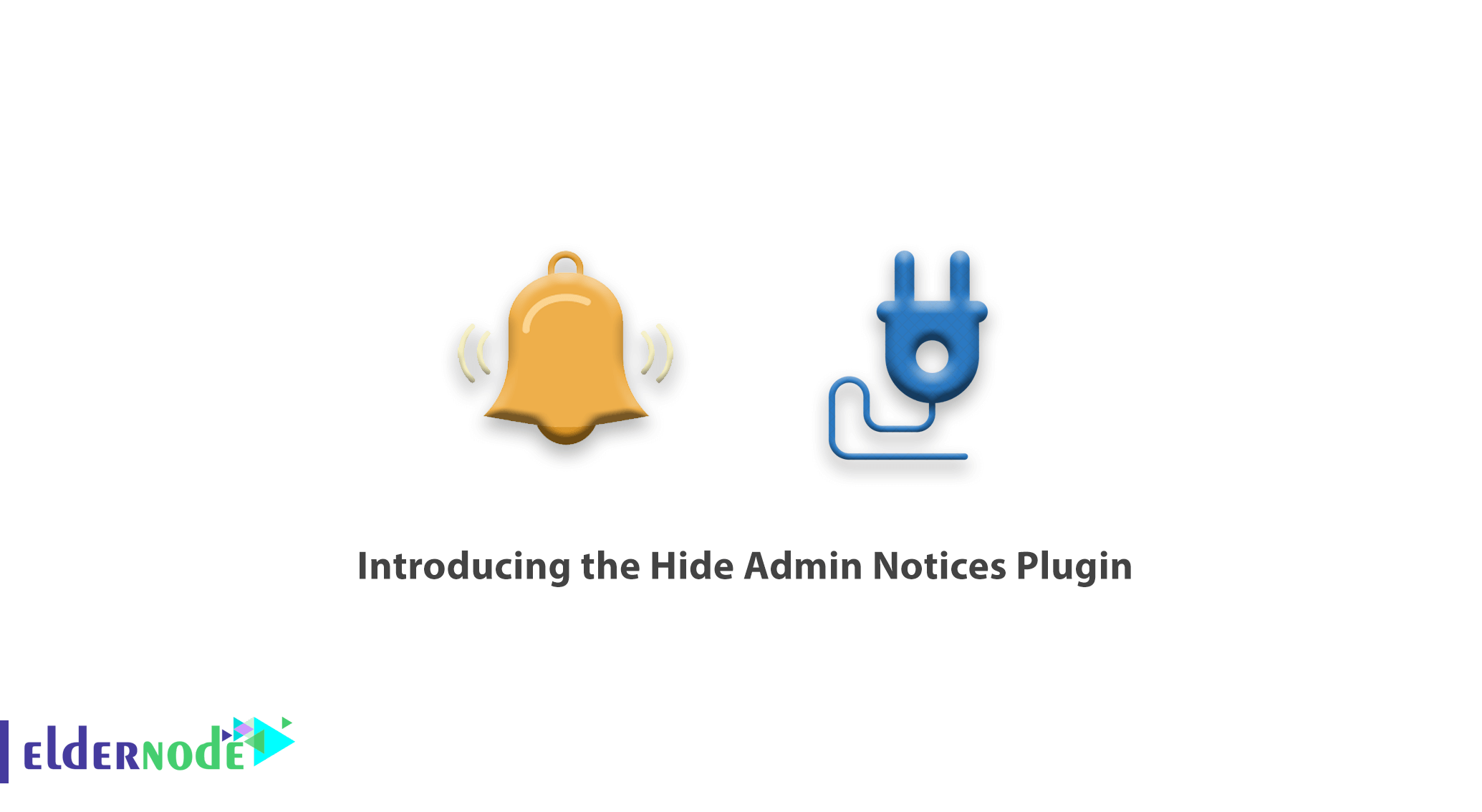 [Updated] Admin Notices can guide you to tasks that need to be done. When you log into your WordPress dashboard, you may face a few messages at the top of your screen. These WordPress admin notices are using to alert users of critical information such as updates, warnings, or errors. You can find these messages useful if you know how to manage them effectively while some users may think of them as an annoyance. Using admin notices helps you to update plugins, dealing with bugs and errors, and fix possible technical and user issues. This article presents Introducing The Hide Admin Notices Plugin. If you need a fully managed WordPress VPS, count on our technical team and register your order on Eldernode.
What Is The Hide Admin Notices Plugin?
Admin notices are undoubtedly a core part of WordPress. The Admin Notices announce WordPress updates or confirm the save of post-draft or come with the installation of third-party WordPress plugins and themes. WordPress admin notifies four kinds of issues such as Success Notice, Warning Notice, Information Notice, and Error Notice. All of these notifications are shown by a white block with a different colored border to help you identify each type of notification at a glance to take immediate action accordingly.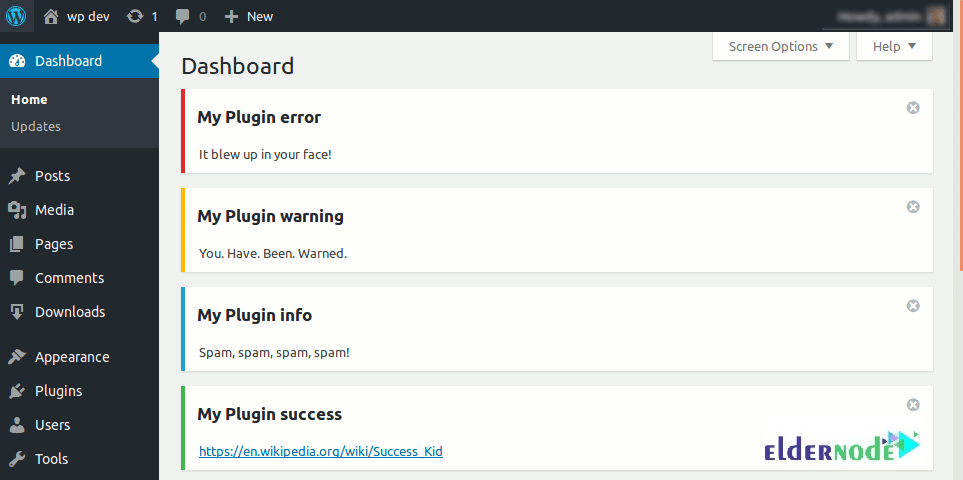 What are the types of Admin Notices? 
Let's see what is the definition of each admin Notices that we mentioned above.
Success Notice: Once you change something successfully on your website or publish a new post, you will see the success notifications displaying with a green border.

Warning Notice: You will see this alert if you need to warn about something and the warning notifications are displaying with a yellow border. For example, if a component or a plugin install but is not working correctly.
Information Notice: You can see this kind of notification by a blue border. It conveys simple bits of information such as the day of the week.

Error Notice: As you may guess, this kind of error notification is displaying with a red border. It will appear when there is something wrong with your website.

Disadvantages of getting Admin Notifications
The more you install a new plugin or theme, the more you will receive notices that appear at the top of each page. Since over 58,000 plugins and more than 8,000 themes are featuring by the WordPress Plugin directory and thousands of other themes and plugins are also available across the web you may be the one who is not eager to get admin notifications. Despite knowing about all its benefits like communicating important information about technical updates users prefer to hide them. In the following, we will write about the downsides of getting Admin Notifications. Check the list below to find your reason and if you think otherwise, let us and your friends know on Eldernode Community.
– Notifications For Marketing Purposes
– Notifications For Minor Issues
– Recurrent Notifications
– Tracking Data Notifications
How To Work Hide Admin Notices Plugin
Although admin notifications are beneficial in providing critical information and regular feedback about your plugins and handling customer requests, many WordPress users do not feel well with them. Some of them report that the reason for being annoyed is to receive notifications for any successful changes when multiple users have access to their blog's dashboard. Plugins are also keep in releasable mode to the general public since WordPress plugin and these are also often releasing with continuous integration and delivery (CI/CD) principles in mind. Users who ignore the admin notifications, decide to take a close look at the type of messages to deal with any plugins that send useless notices, to not miss out on the important ones.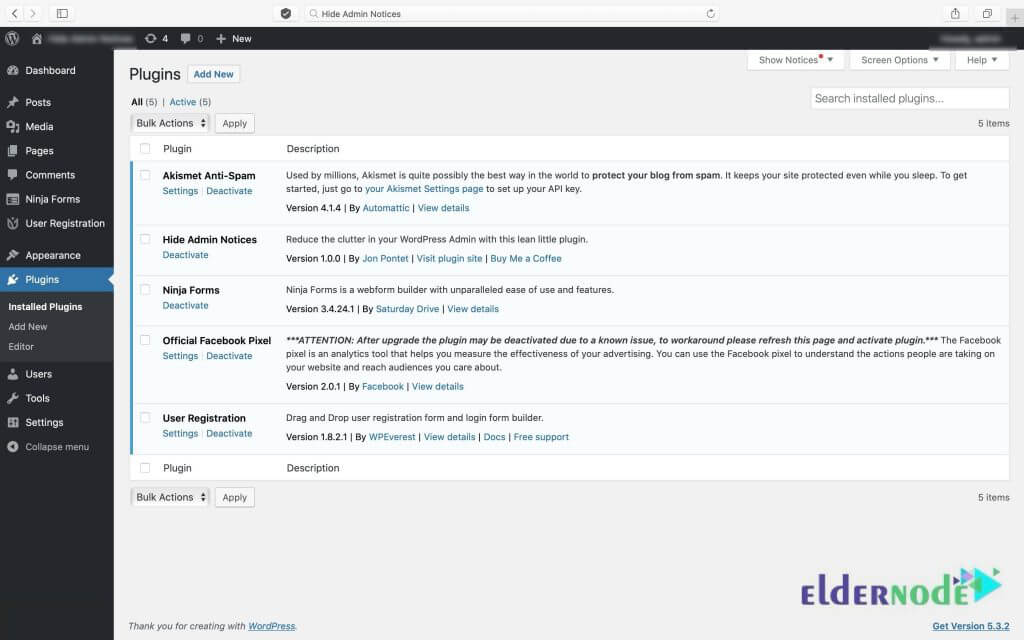 Disabling WordPress Admin Notices
You just need to pass three simple steps to disable WordPress admin notifications. So, let's go.
1- Login to the WordPress Dashboard.
2- Hover over Settings and click on the Hide admin notices plugin.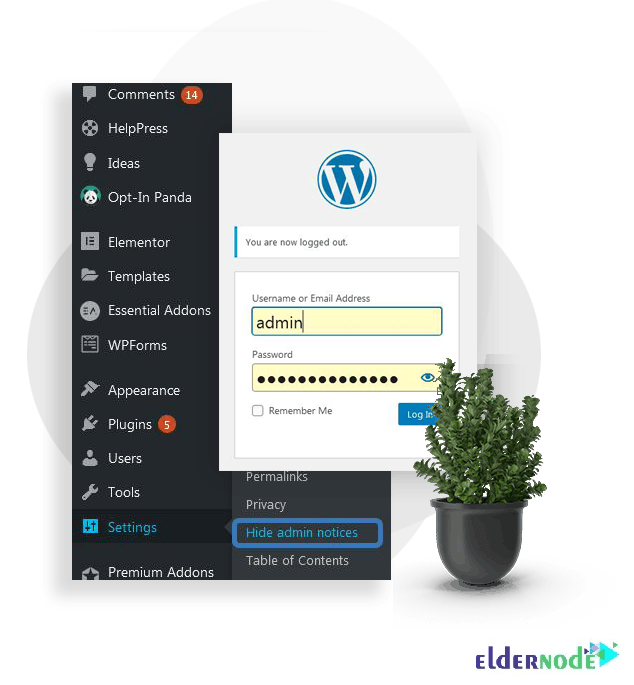 3- There are three options in the Hide Admin Notices tab: All notices, Only selected, and Don't hide.
If you select All notices, you have the option to enable or disable hidden notices in the admin bar.
By selecting the Only selected, you have the option to enable hidden or disable hidden notices as well as reset hidden notices for all users or the current user.
And finally, choosing Don't hide will turn off the plugin. So, it won't display the "Hide Notification forever" in the WordPress Dashboard.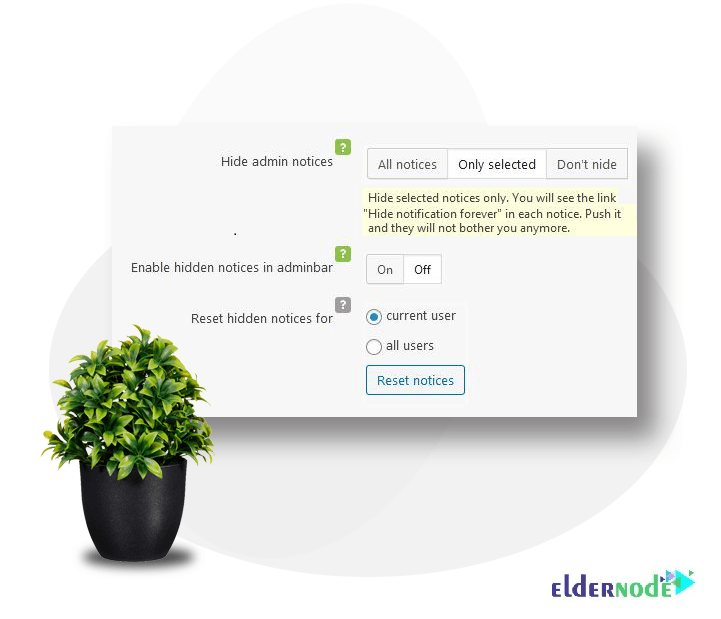 Conclusion
In this article, the Admin Notices Plugin was introduced to you and you learned How To Hide Admin Notices Plugin. As a suggestion, you can also manage your WordPress admin notifications instead of hiding and disabling them.