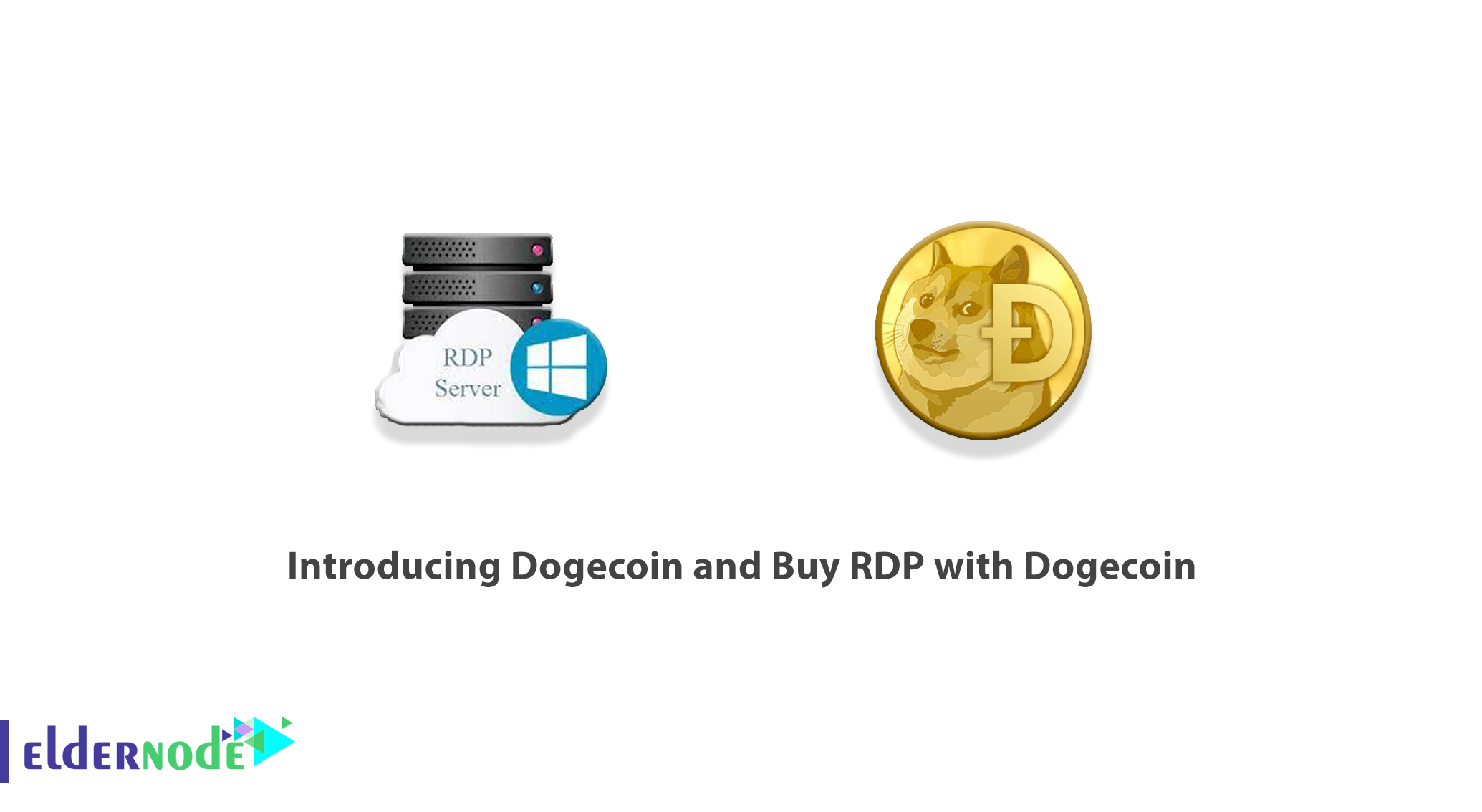 Dogecoin is a blockchain-based digital currency that was originally made for fun, but now has a market value of several hundred million dollars. Digital currency users are very interested in Dogecoin. This interest can be due to the almost good ranking of this digital currency in the digital currency market, as well as its very low price, which makes many people invest in the dream of becoming rich. But it's not all about investing. In this article, we want to introduce you to Dogecoin and Buy RDP with Dogecoin on Eldernode. Follow us in the rest of this article.
Introducing to Dogecoin
Dogecoin (DOGE) is a cryptocurrency such as peer-to-peer and open-source and is referred to as Altcoin (meaning alternative coin). DOGE was created for entertainment and is a decentralized platform that allows users to easily transfer money online. Its name is derived from Doge internet memes (ideas that are popular with the Internet). The value of Dogecoin has grown slowly and has become popular among thousands of users and is used as a currency in online communities.
Dogecoin can be used for investment and trading in the hope of making a profit. Most Dogecoin fans use this altcoin as a currency, taking advantage of very low transaction fees, impressive transaction speeds, and an easy-to-use platform.
Although Dogecoin is based on the LightCoin script, its blockchain speed is one minute. This is while the speed of LightCoin blocking is 2.5 minutes and the speed of confirming bitcoin transactions is 10 minutes on average. This means Dogecoin transactions and verifications are faster. In addition to the above-mentioned fast transaction speeds, Dogecoin transaction fees are negligible at $ 0.01; Hence, it is more attractive to users.
What is RDP? Reasons to buy an RDP server
RDP stands for Remote Desktop Protocol, developed by Microsoft. This protocol allows secure communication between two computers and enables the user to control the other computer with full graphical support. It should be noted that the RDP service is locally supported on Windows systems and runs on the TCP/UDP port 3389. Microsoft, on the other hand, now names its official RDP client software Remote Desktop Connection.
Features of the RDP server include the following:
– Auto-zoom and graphical compression using H.264/AVC
– 128-bit encryption
– Secured using the RC4 encryption algorithm
– SSL support
– Ability to copy, paste and delete data between programs running on the local computer and programs that run in a remote desktop session.
In the next section, the available locations for buying an RDP server will be introduced. Then we will teach you to step by step how to Buy RDP with Dogecoin. Please join us.
RDP Admin Locations on Eldernode
It is interesting to know that you can choose your desired location according to the type of use and your customers. You should also consider which geographic area your service has the most users or what service you use. In the following sections, we are going to introduce you to the RDP Admin locations in Eldernode. However, if your desired location is not among the options, contact our consultants for free via online chat or ticket to guide you.
RDP Admin Locations:
USA, Canada, France, Netherlands, UK, Russia, Germany, Singapore, Hong Kong, Turkey, Japan, India and …
How to Buy RDP with Dogecoin
In this article, we want to discuss step by step how to buy a server with Dogecoin in Eldernode. It should be noted that the first step in buying an RDP Server is to find a vendor that really offers the best price, 24/7 support, various hosting packages, and a wide range of hosting options. The Eldernode company claims to provide its valued customers with service flexibility, full monitoring and support, and a quick and easy start.
Step 1: You need to visit the homepage Eldernode. Then you have to click on Signup like the image below to register on the site: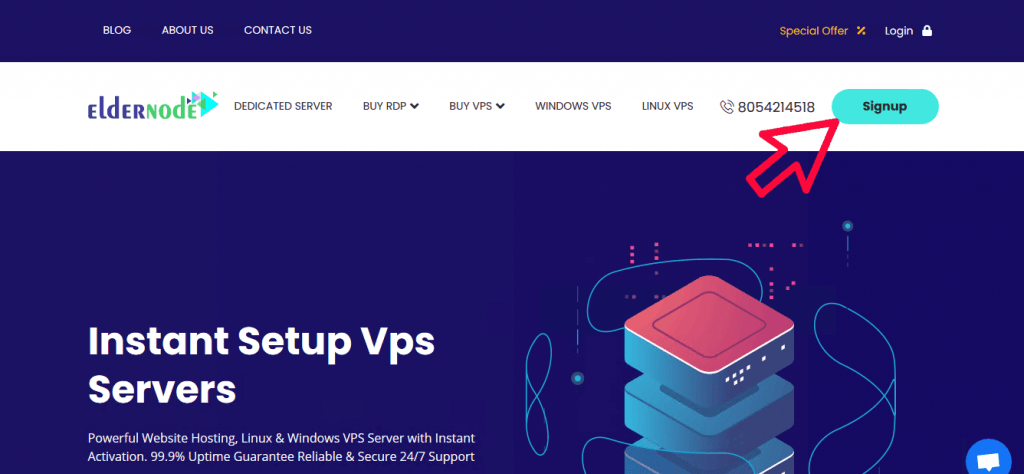 After completing the registration process on the website, you must return to the first page. On the first page in the main menu, click on BUY RDP.

On the BUY RDP page, you can see different packages. According to your needs, after reviewing these packages, you can select one of them by clicking on Order Now.
Note: By clicking the slider button, you can choose whether the package you want is monthly or yearly.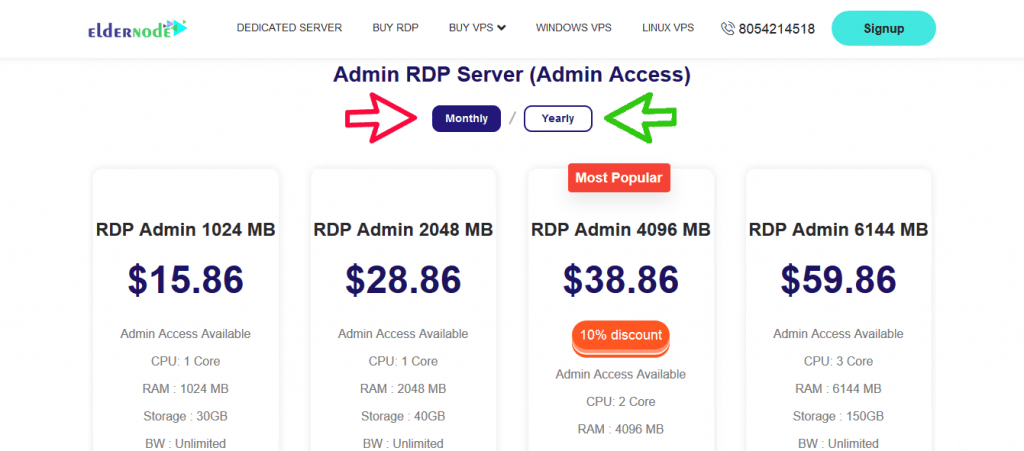 In the configuration step, you can see the specifications of the package you have selected. You must specify the location and operating system options on this page. You can also choose Fully Managed Support and VIP Support.
After completing these steps, right-click on Continue.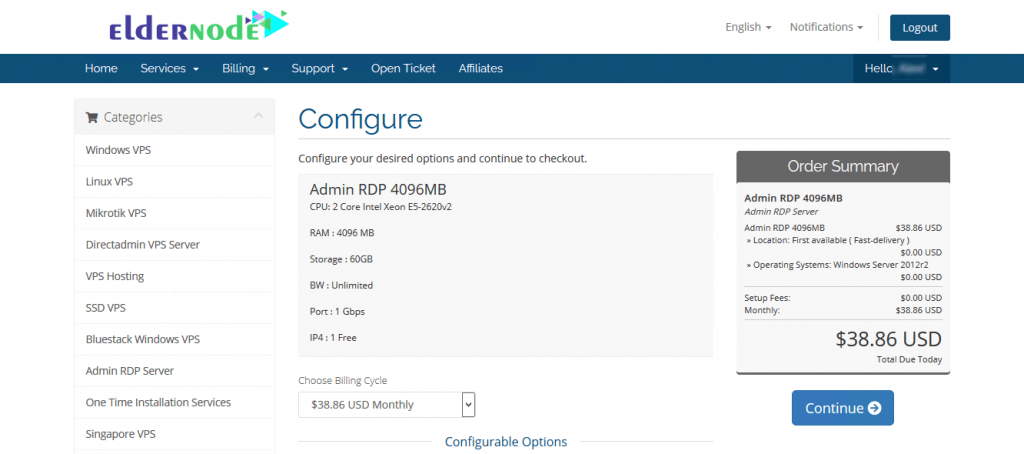 The next step is to Review & Checkout. Here you can put the discount code in the Apply Promo Code section and click on Validate Code to apply. Then click Checkout in the right column.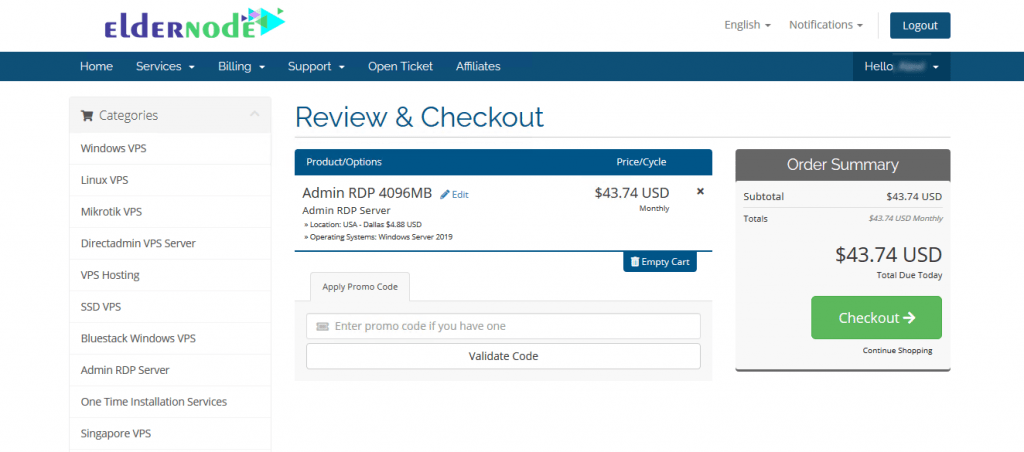 Now is the time to determine the type of payment. In the Payment Details section, you must select Bitcoin, Ethereum, USDT, and All cryptocurrencies. Then click on Complete Order.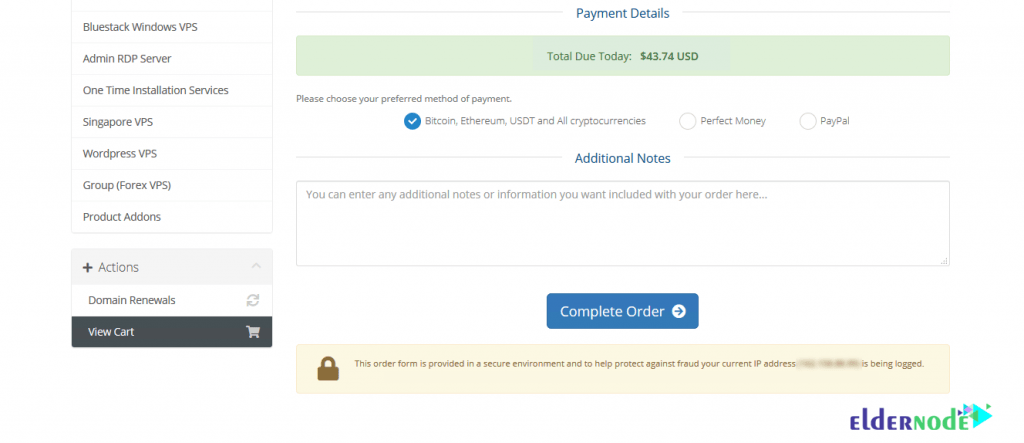 In the right column, select DogeCoin from the digital currencies displayed. Finally, by clicking on Complete Checkout, you can see the necessary details to pay.
Note: You can pay by copying the address displayed for you in the DogeCoin withdrawal section in your wallet.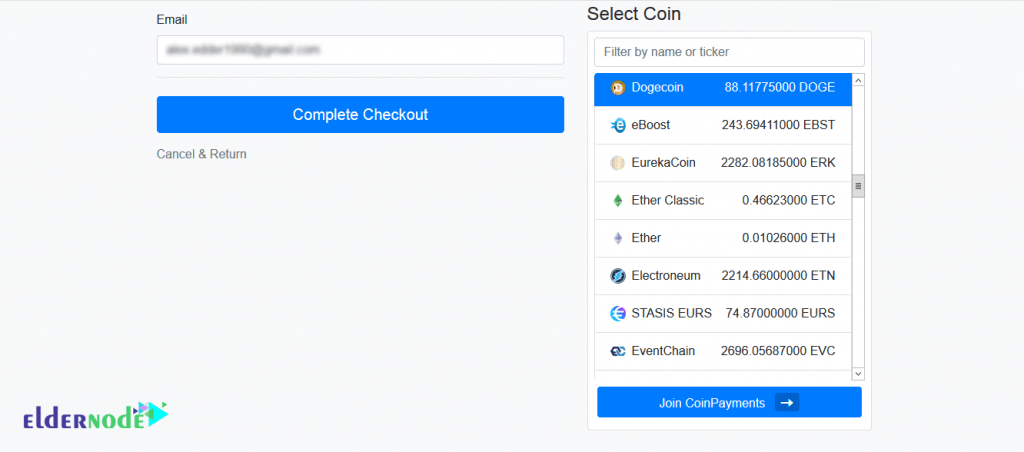 *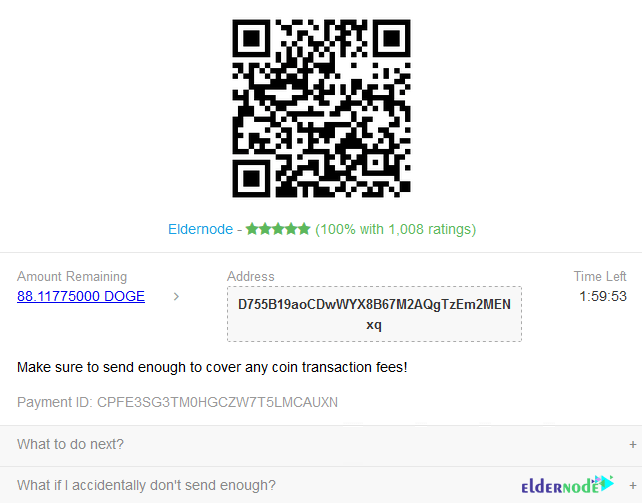 After successfully completing these steps, the desired service will be activated for you in the shortest time.
Conclusion
In this article, we tried to introduce you to DogeCoin and its history in the first part. Then we taught you how to Buy RDP with Dogecoin step by step on the Eldernode website. As mentioned above, if your location is not among the available options, contact the support team via online chat to guide you.
[yasr_visitor_votes size="medium"]