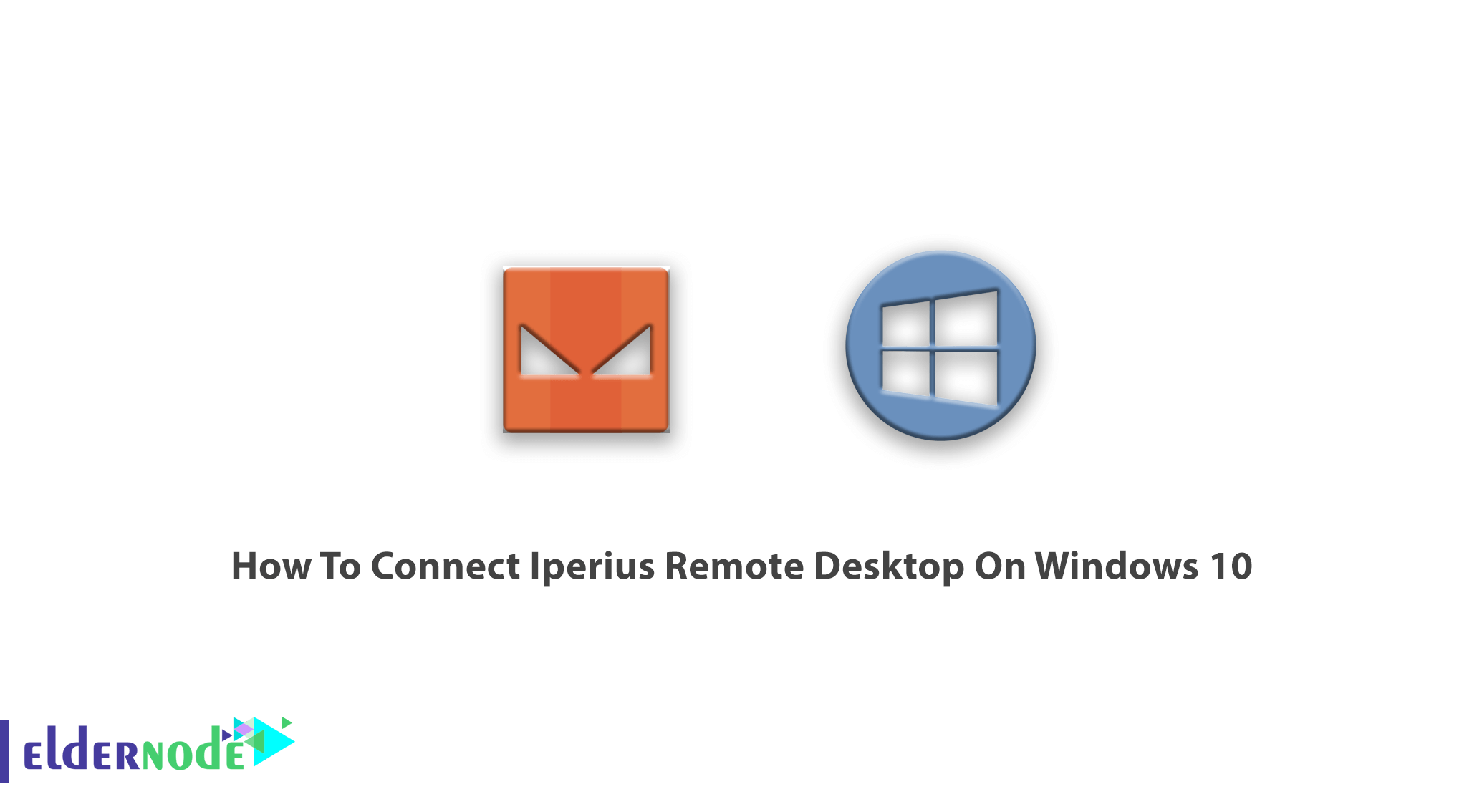 Tutorial How To Connect Iperius Remote Desktop On Windows 10. Iperius Remote is a software that you can use it for technical support and remote connections. You can use it to connect to Windows PCs and servers. For example, after buying your own Windows 10 Remote Desktop.
Tutorial Connect Iperius Remote Desktop On Windows 10
Iperius Remote is known as one of the tools of the Iperius software suite. You can use its backup to secure data from faults, thefts, and ransomware viruses or save your data in the cloud by Iperius Storage. In case you need to monitor your backups and your IT infrastructure, use Iperius Console. In this article, you will learn how to remotely control any PC or server and to provide remote support to customers by Iperius Remote.
Why Iperius (Iperius Remote Desktop On Windows 10)
Companies are interested in using the free license and low-cast licenses software which helps them to provide technical support to customers via remote connection. Using Iperius you enjoy some features as unattended automatic connection, file transfer, and the possibility of multiple connections. To be able to share an address book of remote computers and contacts, the management of access permissions and multiple operators, and detailed connection statistics, use the professional versions.
Iperius Features on Windows Server
Find the main features of Iperius in the list below:
1- Remote control for Windows PC / Server
2- Also available for Android and iOS
3- No firewall configuration
4- Ideal for technical support and assistance
5- Multiple connections
6- Integrated and multi-user chat
7- Bidirectional file transfer
8- Encryption and secure HTTPS protocol
9- Installation as a Windows service
10- Automatic and unattended connection
11- Unlimited destination computers
12- Shared list of computers and companies
13- Management of groups and operators
14- Management of granular access permissions
15- Detailed statistics of connections
16- Customization with your company logo and information (full rebranding)
Activating And Using Iperius Remote
Not different you work with Windows platforms, Android, or iOS apps. You can use the free software of Iperius is available as a remote desktop and remote support.
But before starting to learn how to use it, let's see what are the limitations when you use the free software version?
While you are opening one remote desktop session, you would not be able to have a shared address book showing remote computers at the same time. Also, you can not consider some different operator accounts which are really useful in a company where there are several people who do remote support. If you expect it to provide you the statistics and allow you to know the number and duration of all connections, divided by remote computer, group, or operator, it could not be satisfying.
What facilities you would have by using the commercial version?
In case, you use this version, you will have a complete administrative management dashboard, which allows you to create groups of computers, assign remote computers to specific groups, create multiple operator accounts, and for each of them to manage the permissions for groups and computers.
How to Use Remote Connection With Iperius Console
As you reviewed at the beginning of this tutorial, Iperius Console allows Remote Desktop connections using Iperius Remote. So, let's see how to use the remote support product of the Iperius suite as a plug-in. The first required step is to use the Windows application of Iperius Console which is available both in a web portal and software.
You are prompted to enter your credentials when you install and open the program.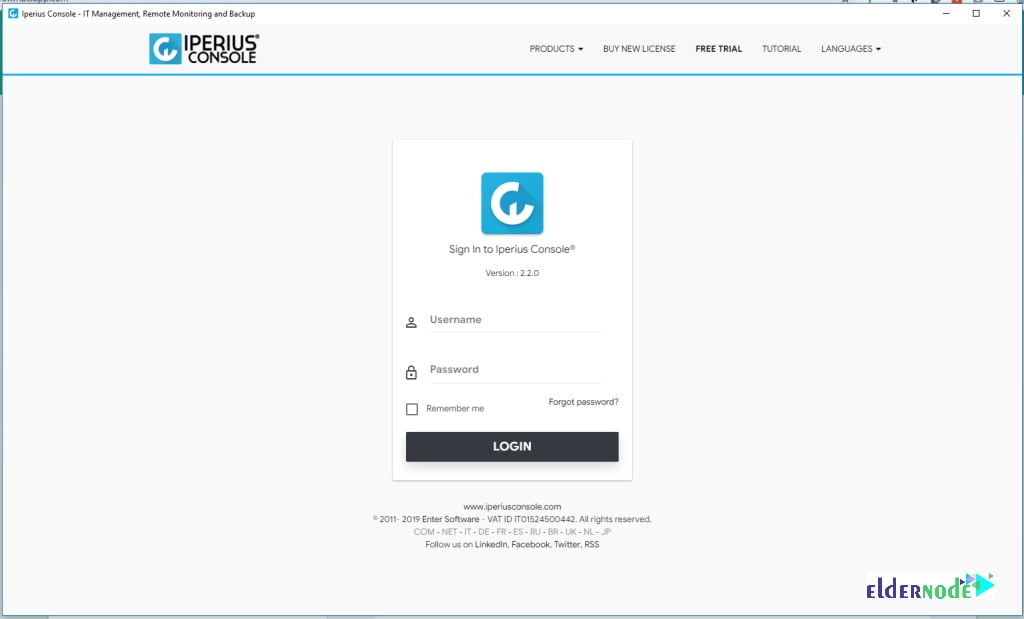 How To Add A Computer To Iperius Console
You need to install the Console Agent software on the remote computer to be able to add a new computer to those monitored by Iperius Console. Once you purchase, you receive a license code that you need for installing the Iperius Console Agent and the name of the "workgroup" in which you want to insert the computer. Managing the "workgroups", of the users and of the computers associated with each group is completely on Iperius Console. With this software, you will configure in a timely manner the viewing and execution permissions for specific operations. To view the list of the last backups and some important statistics, you can go to the dashboard. From the side menu, we can access the various workgroups and then the related computers.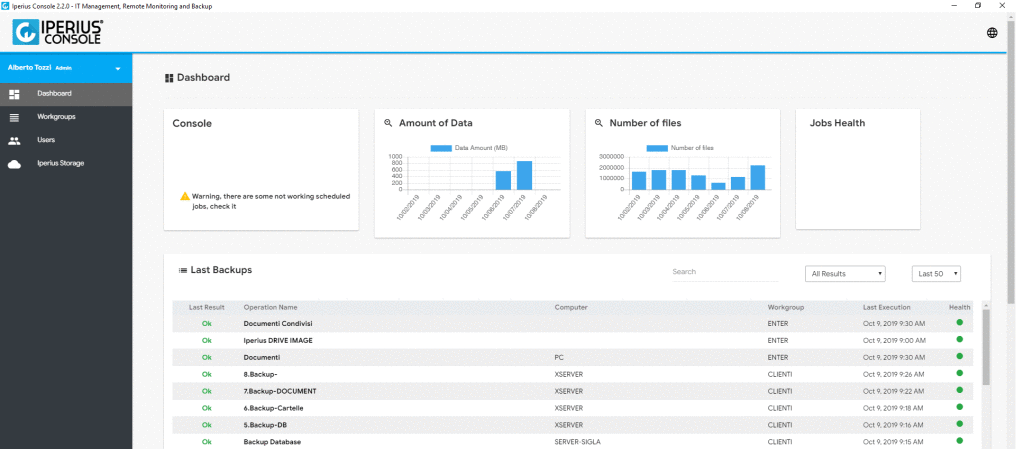 All the connected remote computers can view the status of the system in real-time, with information including the used space on disk, the correct installation of antivirus and firewall, the RAM and CPU currently in use, and the active processes. You see a computer that is connected and where there are some warnings about the system status in the image below. Click on a computer name.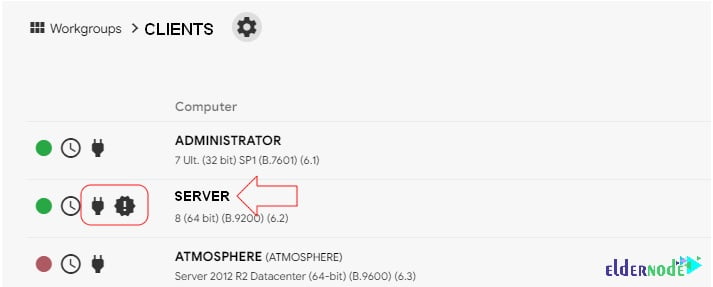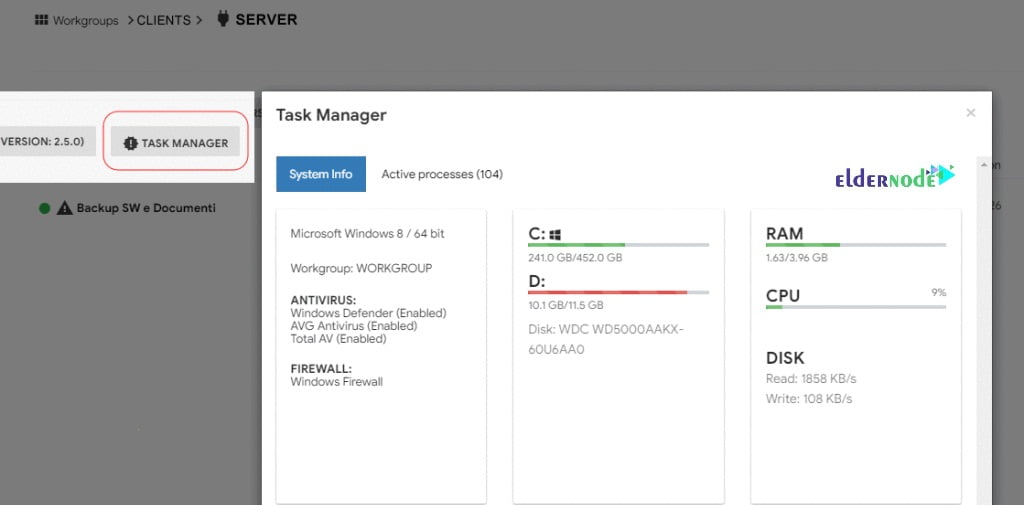 At this point, you can go to the general settings and select the path of the Iperius Remote executable:

Is Update Required!
Update both Iperius Remote and Iperius Console Agent to the latest version available on the monitored computers to make sure that all operations are correct.
Computers And The Iperius Remote Menu
To have the ability to access various features with a special menu, all computers with updated versions of Iperius Console Agent and Iperius Remote will show a button with the status of Iperius Remote.

Next, on the line of the computer to which you want to connect to the remote desktop, click on the button where the ID of Iperius Remote is shown. A drop-down menu will open with various items, enabled or disabled based on the status of Iperius Remote and Iperius Console Agent on that computer.
The entries are as follows:
Open remote desktop
Download & Connect
Allow connection
Update
Note: Using the Iperius Console provides you the ability to monitor numerous computers and servers, starting from a single interface. This is one of the main functions of this software. The monitoring mainly concerns the state of the backups and the health and safety of the systems, in terms of hardware and software. Also, you would be able to monitor the presence of antivirus and firewall, the used space on the disks, the RAM and the CPU, the running processes, etc by working with Iperius Console.
Conclusion
In this article, you learned How To Connect Iperius Remote Desktop On Windows 10. As you reviewed, Iperius Console is a very powerful versatile IT asset monitoring tool. Also, you can read more on How to troubleshoot Remote Desktop.