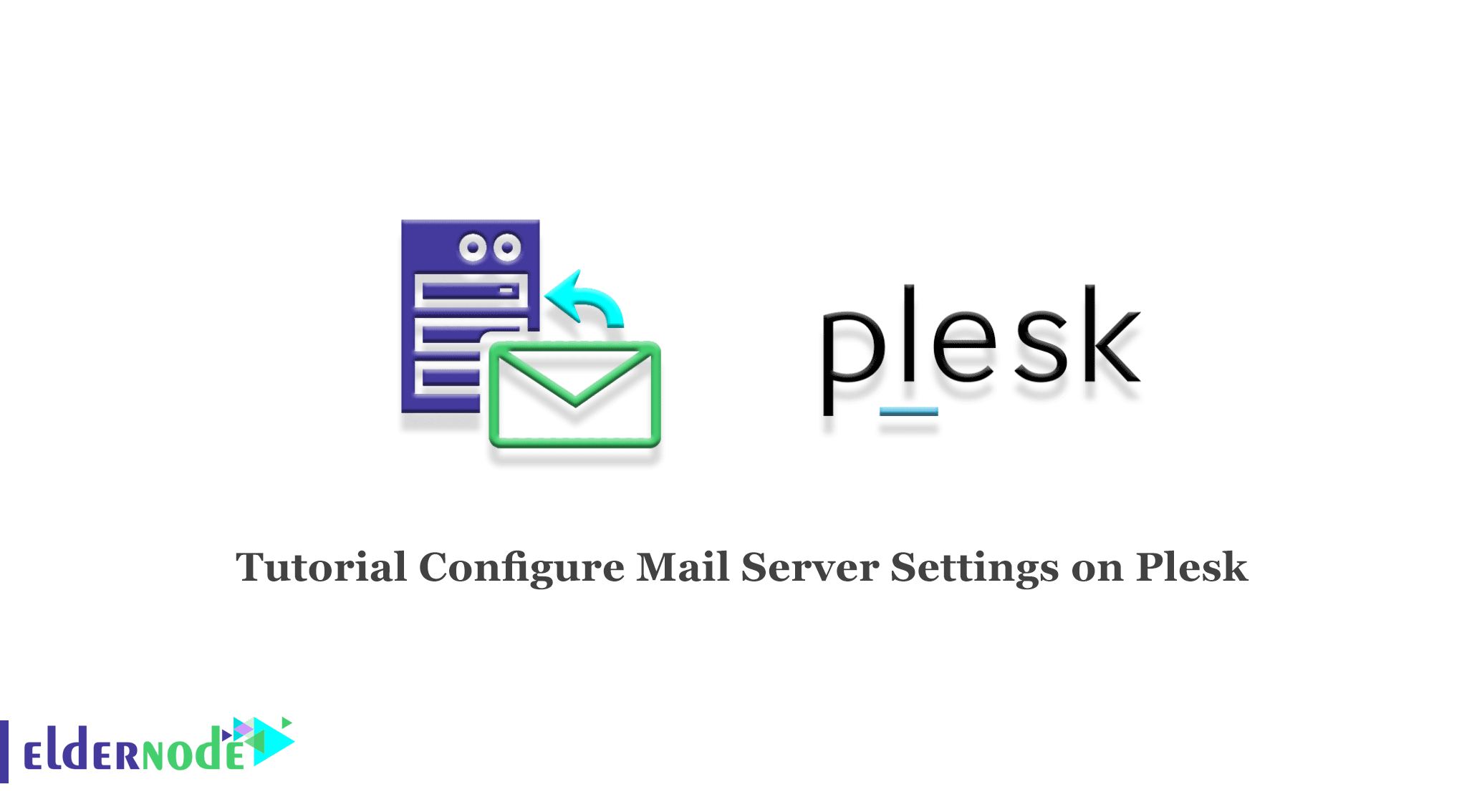 Each Email is transmitted to the intended recipient through a part of mail servers. Although a message seems to be sent immediately, a part of operations are performed with the help of the mail server. In this article, we are going to teach you how to configure Mail Server Settings on Plesk Control Panel. Also, you can visit the packages available in Eldernode if you wish to purchase a Linux VPS Hosting.
How to Configure Mail Server Settings on Plesk
What is Mail Server?
A mail server is software that manages messages on the network and sends and receives emails. When you send an email, it passes through a series of email servers to reach its destination. The mail server acts like a computer network and its main job is to exchange electronic mail. The mail server has special features and services that are used to send mail from one server to other sites and emails.
Types of Mail Servers
Depending on whether the relevant mail server is in the role of sender or recipient of mails, it is considered as one of the following categories:
Outgoing Mail Servers are also called SMTP Servers
Incoming Mail Servers are two main categories that are POP3 Server and IMAP Server.
POP3 servers store incoming and outgoing messages on local PC drives and IMAP servers always store copy of emails on the servers.
Configure Mail Server Settings on Plesk
At first, you should go to settings. You can see three links in the Mail section that are: Mail Server Settings, Virus Protection Settings and Spam Filter Settings. Mail Server Settings and Virus Protection Settings both lead to the same page. We select Mail Server Settings.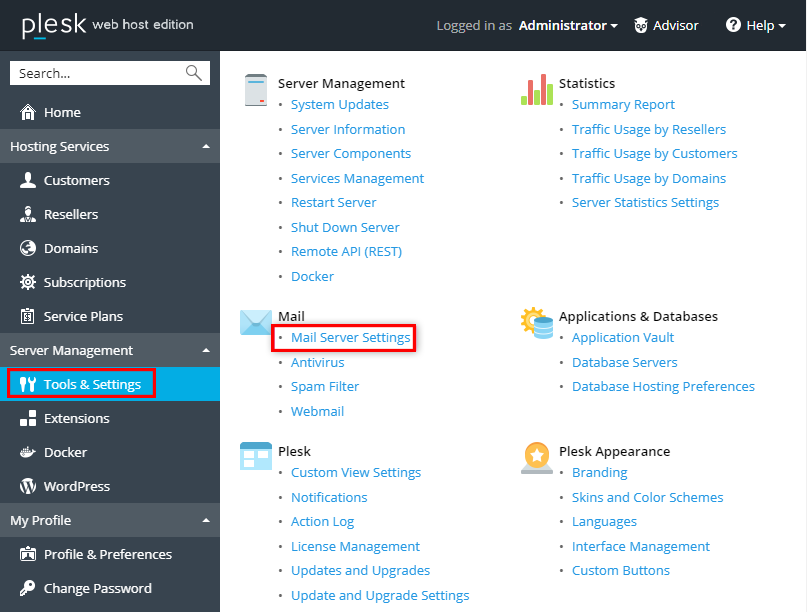 Now there should be 4 tabs on the opened page which are: Settings, Black List, White List, and Mail Queue. The Black List tab allows you to block emails from certain domains and You can allow emails from certain IP ranges from the White List tab. Emails that are currently queued can be found in the Mail Queue tab.
Go to the Settings tab where you can set the maximum size for mails or minimal password strength for mails accounts. Note that if you set the Minimum Password Strength option to High, the customer should set too difficult passwords.
In the Relay Options section, you can control whether the server accepts outgoing mails and if so when it needs authorization.
You can choose webmail clients that be available to your customers in the Webmail section.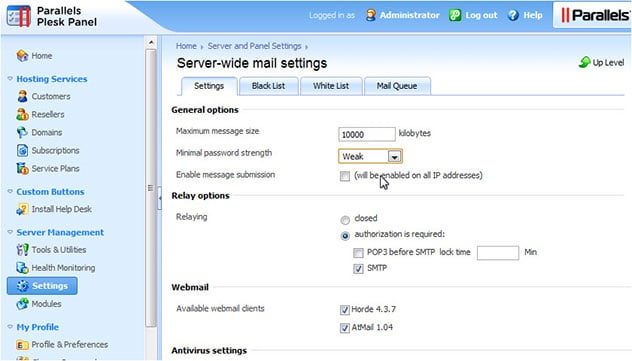 You can enable or disable virus protection by checking the Parallels Premium Antivirus option.
At the bottom of the page, you can set additional spam protection options.
Finally, click OK and that is it.
Conclusion
In this article, we taught you how to configure Mail Server settings on Plesk. Mail Server is a provider of Mail exchange services and is used for sending mail. Email sending services and transactions are done through Webmail. I hope this tutorial was useful for you and that you enjoyed it.