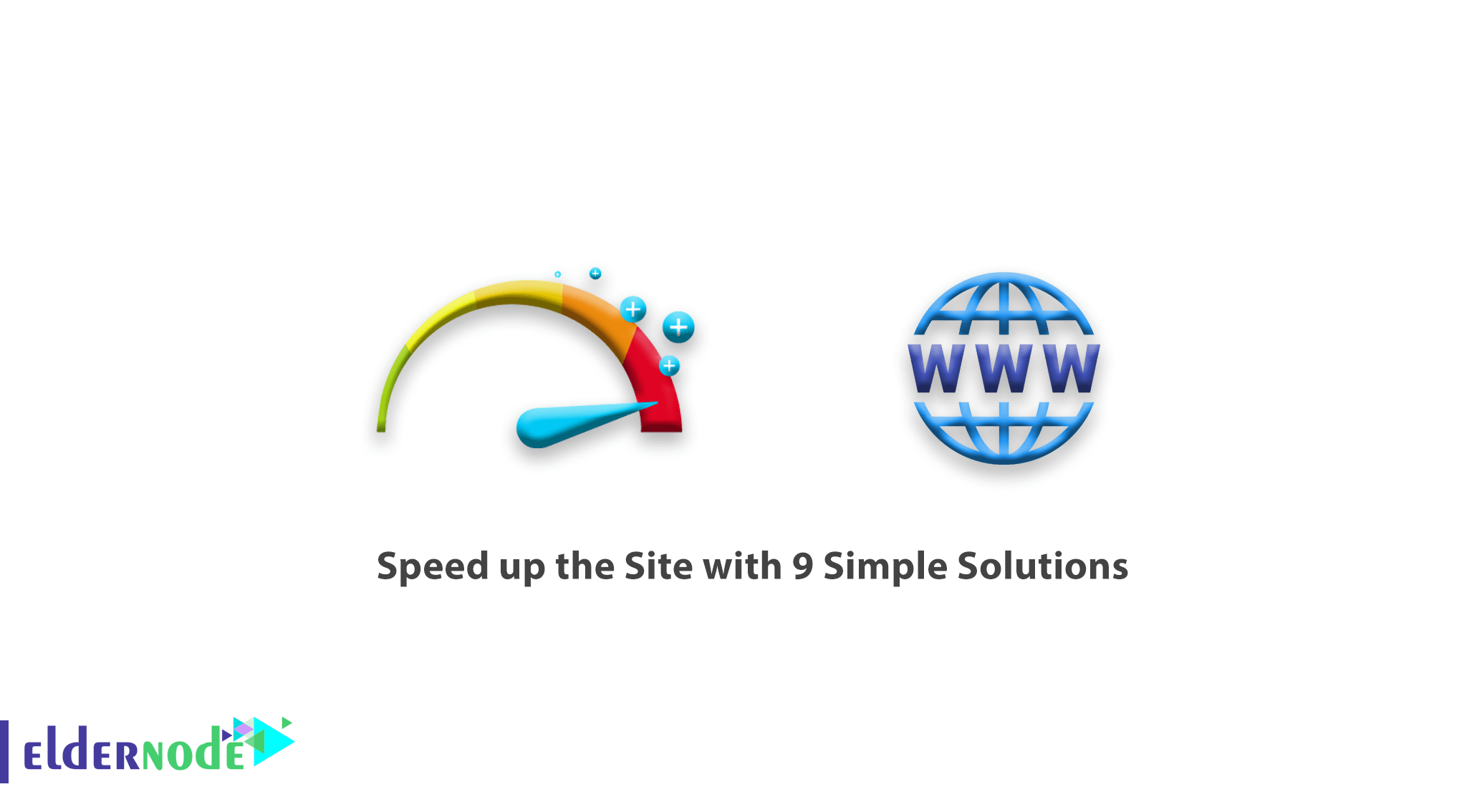 Speed up the Site with 9 Simple Solutions. There are many websites on the Internet today. If you put yourself in the shoes of a user, you prefer to open a website that is faster and you can browse the website very quickly.
In this article, we will explain how to increase the speed of the site with 9 simple solutions to make your website more optimistic than it is. All the points mentioned in this tutorial are general and are not mandatory in all cases. You will be able to implement only what you are interested in on your website.
VPS Hosting Plans in Eldernode
1.

Compress web server output files

As you know, today's web servers have the ability to compress output files. This feature allows web servers to compress the output of a website into the browser of visitors.

This will have a very positive effect on the speed of your site. It is recommended that you enable Gzip, which is responsible for compressing site content on your site, to compress the output files on your website.
2.

Compress uploaded files

Another way to speed up your website is to compress the website files yourself.

Websites include files such as HTML, CSS, JavaScript, etc. that you can compress before uploading to your host to have a smaller volume. Compressing files saves less bandwidth on your server.

Of course, this compression requires special software and methods.

Note: It is recommended that you do this with the help of a specialist if you do not specialize in web design and programming.
3.

Image optimization

Images are the most important part of a website. It is also much larger than text and web code. Therefore, you can use it in storing images on your website by observing important points such as the right size, the right color combination, and finally storing it to produce an optimal image.

If possible, use a content management system such as WordPress and use web optimization plugins.

Tip: Optimizing your website images can sometimes double your website loading speed.
4.

Use Cache

Using Cache on your website will help you to display content to the user when your website is not available for any reason.

The cache system will work in such a way that if a user enters your site for the first time, it will load all the information from your web server. Also, if the user enters your site for the second time, all the information will be displayed from the cache and only request changes from your web server.

Likewise, the website loads quickly and your server resources are used less.

Note: There are various cache plugins for WordPress, Joomla, etc. that you can use to provide a caching system for your website.
5.

Use CDN

Content delivery system is one of the solutions that helps your site to open much faster. Using a CDN allows you to create a universal cache system for your website for free without having to make any special settings.

Various CDNs such as Cloudflare, etc. offer their basic services for free on the Internet, which we suggest you to use.
6.

Use a virtual server or dedicated server

No matter how good web hosting is, it has its drawbacks. Shared web servers host many websites. This causes the speed and hardware resources to be shared between these websites.

Therefore, using a virtual hosting server or a dedicated server will provide more hardware resources to the web server.
7.

Website graphics

By searching the internet you will come across websites that have higher graphics and at the same time are faster than a simpler site.

The reason for this is the use of an optimal and professional design. Using the latest web design technologies will make you have the best graphics with the least coding.

So in addition to using the right graphics, try to use the latest technologies to design your website to have the most optimal web.
8.

Use site speed monitoring tools

There are websites on the internet that will review your website and tell you tips that will help you speed up and optimize your website.

Among the famous and practical websites in this field, the following can be mentioned:

– GTmetrix

– Pingdom
9.

Increase the level of website security

You may be wondering how increasing the level of website security will help speed up your site?

Increasing website security will increase your website load. Because malicious tools will not be able to access your site and therefore your hardware and server resources will not be used to deal with them.

Increasing the level of security of the website, in addition to ensuring the performance of your website, has a very good effect on the loading speed of your website.
Conclusion
Some solutions may be costly for you, but ways like optimizing images, using cache, using CDN, compressing uploaded files, and activating Gzip on the server are completely free, and you can use these methods.
Dear user, we hope you would enjoy this tutorial, you can ask questions about this training in the comments section, or to solve other problems in the field of Eldernode training, refer to the Ask page section and raise your problem in it as soon as possible. Make time for other users and experts to answer your questions.
Goodluck.