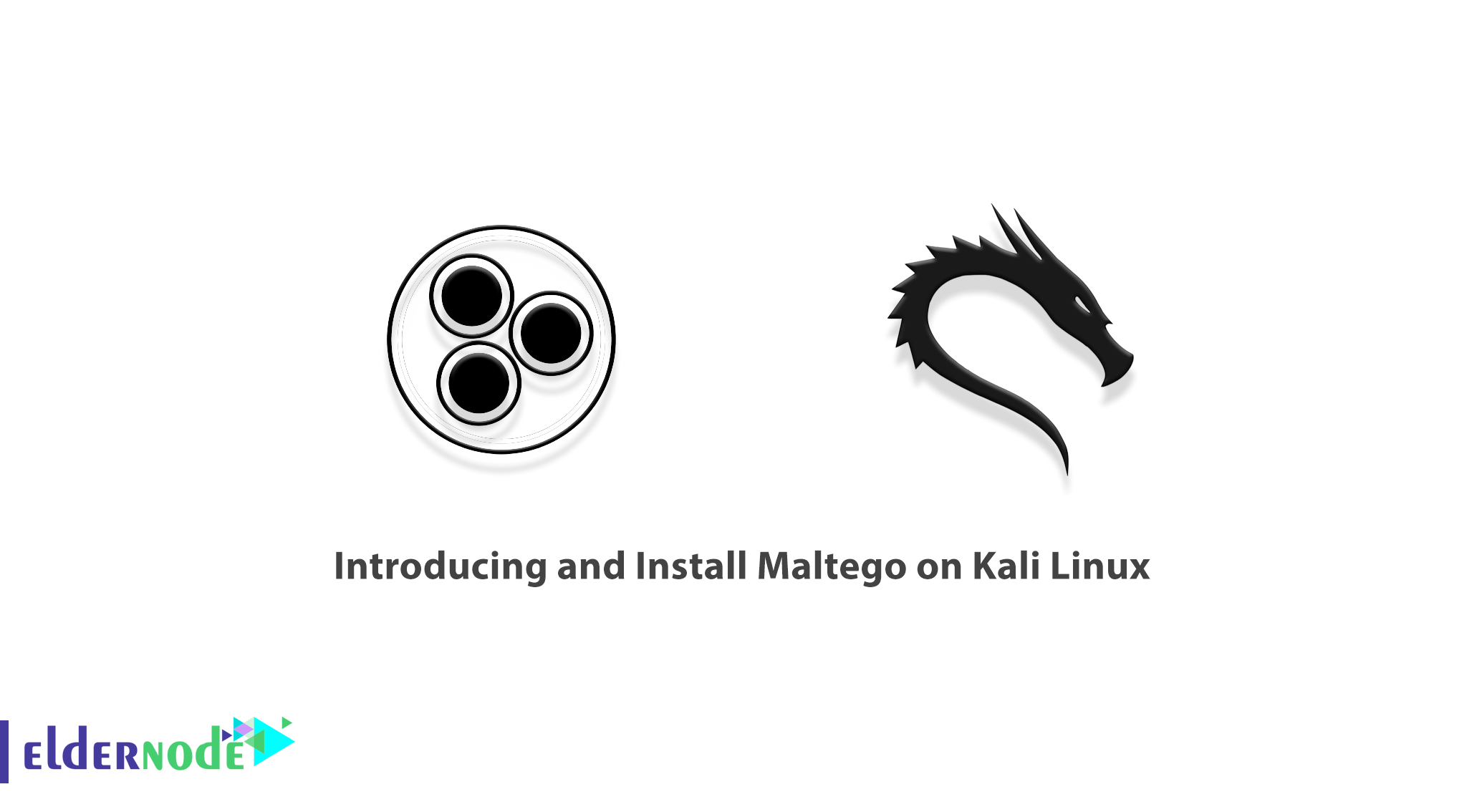 Maltego is a very popular tool for hackers and professionals to facilitate forensic operations and data collection. For example, this tool thoroughly analyzes the system and examines connected connections, ports, and so on. For this reason, this tool has become very popular and the Kali Linux operating system has included this tool. Even in the main menu after installation, you can see the tool and benefit from it. In this article, we are going to teach you about Introducing and Installing Maltego on Kali Linux. You can visit the packages available in Eldernode to purchase a Linux VPS server.
Introducing Maltego on Kali Linux
The Maltego tool is a unique platform used to provide a scenario for the environments you want to mentally draw. The unique advantage of the Maltego tool is that you can easily access and map real-world links and relationships. In the next section, we will look at What is Maltego and what does it do. Then we mention some important features of the Maltego tool in Kali Linux. In the following, we will teach you how to Install Maltego on Kali Linux.
What is Maltego and what does it do?
The Maltego tool is one of the most powerful graphic tools in the field of forensics and data collection. In the field of hacking and security, it is also called collecting information about footprinting and information-gathering operations.
Open-source intelligence relies on data that is publicly available. The basis of this technique is that there is valuable data in general, but because the data is not centralizing, we simply ignore it. This technique collects data in various fields and provides it to the user in a centralized manner. For example, when it comes to gathering information about a target, it searches the Internet for it.
In the next section, we refer to the features of the Maltego tool. Be with us.
Features of Maltego tool in Kali Linux
Maltego tool is a program that can use to determine real-world relationships between people, social networks, companies, websites, Internet infrastructures such as domains, DNS names, IP addresses, and more. These institutions are interconnecting using open-source intelligence.
1_ Installing Maltego is easy and fast.
2_ It uses Java language, so it can be run on Windows, Mac, and Linux.
3_ Maltego provides you with a graphical interface that connects you to see these relationships instantly and accurately.
4_ Makes it possible to see hidden connections.
5_ Using the graphical user interface (GUI) you can easily view the relationships.
6_ Maltego uses a powerful and flexible framework that enables personalization.
How to Install and Use Maltego on Kali Linux
Since Maltego is in Kali Linux by default, you can follow the steps below to run and use it. In this section, you can run the Maltego tool by going to Application>> Information Gathering>> Maltegoce. You can also enter the following command in the terminal as a regular user:
$maltego &
In the image below, you can see the Maltego welcome page: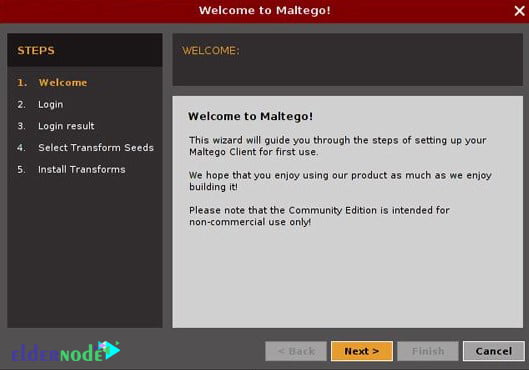 As you can see when you run Maltego on Kali Linux, the Welcome screen appears. You can start the setup wizard. Then click Next to go to the next step: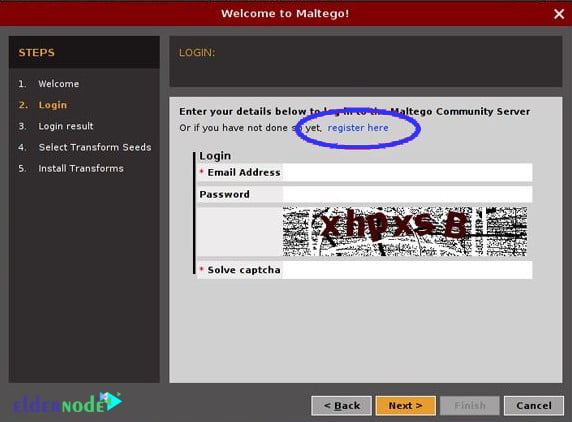 The image below is for the user to log in to the Maltego. If you are registered on the Maltego website, you can log in using your username and password: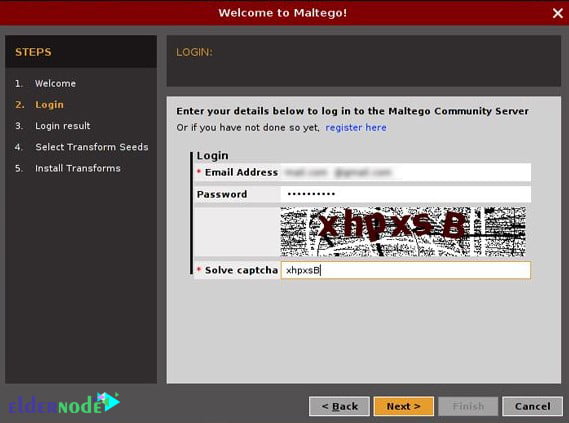 After successfully logged in to Maltego, you will "Select transform Seeds" and install. Now you are ready to run a new Machine for gathering information.
In the next step, you must select Run new Machine and click on finish.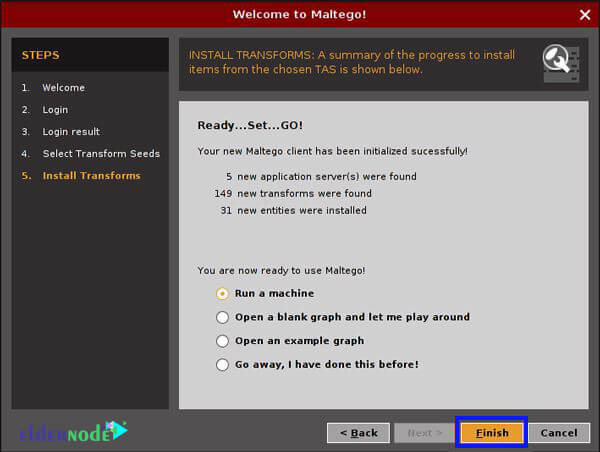 After you have successfully completed the above steps, a new wizard will appear. Note that you can run the machine with the current wizard or cancel this wizard and run it with the Maltego app. If you want to run the machine with this wizard, you can select the type of machine and click Next.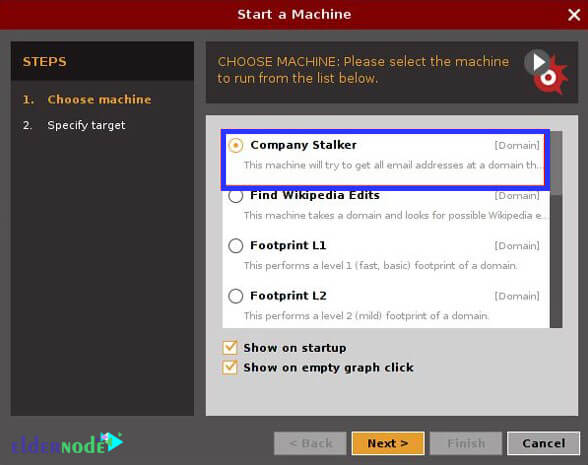 It should note that if you select company stalker then you will have to specify a target (domain name) in the new window, Provide domain (target) and click Finish.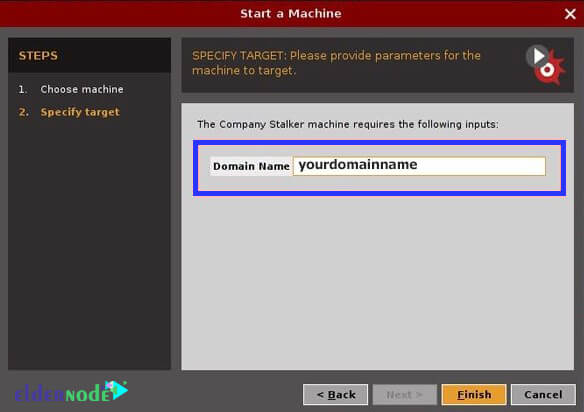 Conclusion
Maltego tool is an open-source and forensic intelligence application. The Maltego tool lets you explore and gather information. Then display this information in a structured and meaningful way. In this article, we tried to teach you how to run and use Maltego on Kali Linux.