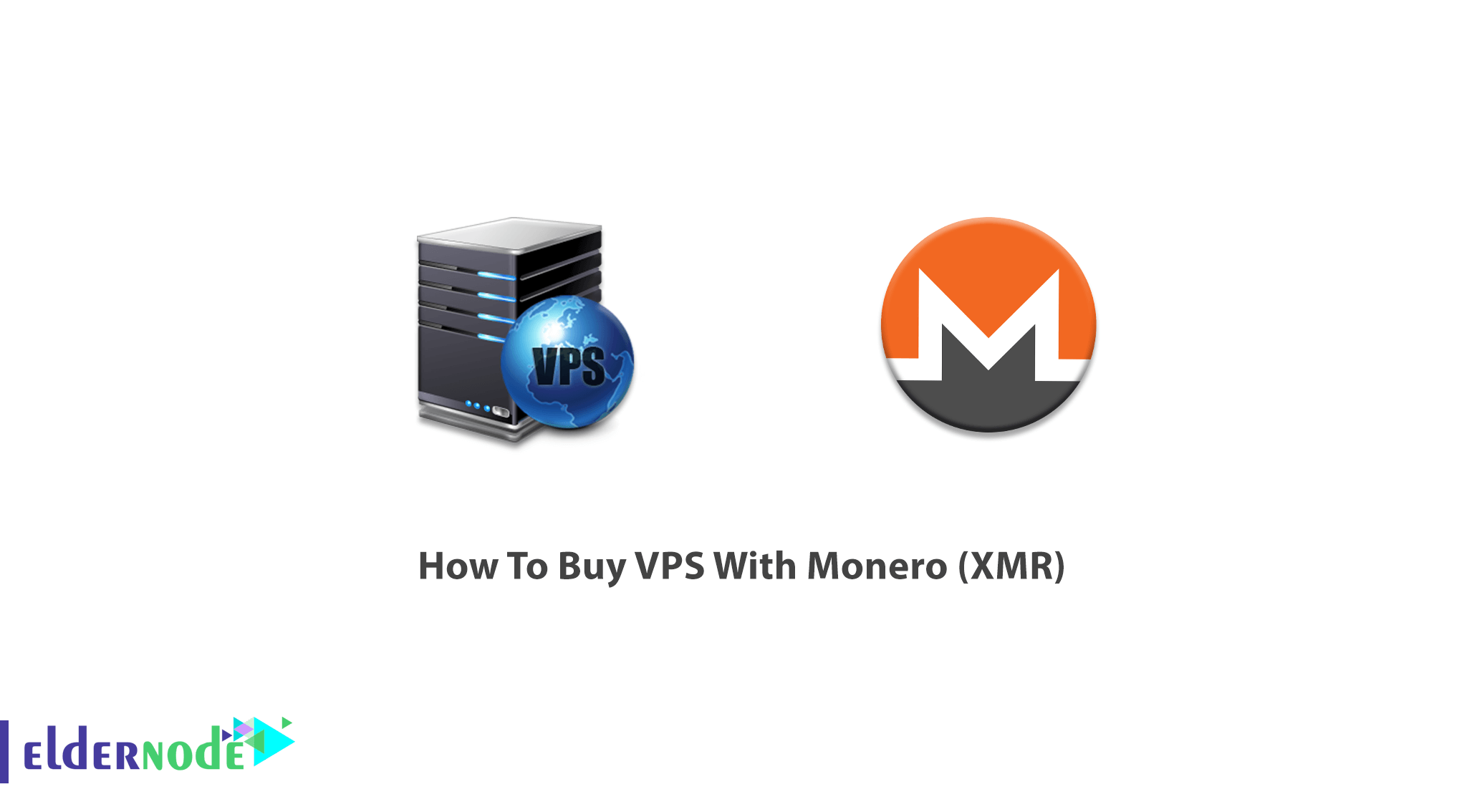 A Virtual Private Server is a virtual machine that runs its own copy of the Operating System. So, you can prepare it to install almost any software that runs on that OS. Various important features of using VPS convince users to work on a Virtual Private Server and receive real satisfying results. Control, customization, and security with improving performance are the main reason for the popularity of VPS servers. If you need to grow your business and buying a VPS is your first decision, we suggest you stay with us and read this guide. In this article, you will learn How To Buy VPS With Monero (XMR). Also, you can visit Eldernode to choose your preferred VPS Server and enjoy its benefits.
Tutorial Buy VPS With Monero (XMR)
Introducing Monero And Buy VPS With Monero
To experience a private server with the economy of shared physical space and use its flexibility, scalability, and even more security than shared hosting, users decide to buy VPS. On the other hand, people are more eager to use digital currencies to buy and sell. According to its impressive features, we have added the possibility of payment with Monero. As you know, using Bitcoin and Ethereum causes the transactions openly verifiable and traceable by anyone in the world. Also, sending and receiving addresses for these transactions may potentially be linkable to a person's real-world identity. But, using Monero allows you to have a shield sending and receiving addresses, as well as transacted amounts. In the following, you will learn the required steps of buying VPS with Monero.
Prerequisites of buying VPS with Monero
From all over the world you are reading this guide, it is possible to buy your preferred VPS with Monero. Actually, we try to provide the best service to our valuable customers. So, more than 20 VPS locations have been considered to help you check and choose due to your needs. Have a look at the available locations of Eldernode.
Eldernode VPS locations for North America
Eldernode is beside you to help you offer your services in a specific location so that your customers receive the best quality. If you do not find your considered location in the list below you can request the required location through online chat or ticket so that it can be provided to you if possible. Let's see the available locations of North America.
Chicago VPS, New York VPS, Los Angeles VPS, Miami VPS, Seattle VPS, Dallas VPS, and Canada VPS are now available as you see in the image.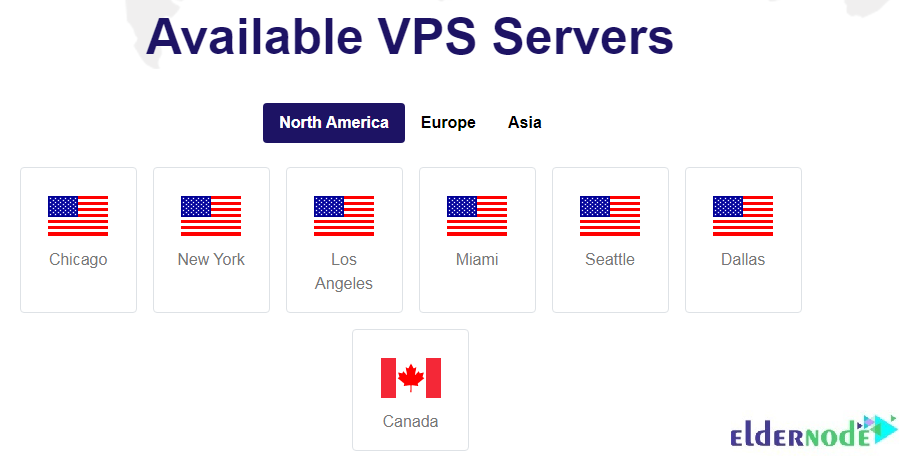 Eldernode VPS locations for Europe
Also, you can find the available locations of Europe below. Order your own VPS and start touching the powerful infrastructure and direct Full Access. as you see in the image below, these locations are available for European customers:
France VPS, Netherlands VPS, UK VPS, Romania VPS, Denmark VPS, Russia VPS, Germany VPS.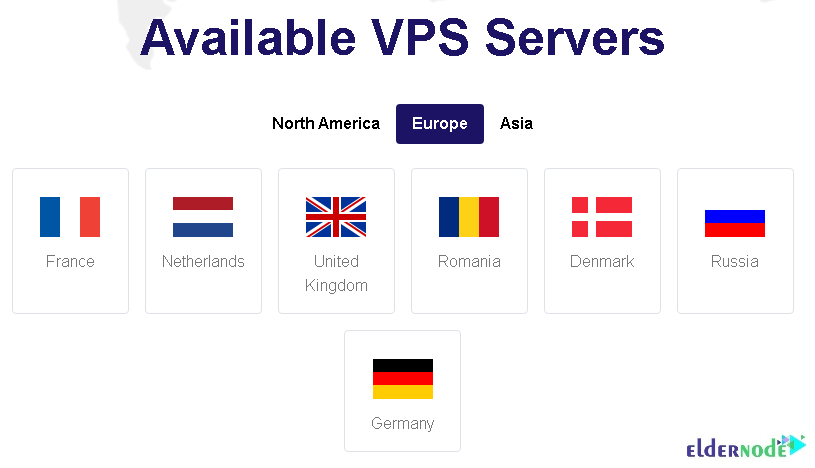 Eldernode VPS locations for Asia
If you are living in Asia and you are going to purchase a VPS or you prefer to choose this destination due to any reason, we are ready to provide the best services in the below locations:
Japan VPS, Singapore VPS, Hong Kong VPS, Dubai  VPS, India VPS, Malaysia VPS, Korea VPS, Turkey VPS.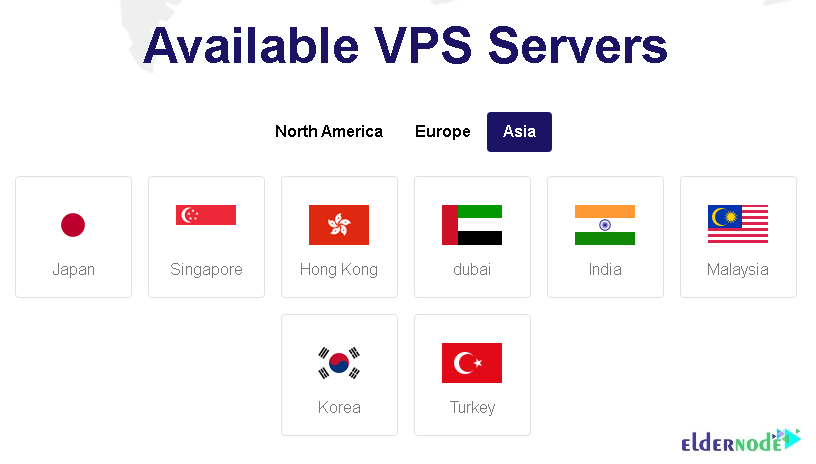 Buy VPS With Monero (XMR) Step by Step
Buying a VPS allows you to have total access to install your considered software and OSs. Also, you will be able to host your files and websites, run applications, and so on. There are various VPSs on Eldernode such as Linux VPS, Windows VPS, Mikrotik VPS, and RDP Admin VPS that will be set up instantly. Stay with us to go through the steps of this section to learn the way you can buy VPS with Monero.
Step 1:
First, you should Register on Eldernode and join our customers and use our support and offer. To do this open the website and Signup.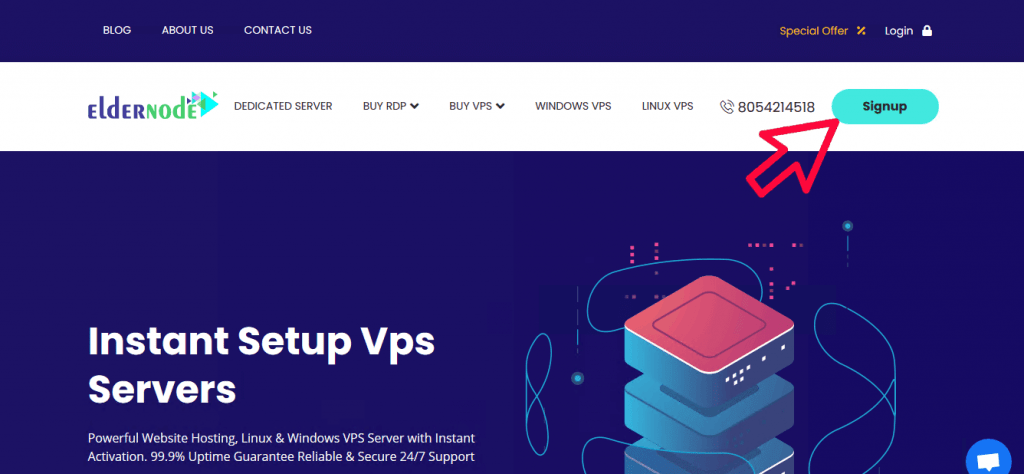 Step 2:
When you are signed in, choose the Buy VPS tab on the main page and continue.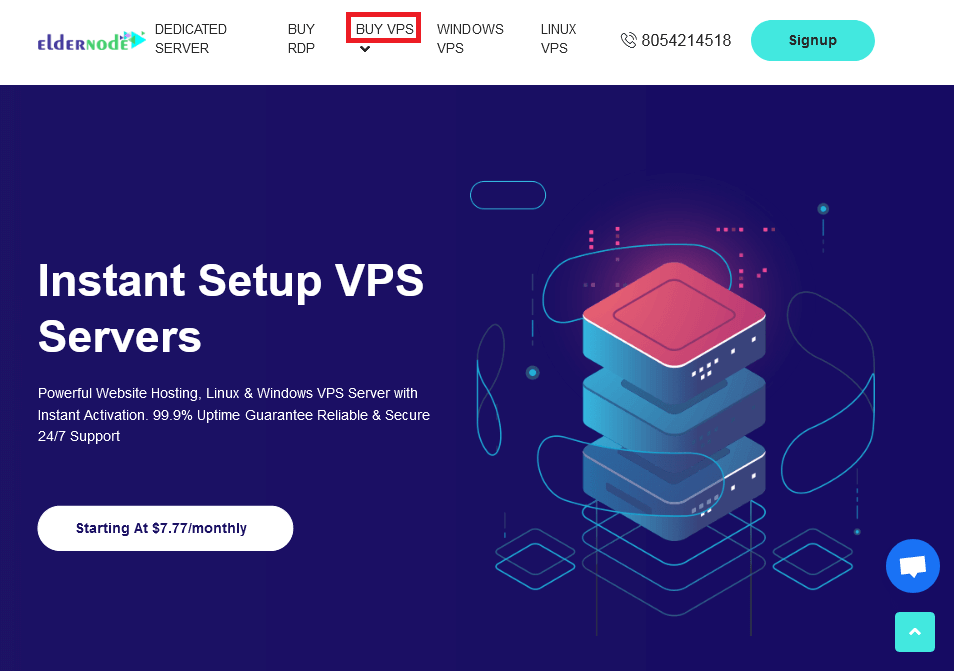 Step 3:
There, you can choose The Operating System you need to buy. Click on See All Plans to continue.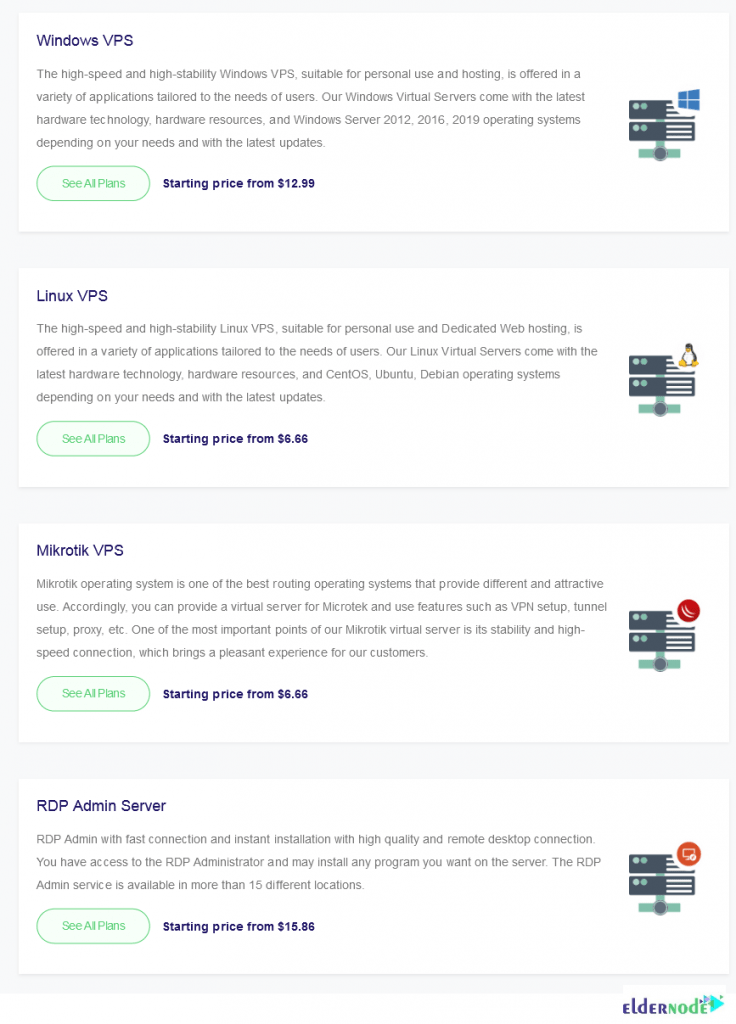 Step 4:
In this step, we continue with choosing RDP Admin Server to proceed. As we mentioned, you can choose your considered VPS. So, click on Order Now when you chose your preferred plan.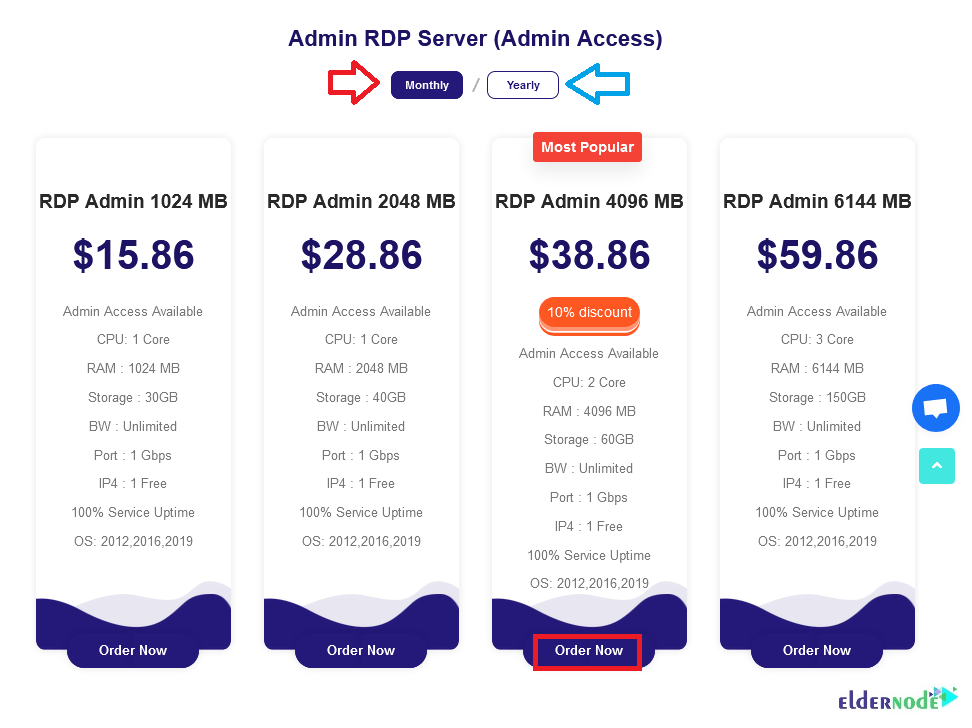 Step 5:
In this step, you can view a summary of your order. At the end of the page, you can choose to have a fully managed support or a VIP support VPS. Other options such as Location and Operating System is configurable too. When you checked the desire options, click on Continue.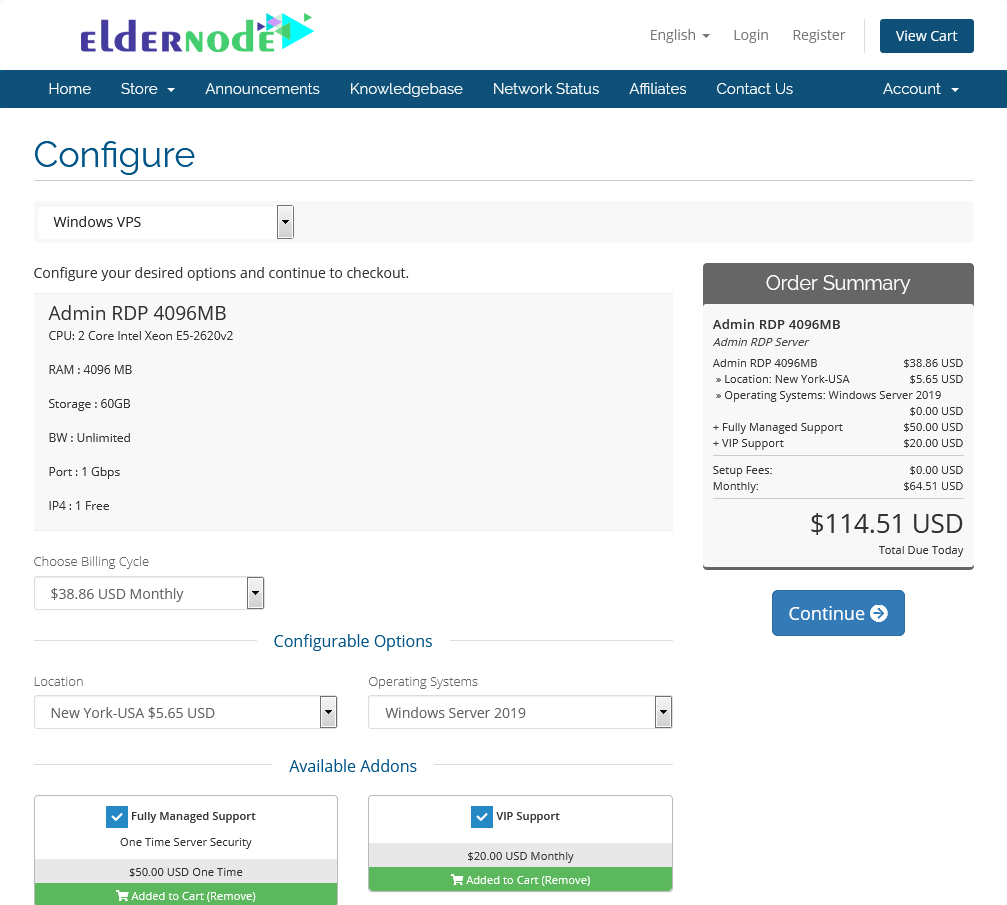 Step 6:
Now, check the chosen options of the previous step and if you wish to change anything, press edit. Then, enter your promo code if you have, and click on Checkout.
Note: Contact Eldernode experts via the online chat on the website to be aware of available discounts and the ways you can have a code.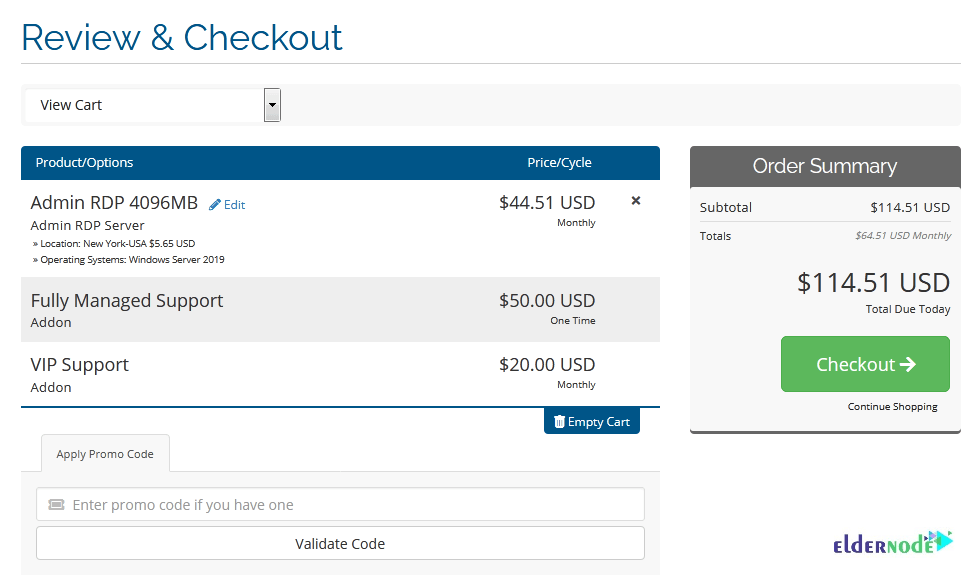 Step 7:
Once you entered your Personal information and Billing address, you should choose the Payment Details. Click on Bitcoin, Ethereum, USDT, and All cryptocurrencies, click on Complete Order.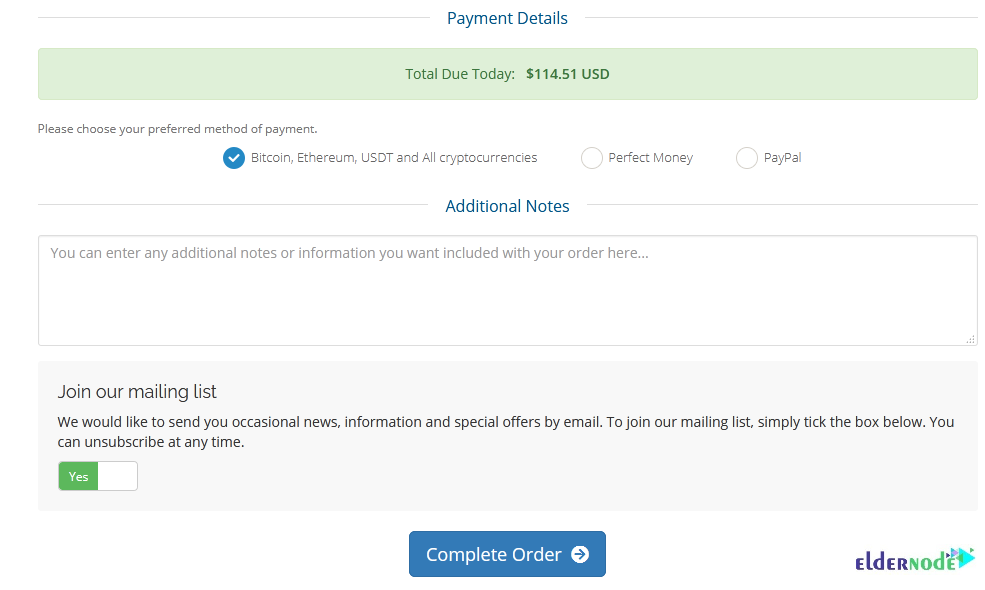 Step 8:
Search or scroll to find Monero in the Select coin box and click on Complete Checkout.
Step 9:
Finally, your payment ID will be displayed and you can buy your considered VPS with Monero XMR. Feel free to start an online chat with Eldernode experts to ask your questions.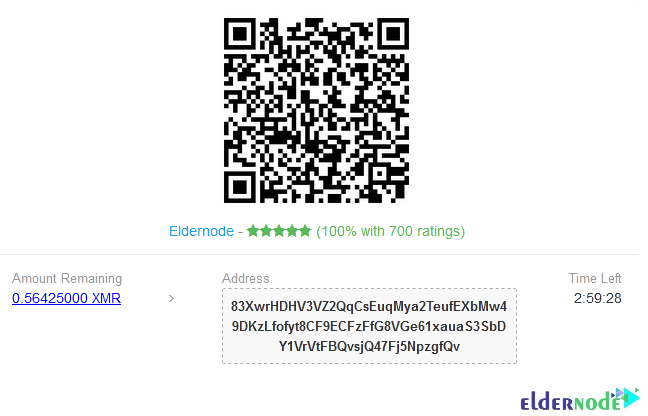 That's that! From now, you have 3 hours time to complete your checkout with Eldernode.
Conclusion
In this article, you learned How To Buy VPS With Monero (XMR). There are more services such as forex VPS, Binance VPS, and BlueStack VPS available on Eldernode with the quick start-up. However, once you start your journey with Eldernode, full monitoring and support will be your fellow traveler. To experience 99.9% uptime guarantee reliable and secure 24/7 support contact us.