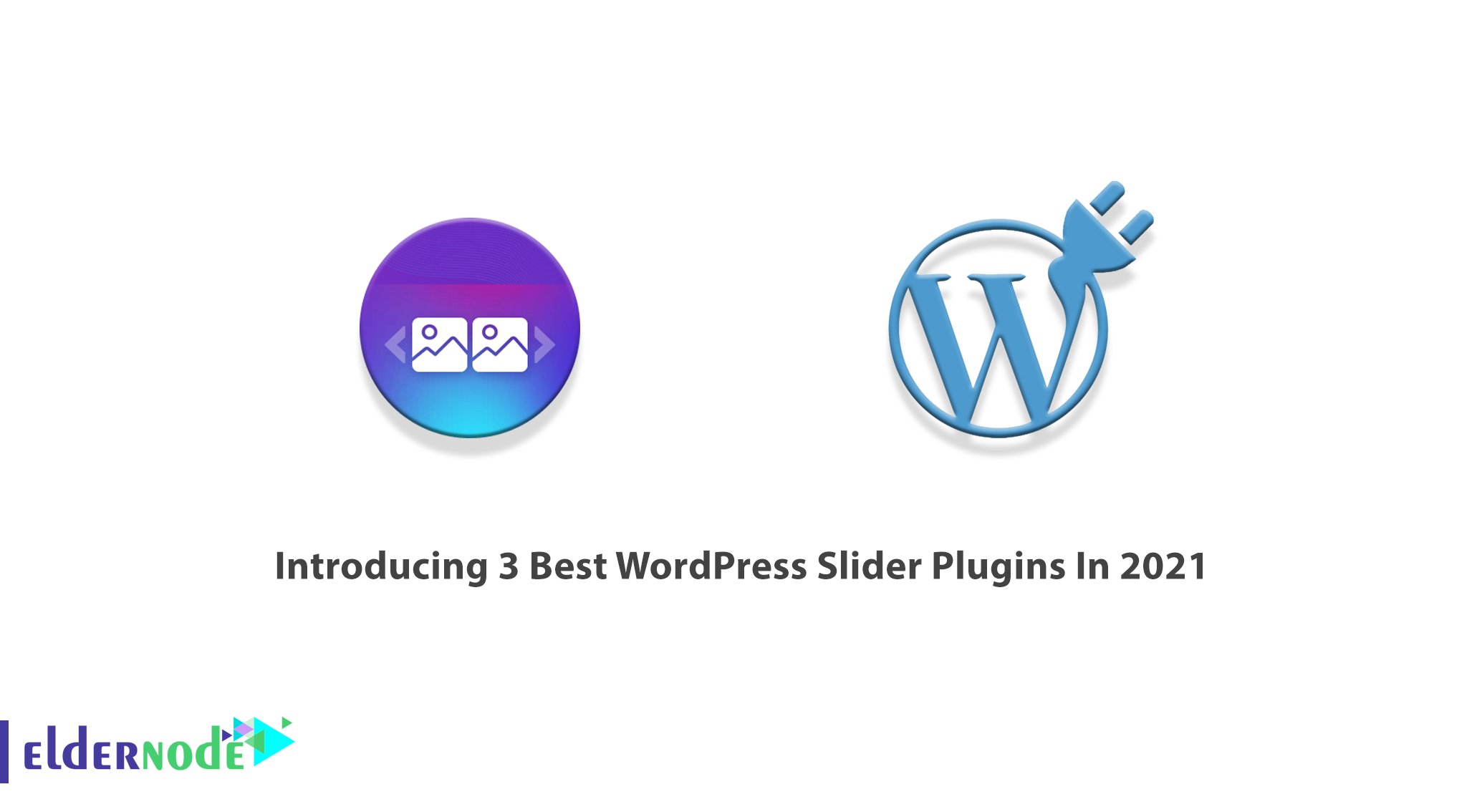 If you are interested in web designing, Slider should be introduced to you. Sliders allow you to showcase images, videos, and other content. To create your own sliders and add them to your home page or landing pages, you will need to use WordPress slider Plugins. This tutorial is Introducing 3 Best WordPress Slider Plugins In 2021. Since WordPress sliders are slow, you need to purchase a good VPS to prevent increasing your page load time. Contact with Eldernode support team to order your considered Hosting plan.
Introducing WordPress Slider Plugin
This article will guide you about finding the best WordPress slider plugin to achieve performance and quality. Since there are dozens of WordPress slider plugins on the market, you need to be able to compare to choose the most suitable one. So, join us to know more about Slider Plugin firstly.
Thanks to a large number of plugins, WordPress has become a powerful platform. WordPress Slider Plugin helps you to create sliders and improve the visitor experience on your site. A slider plugin allows you to add video, use layers to combine images, text, and buttons, and even include a mix of elements and animations. You will be able to use sliders on all kinds of websites. But business websites or professional portfolio websites are mostly using sliders.
As a designer, you will love sliders, they are flexible and help you to tell a compelling story using the visual elements of the slider plugin. And as a website owner, you can show the highlights to users quickly. Slider places all your important content in a visually appealing and interactive slideshow at the top of the page before your main content.
It is not hard to use this kind of plugin, but it could be challenging to find the most suitable one on your website. Slider plugins are not the same, most of them may slow down your website as they load too many scripts. So, what is the solution? Review the next section to learn what are the important parameters for choosing an ideal slider plugin.
How to Choose the Best WordPress Slider Plugin
When you decide to use a Slider plugin, you need to know how to compare the top ones together and find out which one is better based on their speed, ease of use, and overall features.
As is expecting, slider speed is on the top of the comparison. Sliders could slow your website and affect user experience and SEO.
On the other hand, too much technical language has been used in the user interface of WordPress slider plugins. So, you are recommended to choose a beginner-friendly plugin to simplify slider creating.
At the first sight, you believe that a slider would create simple image slide shows. But some slider plugins include more features. They could be fully responsive sliders and look equally beautiful on all devices and screen sizes. Also, a featured slider plugin supports video slides, HTML 5 videos, featured content slides, themes, animations, and transitions. So, it is better to use plugins with a simple and easy-to-use interface.
According to the above explanations, we have made an analogy between slider plugins and checked them from point of responsiveness, ease of use, and speed. Stay with us, here is the result of this research, Top 3 WordPress Slider Plugins.
3 Best WordPress Slider Plugins In 2021
Let's go ahead and view the Top 3 WordPress Slider Plugins:
1- Soliloquy Slider Plugin
Soliloquy is the best responsive WordPress Slider Plugin that helps you to create beautifully responsive WordPress sliders. It is also known as both an easy and Powerful plugin. The brilliant point in using Soliloquy is that you never need to hire a developer to create a WordPress slider. Soliloquy provides a joyful experience for users since the slideshows will look great on all devices. Speed matters! Soliloquy is the fastest and best lightweight plugin. It is highly optimized for web and server performance and will improve SEO and.
If you wish, you can Download Soliloquy Plugin from the WordPress plugins repository.
Soliloquy Slider Plugin Features
This plugin comes with over 100 configurable hooks and filters. Let's review the main features and addons of this powerful and user-friendly WordPress slider plugin:
1- Drag & Drop Builder
2- Responsive Mobile Friendly
3- Slider Themes
4- WooCommerce
5- Featured Content
6- Lightboxes
7- Simple and user-friendly interface
8- Image thumbnails
And More.
2- Smart Slider 3 Slider Plugin
The second chosen slider plugin is for a powerful, easy-to-use, and intuitive WordPress plugin. Smart Slider 3 is fully responsive, SEO optimized and works with any WordPress theme. You will experience a fast and efficient slide creating with its beautiful interface. The good news is that you need no tech skills and no code to build a slide since you can only choose one of the beautiful (or a blank) templates and create an image layer, video, and post slider. Smart Slider 3 allows you to preview your content before publishing. It also provides a touch-friendly design and multiple slider controls for styles and positions.
If you wish, you can Download the Smart Slider 3 Plugin from the WordPress plugins repository.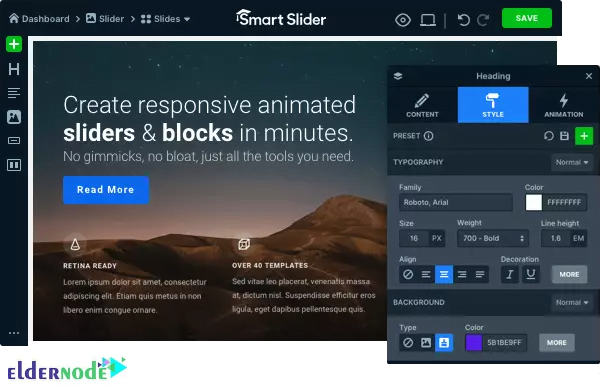 Smart Slider 3 Features
This plugin uses a different user interface and is popular among beginners. Here are the main features of Smart Slider 3:
1- Slide library
2- Totally integrated with WordPress
3- Template sliders
4- Slide backgrounds
5- Hide layers on specific devices
6- Slide switching animations: Horizontal, Vertical, Fade
And More.
3- MetaSlider Slider Plugin
For the third and last presentation, a widely used and popular plugin is chosen. MetaSlider helps you to create a powerful, SEO-optimized slider, slideshow, carousel, or gallery. Using MetaSlider allows you to build responsive and touch-enabled sliders in a more lightweight approach. Site owners, developers, and theme developers find this powerful plugin so useful. While MetaSlider provides options to choose different slider scripts and slider theme and styles, beginners would be able to simply insert slider anywhere on their site using shortcode, Gutenberg block, widget, or template tag.
If you wish, you can Download the MetaSlider Plugin from the WordPress plugins repository.

MetaSlider Features
This plugin is well-rated and popular. Have a look at the list of its main features:
1- 4 Slider Designs: Flexslider, Responsive Slides, Nivo Slider, and Coin Slider
2- Dynamic slides
3- Built for Desktop & Mobile
4- Intelligent Image Cropping
5- Thumbnail Navigation
6- Live Theme Editor
7- Scheduled Sliders
And More.
Conclusion
In this article, WordPress Slider Plugins was introduced to you and you got familiar with the 3 best slider plugins. Undoubtedly, in the pro version of them, you will find more interesting features and capabilities. If you are using any one of them, share your experience with your friends on Community.