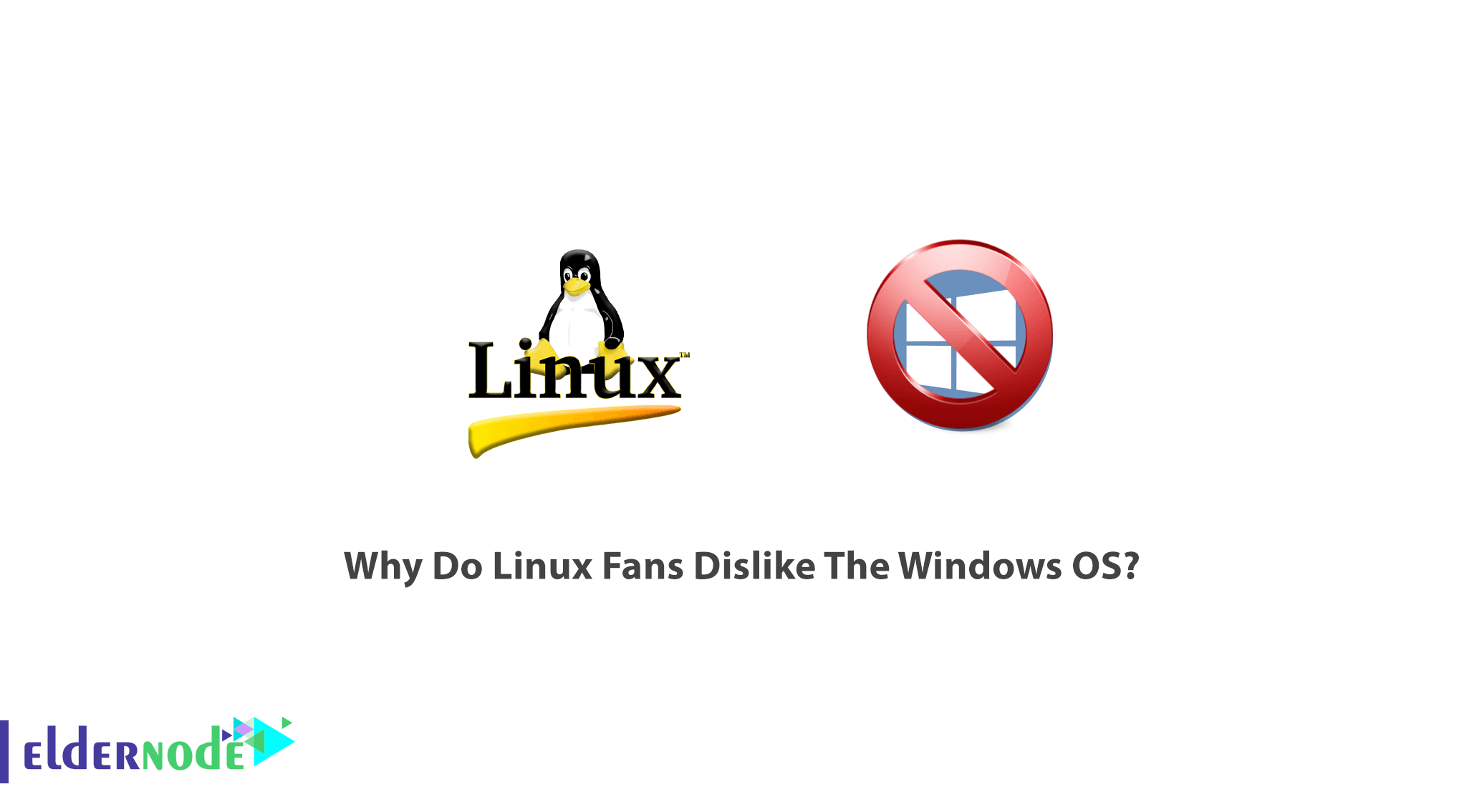 [Updated] There is an eternal challenge between the fans of Pepsi & Coca, iOS & Android, and of course, Linux and Windows! Which one is better? Due to the needs, goals, and type of systems users choose an Operating system and both of these groups are able to prove that their own decision is the best! No way to stop these arguments but in this article, we will discuss Why Do Linux Fans Dislike The Windows OS, to see why Linux fans do not prefer to switch to Windows. So, it would help you to choose to buy a Linux VPS or Windows VPS.
Why Do Linux Fans Dislike The Windows OS?
Stay with us to find a definite answer to this repetitious question. Some users believe it is not a matter of Linux and Windows and it is important to use the best tool to get the job done. On the other side but there are serious fans of Linux who do not think this way. So let's see who is right?!
Linux Or Windows?
In this article, I will quickly compare some of the most important key features of Linux and Windows operating systems to see why users not only choose Linux but also easily say we hate Windows!
We will look at the advantages of using Linux over Windows, and this will help you choose the right Operating System for programming or purposes such as web development. First of all, if you want to migrate from Windows to Linux for a better but Windows-like operating system, do not do it! It is logically impossible for one thing to be better than another but not different; So if you expect a better Operating System, then expect a different operating system as well. However, if you are thinking of programming or web development, one of the Linux distributions like Ubuntu, CentOS, and Debian can be the best operating system to get you started. There are distributions such as Ubuntu, Fedora, ‌ Arch, etc. with different desktops, depending on the type of work you can choose one of them.
Open-source
Unlike Windows, which is a commercial operating system, Linux is an open-source operating system that can be downloaded for free. Hundreds of Linux distributions are available, with approximately 500 developing distributions active. One of the most popular Linux distributions is Ubuntu.
Security
Linux is more secure than Windows. Obviously, Linux is more secure than Windows, despite the thousands of programmers around the world who can fix bugs and problems quickly. Of course, it does not mean that Linux is impenetrable; Windows is now more widely used by users, and so hackers are trying to generate malware or viruses that target more systems. Another feature that exists in Linux is root access; In Linux, you need root access before running or installing any program or file, but not in Windows.
Fast software updates
In Linux, you will receive faster software updates. If the bug is found by someone, users can update it immediately, and you no longer have to wait long. Development tools and libraries are also available for free.
Function
Linux is more powerful and versatile than Windows. The operating system is lightweight, which makes Linux faster than Windows. When you start working with this operating system, you will see a significant improvement in the speed of your system.
Reasons for switching to Linux for home use
Almost, all of the users have paid for Windows. We can truly say that most people who installed Linux on their computer already paid for Windows and if they did not keep Windows on the computer and erased it, they made a conscious decision to eat the cost of Windows and let it go. Also, when you install Linux, it is not for escaping the cost of Windows. While Linux is easy to use and upgrade, free, flexible, reliable, and user-friendly it is easy to say that it is worth switching to Linux. Due to users' reports, the below list is provided with some of the reasons for leaving Windows for Linux.
1- Windows updated could make a perfectly good, but old computer unusable.
2- Upgrading Windows has screwed up a good old computer.
3- While Windows slows down and reinstalling from a damaged recovery image does not work out, Linux does not have either of those issues.
4- Factory reset problems with the built-in factory reset.
5- Go to Reinstall everything after a factory reset, is much easier In Linux.
6- Windows activation damaged for no reason. Switching to Linux saves a support call to Microsoft.
7- Linux works properly without surveillance and needs no telemetry.
8- No advertising hooks. Linux is serious stuff with no need for ads.
9- Opt-in location right from the start. Windows has this but it is not 100%. So, you still have to configure Windows 10 further after setup.
10- While the most censures to Linux is to not have an office, we can claim that most people don't need advanced Office functionality and LibreOffice works just fine. Create documents and export them to PDF.
11- Linux gives you the most control over the computer.
12- Linux Does not interrupt you with notifications and whatnot.
13- If you are creative, Linux could delete the boundaries and let you progress.
14- You can easily find numerous graphics, photo editing, and fun tools in Linux that are clean and malware-free.
15- In case you use more, video editing is free with shortcuts, audio editing with audacity, and you can view, organize, and edit photos on Linux very easy.
16- If all you want is simple, clean, and ready to go, Linux works a lot better.
17- One of the most issues for users is setup and configuration which is really simpler in Linux once you get used to it. Because you have 2 control panels in Windows 10, makes things more complicated, while you face just one single configuration system in most Linux setups.
18- Upgrades are always free, new installs have no strings attached at all.
19- You do not need to install drivers every time you plug in your computer USB device.
20- No file auto-runs every time you plug a new disk.
That's that! You reviewed a summary of what people experienced after working with Linux. It seems they have found so many vital tips that are so much better in Linux, so it is logical they say with a loud voice we hate Windows.
Conclusion
In this article, you learned Why Do Linux Fans Dislike The Windows OS? Now, you studied one of the most challenging subjects between the fans of Linux and Windows. We tried to review the Linux fans comments about their reason for claiming why Linux is better. In case you are interested in reading more about this matter, find our article on How to access Linux VPS from windows.