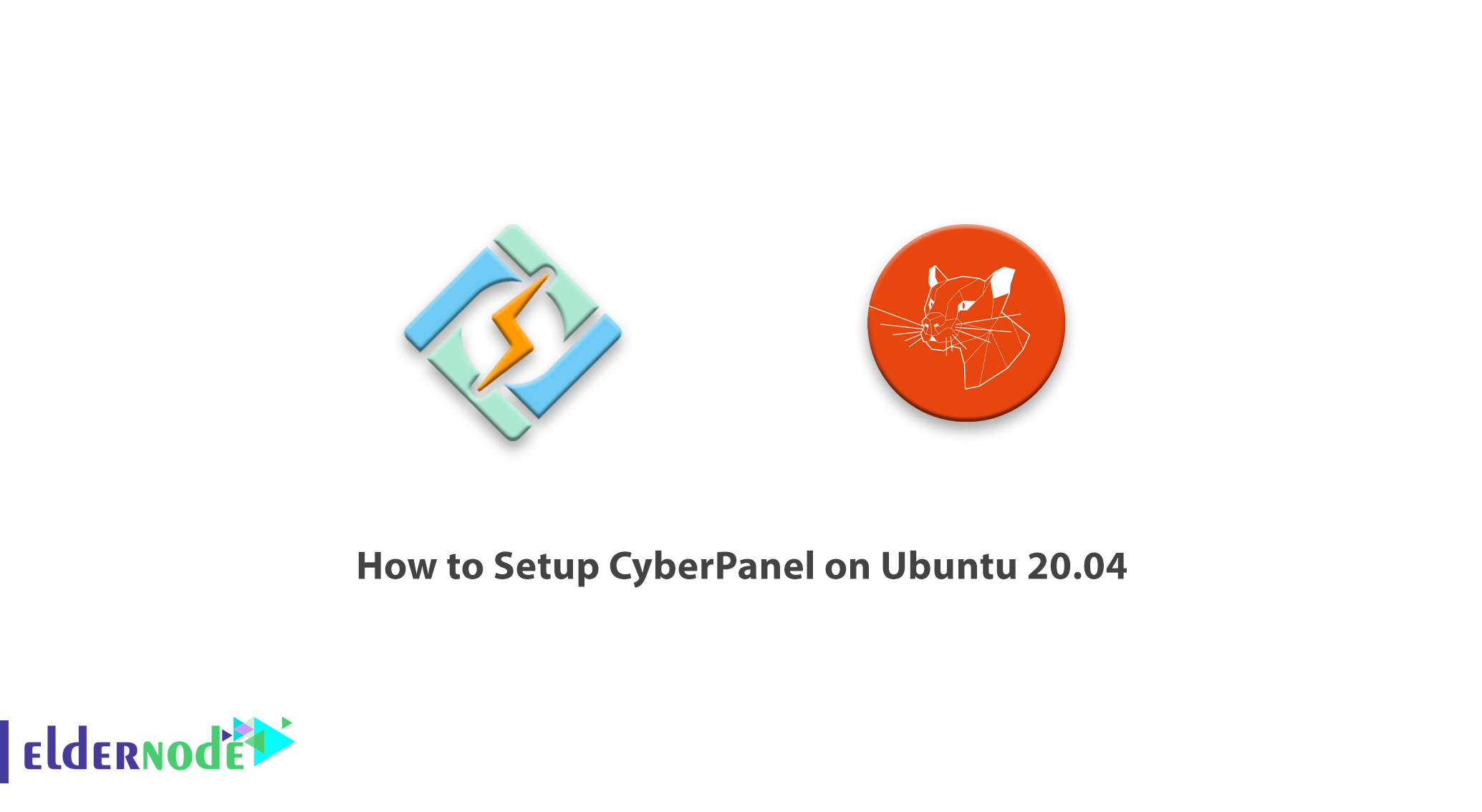 If you are in the field of hosting, you will surely remember software such as cPanel and DirectAdmin when you hear the name of the control panel. Another control panel that can compete with the most popular control panels today is called CyberPanel. This control panel is made by LiteSpeed ​​and is completely free! However, because the company wanted to further promote its core product, LiteSpeed ​​Web Server, it designed CyberPanel to work only with the LiteSpeed ​​Web Server. So you indirectly have to pay a fee to use this control panel. Of course, there is a way to use it for free. In this article, we are going to teach you How to Setup CyberPanel on Ubuntu 20.04. It should note that you can visit the packages available in Eldernode if you want to buy VPS hosting.
Tutorial Setup CyberPanel on Ubuntu 20.04 step by step
CyberPanel only works with two web servers, both of which are LiteSpeed ​​products:
1- OpenLiteSpeed
2- LiteSpeed ​​Enterprise
OpenLiteSpeed ​​is completely free, which is essentially LiteSpeed's open-source web server. Of course, it does not have all the power of the original LiteSpeed. The second is LiteSpeed ​​Enterprise, the company's main product. Note that if you want to install CyberPanel with the existing commands, the OpenLiteSpeed ​​web server will install on your server by default. In this case, there is no need to pay any fees. This means that you now have a Linux VPS server with the CyberPanel control panel installed along with the OpenLiteSpeed ​​web server, which is also free. But if you want to use LiteSpeed ​​Enterprise Web Server, you will also have to pay for a LiteSpeed ​​license.
Follow us in this article with how to install and Setup a CyberPanel control panel on Ubuntu 20.04.
CyberPanel Capabilities
If we want to enumerate the main features of CyberPanel, we can mention the following:
1- Has LSCache capability to cache the contents of sites that are launched with widely used CMS.
2- GIT support for programmers and those who want to work on developing various GIT-based software.
3- It has the possibility of an Auto Installer for automatic installation of popular and widely used scripts.
4- Activate SSL with one click for each user on the server.
5- ModSecurity support to increase the security of sites on the server.
6- Restriction of sending emails to reduce the sending of spam from the server.
7- Support for DNS server called PowerDNS.
8- Support for Postfix and dovecot for sending and receiving emails on the server along with Rainloop webmail software.
9- Full command line support.
10- Pure-FTPD support for FTP service.
11. MariaDB support for database building.
12- Ability to use OpenLiteSpeed ​​in the free version.
13- Provide server security with FirewallD and SpamAssassin.
14- Ability to support multiple versions of PHP.
15- Support for Docker containers.
16- Possibility of limiting the use of resources such as CPU, RAM, and Disk for each site.
17- Ability to manage multiple CyberPanel servers from one place.
In the following sections, we will teach you how to install and Setup CyberPanel.
How to Install CyberPanel On Ubuntu 20.04 | Ubuntu 18.04
In this section, we want to discuss how to install CyberPanel on Ubuntu 20.04. The first step before starting the installation is to update the system packages using the following commands:
sudo apt update
sudo apt upgrade
In the next step to install CyberPanel, you must run the following command:
wget -O installer.sh https://cyberpanel.net/install.sh
Then you have to run the script using the following commands and run the installer.sh:
chmod 755 installer.sh
sh installer.sh
Finally, you have to choose the right options to finish the installation:
CyberPanel Installer
1. Install CyberPanel.
2. Addons and Miscellaneous
3. Exit.
You can easily install CyberPanel on your system by selecting option 1.
Setup CyberPanel on Ubuntu 20.04
After you have successfully installed CyberPanel on your Ubuntu 20.04 system, you can now view your server's IP address on port 8090. For example https://YourIPAddress:8090. You are now ready to start using CyberPanel and you will see the admin login. You can also add domains, email accounts, databases, FTP accounts, add or change DNS records, and more.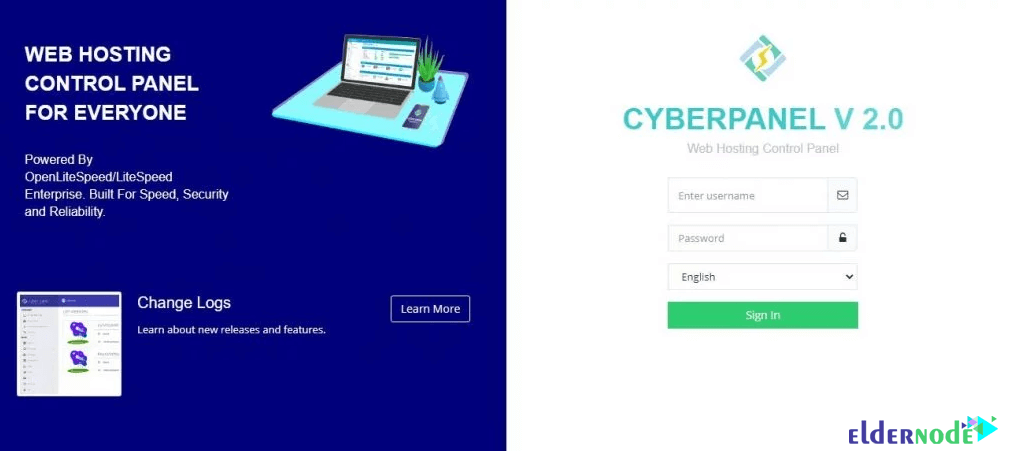 Note: The default CyberPanel login username is admin and the default password is 1234567.
How to Use CyberPanel on Ubuntu Linux
After entering the dashboard, you must now click on the user-menu arrow, next to the name "Cyber Pan". Then select Edit Profile. In the next step, select admin in the dropdown menu on the Modify User page. You can now change your first name, last name, email address, and password accordingly.CyberPanel is now ready to use.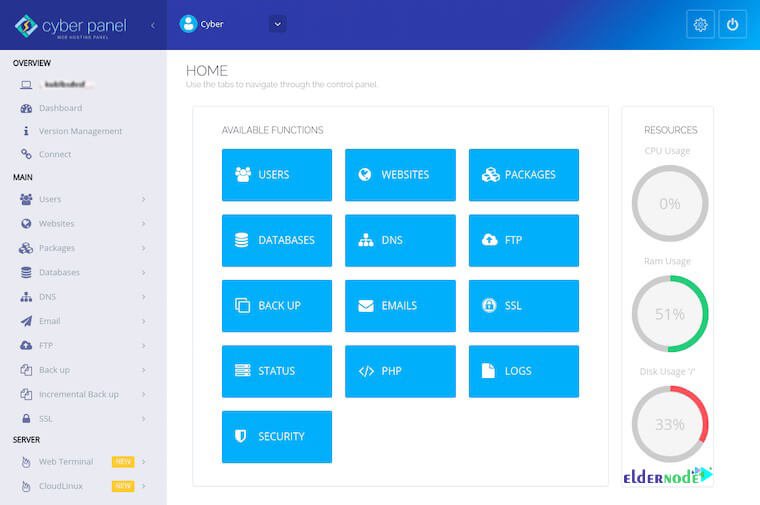 Conclusion
CyberPanel is an open-source control panel that you can use for free on your Linux server. By installing this control panel and using OpenLiteSpeed, you can Setup your site on a computer or Linux server at no cost. In this article, we tried to teach you how to Setup CyberPanel on Ubuntu 20.04. If you wish, you can refer to our articles about installing OpenLiteSpeed on Debian and CentOS.