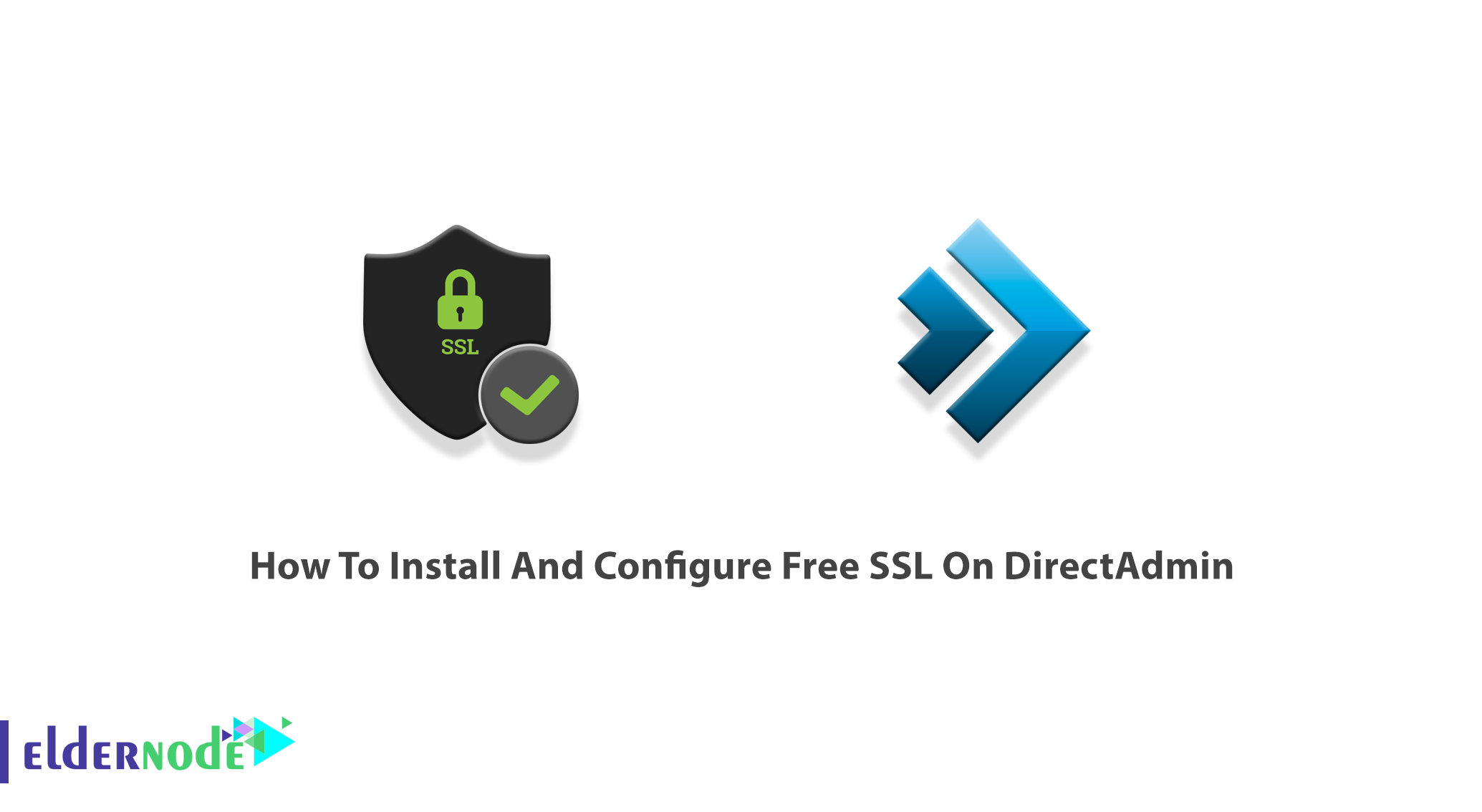 DirectAdmin is a graphical fastest-growing web hosting control panel. Using DirectAdmin allows you to manage your websites with the level of Admin, reseller, or regular user. If you prefer to keep your information unreadable to everyone except for the server you are sending the information to, you must use an SSL certificate. The difference between the HTTP and HTTPS of website URLs is about the SSL. the "s" in HTTPS stand for secure encryption, which can only be guaranteed with an SSL certificate. Let's Encrypt offers free SSL certificates for any website. DirectAdmin has full support do the Let's Encrypt plugin. In this article, you will learn How To Install And Configure Free SSL On DirectAdmin. To purchase your own DirectAdmin VPS visit Eldernode and order what you exactly need.
Tutorial Install And Configure Free SSL On DirectAdmin
DirectAdmin runs on Linux systems and Redhat, CentOS, FreeBSD, and Debian versions. As a website owner, you can offer encrypted HTTPS connection for your visitors totally free of charge since Let's Encrypt has introduced free SSL certificates. In the next section, we will explain Let's Encrypt and SSL Certificate. Then we will teach you to step by step how to install and configure free SSL on DirectAdmin. Please join us.
What is Let's Encrypt and SSL Certificate?
Let's Encrypt is a free, automated, and open Certificate Authority operated by the Internet Security Research Group. This Certificate Authority provides online safety with free SSL Certificates. Secure Sockets Layer Certificates from Let's Encrypt are valid only for 90 days, while a paid SSL certificate has a minimum validity of 2 years.
To have secure/encrypt sensitive communications between your site and your customers, you can use SSL Certification as a text file with encrypted data that you install on your server. Also, there are two types of SSL Certificates:
1. Commercial (paid) SSL certificates
2. Free SSL certificates
In the following of this guide, you will review How To Install And Configure Free SSL On DirectAdmin.
Prerequisites to Install Free SSL on DirectAdmin
To let this tutorial work better, please consider the below Prerequisites:
_ Have access to your DirectAdmin account.
_ The SSL functionality must be active in your DirectAdmin account.
Install and Configure Free SSL on DirectAdmin
DirectAdmin supports Let's Encrypt. Using this DirectAdmin feature, it is possible to secure your domain without purchasing an expensive SSL certificate.
You can install a Free SSL certificate from Let's Encrypt on your DirectAdmin. Let's go through the steps of this guide to Install and Configure Free SSL on DirectAdmin.
First of all, log in to your account on DirectAdmin: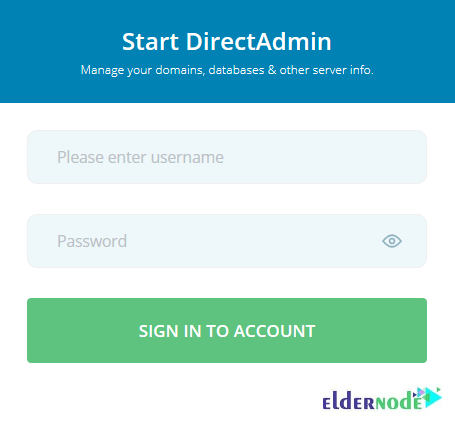 There, when the options load you can see an option called SSL Certificates under Account Manager. Click on it to take you to the SSL interface: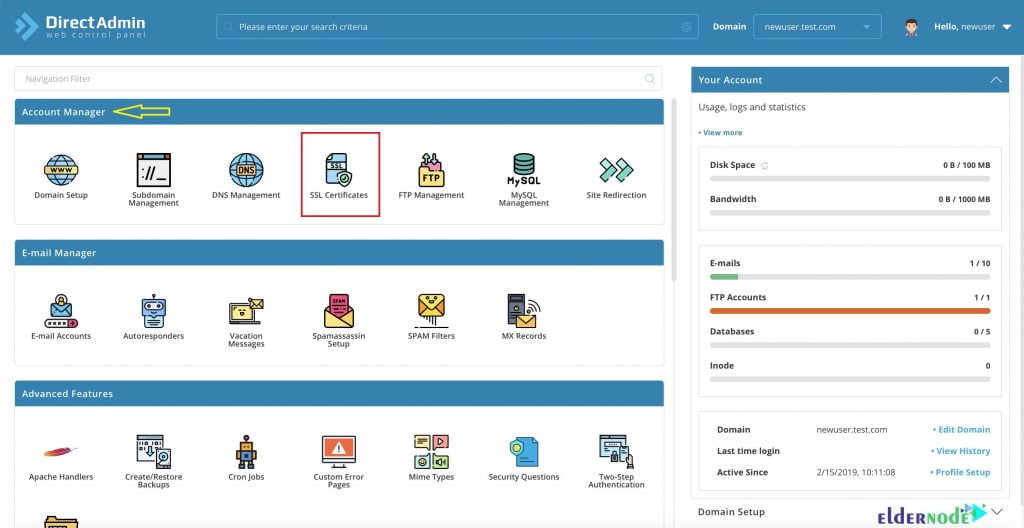 Now, click on the Free & Automatic cert from LetsEncrypt from the Let's Encrypt" tab: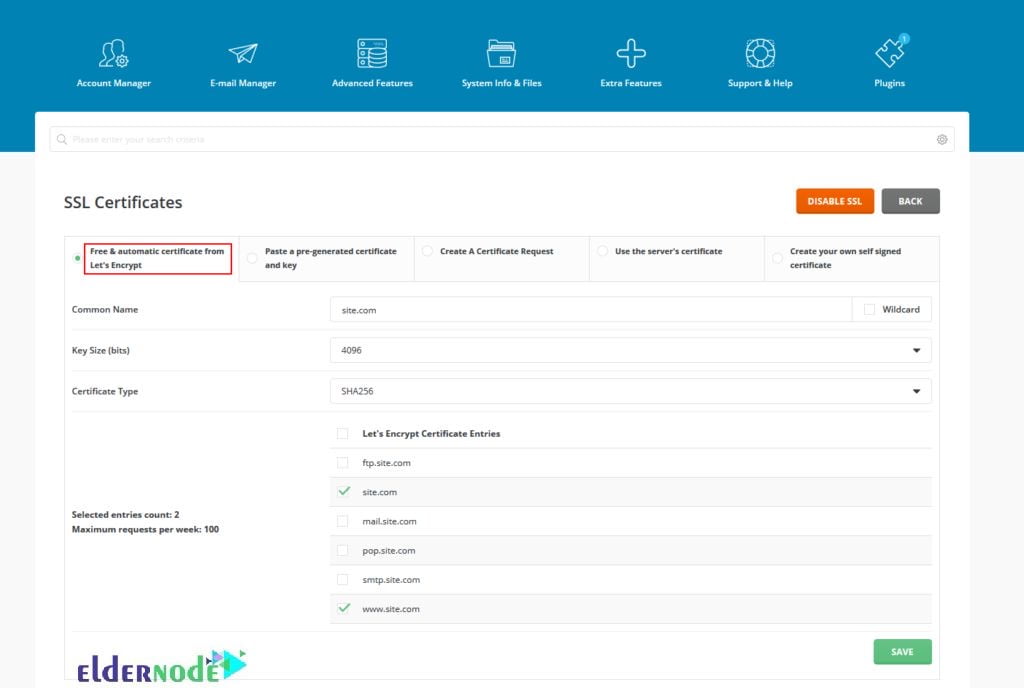 As you see, the entries "mydomain.com" and "www.mydomain.com" are selected by default. So, select the ones that are necessary.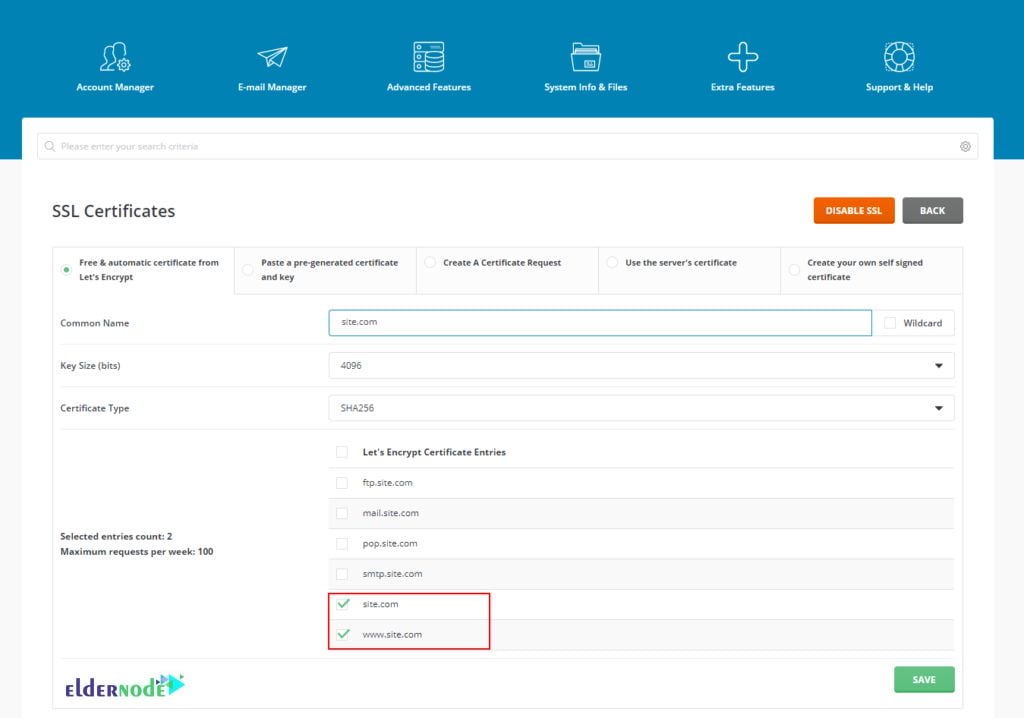 Then, it will show you a bunch of options such as choosing a Wildcard SSL that is handy for various use cases and secures all your subdomains and aliases. Using a Wildcard SSL certificate allows you to save a lot of work as it will secure your complete site along with all associated sub-domains. If you install a Wildcard SSL, you must install the certificate for every subdomain you create.
If you do not want to install Wildcard SSL, you can install SSL manually whenever you create a sub-domain. However, do not change anyone if you do not need or you do not know their function well.
Click on "Save" to submit the changes and generate the Let's Encrypt SSL Certificate. It takes about 30 minutes (depending on the number of entries selected) for the SSL to get installed on the server: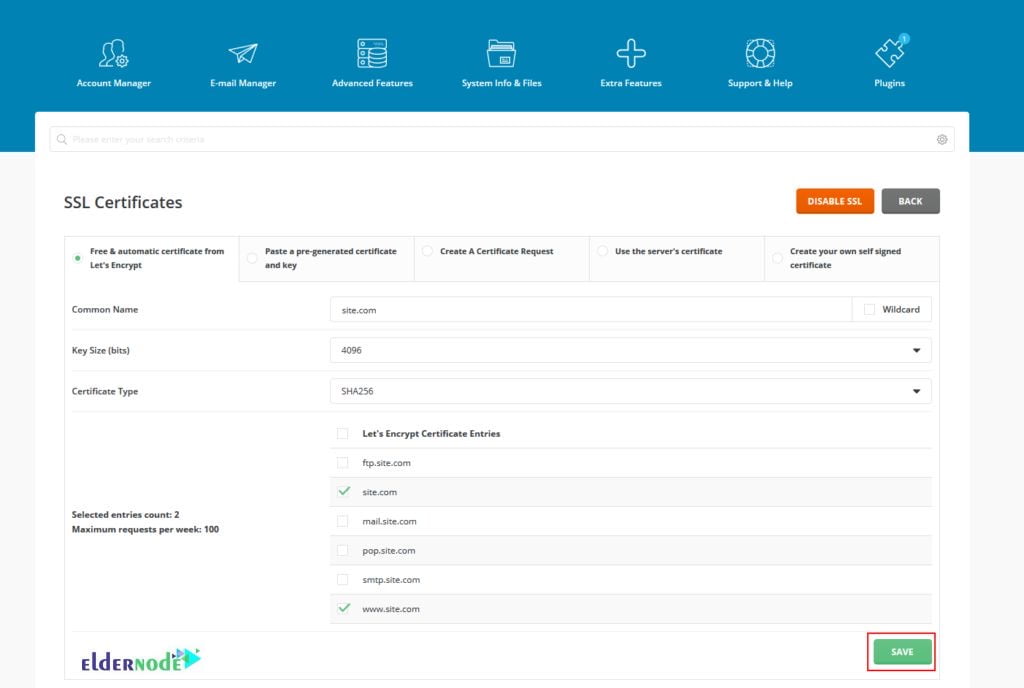 Once you can view the table similar to the following image, it means all the process is completed: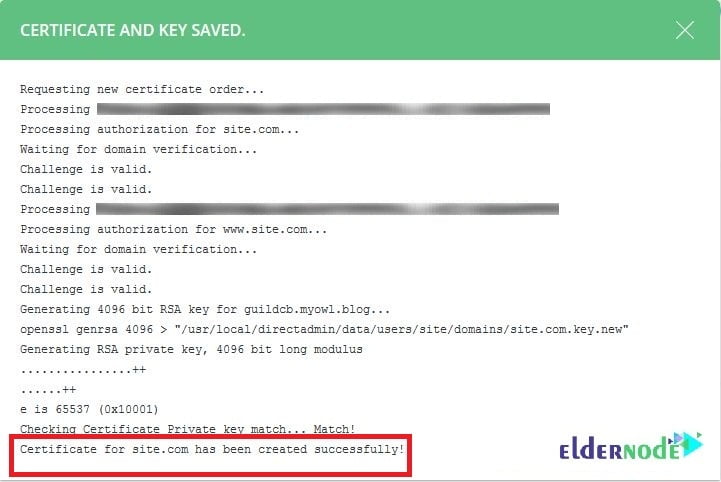 That's that! If all is done correctly, your site will start showing green padlock and chrome will show your site as secure. The green SSL padlock will show up only when you visit your site through the HTTPS protocol. But you can force your site to use SSL by checking the box.
Conclusion
In this article, you learned How To Install And Configure Free SSL On DirectAdmin. If you have passed all the required steps correctly, you should now be able to open your site with a Let's Encrypt SSL Certificate.