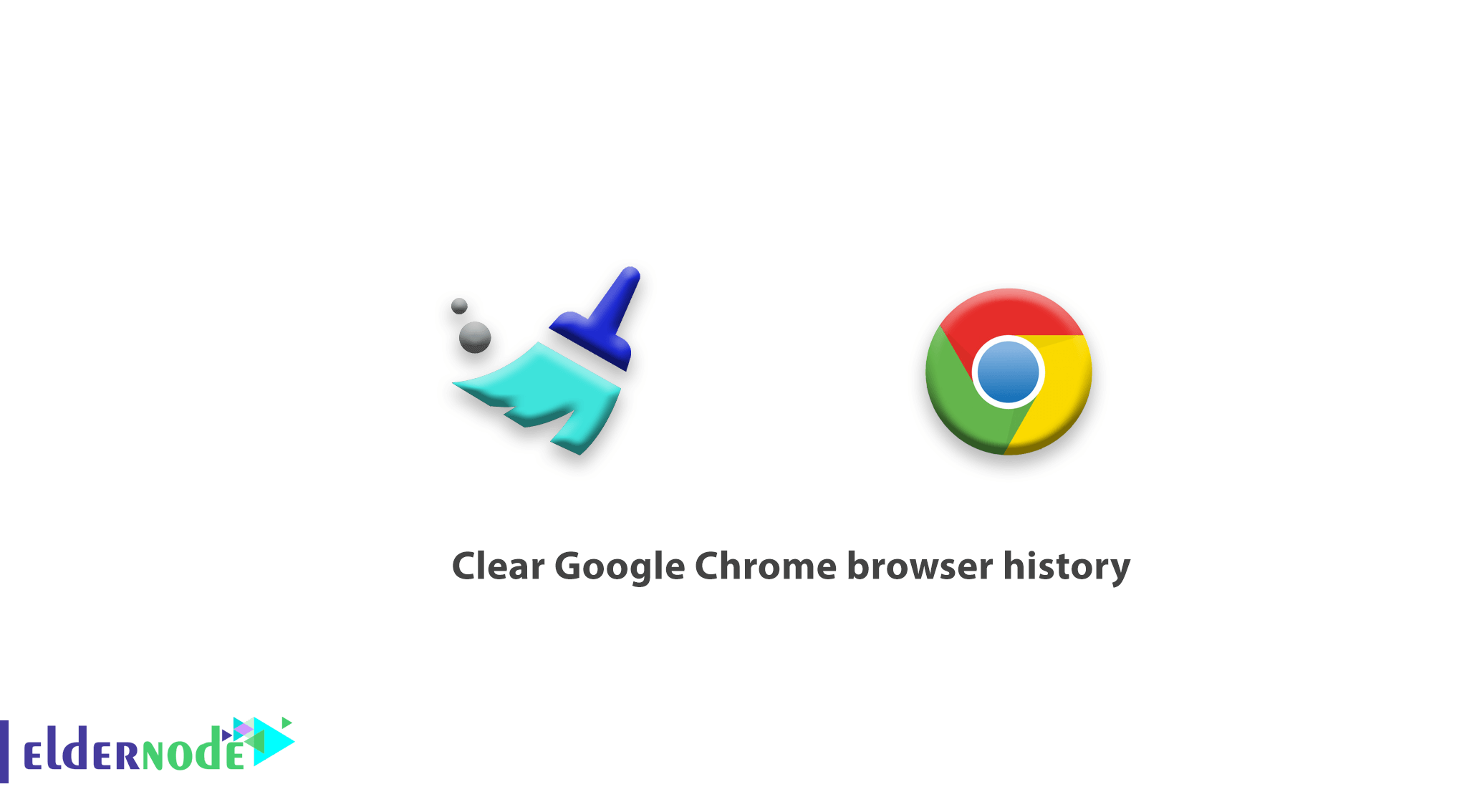 How to Clear Google Chrome browser history. It has probably happened to you that sometimes your browser crashes or you open sites and you see the same content posted in the past few days if you know that new content has been posted on the site.
Displaying the content of the past few days when you visit a site for the second time has no reason other than that site being cached in your browser. The important thing is that this problem is not directly from you. The settings that the website has made to cache the site and increase the speed will cause you this problem.
In this article, we are going to teach you how to delete Google Chrome browser history so that you can easily clear your browser cache.
VPS Hosting Plans in Eldernode
It is recommended that you clear your browser at least every 1 to 2 months to search the Internet and use your Chrome browser. This will free up space on your hard drive and speed up your browser.
Follow us with the tutorial to delete the history of Google Chrome browser.
How to clear Google Chrome browser history
1. Open your Google Chrome browser.
2. Click on the menu at the top right of the page.

3. From the History menu, select the History submenu to open its settings page.
Note: You can open this page by pressing Ctrl + H on your keyboard.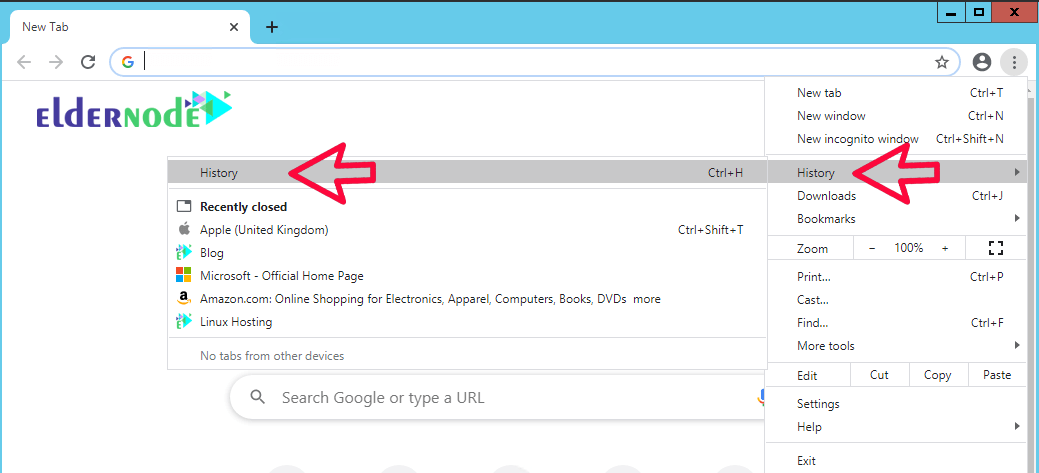 4. On the History page, click Clear Browsing Data.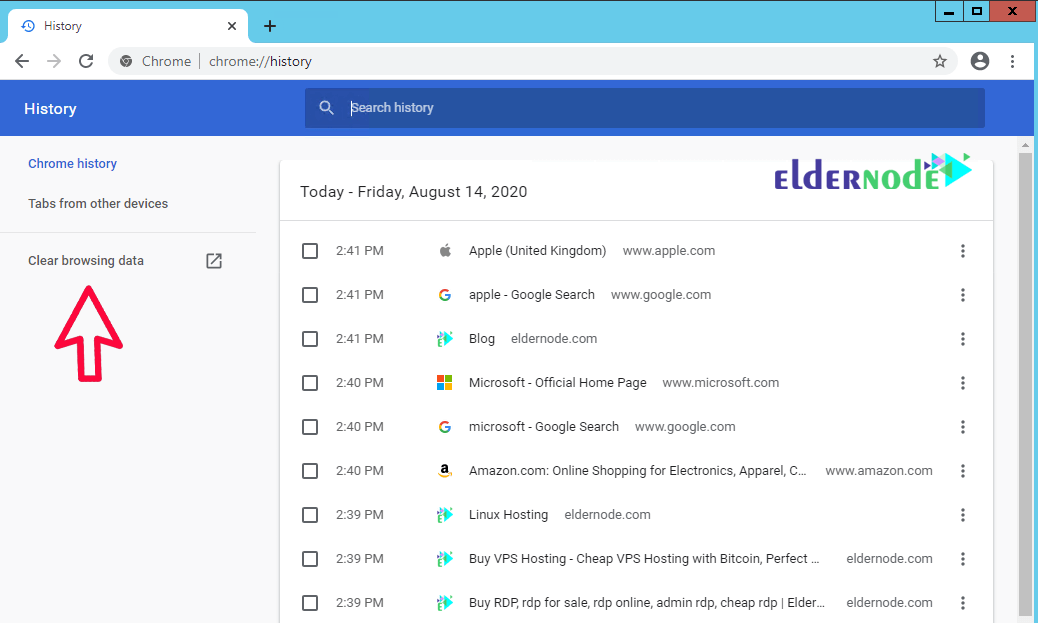 5. You will see a page like the image below.
You will be able to delete your cacache che and History by setting it. In the following, we will explain each of the sections.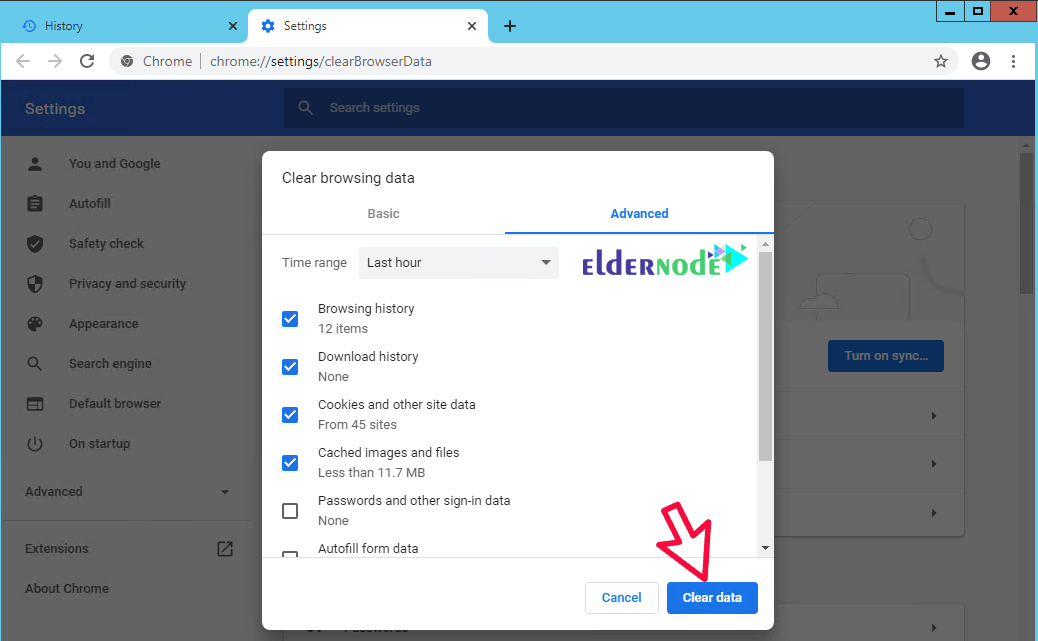 – Clear the following items from: In this field you can tell Chrome how much time History will delete for you. To delete it completely, you must set this section to The Beginning of time or All Time.
– Browsing History: All the history of searches and sites you have ever visited.
– Download History: All files ever downloaded with Chrome.
Tutorial Clear Google Chrome browser history
Note 1: By selecting this section, only the history of downloaded files will be deleted and the downloaded files will remain on your system.
– Cached images and files: This section is related to the cached files of the sites you have already entered. This is also the most important part of deleting History and re-reading the content of websites.
– Passwords: All passwords entered to login to various websites are stored in this section.
– Autofill form data: All information that is automatically filled in by Chrome in various site forms is stored in this section.
– Hosted app data: Information and data related to Chrome software installed on it is in this section.
– Media License: If you use a license or security certificate to enter some sites, it will be saved in this section and by selecting it, you will delete them.
Now with the explanation we provided, you can select the options you want and then click on CLEAR BROWSING DATA.
Note 2: If you want to refresh the Google Chrome browser in general, you must check all the options and then click on Clear browsing data.
Note 3: If you do not want to delete all of the above, you can also help speed up Google Chrome by deleting files and cached images. To do this, in addition to checking Browsing History, also check Cached images and files. Then click on Clear browsing data.
How to delete one or more sites from Google History
1. As mentioned, first open the Google Chrome browser.
2. There are three dots at the top right of the browser, click on it.

3. Select the history option from the history submenu, as shown below: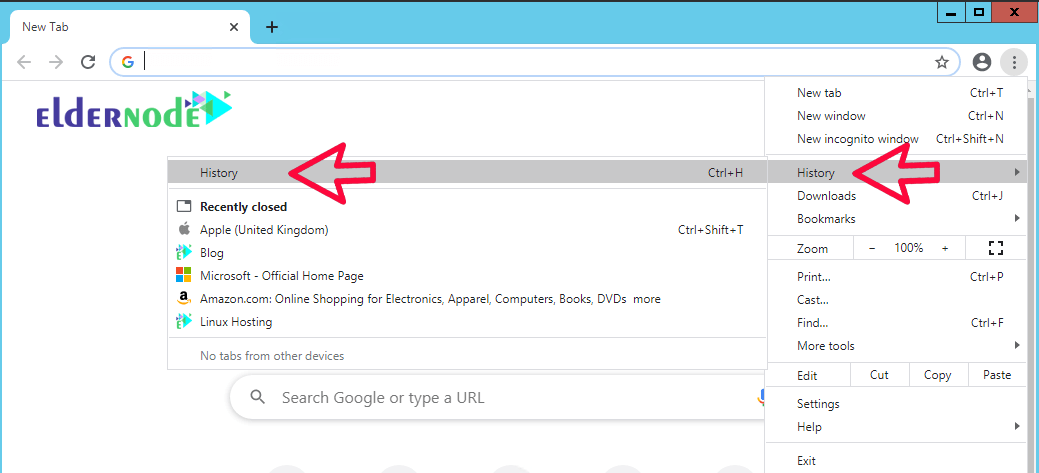 4. A window like the one below will open which shows a list of all the sites you have opened.
Check one or more sites that you want to remove from Google History.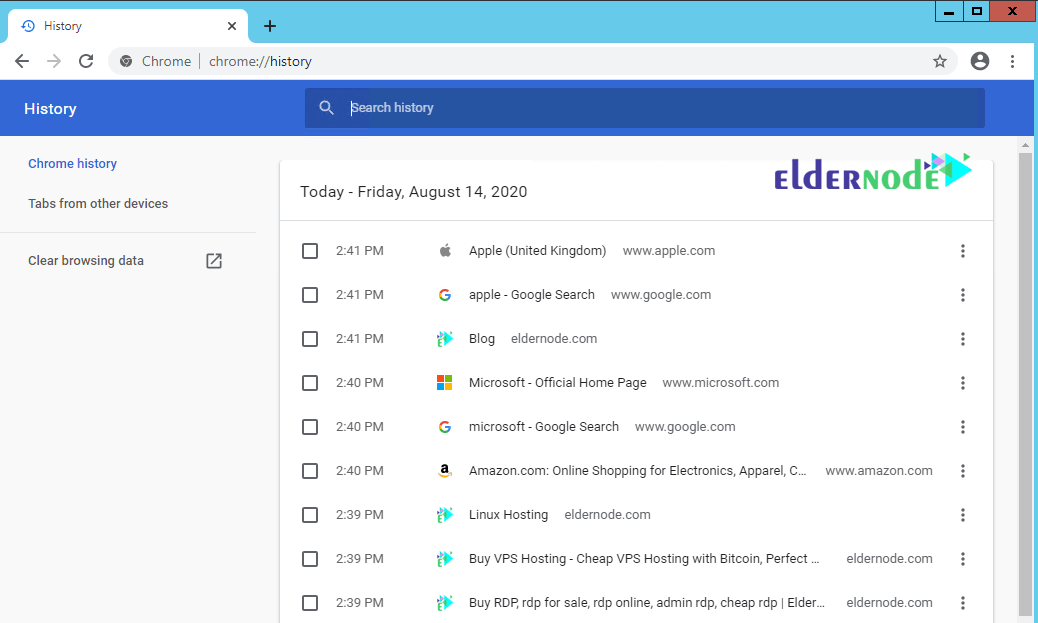 5. Now at the top right of the page you will see the Delete and cancel options.
Selecting the cancel button removes the ticked boxes, but select Delete to delete the site from the history.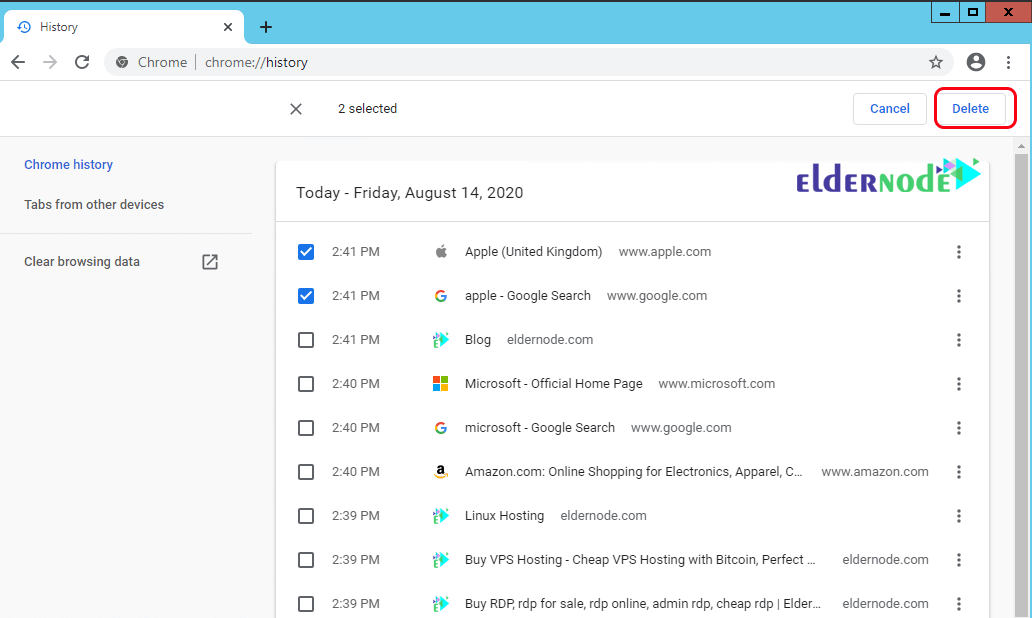 6. In the box that appears, there are two buttons, remove and cancel.
Clicking the cancel button reverts the Google browser history to a previous step, but selecting remove will end your work.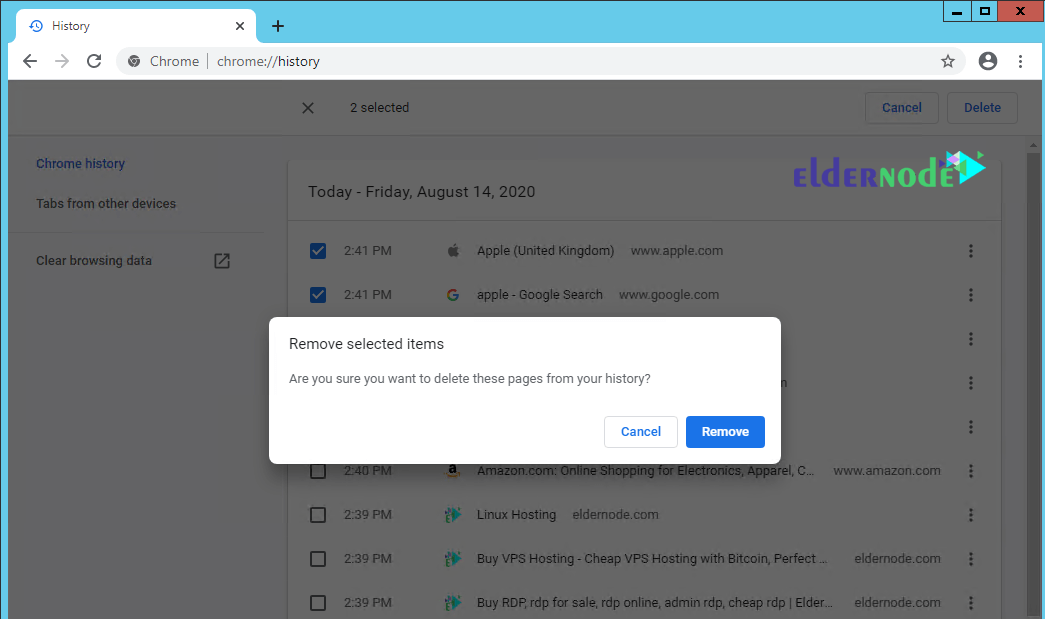 How to do a private review?
It's good to know how you can search for a site on your computer or laptop without being listed in your search history. To do this, follow these steps:
1. First, open Google Chrome on your computer or laptop.
2. Then click on the more at the top of the page, which is in the form of three dots.
3. Click on the new incognito window button.
Note: Instead of going through these three steps, you can use the key combination ctrl + shift + N.
4. A new window will open now. In the left corner of the image, look for the image of the hat and glasses and click on it.
5. You can now do whatever you want in the Google search bar.
Also, see:
How to enable Cookies in Firefox
How to clear the browser cache
Dear user, we hope you would enjoy this tutorial, you can ask questions about this training in the comments section, or to solve other problems in the field of Eldernode training, refer to the Ask page section and raise your problem in it as soon as possible. Make time for other users and experts to answer your questions.
Goodluck.