Blender is a computer graphics program that allows you to produce high-quality images and animations using 3D geometry. 3D computer graphics are everywhere. Almost every major movie or TV show includes some kind of 3D computer graphics and animation. Even sporting events! Pay close attention to animations that show scores or player names. And it's not just movies and TV. 3D graphics play a major role in video games, industrial design, scientific visualization, and architecture. Blender is one of these popular 3D graphics software that can be used to do all these things. In this article, we are going to teach you to step by step about Tutorial Install Blender 3D on CentOS 8. You can visit the packages available in Eldernode if you wish to purchase a CentOS VPS server.
How to Install Blender 3D on CentOS 8
Blender has some amazing features like generating 3D content. The software provides a wide range of essential tools including modeling, rendering, animation and forging, video editing, VFX, composition, text creation, and many more simulation forms. The Mixer Tool is a cross-platform tool built in conjunction with a seamless OpenGL GUI across all major operating systems. It is also customizable with Python scripts and has a high-quality 3D architecture that allows for fast and efficient workflow creation.
One of the things that set Blender apart from other similar 3D software is that it is available for free and is open source. Being free and open-source means that not only can you go to the Blender website and download the entire program now for free, but you can also download the source for free.
For most applications, the source code is a completely protected secret that only certain people can see and modify. But Blender is open-source, so anyone can see the source code of the program and make changes to it. The advantage is that instead of having the program behind the program and the key, Blender can be improved by programmers (and even non-programmers) around the world!
In the continuation of this article, join us to teach you how to Install Blender 3D on CentOS 8.
What is Blender 3D
Blender software is a collection of free and open-source 3D computer graphics software. This software is using to create animated movies, visual effects, art, 3D printed models, motion graphics, 3D interactive applications, virtual reality, and computer games.
Blender features include 3D modeling, UV unfolding, textures, raster graphics editing, fluid and smoke simulation, particle simulation, soft body simulation, sculpting, animation, race shift, rendering, Motion graphics, film editing, and composition noted.
Blender is written in C, C ++, and Python. It should be noted that this software also allows the user to write custom extensions for Blender in any of those programming languages.
In the next section, we will introduce you to some of the basic features of Blender software. Please join us.
Blender 3D Applications
There is plenty of free 3D software to download. Blender has many applications in the field of 3D movies and animation. Here are some amazing uses for the blender:
1. Rendering
Using this software, you can create images. But note that there is a feature called cycles in this program that you can use to create a render on the screen. This option helps you to have more realistic images.
2. Simulation of liquids
You can simulate splashing liquids, pouring chocolate, and spilling toothpaste. Fluids form part of the physical blender system and help simulate fluids by creating a surface mesh. You can also simulate smoke (cigarettes) in this software.
3. Video editing
Blender is a non-linear video editor. The blender allows you to edit a video normally. Allows you to add a clip or photo to a timeline, cut sections, create a frame, and more.
4. Combining
In the compositor section, you can access different render layers. Then by combining them you can have a lot of control over the elements. You can add interesting colors, add flame and brightness to your image, add blurry motion, and more.
5. Control the camera and track the movement
The blender helps you to create a movement line for your image and create a kind of moving image. Of course, this feature is not very strong and professional in the blender, but it can satisfy your desire to a great extent.
6. Building the ocean
You can create an ocean with the Houdini Ocean Toolkit. Also control the size and frequency of the wave, power, and wind speed, and then run it in the blender. In the blender, you can adjust the amount of foam on each wave, and you can also add more detail to your ocean by adding other maps.
Install Blender 3D on CentOS 8 | CentOS 7
After you are completely familiar with Blender in the previous steps, now we want to teach you how to Install Blender 3D on CentOS 8. You can easily Install Blender 3D on CentOS 8 by following the steps below.
In the first step, you need to install Epel using the following command:
sudo yum install epel-release
Then you can install Snapd using the following command:
sudo yum install snapd
Now, the systemd unit that manages the main snap communication socket needs to be enabled using the following command:
sudo systemctl enable --now snapd.socket
You can enter the following command to enable snap support to create a symbolic link between /var/lib/snapd /snap and /snap:
sudo ln -s /var/lib/snapd/snap /snap
You must restart the system once for the changes you have made to take effect.
Finally, you can install Blender on your system by running the following command:
sudo snap install blender --classic
How to use Blender 3D on CentOS 8
After you have successfully installed Blender 3D on the CentOS system, in this section we want to introduce you to the environment of this software.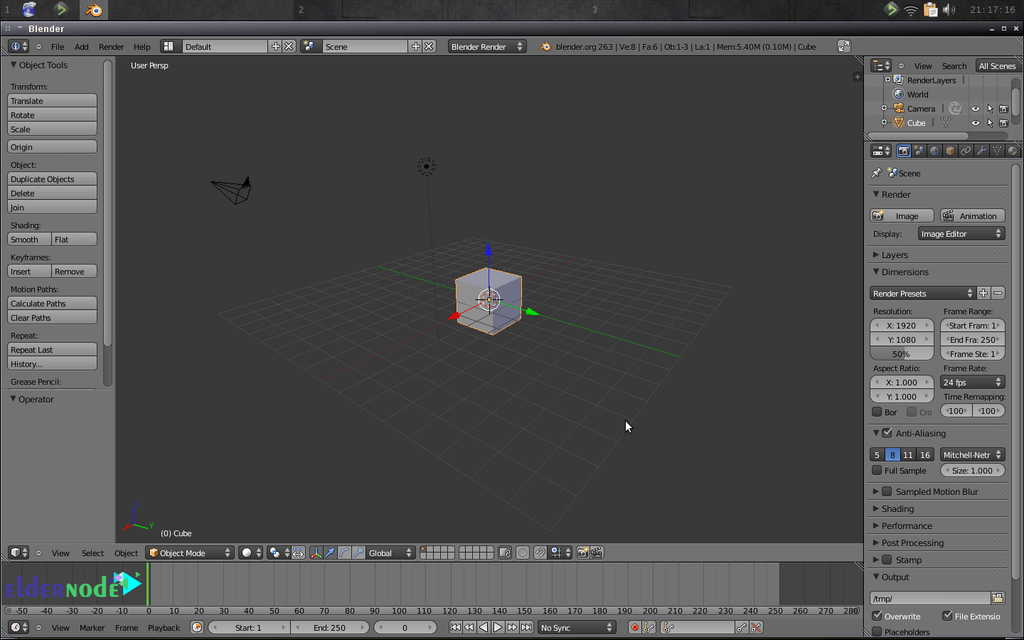 As you can see in the above image, this software has a toolbar on the left and right, file operations at the top, a timeline at the bottom, and a 3D view in the center.
In this software, you can hold the middle mouse button and move the mouse to rotate the 3D view. You can also hold Shift + the middle mouse to move up and down or back and move the mouse. Another thing is to use the scroll wheel to zoom in and out.
When you want to select an object, you have to right-click on it. Also to de-select right-click away from the object. To select multiple objects, hold down "SHIFT" and select the objects.
Note that if you press "A" all items will be selected and deselected. It should note that when you select something, it will be highlighted in orange.
Conclusion
Blender has a wide range of resources that make it ideal for almost any type of media output. Using by individuals and studios around the world for amateur projects, commercials, and movies. In this article, we tried to teach you to step by step how to Install Blender 3D on CentOS 8. You can refer to the article How to Install Blender 3D on Windows 10 RDP if you wish.